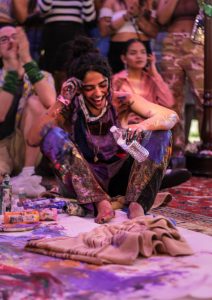 Today we'd like to introduce you to Selena Ferrer.
Selena, can you briefly walk us through your story – how you started and how you got to where you are today.
I didn't realize how much art meant to me until I started painting for myself outside of school projects. After finishing my first concept for a painting, I couldn't stop. It was all history from there. I grew up in Chattanooga TN and had been used to a small city where the art culture is very "concentrated". I always knew I had a passion for community and gathering people together in a room or space. After participating in an art show, I found the courage to set my mind to paint every day and to make a show of my own. Now, having three completed art shows, I have curated between TN and FL, I have found myself completely enamored and motivated to pursue art in my life along with always supporting communal art-related events. Moving to Florida was extremely difficult for me, considering the change and culture shock. I have always loved dancing. I never really had the community or support system back home to be confident to be apart of a crew or studio. It was when I moved that I found true comfort in "dancing my troubles away" practicing for almost a year now. I have found a new community of dancers and artists and found courage in myself to be fearless in my art and expression. Throwing an art show consisting of over 20 visual artists, 5 live music/art collaborative performances, and clothing vendors in a matter of eight months of living in a new state… I knew I had the power and voice to change my own life as well as others. I threw my very first art show at 19 years old and am now 21. I hope I can always lend my own knowledge to others who are in the same boat as I am. It's not easy to put yourself out there fearlessly, but the very art of self-expression and being bold has driven me to a path I know I want to take with my art and how it can affect others. I hope to always inspire those as I have inspired by moving to a city that truly will reward those who work hard and fearlessly.
Has it been a smooth road?
The main obstacles and changes for me in my journey as an artist have definitely been finding myself and what I am to my art. Although I see Art as a complete reflection of the artist who makes it, I feel that art can open you to new sides of yourself… it's just a matter of conquering those very things. For me, there was a period where I had a very difficult time accepting all sides of myself. After I had moved states, I found myself creating much deeper sentimental concepts and sometimes even very complex ideas that I wasn't super confident in explaining. I learned quickly that art not only was a self-expressive action but a tool to help myself be comfortable in explaining the "unexplainable". A lot of times, people give in to every surface like visions that can relate to everyone, and that's never been the case for me. It took me a while to learn to explain my art, but at the end of the day, I stay true to my ideas and try to never stray away from the pure emotion that created them. I think this is what's speaks most to people and it's very easy to fall into trendy or "likable" art. I want to be pure to my visions no matter how odd and complex they may be to understand. I hope I can always help people get past the barrier of making art that can only be admirable by the gifted or masses. It's a tool. And you must respect it for how strong it is in your own life. Respect your art.
Please tell us more about your artwork, what you are currently focused on and most proud of.
I specialize in acrylics mostly along with a variety of oil mixed media pieces. I am proud of my work for the emotional and human perspective I implement into my paintings. I practice and strive to make surrealist paintings. I enjoy implementing both nature and industrial man-made objects. I am a huge lover of nature and always have been fascinated by the way mankind has learned its industrial ways by studying nature. I feel we all can find answers to the way of life through meditation in nature. The majority of my work really enhances the connection of a human in the present day with all of the technological advances and a balance of nature. It is something I truly try to portray in my work. I feel that painting these concepts helps me ground myself, in reality, to never forget where we came from. To me, nature is the epitome of beauty and divinity. We all imitate it. I try to represent the pure connection between both and try to remind people of the things that affect us emotionally when we lose touch with one or the other. We are all connected. I find that my work can provoke emotion towards the earth we walk on and reminding how interconnected our hearts, minds, bodies, and souls are to it all.
Any predictions for the industry over the next few years?
I can see my art and initiative as a professional artist growing and peaking in 5 -10 years. I truly feel that I am planting my seeds right now as far as what I want most from my art before I ask what I want it to do for the people around me. I feel as though you can move through life not knowing what you deserve at times, but you can always choose what you expect for yourself in this life. I believe in saying that I am choosing to manifest that my art will be a tool to inspire others to find themselves. My art has always been deeply connected to my emotions and a lot of times symbolizes the yearning for solution and balance in my life and those around me. I do not know how or where I will be in 5-10 years but I am manifesting that I will be a part of a large organization or community of people who are pushing others to tap back into their meditative ways of problem-solving and inner peace through the arts. My art is my superpower, and it has saved me in times I never thought it would. I want to shine light on crowds, young and old. I feel that we have to come together. Art is a visual conversation. My art is my voice and I feel a deep yearning to help people see deeper than judgment and peer pressure. I hope to be pursuing and curating a community that highlights creativity and innovation for self-love, as I feel it's what our society needs most right now.
Contact Info:
Website: www.Vagaryart.com
Phone: 3219602039
Email: selenaferrer@vagaryart.com
Instagram: @vagary_art
Facebook: Vagary Art
Image Credits: Kayla Burnett @kaylaburnett
Suggest a story: VoyageMIA is built on recommendations from the community; it's how we uncover hidden gems, so if you or someone you know deserves recognition please let us know here.