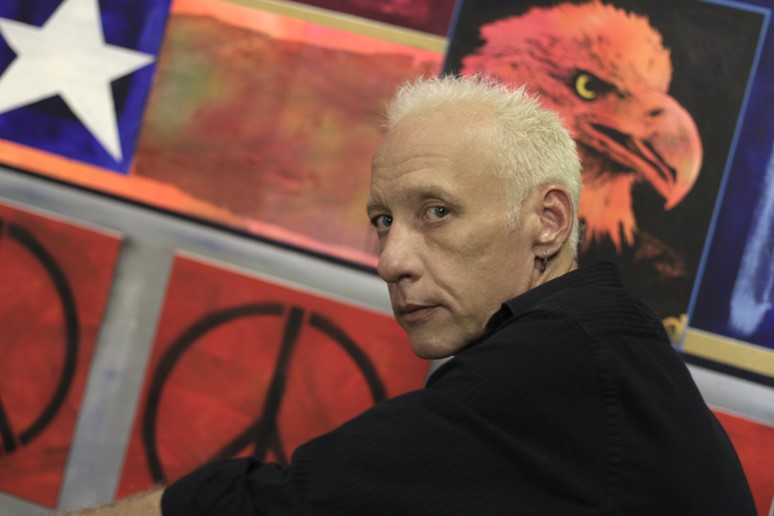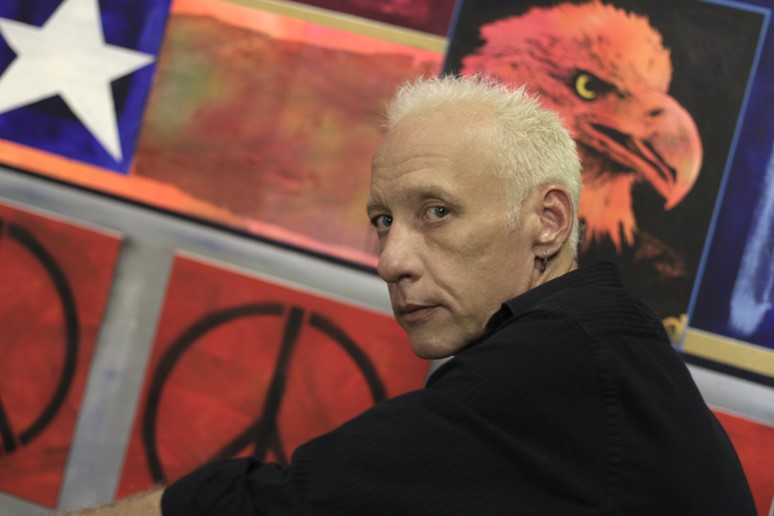 Today we'd like to introduce you to Michael St. Amand.
So, before we jump into specific questions about the business, why don't you give us some details about you and your story.
When I was a boy I was always fascinated by time, color, nature, and life itself. I began drawing and creating as far back as I can remember. The bounty of the things around me were comics, magazines, music, and nature. I was first published in a comic fanzine when I was 15. I was always sending drawings and letters to publishers, newspapers, and magazines trying to get my work out. The basement that I made into a studio had one wall dedicated to rejection letters, which just made me work harder.
I am essentially self-taught although later, I studied at the Wooster Arts Center in Connecticut where I studied under Al Shundi and Richard Klein among others and I attended the Art Students League of New York. In the mid-1970s, I met Frank Russell and Gertrude Barrer who opened up a whole new world of art for me. They were my mentors, along with a circle of other artists who were well known in New York City in the 40s and exhibiting there among other places.
I had my first solo exhibition in 1983 at the HAL Gallery in New Milford, Connecticut and in 1985 had a successful show at the HAL Gallery, (Along with a cover story on me and my work in the magazine section of the local paper the Danbury "News Times") I continued to create, exhibit and win local awards, I had several more solo exhibitions and continued showing in group exhibitions in various galleries in Connecticut and New York. My first Solo Exhibition in SOHO NYC led to exhibiting nationally and internationally.
I moved to Southwest Florida in 1991. Shortly after moving there I was represented by the Naples Art Gallery, one of the most prestigious galleries at the time (they took 30 pieces of my art). I continued to paint and grow as an artist. I got heavily involved in the arts community and became lifelong friends with Laurence Getford, Lawrence Voytek and Kat Epple, Emmy Award-winning recording artist. During this time, I also met and became friends with Robert Rauschenberg. I began using the computer as a medium on which I created and designed my multimedia and digital art.
In 1996, I moved to Seattle where high-tech innovations were developing. I founded IMAGUN, a design and development firm. My digital art and programming skills were in great demand. In 1996, I won a Corel award for 3D digital animation, when 3D animation was in its infancy. In 1997, I invented "Virtual Instruments" for Fluke Corporation. My digital work was included in the Whitney Biennial in the 2000 RT Mark installation. Additionally, in 1998 and 2002 my computer animations were selected to be exhibited at ARS Electronica Worldwide Competition for Cyber Arts in Linz, Austria.
I moved to Naples, in Southwest Florida in 1999 to concentrate on painting and my digital art. In 2008, Kat Epple, Lawrence Voytek, and I collaboratively produced a project called "Peace and Flambe'" which was a homage to the 1950s "Happenings" that John Cage, Merce Cunningham, and Robert Rauschenberg created. Rauschenberg attended the opening and was elated.
Zoom forward to more recently…
In January 2012, my painting "Mundata Sonata 8" was published on the cover of the European contemporary art magazine "Visual ArtBeat" and included a cover story about my artwork. The same year I was invited by the Georgian Ministry of Culture to exhibit mixed-media paintings, digital art, and video installations in the "Punctum Contra Punctum International Exhibition" at The Georgian National Museum, Shalva Amiranashvili Museum of Fine Arts, National Gallery in Tbilisi, the capitol city of The Republic of Georgia. I was the first American artist to exhibit paintings in the Georgia National Museum since the country gained its independence from the Soviet Union.
My 2013 projects included Expose New Orleans where two of my works were displayed on a billboard sponsored by CBS over a four week period during Mardi Gras and the Super Bowl; exhibiting in INCOGNITO: Naples Museum of Art, Naples Florida; quadriART: EAGL gallery Berlin, Germany; and with the endorsement from the Georgian Ministry of Culture, and the Georgian National Museum had two major solo museum exhibitions: Human Condition: "Myths and Mayhem", at The National Museum of Georgia, The Tbilisi History Museum, in Tbilisi, Georgia. And The Signagi Museum of The Georgian National Museum, The Republic of Georgia, July 2013. I was the first American to have a solo exhibition at the Signagi Museum. The last non-Georgian to have a solo exhibition at the Signagi Museum was Picasso in 2009.
The book, Michael St. Amand "Human Condition: Myths and Mayhem," was published, with forward by Richard L. Tooke (Former Director of Rights and Reproductions at MoMA); essays by Ketevan S. Kintsurashvili Ph.D. (Art Historian, Critic, and Writer) and Robert P. Metzger Ph.D. (Director Emeritus of The Aldrich Contemporary Art Museum and the Redding Museum).
In 2013, I returned to Georgia and was awarded The United States Department of State Federal Assistance Award for participation in Punctum Contra Punctum International II a contemporary art exhibit at the Georgian National Museum in Tbilisi, Georgia and to conduct related speaking engagements. I was the director of the American Edition which was the first cultural exchange between the U.S. and Georgia. In 2015, I had the honor of being one of the 50 Contemporary Art Masters by noted critic, writer, and collector, Michael K. Corbin.
In 2017, I moved to Beijing, China for a two-year residency for HD Schools. Of course, the first place I visited was 798 Art Zone. There I met Zhao Bandi and the Gao Brothers. We became good friends and they introduced me to the arts community here. I had my first solo exhibition in Bejing's world famous 798 Art Zone at the Gallery ICI Labas in 2018.
This year I am involved in many projects. I will be exhibiting my work in the Gobi Heaven Art Festival and am currently involved with the United States Embassy here in Beijing concerning a cultural exchange project. In addition, I am planning and creating works for another solo exhibition.
Great, so let's dig a little deeper into the story – has it been an easy path overall and if not, what were the challenges you've had to overcome?
How boring would a smooth road be? Take the road less traveled and see where you end up. You may be surprised. Obstacles and challenged depend on your outlook and where you are in your artistic career. I look at challenges and obstacles as possibilities. When I was getting started, I had a wall full of rejection letters. My friends would say doesn't that upset you, I looked at it like this: the more No's you get, the closer you are to yes. The more established you are, the more opportunities there are. It hasn't always gone smoothly. However, if you are true to yourself and your art and persevere the possibilities are endless.
Please tell us about Michael St Amand.
My work is my perception of life, vibrant and powerful! We all see what is or happens from a different viewpoint. My work does not fit into any specific movement or category. I see it as a time capsule of art/life itself. My work starts arbitrarily – what happens after that is a confluence of events and pure intuition and emotion, which is derived from a broad influx of influences: media, love, play, war, fashion, environment, and emotions that we live with on a daily basis.
When images, identifiable forms, even icons in the paintings and constructs are addressed, the viewer will naturally associate what they determine the object to be with their own definition of that object. This results in their own -very personal- reactionary emotion. Whether it is hatred or shock, or passion or compassion, every person will create his or her own truth- now attached to the work.
This is what much of my work speaks to the human condition. How we as humans can interpret an image drastically different from one another depending on a host of influences- being our personal faith or lack-there-of, our personal history, our current situation in life, any number of things can and will influence how observers experience the work.
What I do, ultimately, is take my own experiences and let them fill up "the tank," so to speak, and then I expel them by rebuilding what I find to be the truth of the matter, onto the canvas, or into a construct, drawing, or digital piece. I do this to invoke thought, and to inspire analysis. What inevitably transpires can be anything from reactionary rage to euphoric bliss- it's up to the viewer.
Some of my work can be perceived to have a spiritual aspect (such as the "Container Series" or the "Meditative Meditation Series") among others. There are many roads people travel to connect to a spiritual plane, though, to some, the paths may be unconventional – they are used to fill a void. The iconography, in some of the works, whether it be Buddha, Jesus, Ganesh, Shiva or an icon of a saint, all signify beliefs while causing a positive or negative reaction, depending on one's insight or discernment. Conversely, a bullet, riding crop, needles or skulls may have the same exact response which may arouse reactionary emotions. Art is spiritual. It speaks a universal language.
On an emotional level: My work encompasses a full range of emotions and what I feel as the work builds upon itself and what input I have from outside sources or personally. As I make the piece and as the flow and levels build, the deeper my emotional psyche and intuition come forth and the deeper I delve into a work. I am in an emotionally-frenzied state, focused and in touch. Some artists say they try to detach themselves from their work, but for me, it is just the opposite. I become totally immersed and invested.
With the spontaneity of my work, there's intense intellectualizing in many aspects. I am an avid reader, researcher, and observer. I believe that we continually learn on a day-to-day basis and the more you know, the more you know you don't know, as someone once said. As an artist, I am curious about everything in life – constantly questioning and absorbing daily issues: humanitarian, environmental, scientific or cultural.
What's your outlook for the industry in our city?
Taking that road less traveled with its destination unknown, I was invited to Beijing about a year and a half ago. However, having lived in South West Florida for 25 plus years, yes, I believe South Florida is a good place to be an artist. There are many great galleries, museums, and exhibitions there, as well as arts organizations and collectors. I have some great artist friends who live there.
Contact Info:
Image Credit:
Michelle Tricca, Ed Chappell, Garth Francis, Michael St. Amand
Getting in touch: VoyageMIA is built on recommendations from the community; it's how we uncover hidden gems, so if you know someone who deserves recognition please let us know here.