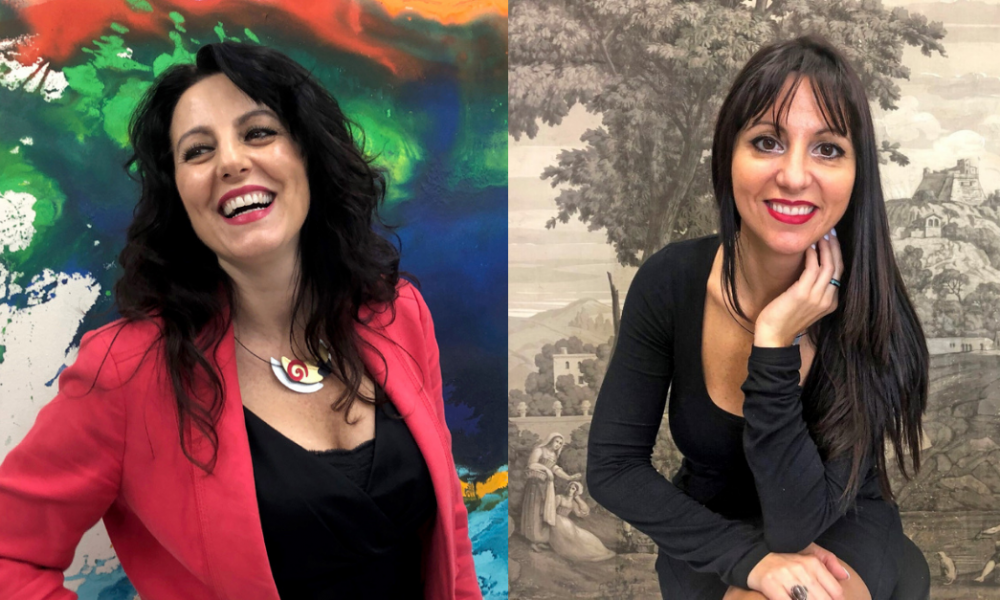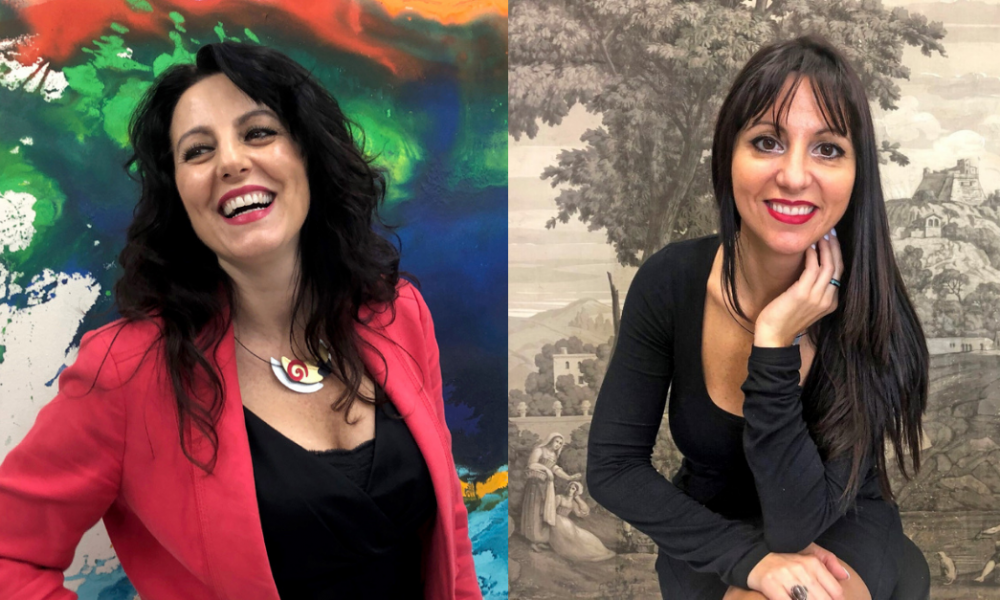 Today we'd like to introduce you to Barbara and Sandra Stella.
Barbara Stella is an established name in the art conservation world for her meticulous, intelligent and informed approach to art restoration.
Barbara is a native of Italy and had a passion for the visual arts since a very young age. She received her advanced degree in fine art conservation with a specialty in paintings from the Institute of Fine Arts and Restoration, Palazzo Spinelli in Florence, Italy.
Prior to moving to Florida, Barbara had her studio for 20 years in Ferrara, Italy, performing conservation treatment for the minister of cultural heritage, as well as public and private institutions that included museums, churches and private collections. Her clientele included Civic Museum of Ancient Art, General Director of Fine-Arts, Italian Institute of Culture, Archbishop's Curia, public institutions, city councils, as well as for many private collectors and art and antique art dealers.
Barbara taught classes at the graduate level in art for the Italian Ministry of Education. She also taught for the Association Classe Europenne du Patrimoine C.E.P.I.A. (Centre d' études Sur le Patrimoine l'Italianité et les Arts) and for an exchange between the Italian region of Emilia Romagna and the French region Les Pays de la Loire, Assessorato of Culture in cooperation with the Civic Art Gallery of Ferrara, Assessorato alla Cultura of Ferrara in collaboration with the General Director of Artistic and Historical Patrimonies of Bologna and the Inspector of Environmental and Architectural Patrimonies of Ravenna.
Since moving to West Palm Beach in 2010 she works with private and corporate art collectors, art lovers, national and international galleries, art advisors, fine art storage facilities, art dealers and auction houses, museums, insurance companies, art appraisers, interior design firms. Barbara has restored a large number of works by well-known painters and sculptors.
In the span of her 30-year career, she has performed treatments on paintings by prestigious artists such as Rembrandt, Claude Monet, Pablo Picasso, Joan Miro', Salvador Dali', Kenneth Noland, Fernando Botero, Rene' Magritte, and many others.
Barbara Stella is a Professional Associate of the American Institute for Conservation. She uses methodologies approved by the AIC and the (European) Institution of Preservation of Artistic and Historical Works, whose guidelines and ethics she stringently follows.
Many of her restoration works were published in highly respected European art and restoration publications. Barbara's passion for art conservation is reflected by her continuous development and training in her industry. She continuously stays up-to-date with new and innovative techniques that enable her to treat and preserve even the most challenging artworks.
Barbara is fully qualified to use Modular Cleaning with aqueous solutions and is one of the few Art Conservators in the US fully trained to use Nanotechnology in art conservation for the treatment of very sensitive artworks.
While her success in art conservation makes her stand out among peers, so too does her commitment to preserving what the masters had in mind when they created their masterpieces.
Barbara is a devoted wife and mother of 2 boys. Her kids are her inspiration. They make her always do her best, facing challenges with the strength to give them a better future, to be a good role model and to be a mentor, a "life" teacher when she is still a student herself.
Sandra is the Executive Manager of Stella Art Conservation. Her role is to make sure that Stella Art Conservation offers excellent and personalized client care and ensures that Stella Art Conservation actively participates to the community. Sandra is Barbara's sister and hence also a native of Italy.
As a young child, Sandra developed a passion for helping abandoned and poverty-stricken children. After earning her master's degree from the London School of Economics, UK, this passion took her to Burkina Faso (West Africa) where she spent ten years working for the Italian and British Government to better the lives of countless women and children. Sandra worked to help develop, coordinate, and monitor humanitarian aid projects. She worked with Ambassadors, government ministers, policymakers, and key stakeholders, as well as with orphans, African women's groups, and local communities. To this day, Sandra continues to support the education of children in Africa as an advisor of the organization "African Orphan Educational Foundation".
Prior to moving to the United States, Sandra lived in Canada for seven years and worked as a digital marketer for an important Canadian company.
Since moving to South Florida two years ago, Sandra has been very active in the community, she sits in the board of directions of several organizations and supports the arts in both the Palm Beach County and the Broward County. She believes that art is part of our cultural identity and as such, it must continue to thrive and touch the hearts and souls of people.
During her travels and professional experience, Sandra developed strong interpersonal and management skills that she applies continuously for the success of Stella Art Conservation.
Sandra is a devoted mother of two teenage boys.
Has it been a smooth road?
Barbara's journey was not smooth. After having had her firstborn son in Italy, she decided, together with her husband, that although Italy is a great country, it was not offering a real future for her child and they decided to move abroad. She first went to Canada for two years, however, after being called for a project in Florida, she fell in love with the Country and decided to move to West Palm Beach, where she opened her business.
Many friends couldn't understand her choice of leaving Italy and a successful business to start from zero but she believed that in life you need to have the courage to step outside your comfort zone and being willing to start everything again for a better future. And indeed at the beginning, it was very hard. She could not speak English at all, so not only she had to learn a new language, she also had to build her business from scratch, in a place where she was not known yet. She strongly believed in the American Dream and despite the struggles and many uncertainties, she continued to work to develop her art conservation laboratory. Today, she is the President and Chief Art Conservator of a renowned art conservation studio, Stella Art Conservation and is often asked to do lectures and interviews to help art collectors better preserve their art for future generations.
A native of Italy, after living in England for six years while attending University, Sandra felt the strong desire to help the poor and disadvantaged. Hence, after obtaining her Master's Degree from one of the best and toughest universities (London School of Economics) she went to Burkina Faso, one of the most poor countries in Africa in pursuit of her mission. The cultural adjustment was very challenging in a society where women do not have the same value as men, but the professional reward of changing countless lives was extremely rewarding. She fell in love and had two children, but after ten years in Africa she decided to leave the Country with her children to be able to offer them a better future. Sandra worked for the Italian Embassy, the Italian Region of Piedmont and the British Hon. Consulate. Leaving the Country alone with two very young children (2 and 4 y.o.) to start from zero again was daunting, but necessary to be able to offer her children the possibility to live in a country that would offer them great opportunities.
Her next destination was Canada, where she was sponsored to work as Customer Service. Going back to Italy was not an option because of its economic situation. It was hard to accept a job as customer service as she was accustomed to managerial roles but that was her only door and she was ready to work as hard as she could to be able to climb up the ladder again. She knew it was a sacrifice she needed to do and that it would have paid off in the long term. So while working full time, Sandra decided to attend the University of Toronto- School of Continuing Studies and she specialized in Digital Marketing. By then, Sandra's children were 7 and 5 and it was hard to work full time, care alone for her children because she had no family in Canada, and study at night. However, she was so successful at her studies that she was recognized by the U of T – School of Continuing studies as their student of the year 2016. Consequently, Sandra obtained promotion and she became the Digital Marketing Specialist of the company she was working for.
In 2018 Sandra decided to join her sister in Florida as she too also fell in love with the Country. This meant starting a new life again for both herself and her children, but this time she had family and especially her sister, whom she is very close with. They work together with passion knowing that they live in the place of their dreams and building a business that preserves our treasures for future generations.
We'd love to hear more about your business.
Stella Art Conservation is specialized in museum-quality art conservation and restoration of paintings, sculptures, artifacts and, other artworks, from ancient to contemporary. In February 2020 we won the prestigious Addison Mizner Award granted by the Institute of Classical Architecture and Art for the restoration of a portrait of Lily Langtry.
Our expert art conservators have superior knowledge in traditional as well as innovative fine art conservation techniques and are capable of restoring highly damaged artworks while preserving the artist's original intention.
Art conservation embraces an interdisciplinary and science-based approach to art. Research and science are the fundamental basis of the work of a conservator. Conservators are highly educated and trained individuals who underwent years of studies in science, chemistry, history, ethics, art, to name but a few. They are also highly trained in preventive conservation.
We offer the following services:
• Paintings: We offer museum-quality art conservation and restoration of ancient, traditional, modern, and contemporary paintings, providing skilled treatment on paintings from all artistic genres and periods, from Byzantine to contemporary age.
• Sculptures and Objects: We provide museum-quality artwork restoration for various indoor sculptures and artifacts such as fine and decorative art objects; wooden artifacts; archaeological, ethnographic, and historical artifacts; and contemporary artworks.
• Condition reports: We prepare condition reports and provide examination of your artworks to assess the health of your treasure, uncover damages, identify previous restorations, discover potential issues, or to submit to your insurance company.
• Wall Paintings: We offer on-site art conservation and restoration of wall paintings, frescos, and beaux-arts temperas.
• Art Insurance Claims: Our team of experts specializes in assessing the condition and damage of your artwork and prepares the mandatory documentation for your art insurance claim. We work with Art Insurances and Insurance Brokers to ensure artworks go back to their original glory.
• Disaster Response: We provide disaster recovery services for art collections requiring treatment in response to fire, water mold, wind, and accidental damage to minimize loss and respond most effectively.
• On-site Collection Maintenance: Our collection care and maintenance program focus on assessing and monitoring the conditions of your artworks, as well as ensure dry cleaning and preventive conservation that will extend the life of your treasures.
Our Art Conservators underwent complex training in areas of expertise that demand cultural knowledge, total control of artistic mastery, science and chemistry, fine art conservation, as well as needing to remain continually updated on new techniques. They are characterized by their artistic and critical sensitivity and their desire to respect the artists' original intention.
Our state-of-the art laboratory is highly secured and equipped with the latest innovative equipment, instruments, and tools.
Our Chief Art Conservator, Barbara Stella graduated from one of the most important Art Conservation universities in the world "Palazzo Spinelli" located in Florida, Italy. Barbara has 30 years of experience and is one of the few art conservators in the United States fully trained to use nanotechnology in art conservation, a technology used particularly for sensitive paintings. In addition, Barbara can restore also raw canvas back to its original glory. She continuously stays up-to-date with new and innovative techniques that enable her to treat and preserve even the most challenging artworks. Barbara has a great experience not just in restoring contemporary and modern art, but also very ancient art. She is capable of working on large paintings that are severely damaged. F. ex. In Italy Barbara restored a painting of the 16th century that was 7 feet x 12 feet and was highly damaged by a bomb during World War II.
Is our city a good place to do what you do?
Miami and Palm Beach are great places for artists and professions related to art because there is a strong appreciation for the visual arts. We feel privileged to be able to work here.
Contact Info:
Suggest a story: VoyageMIA is built on recommendations from the community; it's how we uncover hidden gems, so if you or someone you know deserves recognition please let us know here.