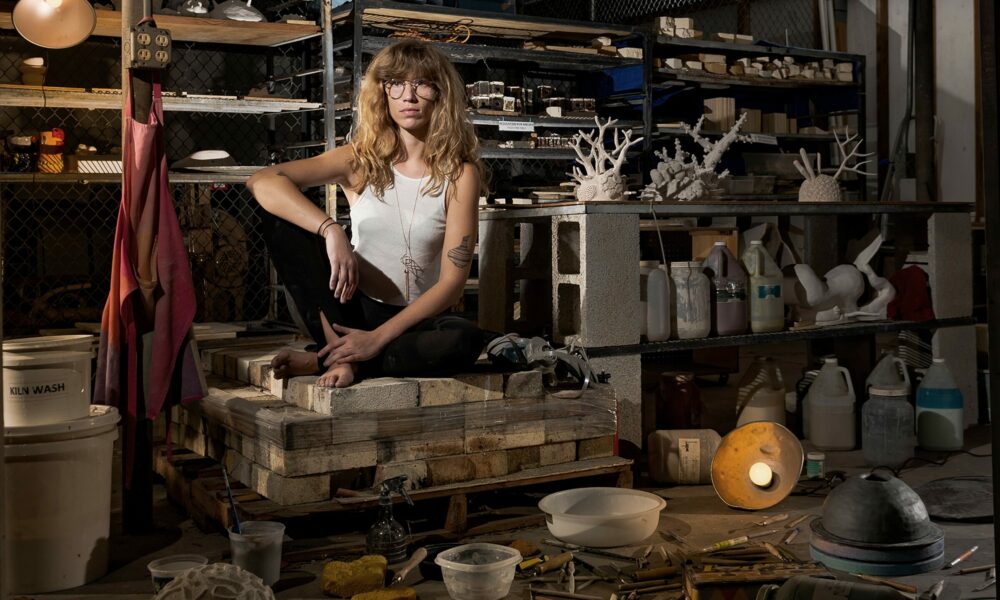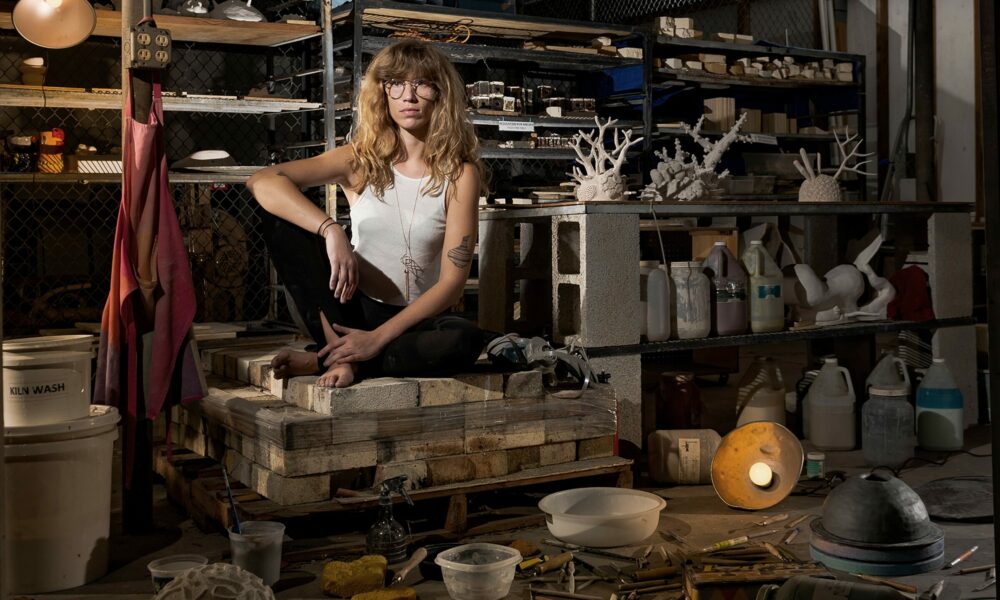 Today we'd like to introduce you to Beatriz Chachamovits.
Hi Beatriz, can you start by introducing yourself? We'd love to learn more about how you got to where you are today?
The story of how I fell in love with the ocean is as magical and surreal as the ocean itself. Back in 2006, when I was still living in Brazil – the country where I am from – I took a trip to the Island of Boipeba in the State of Bahia. One day I was sitting on the beach drawing on my sketchbook and a man approached me. He looked at my drawings and asked me if I was drawing underwater forms, I smiled and nodded. Then he asked me if I had ever seen them in real life. I told him I hadn't and that I was sketching from imagination. As I continued to draw, the man disappeared and 20 minutes later he came back with a pair of snorkels, masks and said: Come, I'll show them to you. We walked to another side of the island and arrived at this desert beach. Before we entered the ocean, he told me to follow him beyond the rocks. We swam for a little bit, when we arrived at the spot, he took the snorkel out of his mouth and asked me if I was ready. We dove in and without any warning, he shoved me inside of this small cave. I found myself surrounded by corals and sponges of all shapes. A school of small fish passed by me while I was observing moray eels sleeping in the crevices of rocks and tiny crustaceans collecting sea dust. The sunbeams entering the cave through openings in the ceiling glittered and revealed the colors of the most vivid landscape I've ever seen. We spent the whole afternoon going in and out of that cave. I was stuck with wonder and bewilderment. And the craziest thing is that I never saw that man again. That experience was so overwhelming and life-changing that it shifted and redirected my life's purpose. In many ways, I feel like I never left that cave. I'm still there, going in and out, just coming up to the surface to get some air.
We all face challenges, but looking back would you describe it as a relatively smooth road?
It is never a smooth road. For the longest time, my work wasn't understood. I was always that crazy coral girl, raising the ocean flag in the middle of the concrete jungle that São Paulo is. People would ask me why I was so obsessed with something that was so far away from me. They would tell me to talk about something else or to include other nature themes in my artwork. They didn't get it. Even though my career as an artist advanced and was able to participate on exhibitions, sell my work, be represented by a gallery and make really cool projects, I knew I didn't belong in São Paulo. In 2018, I was the only contemporary artist to be invited to participate in a scientific exhibition about Brazilian coral reefs. " Coral Expedition" was presented at The National Museum of Rio de Janeiro. Up until then, this was the proudest I've ever been of my work. It was huge to be accepted and acknowledged by the scientific community. Unfortunately, after three months of the show that was supposed to be on view for a year, the museum caught fire and most of its art collection was destroyed. Over two hundred thousand objects of historical value burned, along with "Luzia," the oldest female fossil skeleton discovered in Latin America. I had lost all of my sculpture production, what I had done in the last three years. With no compensation and no insurance, the curator just gave me a pat on the back and said: I'm so sorry but there is nothing that we can do for you. That was devastated to me. I realized that I just couldn't be in Brazil anymore… Luckily I had been accepted in an art residency in Key West so I packed my bags, said goodbye to my country and came to Florida. In the last three years of being here, I have done more than 12 years in Brazil.
As you know, we're big fans of you and your work. For our readers who might not be as familiar what can you tell them about what you do?
As an environmental artist, my work deals with the decline of the coral reef ecosystems. I make drawings, sculptures and installations that investigate and highlight the main causes of the state that coral reefs are found today. The phenomena known as coral bleaching, ocean acidification and plastic pollution are the main starting points in discussing the human effects in ocean conservancy.
I invite the public to discover a complex biological network, where the concept of ecosystem is materialized through organization, symmetry and repetition.
My recent and interactive pieces (like how to dry kill, to kill with water and to replenish with water) deals with the ephemeral state of the work and its forever-changing quality, much like the ocean itself. It creates kinship with the creatures of the reef, a direct bodily experience to raise awareness and responsibility of this most powerful and endangered ecosystem.
Like the reef itself, my work uses a number of underlying structures – interdependence, diversity and scale – to organize collective empathy. My main interest is to study these phenomena to create dry dives, a way of showing a vailed ecosystem internal to our planet that most people don't have access to. I am especially interested in endangered species and how to translate scientific-based studies into visual arts. My most recent activity on mitigating strategies for ocean conservancy is creating sculptures that function as artificial reefs so they can perform their crucial role in deflating the tourism on natural reefs, in providing new structures for corals to attach and grow, generating nursing spaces and new homes for so many reef animals and in helping control sea-level rise in coral depleted areas.
As an educator, I teach students about the ocean, the reef, sculpting and drawing techniques: integrating art and science. I believe that part of my work as an ocean defender entails inspiring the younger generation to fall in love with and to take active care of our planet's most fragile ecosystem. For now, the future is a scary place to be with all the hardships that climate change brings but there is still time to reverse it. My job as an environmental artist is to envision and help design that world that we still believe possible.
Where we are in life is often partly because of others. Who/what else deserves credit for how your story turned out?
Definitely, my biggest supporters are my parents. They are the ones who made this all possible and the ones who undoubtedly always had my back believed in me and my work. To my partner in love and art Brett Olivieri, for being the most loving and supportive human I've ever had the pleasure to share my life with. My Art School professor Marcos Moraes played a big role too, he was the first person in the arts to give me a chance to exhibit my work and continued supporting me throughout my career, always opening doors and giving me advice on how to move forward. In the science field, Warrick Manfrinatto, head of the Institute of Advanced Studies of São Paulo University and Debora Pires, head of the Live Coral Institute also deserves a lot of credit. They both helped me on my path of connecting with the science community and validated it through giving me space to show my installations inside that field in São Paulo and Rio de Janeiro.
In Miami, I am eternally grateful to The Bakehouse Art Complex, they gave me an art community and a studio space to work from. A lot of the opportunities I had here is because I'm a resident artist there. I need to acknowledge the role that artist Lauren Shapiro has played in my life. She is a friend, a mentor, a supporter and a teammate. I am so lucky to have her and I couldn't imagine my life without her. I also have to thank my lovely friend Tori Linder, the marvelous woman behind The Path of the Panther and a Nat Geo explorer for connecting me with the scientific and art community in Miami. She not only is an amazing supporter but she has opened doors to me that I could never had imagined. My friends and art partners Natasha Tomchin and Charles Levine deserve so much credit as well for our collaborative project Can you Sea Change? They have elevated my work and my understanding of what a real collaboration looks like!
The city of Miami as a whole, for embracing me and allowing me to have a life here full of purpose and meaning.
Contact Info:

Image Credits
Personal photo and Sculpture images – Pedro Wazzan Diving image – Jennifer Adler, Ph.D. – Conservation Photographer Drawing images – Ana Moock
Suggest a Story:
 VoyageMIA is built on recommendations from the community; it's how we uncover hidden gems, so if you or someone you know deserves recognition please let us know 
here.