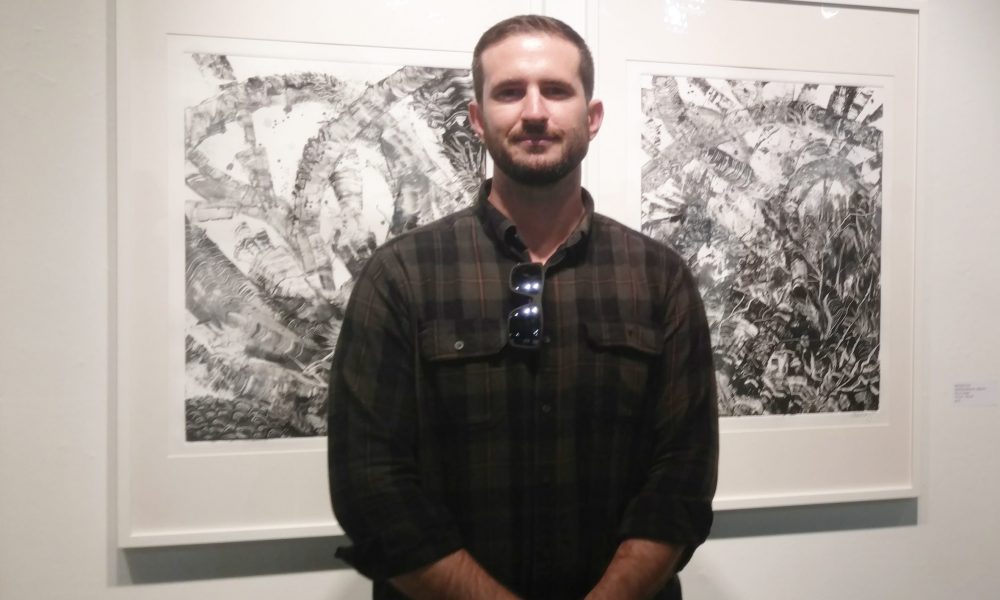 Today we'd like to introduce you to Michael Gray.
Michael, we'd love to hear your story and how you got to where you are today both personally and as an artist.
I am a Miami born artist with a master's degree from FIU. I have spent the past two decades observing the changes in the ecology of Florida including the Everglades, ocean and wetlands. My body of work explores the relationship between myself and the ever-changing South Florida environment. My work tends to question whether we, as a species, are able to make changes to our way of life; even after the consequences of our actions become a reality. I have exhibited my work in several Miami locations including the Frost Art Museum, The Bakehouse Art Complex and Laundromat Art Space.
We'd love to hear more about your art. What do you do you do and why and what do you hope others will take away from your work?
I work mainly in painting and printmaking. My current series of work is created through a process called monotype printing. This process of printmaking known also as "the painterly print" or "etching's ugly sibling" has allowed me to focus on recording the visual energy of an environment rather than creating a direct representation of it. This process has forced me to invent new methods of making marks including gestural line work and painterly streaks. While working in this medium, I am virtually covered with ink. I enjoy how physical the thick ink is to work with. While creating my images I use my hands, directly onto the printing plate, I create my own tools and I am able to invent new marks to use. Each work is one of a kind and cannot be recreated. Once the ink is transferred to the paper, there is no editing that can be done.
This new series, Life Forms, is based on the time I spent in Biscayne Bay free diving around patch reefs. Being alone and isolated in this strange and alien world moved me. I was consumed by the infinite details of the ocean around me while at the same time, I was afraid of what was just outside of my range of visibility. This experience challenged me to go back into the studio and document what is left of the delicate yet grandiose ecosystem that exists just outside my back door.
This work employs biomorphic abstraction to recreate the feeling I got from being surrounded by water and staring into the sublime. Bio, meaning life and morph, meaning form, has been used throughout modern art to allow artists to create the appearance of a living thing while, at the same time, eluding categorization. Artists like Matisse, Miro', Kandinski and Henri Moore used this to imply that humanity is ever connected to the constantly evolving state of nature. Likewise, Traditional Chinese ink painters from the Song and Yuan Dynasty created a style of landscape painting that went beyond a description of the visible world. This style, borrowed from old masters, focused on calligraphic line work and allowed the artists to convey the inner landscape of themselves. These artists saw color as a distraction and focused on capturing the energy of their subjects in monochromatic ink.
By following this lineage of work from these artists, I hope that viewers can get a sense of nature's power through my work. Endless detail and dazzling gestures mimic the natural world while revealing something about my inner state of mind.
How can artists connect with other artists?
Go to more shows! Support your fellow artists and join the network. I also suggest that you connect with other artists who share similar interests as you do. One of the biggest takeaways of getting my Master's Degree was the network of fellow artists and peers I can bounce ideas off of. I believe that art should not be created in a vacuum, Art should be critiqued, viewed and written about constantly. Lastly, and maybe most importantly, make sure that the people you choose to work around are people you respect and trust. Everyone in the business of creating needs a network to rely upon and work within.
Do you have any events or exhibitions coming up? Where would one go to see more of your work? How can people support you and your artwork?
You can see my most recent work online at michaelgray. studio Follow me on Facebook with /artist. Michael. Gray and Instagram with @michaelgray.studio. I also have a show currently open at Pinecrest Gardens.
Life Forms by Michael Gray
at
Hibiscus Gallery
Pinecrest Gardens
11000 S. Red Road
Pinecrest, FL 33156
Exhibition runs May 3 through August 10th, 2018.
Join us for the opening reception on.
Sunday, May 20, 2018 from noon to 2 pm.
Contact Info:
Image Credit:
The Divide (triptych)
Ink on Paper, 37.5"x24", 37.5"x24", 37.5"x24", 2018
Eutrophic Settlement
Ink on Paper, 24"x18", 2018
Sessile Crown
Ink on Paper, 16"x16", 2018
Intertidal Network (diptych)
Ink on Paper, 18"x24", 18"x24", 2018
Euphotic Formation
Ink on Paper, 18"x24", 2018