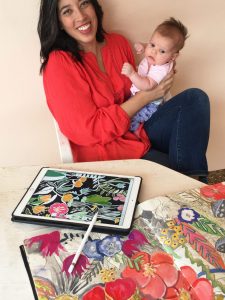 Today we'd like to introduce you to Marissa Huber.
Marissa, please kick things off for us by telling us about yourself and your journey so far.
My story is that of a young girl who spent her childhood drawing and writing alongside her little brother, doubted herself as an artist in college, kept creating her whole life, and started taking herself seriously as an artist once she became a mother.
I was born and raised in Plantation, to loving parents always encouraging our creative pursuits. My parents even sent me to Philly at 16 for a summer art program at the University of the Arts where I studied drawing, ceramics, and pierced my eyebrow with a fake ID (it was the 90s…). It was an incredible experience, but I didn't think I was good enough. I thought a "real artist" never ran out of ideas and was completely focused. I was fitting it in art after platform diving and water polo. I ended up studying Interior Design which was a good fit. Regardless, I never let this doubt keep me from making things whether it was reupholstering my sofa, knitting, or painting.
I was very close with my younger brother, Andrew who died when I was 27. Art and writing helped me process the tremendous black hole of life without him, as that was something we loved doing together, and it made me feel close to him. I also felt an urgency to tackle my own dreams more bravely since he no longer had his chance. I figured I owed it to myself and him.
Art became a bigger part of my life. When I was a new mother, I was frustrated being told I would never have time for anything again. After an adjustment period, I found I was more efficient, focused, and confident in my work. I figured if art was what I most needed to do with my limited free time, I must be an artist after all. This led me on a journey to find other artist mothers and share their stories through interviews on "Carve Out Time for Art" which has become a big part of my life.
I returned to South Florida in 2015 after 18 years in Indiana and Philly to be near family, and we were done with winter! In my professional career, I use my interior design background to do strategic planning for a broadcast television company in Doral. In my free time, I work on paintings and pattern designs that I license to companies. I run the Carve Out Time for Art online community with a partner, and we are working on a book about creativity and motherhood. I live in Plantation with my fine artist husband, Mike East (www.mikeast.com), kids Henry and Sloane, and my mom.
Can you give our readers some background on your art?
I create original paintings with watercolor, gouache, and oil paint, but really got into surface pattern design in 2017. I love creating colorful patterns that bring delight to the viewer as decorative art on a product. I'm obsessed with the plants and flowers blooming in South Florida, and much of it shows up in my work. I"m also inspired by my daily commute from Plantation to Doral. I try to look for pretty colors or patterns on the drive and often find inspiration in funny places, like a hot pink excavator on I-75. My color and design choices may have a story as well, like using a flower that was important to a loved one, or an abstract painting using colors noticed on a day with friends on Miami Beach. I either start with a hand drawn or painted design and translate it into digital patterns or draw digitally.
When I don't find time to create, I get really cranky, and life feels like endless routine and chores, with little deeper meaning (to be melodramatic). When I start experiencing what I call #creativecrankiness, I know I need to head to the beach or get in the studio.
My underlying message in my work (and life) is that we can find beauty in anything, even mundane moments or hard times. Everything is fleeting, but if you practice looking for a moment of joy, you can usually find it. I want people to feel a lightness in their heart when they see my work whether on a mural (bucket list), or in their home in fabric, or pillows.
How do you think about success, as an artist, and what do quality do you feel is most helpful?
My art success is defined by personal growth and fulfillment in my own work*. Am I improving my skills? Do I feel good about the work I'm creating? Am I pursuing mediums and subjects that are interesting and get me into the flow state when creating? Do I have an opportunity to partner with a brand or project that I'm excited about? *Granted, this may feel different if our family was supported by my art versus my professional career, so I want to be transparent.
Qualities and characteristics I think are essential for success include curiosity, openness to learning, follow through, and a willingness to put yourself and your work out there. Resilience and playfulness go a long way, especially as there can be ups and downs in the creative process no matter how much you love your craft. I want to mention that I'm impressed with fellow artists who are passionate about doing the work rather than just wanting to have the stereotypical perceived lifestyle of an artist.
What's the best way for someone to check out your work and provide support?
I currently share my work on Instagram @marissahuber or through my website www.marissahuber.com. People can purchase products with my licensed work through Minted.com (https://www.minted.com/creative/marissahuber) and Caseapp.com (https://caseapp.fr/marissahuber?model=iphone-6s-plus&type=case), or Society6.com. The writing and community building work for Carve Out Time for Art is on www.carveouttimeforart.com and on Instagram @carveouttimeforart.
Contact Info:
Getting in touch: VoyageMIA is built on recommendations from the community; it's how we uncover hidden gems, so if you know someone who deserves recognition please let us know here.