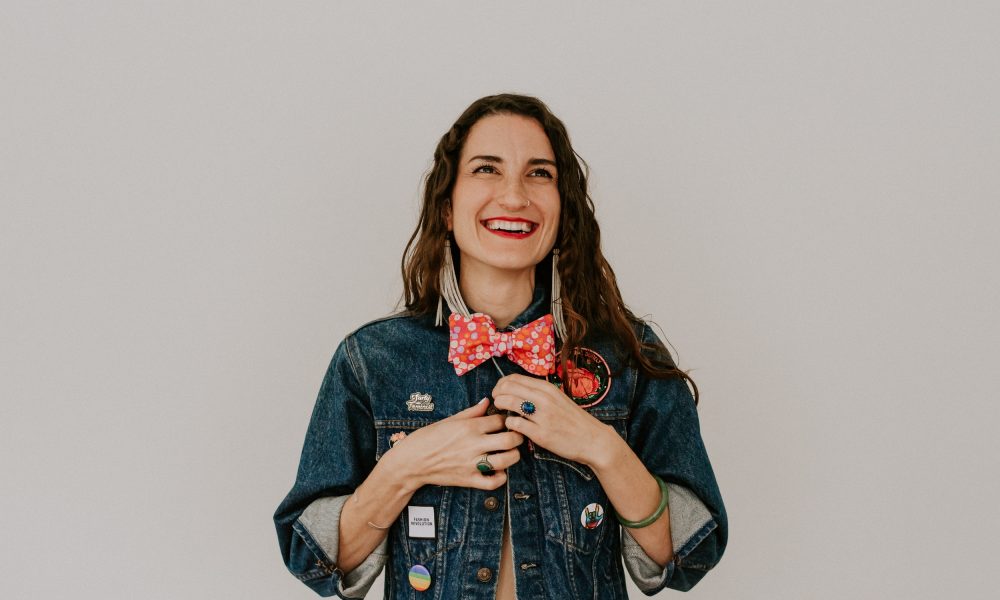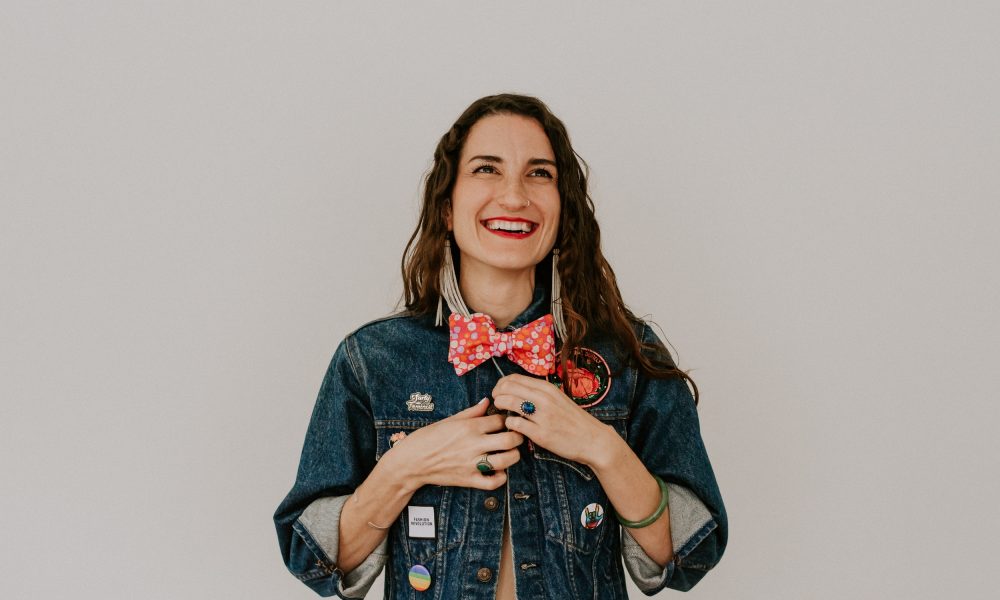 Today we'd like to introduce you to Ericka Leigh.
Ericka, please kick things off for us by telling us about yourself and your journey so far.
I have a bespoke bowtie business, which really started after the death of my grandfather. He wore bowties often and for his funeral, my aunt wanted everyone to wear bowties as a way to honor him and his sense of humor. That's where it all began. The bowties are made in a way that engage the wearer and observer to ask questions. We have unique patterns and everything is limited edition. Our bowties are made from old clothes as a statement about how much we waste as a society, clothing and otherwise.
We make new fashions out of old fashions and divert textiles from a landfill by taking one of our most wasted resources – our clothes – and transforming them into new designs. How did I come to this ethos? I experienced another tragic death in my life when my best friend was killed in a car accident. She continues to be a huge influence on my life and in my guiding principles. She was an advocate, an activist and an environmentalist. I think I always had a little bit of that in me, however it really grew after she passed. Since then, I've become very passionate about the environment and ways to take care of this place we call home.
I also worked in restaurants for a long time, where I gained an appreciation for the agricultural system. Unfortunately, that system is very broken. As I started with this endeavor, I had the epiphany that the clothes we put on our bodies and the food we eat come from the same system. I think we know this in theory as a society, however, we don't actively connect those dots. My mission as a business is to connect those dots in a tangible way. The majority of our closet is still cotton, as well as our bedsheets, maybe our sofa, perhaps our car seats. As a society, we waste a lot of textiles, which in turn is a waste of resources and human capital. We want to change that narrative and show another option.
I love the power of clothes and fashion as a vehicle of self-healing. I found that it helped me when I was going through a very difficult time in my life. For me, the power of style is when you look good, you feel good. And when you feel good, you have the power to change.
Can you give our readers some background on your art?
I think I answered this a little in the previous question, but I started making bowties in honor of my Welo, or my grandfather. He passed away in 2014 while I was in grad school. I grew up next door to my grandparents and was always close with both of them. Welo used to wear bowties to occasions and his funeral should be no exception. My Tia wanted everyone to wear bowties to his funeral so I made a few for my cousins and I to wear. And thus, it began.
I hope my bowties inspire a freedom of expression and self-confidence. I think of them as power accessories and that gives me confidence when I wear them.
I'm trying to break the norm a little and show that women can wear this fun accessory, as well. I hear people say so often"I could never pull that off," but I'm telling you that you absolutely can. The only reason you can't is because you told yourself so. Playing with styles and fashions gives us power. It allows us to take on different identities and ways of interacting with the world. I know this because I used it as a tool during a difficult time in my life. After the loss of my best friend, I found style and dressing better than I felt to be an avenue of self-healing. I used art as another self-healing avenue. I used to paint more and I still do, however, after Welo died, I changed art mediums from canvas to textiles.
I use old clothes as our main source of materials because there is no shortage of them. Americans are wasting 25 million pounds of textiles a year and most of it is going to a landfill. I received my masters in sustainability and use Sewn Apart as a vehicle to talk about sustainable fashion, the agricultural system, and the environment. I love this place we call home, and I feel that if we don't start putting more solutions toward the environment, we won't have a place to conduct any business at all.
In your view, what is the biggest issue artists have to deal with?
I think that probably depends on the artist and the medium. For me, I would say one of my biggest challenges is being concise in the messaging and finding enough time to do everything. For a while now, it's been just me. However, I recently partnered with a non-profit that teaches women a skill in sewing and helps them find employment, and I am very excited to share the labor with them in creating the products. That's probably true of a lot of other artists, too, actually. I know quite a few creatives who are trying to do everything. And in the beginning, that's the way it is. But you can tire fast. So then comes the challenge of finding a team to help out.
What's the best way for someone to check out your work and provide support?
People can shop online at www.sewnapart.com, and if you're looking for something custom, please contact me through there. I also do some of the markets around town on the weekends all over the state. I can be seen on social media – in IG @sewn.apart or @erickaloveleigh and FB is Sewn Apart.
Contact Info:
Website: www.sewnapart.com
Email: sewerickaleigh@gmail.com
Instagram:@sewn.apart & @erickaloveleigh
Image Credit:
Photos by Regina Rached – https://reginaasthephotographer.com
Emil White – https://www.instagram.com/lime_studios/
Chanel Fernandez – https://chanelfernandezphotography.bigcartel.com
Getting in touch: VoyageMIA is built on recommendations from the community; it's how we uncover hidden gems, so if you know someone who deserves recognition please let us know here.