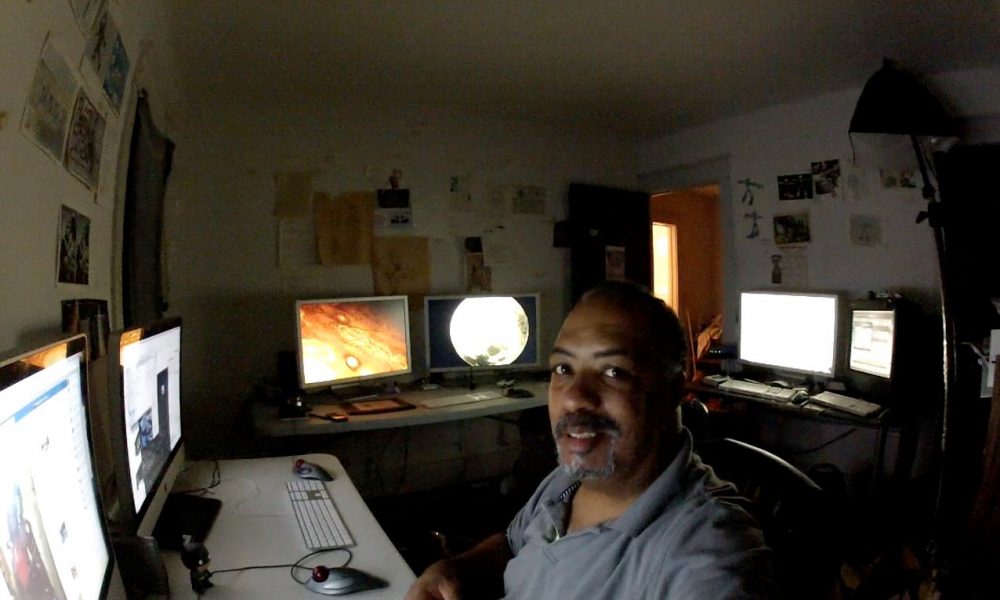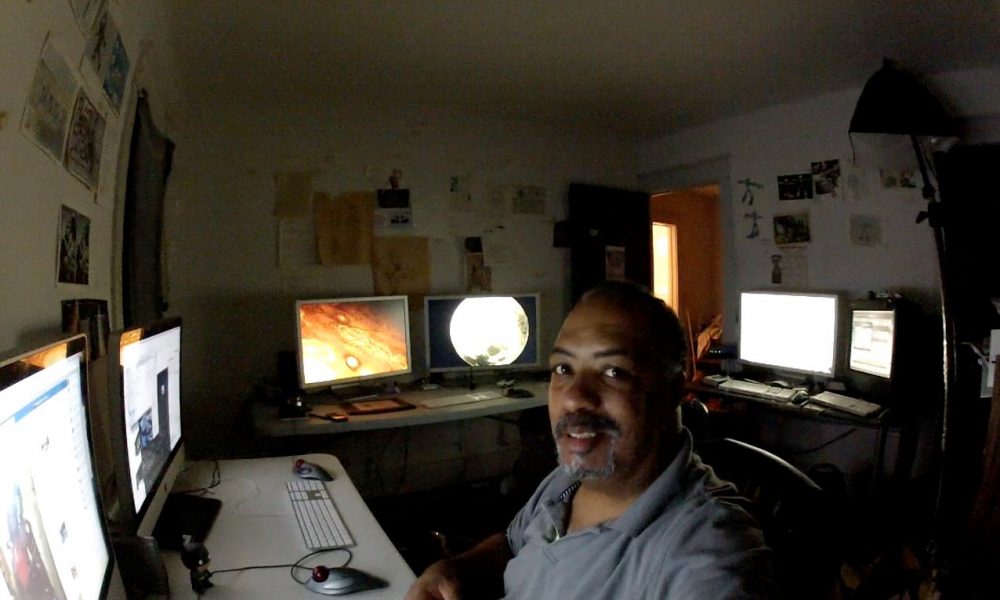 Today we'd like to introduce you to Alonzo Von Threet.
Alonzo, please kick things off for us by telling us about yourself and your journey so far.
I love being an original, creative artist since I was a child. Now I'm 55 and still love It. Art has always been a natural part of who I am so I don't separate different forms of art from what I am capable of. I work with any medium I can get my hands on. So, whether it's charcoals, cameras, animation, sculpture, paints or cinematography, I make Art with it. With that said, it's easy to see why I have worked for fortune 500 companies as a computer graphics specialist in NYC and also have had digital sculpture that I crafted in National Fine Art Museums in Taiwan. It's all art which a natural part of life is.
Currently I work independently in Buffalo NY where I also live. I always considered Buffalo NY fertile ground for growth, so I returned here after living 15 years in NYC. I went to NYC to become an illustrator in 1987 but I needed more time so I got a job as Canon Color Laser operator. Shortly Macs where connector to the copier and I learn every software app I could find. Eventually I became a tech at a college lab but I knew so many cutting-edge programs that I got hired as an Adjunct Professor. My art was the driving force behind my accelerated learning. I wanted to do what I could do with a paintbrush just the same as inside a computer. It took decades for the digital tools to reach that point but now that time has arrived and I am here with it. It's a joy to be part of that evolutionary experience and I feel blessed to achieve many of my creative visions. However, in order to realize my vision, I study, practice and invest heavily into state of the technology like Red cameras, motion capture systems and artificially intelligence software. My goals are creative, cinematic film and video productions.
Can you give our readers some background on your art?
Right now I create character animations, visual effects and digital sculptures. I draw them, model them digitally, rig them to move and emote, animate them to life and render them or put them in a live action footage. I even do digital stunt people or large crowds. So, I do everything from aliens, spaceships, mermen, and dancing robots. I own my own equipment like RED digital cinema camera so I put it up and go in the backyard and shoot an empty lot, either on a full body Steady Cam rig or fly an aerial drone in the air which I pilot through VR googles from the front terrace. Once I have my footage I track in 9-foot talk walking big, blue Minotaur Man. I love fantasy and imagination the unbelievable with great visual appeal. However, my art is steeped in traditional know-how. As a ferociously knowledge artist I know the science of color. I'm old school and new school., and I'm not talking about the New School that I taught at in NYC. I'm the first one in the pool when it comes to Avante Garde Auteurism. I hope to get into AR/VR soon but right now I'm animating combating game characters for an indie producer.
I believe in my vision but I also assist others with theirs. So, if another artist or producer is looking for an edge in their field I work as a hired gun. I have helped several film directors with their films whether music video effect like paint peeling of a wall a floating in the air, or logo openers for film premiere and DVD productions, I have done it.
Sounds outlandish but my goals are simple and focused. Art is a very powerful communicative tool. I use it to influence the world every day. With Art, I can change it and I do…every day. With Art and I speak without words and take people to places they have never been. I can "Right" a "Wrong". I can influence a single person or multitudes. Sounds like egomania but I temper it with humbleness, fun and love. I love people so I also do it for them. All kinds of people. That is why I am AVT. Alonzo Von Threet, The Artist!!!
https://www.youtube.com/watch?v=4H9hnDzyc5U
https://www.youtube.com/watch?v=3S-HL1u1TSw
https://www.youtube.com/watch?v=kBLtx2ZhN68
What responsibility, if any, do you think artists have to use their art to help alleviate problems faced by others? Has your art been affected by issues you've concerned about?
That's a very sobering question. I'll try to not be too melodramatic, yet in the lieu of the passing of such great world changing artist like Prince, Michael Jackson, Steve Jobs, or even Dali, I don't see how I could not be solemn. Artist can be agents of futuristic change. Can we think of climate change without thinking of MJ's Earth Song? How about the constant fear of Nukes without Prince's tag line "Mommy why does everybody have a bomb?". I believe great artist are Nobleman or Knights of a code to carry mantel of humanity and socially responsibilities. The world doesn't always like us because of our courage and audacity to say what needs to be said. We become a target and a pursued for persecution. Nobody is perfect so often public polls can be manipulated by the power to be to black list us. I mean, even Beyoncé, that pretty shake it up Mama was slightly smudged for her Black Panther half time show in protest of unarmed, innocent black people being executed by unjustified police brutality. Millions of people marched knowing it's immoral and must stop immediately, that something is "Broke" and in much needed repair in our justice system. Yet, the Artist pays the price
So, I don't think artist is a big glamour, savvy title that this generations claim to be. I don't' think everyone who calls them self and artist is an artist. We sacrifice. A camera, a mike or even a hit doesn't make you an artist. It's a lifetime. The word "Artist" has been overly adopted. Not everyone who calls themselves an artist is an artist, especially if you copy, hack, mimic others ingenuity. It should be something you prove and reprove every day.
What's the best way for someone to check out your work and provide support?
That's kind of tricky because I do things for production I rarely see it or can talk about it after I'm done. For instance, I did the '95 Source Award TV Graphics and CD cover. I never thought about it much until recently when I posted on FB. Then one day visiting a local artist, he introduced me as the artist who did the Source Awards graphic. I couldn't believe it but I guess because there were so many famous rappers promoting the CD and Show like Craig Mack and Heavy-D (RIP) people can relate to it better. However, if I mentioned I took BMW Mini Cooper car data and rendered them into 3D for people to purchase their configurations, even though there are a global company nobody would thing of me. I think car manufacturers are bigger than most rappers. That's funny to me.
I animated a dancing robot for Puma by hand. The robot was in NYC subways and seen by millions. Nobody knows Alonzo Von Threat had a strong hand in it. I was on the cover of Italian media magazine as a model for celebrated international artist. I have tutorial DVDs around the world on how to rig cartoons for animation but I don't think anybody would stop me and say "Hey are you that guy with the DVD publications. Nobody mentions it. ha. I'm a behind the scenes guy. So, I don't do a lot of promo. I work by word of mouth a lot. However, I live online and because I'm always spitting out new, creative projects and experimental endeavors, I post them on line immediate as I am done. You can always tell what I am up to with my YouTube video bin.
I post a lot of WIPs and interactions. However, that my change soon since I will be embarking on doing animation shorts and game cinematics.
Here's a link to some crazy dynamic characters I did recently.
Contact Info:
Image Credit:
David Wu
Bill Cooper
Daniel Lee
Emil J. Novak Sr.
Marvin Askew II
Getting in touch: VoyageMIA is built on recommendations from the community; it's how we uncover hidden gems, so if you know someone who deserves recognition please let us know here.