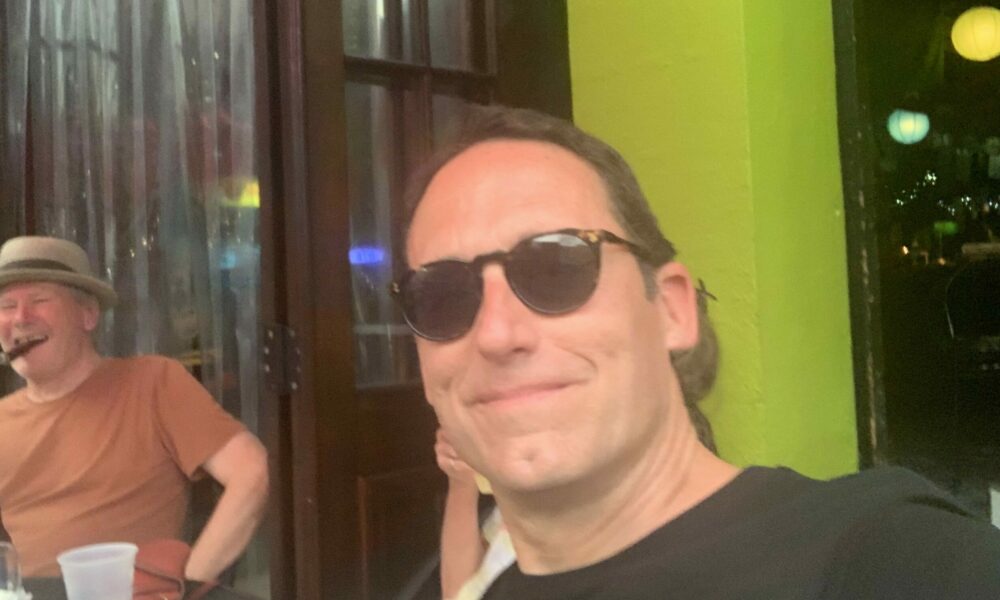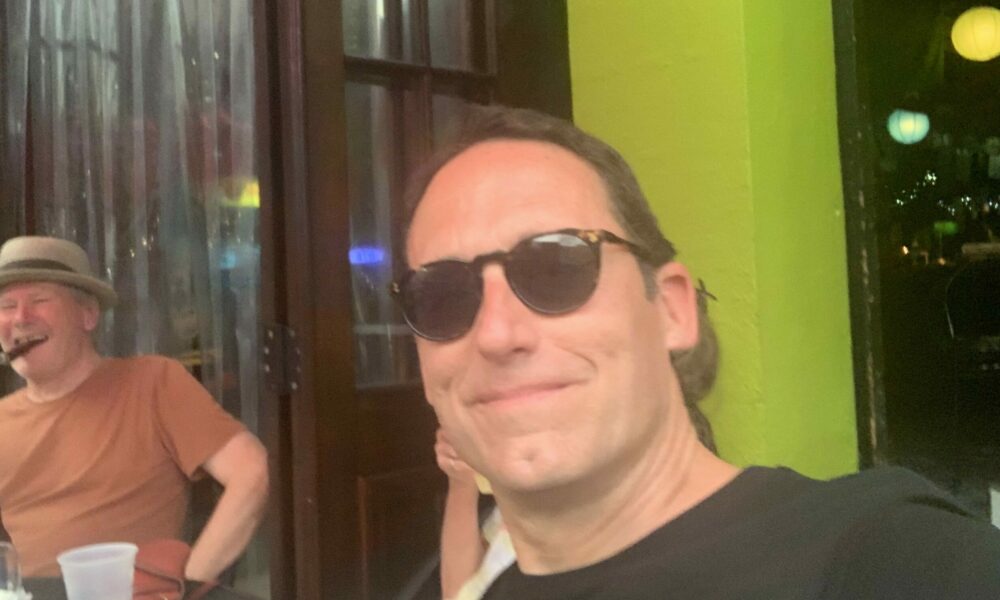 Today we'd like to introduce you to CE Hunt.
Hi CE, thanks for sharing your story with us. To start, maybe you can tell our readers some of your backstories.
I always felt like I had a story to tell. I grew up in a modest blue-collar/slightly white-collar neighborhood in the heart of Houston, not very far from downtown. My mom had grown up all across Texas including several formative years in West Texas where she attended schools where Spanish was the dominant language.
My dad was a product of East Texas but had spent four years all across the Pacific Ocean "island hopping" during World War II. The story I had to tell at that time was inspired by the values they taught me plus all the cool stories they shared with me of their life experiences along with being a kid growing up in the heart of Houston.
Though I was predominantly of northern European roots (aka very White) I was always very much the minority in the public schools I attended from K-12. It was always easy to pick me out of my school photos! Many of my friends were Mexican American or Black. These experiences enriched me, and I knew I had a story to share, but I wasn't quite ready. I needed to go have my own life experiences out "in the world."
After spending some time in the military upon graduating high school, I finally knew I wanted to get a degree. After completing my undergraduate degree from Lamar University, I worked for the federal government for a while taking Social Security claims. I never really liked the job, but, along with a decent paycheck, it served me well in one respect. It taught me a lot about people and relationships.
I had to determine the validity of common law marriages, who was the actual parent of dependents, who had a person retired, and things like that. It gave me visibility into the lives of people with a wide range of income and educational levels. I was the only Spanish-speaking employee, so I also took claims from some "Marielitos." That too was educational. It was then that I first started thinking about Florida and its interesting relationship with Cuba.
I finally quit that job because I realized that while the human components fascinated me as a future writer, doing tons of paperwork was not for me. I then knocked out a graduate degree from Texas A&M University, and I started once again a career as a federal bureaucrat in a different field. This time in the conservation of natural and cultural resources. That was very much more to my liking and resulted in my getting to know conservation issues and the western United States.
I was also able to spend five years abroad working in Europe. As my experiences grew, my desire to write grew even more. But on my journey to becoming a writer, Florida played a key role. Since high school, I have been a fan of John D. MacDonald. I might not be a writer were it not for the world MacDonald described around Fort Lauderdale in the 1960-1980s. His Travis McGee series opened me up to a world filled with reality, great aspirations, and a lot of shady folks.
MacDonald could wonderfully entertain and subtly preach at the same time about the ills of society whether it be about corruption, racial injustice, or the need to protect the environment. As much as I wish he were still writing and helping us make sense of the world, I'm glad he is not witnessing the state of politics in Florida today. It saddens me as well. I highly recommend you start with "The Deep Blue Good-by" (1964) to get a taste of his excellent work.
From MacDonald, I went on to become a fan of Carl Hiaasen, another incredible writer with Florida roots. He was born in Fort Lauderdale. Like MacDonald, he too uses South Florida-based storytelling to entertain and urge his readers to be more thoughtful on many of the topics about which MacDonald was concerned. I recommend you start with "Tourist Season" (1986) to get a sense of his style. He is one of the funniest writers I have ever read.
Lastly, as a writer, I have been greatly influenced by one other writer with a strong South Florida connection, Ernest Hemingway. He wrote many of his classics in Key West, including "For Whom the Bell Tolls" and "The Green Hills of Africa." Thanks to the advice of another American writer, John Dos Passos, Hemingway moved to Key West in the late 1920s after having lived in Paris for about seven years.
I touched on this in my book, "The Sommières Sun." Hemingway's work would be greatly influenced by the people and environment of South Florida. "The Sun Also Rises" and "In Our Time" are some of my favorites of his work.
After having acquired some interesting personal experiences and being inspired by MacDonald, Hiaasen, and Hemingway, I was ready to write! In 2006, I started "A Moveable Marfa" while living right down the road from Marfa in Fort Davis, Texas. I worked hard to synthesize the styles of my three literary influences into a style of my own. I had no internet or television.
All I had was my laptop and radio which could receive three stations. Fortunately, one of the stations was Marfa Public Radio. That station's original music programming was my nightly companion while I wrote the first half of the book or so.
After a few years in West Texas, I spent five years in France. There, I wrote the scenes in France and Spain, often sitting in the places I was describing. I like "in situ" or "Plein air" writing whenever possible. I like to write scenes when I am sitting in that exact location as much as possible. It just makes my writing seem "truer."
For instance, the scenes in the Dix Bar in Paris in "A Moveable Marfa" were written over a couple of nights of sitting in that bar drinking its famous sangria. I wrote the preposterous "leg contest" scene while I sipped wine (perhaps too much?) at a table at Place de l'Odéon not far from the Jardin du Luxembourg. I love those memories.
However, I did not finish "A Moveable Marfa" until January 2020 after living in New Orleans for a year. New Orleans was the inspirational tipping point that made me feel compelled to start sharing my work with others. "The Sommières Sun" would quickly follow suit being published in April of 2021. I am currently working on the concluding part of the Steve Miles trilogy. It is entitled, "Twilight in the Quarter" and I anticipate it going to print in 2023.
In all my writing I stress thoughtfulness and authenticity. I work to entertain my readers and quietly inspire them to grow, be thoughtful, and care about others and their surroundings. I want people to regard my work as original, thoughtful, authentic, and enjoyable.
Can you talk to us a bit about the challenges and lessons you've learned along the way? Looking back would you say it's been easy or smooth in retrospect?
The ride has been both smooth and not so smooth. Good writing needs great inspiration and time. (Good coffee and wine don't hurt either). Having a confluence of inspiration and time has at times been a challenge for me. It took fourteen years to write "A Moveable Marfa." There have been times I just didn't want to write. There have been times I very much wanted to write, but there just wasn't time.
Writing a novel isn't easy, but one thing that has helped smooth the ride in the Steve Miles series is that I identify with Steve. As the covers of "A Moveable Marfa" and "The Sommières Sun" share, the story is about a guy finding himself. It shares his journey to figure out who he is. I hope the journey is perceived as thoughtful, humorous, and inspirational.
Along the way, he navigates the cultural complexity of an artist colony in Marfa, Texas, suffers his very quirky family, explores the crowded but lonely streets of Paris, experiences the second coming of the "Lost Generation," gets to know a very free-spirited Brazilian neighbor, explores the culture of numerous villages in the South of France and gets to know my favorite American city, New Orleans. A lot of the storyline is inspired by things that have happened to me. Some of it is inspired by things I wish had happened to me.
As for other bumps? You pour your heart out into your books, and your sales go through very slow periods. It can be hard to keep going at times. However, if you are a writer, you just keep going. You just have to have faith that if you do your best, the sales will come. Money is nice, but what I most want to do is touch people. I want to entertain them, but most importantly, I want to somehow invite them to think about a range of subjects in a broader, more sensitive way.
Thanks – so what else should our readers know about your work and what you're currently focused on?
Well, I wish I could say I'm known for being a thoughtful, entertaining writer that can weave a story that is very enjoyable yet thought-provoking. That is my goal. Honestly, I'm not that well known. I have a small, lovely cadre of readers that helps me to keep writing. I hope the cadre grows over time, only because I hope to inspire more people to care more, enjoy life more, and love more.
From a professional writing standpoint, I am proud that I have authored or co-authored five books–two novels and three non-fiction and am well into my third novel, "Twilight in the Quarter." I am happy that I have had a few incredible people reach out to say kind words about my novels and even make an effort to meet me.
One reader indicated that "A Moveable Marfa" and "The Sommières Sun" helped them get through a challenging period in their life. My novels gave him perspective as he dealt with a difficult decision. That episode alone made it feel like my time had been well spent writing.
As for what sets me apart? That's for my readers to determine. I hope my work comes off as original and a bit eclectic. I write about spirituality and relationships balancing between the serious and humorous. I try to embrace the notion that we are here for a reason while not rejecting Absurdism. I also try to weave in commentary on social issues, differences in culture, and conservation.
Above all though, I hope my readers find my books an enjoyable journey that they reflect on from time to time. On my website (ce-hunt.com) blog, I share insights to give my readers some "behind the scenes" perspectives that I can't easily share in novels.
Can you talk to us a bit about the role of luck?
I can't say, but I can share this–most of the time that something good has happened because somehow, some way, I "put myself out there." Sometimes, my putting myself out there did not yield the result I was hoping for, yet it resulted in something else good. I know that sounds a bit like a cliché, but I believe it to be true. Doing nothing is the best way to ensure nothing happens.
Contact Info:
Suggest a Story:
 VoyageMIA is built on recommendations from the community; it's how we uncover hidden gems, so if you or someone you know deserves recognition please let us know 
here.