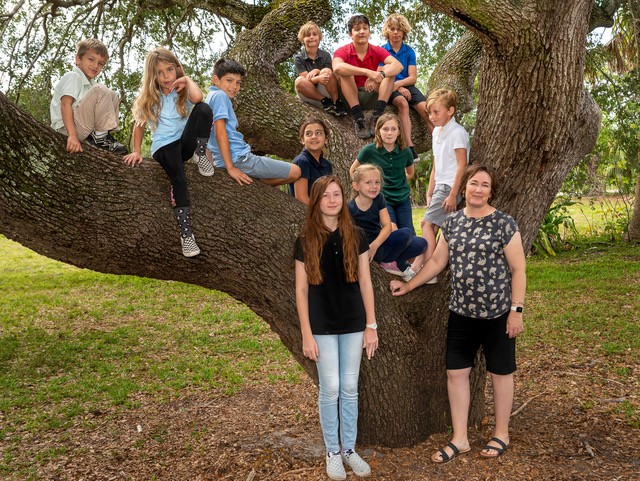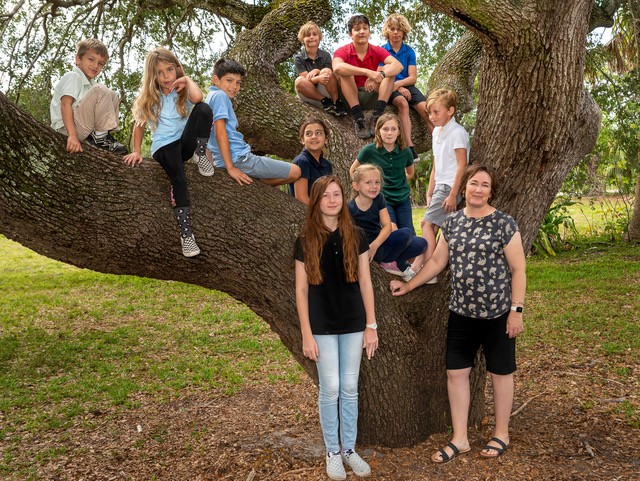 Today we'd like to introduce you to Candace Lehenbauer.
Hi Candace, please kick things off for us with an introduction to yourself and your story.
I wanted to create a Micro-school before micro-schooling was even a thing. I had homeschooled our family, organized and operated science clubs and classical education co-ops, but I wanted more. I wanted to have the feeling of the community more than a few times a week. I wanted a curriculum that would adapt to whatever level a child was at. I wanted to learn outside more, and go on field trips more. I wanted a micro-school.
Microschooling was barely talked about when we began back in 2018. I remember scouring the internet for anything that could point me in the direction that I was visualizing. It was like a faucet was turned on full-blast with ideas and thoughts about creating Tapestry Academy. At the end of our first year, I attended the Micro-school Builders Conference in Washington D.C. That was so great to feel connected with others. I also help lead the accreditation process for Wellington Collegiate Academy. Their school of 35 students was one of the reasons I decided to start a micro-school of my own. I loved the feeling of a middle school that felt like home. Their program was an hour away from where we lived, so I needed
to come up with my own plan if I wanted it to work long-term. I also became a bookworm, and read every book I could find about alternative education and micro-schooling.
We chose to follow the "One Room Schoolhouse" model of learning. Our class size is from 5 to 10 students, led by one guide for students in grades K-8. Guides actually do not do any teaching. They help lead the students to find answers on their own. I was skeptical at first, but so amazed at what the kids can do if we give them room to do it! They answer each other's math questions, or help show where to find videos that teach the information they are looking for. They motivate each other by sharing what their daily goals are, and what progress they have made. Everyone is at their own pace.
We are excited to have micro-schooling grow in South Florida. Last year during Covid, it was the perfect scenario for families to try this kind of education. It was great to give them a taste of student-led, project-based learning with lots of field trips and experiential learning.
Experiential learning is easy to describe. It is experiencing it instead of just reading about it. We've been on field trips to visit the Water Treatment Center in Boca, and discover that pair of socks that got flushed down the toilet by accident. We've made vegan pizza in an air-fryer, grown our own cucumbers and we've eaten really weird-looking radishes that didn't get watered properly. Experiencing it is what makes it stick! We've also been on field trips to the Frost Museum and Ft. Lauderdale Museum of Discovery and Science. One of our students last year said he had been on more field trips this last year than he had been on in his entire school life. He was in 6th grade. His favorite field trip was when we met up with Surf Skate Science and Colossal Academy and went surfing and did a beach clean-up for Earth day. That was a pretty great day!
We live in a day and age where there are so many opportunities available to us! How amazing that we can utilize technology to teach students at their own pace. The key is to inspire them to want to try. My own daughter is a testimony to the value of this type of learning. One year ago in March, she could barely read the word "the". She started a new reading program and was motivated to learn. She loved hearing from her classmates on how much progress they had made each week as well. By the end of the school year, she was working on a 3rd-grade reading level. It was so helpful to have benchmark information to show her progress as well. She was seen constantly walking outside or riding in the car with a book in hand. She had unlocked the mystery of reading.
Getting a small group of students together is an amazing thing. You are building a community of parents and families. You really get to know each other and magnify our talents. Having a dad come to visit on a moment's notice because he happened to have some leftover dry-ice and he thought the kids would love to see what it can do is exactly what education is about. We got to make pennies squeal on the dry ice, and a dad got to be involved in his children's learning. It was memorable and impromptu.
Creating Tapestry Academy is all about weaving students and families together for a season and creating something beautiful. We call it education.
Would you say it's been a smooth road, and if not what are some of the biggest challenges you've faced along the way?
The road has definitely been bumpy! I think that's how learning is done. It's messy. If you're not willing to make mistakes, you will never get anywhere. Having discussions with parents about their children at school when something doesn't go well is never fun. We've had our fair share of hurt feelings, and a few skinned knees. We're people, and people are challenging at times. Building a relationship of trust is vital.
We have loved the ideas from the Four Agreements by don Miguel Ruiz. "Don't take anything personally", and "Be impeccable with your word" are two of our favorites. We also watch a lot of "Growth Mindset" inspirational TedTalk videos. These are amazing, and they help me a lot. I remember one time I accidentally turned on a teacher training for the kids to watch instead of watching alone, and the kids were paying such good attention to what I was supposed to learn that I decided to just finish it with them. I had to just laugh about it, but they kept reminding me later on that I wasn't doing it right. I needed to do X, Y, Z. They were right!
As far as student obstacles go, I had a student last year who really had been turned off on math for about half of the year. She was making the minimum effort to make progress. Then, she overheard one of her classmate's goals to complete a certain level of math, and then move onto another big goal by the end of the year. She was suddenly motivated. She wanted to prove that she could do it too, and she did! She actually completed the goal before her classmate, pouring in time after-school and on weekends to get to where she wanted to be. It was amazing to see her wait for the right time and then engage. That lost time, so we thought, was not lost at all.
Thanks – so what else should our readers know about Tapestry Academy?
Tapestry Academy is a micro-school in Boca Raton that offers student-led, project-based learning to grades K-8 for small groups of 5 to 10 students. We specialize in experiential learning 16-20 hours a week. Students work independently and in small groups to create meaningful education. We are small and agile, able to adapt to opportunities that present themselves. We have weekly park days, and monthly field trips. Core subjects of English and math are done online and are adaptable to individual student needs. Science, history, public speaking, art, music, life-skills are done through creating projects and collaborating with peers.
We are planning to link efforts with Surf-Skate-Science, and Elevate Palm Beach in-person this fall. We create a safe, friendly atmosphere where students are able to feel part of a community.
We are always looking for others who want to join our network of micro-schools in South Florida and create one of their own, or send their child to an existing micro-school. We are most proud of the freedom in education that allows our students the possibility to explore what interests them, and the power that comes through that freedom.
Is there a quality that you most attribute to your success?
Patience and Creativity. Spending every day with kids can be amazing, but it also takes a good attitude and the willingness to study and keep your professional development going. Listening to podcasts late at night, or on early morning walks can really help, as well as squeezing in books during down moments that help keep your eye set on the goal. It's so easy to go back to how you went to school. We're looking to change for the better. That takes patiently learning and doing, and being creative when it isn't going the way you thought it should. Be adaptable.
Contact Info:
Image Credits
Thomas Schmuki Photography
Suggest a Story:
 VoyageMIA is built on recommendations from the community; it's how we uncover hidden gems, so if you or someone you know deserves recognition please let us know 
here.