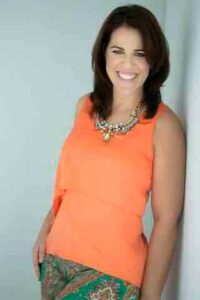 Today we'd like to introduce you to Teba Orueta Blanco.
Alright, so thank you so much for sharing your story and insight with our readers. To kick things off, can you tell us a bit about how you got started?
I'm originally from Madrid, Spain and began my career in Europe with Procter & Gamble. After 7 years with them selling laundry and cleaning products to retail and wholesale, I realized I wanted to travel and discover other ways to earn a living and make an impact. What I did not realize at the time was that the Reflexologist Procter & Gamble had coming to our London offices would plant the seed that would later become my wellness business – 15 years later. So I took a sabbatical to travel and find my true purpose. Little did I know that all those Yoga and Massage courses taken over 3 years in SE Asia and India would turn me into a wellness advocate!
So what happened during your travels?
A myriad of classes and certification courses later, I returned to Spain as Spa Director at The Ritz Carlton Abama resort on Tenerife island. That was a lot of fun, especially learning to marry business operations with wellness, which to some seemed like a contradiction. I learned how important it is to have healthy and well cared-for teams. A SPA will never be successful if the SPA staff's wellbeing and work environment don't come FIRST. How can someone offer you an exceptional massage if they themselves are not looked after, don't get healthy food, sufficient breaks, a reasonable schedule and adequate remuneration? I also I learned that pretty does not always equal functional, which was the catalyst to get me into consulting and design of functional spaces.
How did you make it to Miami?
Fast forward a few years, and I found myself living in Miami, directing continuing education for one of the nation's best massage schools, and dreaming of merging all of this experience into a career that would truly make an impact. And so DeNatura® Wellness was born in 2016. We offer a multi-level approach to wellness: offering treatment to people at work (corporate wellness) + improving the skills of therapists (continuing education) + delivering excellence in SPAs, resorts and residential buildings (consulting).  I love my job, and looking back, I only got here thanks to all the touch-points I experienced in the past. I wouldn't have bet a dime had someone told me back in 1999 that the reflexology treatments I was enjoying in my office would get me here!
Can you talk to us a bit about the challenges and lessons you've learned along the way. Looking back would you say it's been easy or smooth in retrospect?
Of course not! I went from corporate executive to being on a student visa to attend massage school! Many thought I'd lost my marbles and would regret it. But my immediate family never questioned my path or intent and they have been my unwavering support. The struggle was partly understanding what I was put on this earth to do (which took me well into my late thirties). It's an illusion to expect us to know what we want to be when we are fresh out of high school.
The biggest mental hurdle has been letting go of the notion that success equals a high-paying corporate job in a corner office. Knowing it is one thing,  but having the courage to take a leap is something else,  because often we disappoint other's expectations. This is perhaps easier in today's YouTuber and Influencer world where income streams are so varied,  but back in the 90's it wasn't yet like this. .
How has being a foreigner influenced your ability to succeed?
It's not easy! I grew up in Spain and studied, traveled, worked and had healthcare thanks to the European Union agreements and open borders. But all of a sudden being a student in my thirties in a foreign country with different laws was quite difficult. I was not fleeing social or political unrest or economic instability, and I spoke English, so it was easier for me than for so many other immigrants starting fresh in a new country. But it was still unsettling and difficult until you find your ground and get your work permit and status cleared.
How has Miami supported you and your business?
Thankfully, Miami has been a social and economic fertile ground. I have been blessed with having my Cuban side of the family to fall back on, a diverse community of Latinos of all walks of life with whom to feel at home with, and a network of entrepreneurs of all ages support my vision that a woman can drop the corporate ladder and become a successful entrepreneur selling "wellbeing".
Do you attribute your success to luck or hard work?
My Dad always said: the more you know, the less bored you will be and the harder you work, the luckier you'll get. The more we connect with friends and family, the more opportunities show up. The more vulnerable and honest we present ourselves, the easier it becomes for others to lend us a hand.
As you know, we're big fans of DeNatura® Wellness & Seminars. For our readers who might not be as familiar what can you tell them about the brand?
We deliver health and wellbeing to people in three distinctive ways:
1) WELLNESS AT WORK: Because healthy employees cost less and work better, we partner with HR, benefits and insurance brokers to provide on-site wellness initiatives (nutrition challenges, boardroom acupuncture, massage therapy, yoga, mindfulness, fitness classes).
2) WELLNESS AT HOME: Because our home is our sanctuary and should embrace all things wellness, our team of highly trained practitioners provides house-call services for pain relief, postural re-education, and more.
3) WELLNESS EXCELLENCE IN YOUR LOCAL SPA, RESORT OR RESIDENTIAL BUILDING: By training therapists and consulting for developers, we impact the ability to create wellness-centered spaces and service offerings to residential buildings and SPAs. We design wellness spaces with architects, write treatment menus,  designing protocols, and train the staff to deliver excellence.
Who are some of your clients?
I am proud to work with amazing clients, including construction companies who are building wellness-focused residential buildings like 515 Villa Valencia in Coral Gables or 57 Ocean on Miami Beach for whom I have created the treatment menu and the wellness approach. I have trained the team at The Well in New York and work with them consistently on projects with Auberge Collection in the US and South America. I also conduct an annual training with the SPA team at The Westin in Cayman Islands and more recently trained the SPA team at The Palms Aveda Spa in Miami Beach, and helped the Director redesign a portion of their treatment menu. Throughout the pandemic we worked on a virtual health challenge with Berkowitz Pollack Brant and we work regularly with Royal Caribbean, Akerman LLP, Gunster and 60+ other small to medium size businesses throughout Miami and Broward.
What makes you different from other providers of similar services?
Our team are highly specialized. Because I am a nationally approved continuing education provider, I am able to recruit from my seminars and workshops where I see the highest potential. Therapists have to renew licenses regularly so when they take their CE classes, I get to see how well they can fit into the quality and professionalism of our team. We go above and beyond, with certifications in oncology massage, geriatric massage, prenatal and postpartum massage and of course deep tissue techniques like myofascial release and neuro-muscular therapy. That's what makes us great – our team knows the body really well and can personalize treatments without the need to follow a cookie-cutter approach. We work with people of all walks of life and also high-net worth individuals who trust us with their privacy.
Risk taking is a topic that people have widely differing views on – we'd love to hear your thoughts.
My parents taught me the value of using my education to be curious and explore as many diverse interests as possible. That curiosity dumbed down the fear that we all have and has allowed me to be a "calculated" risk-taker for most of my life.
When I quit my corporate job at P&G, I took a huge risk by traveling for three years, putting money-making on the back burner for a bit in lieu of exploring self-development. Some thought I would never be able to enter the workforce again after that hiatus, but traveling in foreign lands with vastly different languages, cultures and history made me a more rounded individual, better equipped to think outside the box and make unusual connections.
Emigrating from Europe has afforded me more empathy and determination to find avenues to success.
Contact Info:
Other: @DeNatura Seminars on social media profiles for Continuing Education AND https://www.denatura.com/consulting for gallery and images of the spa menus / training / consulting projects I have been involved in

Image Credits
© DeNatura Wellness
Suggest a Story:
 VoyageMIA is built on recommendations from the community; it's how we uncover hidden gems, so if you or someone you know deserves recognition please let us know 
here.