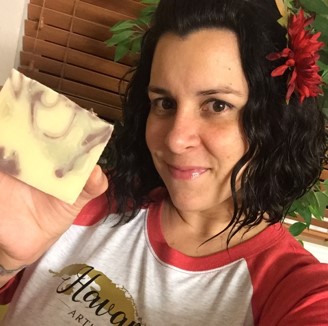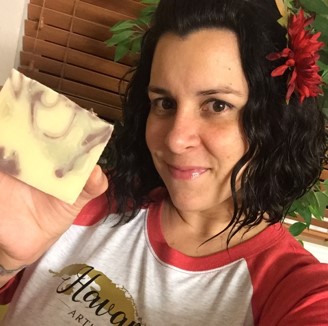 Today we'd like to introduce you to Sarai Gonzalez.
So, before we jump into specific questions about the business, why don't you give us some details about you and your story.
I never gave a second thought to how a bar of soap was made, to be honest. Then, at the ending of 2016, I remember taking a Chemistry class which I was failing btw. At the time, I was finishing up my Associate's degree in order to enroll for my Bachelor's in Teacher Education. As if going to school full time and working a 9-5 full time wasn't a busy schedule, I found myself bored. Nothing a Google search couldn't fix! I came across a soap making class and I was like, coño que buena idea. I signed right up and it was love at first saponification! Saponification is when you mix oil or fat with lye to form soap using the cold process method which is how I make my soaps. After taking the soap making class, obviously, I couldn't wait to go home and make some on my own. As you can imagine, I slowly acquired an arsenal of soap making ingredients, tools and such. Before I knew it I was in deep and outgrowing my small apartment.
Everyone was like, what are you going to do with all those soaps? I always daydreamed about having my own business but I never knew what that would look like for me. Obviously, the next step was to start a soap making business. So, I quit school and decided to just go for it and live my dreams. I spent a REALLY long time trying to figure out how my soap business looked like, who did it speak to, who would my customers be? Then one day my cousin Rauli who is a professional chef asked me to go with him and his son (a pastry chef) to an audition for a cooking show. Afterwards, he took me to Little Havana to have some lunch at a friend's restaurant. Mira que hace tiempo que no voy a La Pequeña Havana and I was in awe. The place had changed so much form the last time I was there as a kid. So, up and coming, so touristy so AMAZING! I knew right there and then that, that's where I needed to be. My heart had flutters and I knew I needed to represent my culture, my Cuba though my soaps! Literally, just like that, Havana 78 came to mind. So, I went back home all excited and spoke to my boyfriend Marcelo and asked, what do you think of Havana 78? He's like yes! He LOVED the idea. I launched my business in January 2018 and here I am, your Havanita Girl Sarai with Havana 78 Artisan Soap Co.
Has it been a smooth road?
Que si me fue dificil? Oh boy, I definitely faced some challenges along the way. Who would've thought that having a soap business would be faced with some adversities? Let's start with opening a bank account. Surprisingly, this process was not as daunting but they did need to clear me beforehand. I was asked a few questions about my involvement with Cuba as well as the nature of my business etc.
Now let's move on to my online shop with Etsy. When it comes to naming my soaps and writing a description about them I used to get my postings to deactivate all the time. See, just think about my company name, Havana 78 Soaps (for short) if I were to post a listing for a "Havana Nights" soaps, for example, just the name alone was a red flag. So, I would receive an email from Etsy's compliance questioning my relation to Cuba, etc. To get over this hurdle, I now place a disclaimer that all products are made in the USA. Once reviewed then, they would reinstate my posting. It got a bit frustrating but after a few roundabouts, I think we both learned how to work with each other. It was frustrating because I felt censored on how I expressed myself as a company and my Cuban roots. Felt like I couldn't be my true authentic self. Like my freedom of speech and expression had to be cleared first.
Etsy however, was not the only platform que me tiro un platano en el camino (that threw a wrench in my path), other e-commerce companies I tried doing business with would too deactivate my account until they were able to investigate my affiliation to Cuba. Caballero, yo te digo que no es facil. But in the end, I have no affiliations with Cuba other than having been born there. I am a legal US citizen with the same American dreams as anyone else but with a Cuban flair.
So let's switch gears a bit and go into the Havana 78 Artisan Soap Co. story. Tell us more about it.
I am a soap maker. I am a simple Florida girl by way of Havana making soaps inspired by my birthplace, Cuba. There are three methods in making soap, melt & pour, hot process and cold process. My soap making method is through the cold process which is the most ancient form of saponification (but with modern day means). Soap making or saponification is when you mix an acid (which is your oil or fat) with lye (which is your base/basic solution – Sodium Hydroxide) to form soap (a salt). I also make other body products such as body butters, salt scrubs, lip balms, and candles as well. But my pride & joy are my soaps.
Now, there are many soap makers out there but I don't think I've come across one that does anything similar to what I am doing in terms of representing a culture – sights, taste, smells, colors all through the form of a soap bar. Sure, different soap makers have made a "mojito" soap or a "Cuban Cigar" soap or what not, but I haven't seen anyone dedicating a full line to a culture. At least not a Latin culture, specifically the Cuban culture. My soaps are my interpretation of my Cuban roots and what that means to me. I'm definitely telling a story, my story, my family's story. I love to connect with customers especially when they ask about the soaps. For example, I have a soap called "Chiqui's Avocado" inspired by my dad whom we call Chiqui. See, as a young boy in Cuba my dad, Ignacio would sell avocados as a means to make money. Everyone has a story, mine is told through my soaps. Regardless of your background or where you're from, I think we're able to make a human connection through similar life experiences. Aside from Cuban inspired soaps, I also make your classic soaps like a lavender soap which is my favorite by the way.
Being a nature lover, I also try as much as I can to be eco-friendly and you can definitely see that in my soapboxes which are made of recycled pulp (paperboard). My lip balm tubes are also made from paperboard. And even the soap dishes I sell are from reclaimed wood. I also try to use plant products vs animal products. This allows me to connect with customers that may be vegan. I take pride that while not ALL my products are eco-friendly or vegan I do try my best to use anything that is made from recycled material or that can be recycled or repurposed. It's also very important to me to use skin-friendly ingredients and stay as natural as I can, without it limiting my vision, of course.
Pero no confundas, even though I am representing Cuba through my body products ANYONE can most definitely use my products. Can't visit Cuba for whatever reason? Let yourself be indulged and carried away with one of my Cuba inspired soaps. Indulge that inner Havanita and/or channel your inner Havanero. Let's get Havana'd together.
Is there a specific memory from when you were younger that you really miss?
I cant really say there is a specific memory from when I was younger that I miss, but my favorite childhood memory which still holds true until today is baking with my mom. I come from a family of cooks and bakers, both as hobbies and professionally. The only person that I can work within the kitchen is my mom, Cary. We just know how to navigate as a team. It's our most bonding time together as we share this common passion. We bounce off ideas from one another, we joke around and laugh and we get to catch up on what's been going on with our lives as well. Baking with my mom is definitely one of the activities that we share a common bond and sets the dynamic of our relationship. I have a few foods and drink inspired soaps such as my Flan soap which is made with real eggs and vanilla just like the dessert.
Contact Info:
Getting in touch: VoyageMIA is built on recommendations from the community; it's how we uncover hidden gems, so if you know someone who deserves recognition please let us know here.