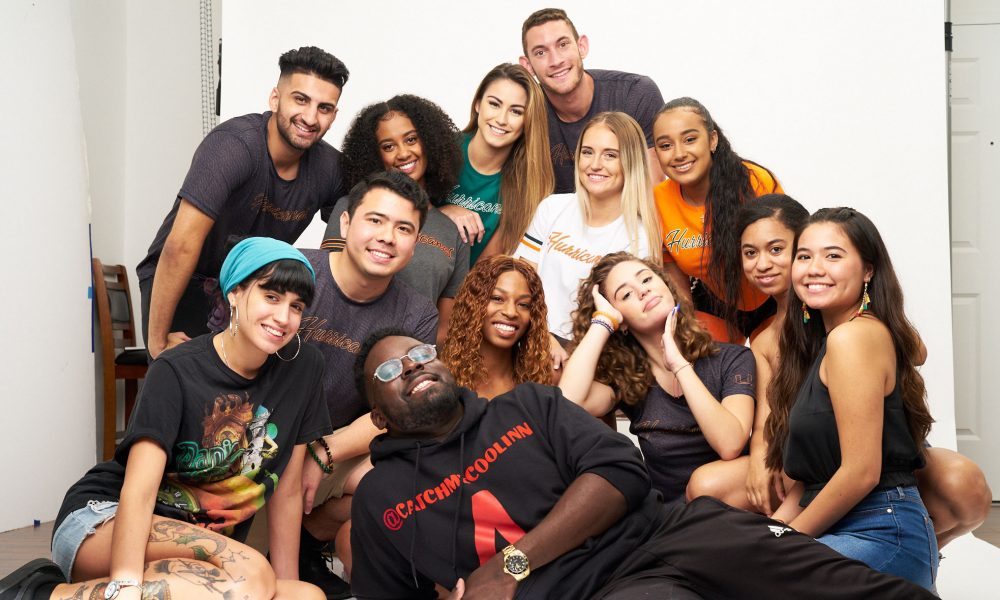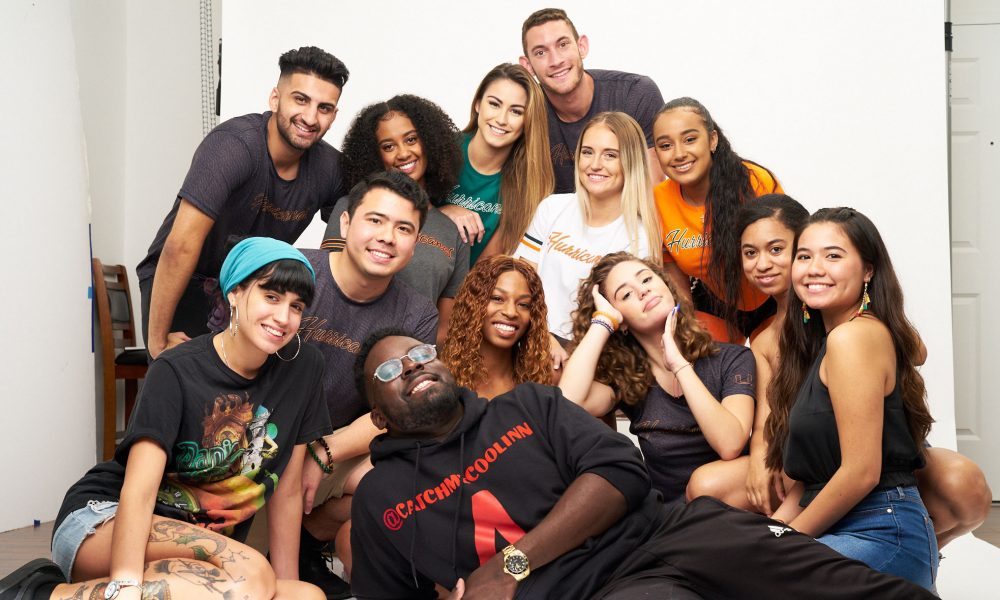 Today we'd like to introduce you to Paul Jojo Ghartey, Andre Andrade and Marcus Spady.
Paul Jojo, Andre, and Marcus, can you briefly walk us through your story – how you started and how you got to where you are today.
From a joke to a college fraternity fundraiser to a corporation; we're sure you'll be surprised to hear what inspired the idea for our collegiate brand, INSZN, and how we've made it to where we are today. It may be hard to believe two industrial engineering students and a medical student from The University of Miami (UM) came together to create a collegiate apparel brand. This is our story, as narrated by Paul Jojo Ghartey, Marcus Spady, and Andre Andrade.
Jojo: Our journey began in November 2015 when Spady and I were shocked over the fact that 2 Chainz, a famous hip-hop artist from Atlanta, had made two million dollars in sales in one month from his "Dabbing" Santa Sweater. The "Dab" was a popular dance craze that many celebrities, politicians, and people in general were doing worldwide. As our discussion continued, Spady jokingly said that UM should have a shirt with our mascot, Sebastian the Ibis, dabbing. We chuckled over the idea for a bit but soon realized that there was some potential in the joke.
Spady and I started researching how to make our "Dabbing Sebastian" shirt idea a reality. We found an artist to develop the "Dabbing Sebastian" sketch and used the graphic to create the concept of the shirt. In the beginning of spring 2016, we decided to sell the shirts as an on-campus fundraiser for our fraternity. The shirts became so popular that we took a picture dabbing with the University's President (which made it to UM's official Instagram). We went on to sell hundreds of our shirts within two months.
Spady: The summer after what we thought was a successful spring semester, we decided to seriously pursue this concept. It was at this moment when Jojo and I came up with the name INSZN. We acknowledged that there was a market need for more dope collegiate apparel, and our goal was to redesign the way people exhibited their college pride. We spent the next few months creating apparel designs with our mutual friend, and fellow cane, Elliana Golijov. Elliana was INSZN's first graphic designer. We met with her consistently on a weekly basis throughout summer and fall to create designs and to brainstorm ideas. As time passed, we wanted to officially incorporate INSZN. It was around this time that our friend Kyrah Williams introduced us to her mother, La'Trese K. McPhee Esq., who would later become our lawyer/registered agent.
Jojo: With the help of Ms. McPhee, we incorporated INSZN on January 17, 2017. We spent the next few months developing our first business plan, creating more designs, ordering product samples and figuring out how to get INSZN off the ground. As fall approached, we realized we were not going to be able to launch in time for football season. Due to this, we adjusted our timeline and continued developing the company throughout fall. We were looking to grow the INSZN team, so I pitched the concept of our business to a good friend and fellow classmate of mine, Andre Andrade. I had worked with Andre on many industrial engineering projects at UM and was confident in the skillset he could bring to INSZN. He took an interest in the company, and by the beginning of 2018, he was officially onboarded as the company's Chief Operating Officer.
Andre: I officially joined INSZN January 1st, 2018. After I joined the team, one of the first things we did together was to come up with a plan of action for what we would have to do in order to launch INSZN. This included finding a dependable quality manufacturer, obtaining the capital to order set products, becoming licensed with UM, developing an ecommerce website and more. With a daunting workload before us, we developed a standardized schedule for how we'd work on the business. I had just graduated, JoJo was in his final semester and Spady was working as a pharmacy assistant while awaiting responses from his medical school applications. We settled on meeting every Monday for 8-12 hours as a team. Throughout the week, we met whenever we were available. On Sundays, we met with Elliana to create and review product designs. We had an online to-do list that kept track of our tasks, and each member of the team was responsible for completing their assigned tasks on their own time.
Jojo: As we were making steady progress in our operations, our company expenses started increasing. At the time, we were funding the business entirely through personal funds and we knew we had to find additional capital sooner or later. I had previously mentioned the concept of INSZN to a good friend and classmate of mine, Bria Johnson. After explaining the full vision of INSZN, she became interested and thought it had potential. Remembering this, I got back in touch with her and asked if she would be interested in becoming a potential investor. After further discussions, she ended up becoming INSZN's first inventor. Now, with some money in the bank and quality product samples, we were very optimistic in what the future held for us.
Spady: In April of 2018, I was informed of my acceptance into medical school. The good news created a difficult decision for me. I knew I needed to choose between INSZN or welcoming a huge milestone toward becoming a medical doctor, which had been a life-long dream of mine. Internally, it came down to what I wanted my chief aim in life to be and that was to add positive value to the world. At the end of the day, felt that I could make more of a global impact practicing medicine. After notifying my partners of my decision, I spent my remaining time with the team focusing on submitting INSZN's licensing application and establishing its formal corporate structure.
Jojo: With the news of Spady leaving by July, our steadily growing to-do list, and an extensive licensing application to submit to UM, we had to be strategic about how we were going to use our remaining time together. We managed to submit our application in on time; two weeks later, Spady left. Andre and I had to adjust to our new structure and to the amount of work we needed to divide among ourselves. Fortunately, we were able to juggle the new responsibilities and continue preparing for a tentative launch for the fall of 2018, all the while eagerly awaiting a response regarding our licensing application.
Andre: July 27, 2018 was one of the most invigorating days for our team: we had finally received word from UM's licensing company that our application had been approved. We were all in different cities at the time but the flood of GIFs and calls between the three of us that day was memorable. We then completed the necessary steps to finalize the licensing process and became officially licensed with The University of Miami on September 14, 2018. At this point, we still were aiming to launch that fall season, but still had quite a few loose ends to tie. One of the key loose ends was our e-store. So, I hit up a childhood friend of mine, Victor Flores, who happened to be a Shopify Web Developer, and INSZN began developing "inszncollegiate.com". At the same time, we were receiving multiple samples of our products and working on refining them to meet INSZN's expectations. We wanted to make products our customers would love, and part of that was durability. As winter approached, we realized that yet again we would have to move our launch date back, this time due to lack of capital. We decided to push it back for the last time to Spring 2019.
Jojo: We were a little disappointed when we decided to push our launch date back to Spring 2019, but we were still eager to launch. Nevertheless, this decision ended up working to our advantage. We secured our seed investment from a new investor, secured a manufacturer that produced higher quality goods, and designed a much-improved launch line. After the new year, we moved into our current warehouse, received the first bulk order of our Miami Mami Reversible Bodysuit, and organized our first photoshoot which featured seven models (all friends & family) a photographer and a videographer. Though the photoshoot was long-nine hours-and tiring, we had a great time and were satisfied with the outcome. We used the pictures we received from the photoshoot to then complete our website and start preparing for our official launch.
Andre: The week leading up to the launch was one of the most exhilarating, yet exhausting weeks of our lives. To put things into perspective, Jojo and I were both averaging 40 hours a week at our jobs while working full time on INSZN. Everything had to be perfect; the moment so many people had been working towards for years was finally here. Although we wish we could say everything was organized and ready to go weeks in advance, the truth was we still had some polishing up to do. Ultimately, we got everything done.
On March 3rd, we launched at 1:30pm on Instagram (@INSZNCollegiate) with our Miami Mami Reversible Bodysuit promo video. We wanted to start with something that people had never seen before, but that also cemented the raw Miami vibe. Although sales started coming in almost immediately, we knew we had to work on launching the rest of our products. We made sure to take a moment to celebrate-dancing around the warehouse to music blasting-before quickly getting to work on putting together our next product launch. Ever since that day, we've been continuously evolving and working together to keep introducing new content and products, developing our brand's awareness, shipping orders, and ensuring good customer service. Ultimately, INSZN just wants to give people the opportunity to express themselves by showcasing their identity and school pride through apparel designed specifically for them; and we're excited that so many people already feel that way. Go Canes!
Has it been a smooth road?
No matter how much experience one may have when starting a business, one will inevitably run into challenging situations and obstacles. Our journey, to say the least, has been a winding road with twists and turns. There have been countless struggles we have had to overcome in order to get to where we are today.
One of the first struggles we encountered was the knowledge gap of what it would take to get a collegiate apparel brand off the ground. At the time, we had limited knowledge of incorporating a business and the many responsibilities it came with. Due to this, we were faced with a steep learning curve. This learning curve entailed months of researching, learning, and understanding of what it took to build a company (specifically a collegiate apparel one). Our journey, as stated in the previous question, was filled mistakes and temporary failures which were imperative in helping us gain the necessary knowledge to grow. In addition, there were many new skills we had to teach ourselves through books, articles, and YouTube tutorials. We quickly learned that a business could grow only as fast as the individuals within the business did.
Another jutting hurdle we faced was obtaining the official license to work with the University of Miami (UM) as a collegiate apparel brand. To say the least, the University of Miami's licensing application process was lengthy. There were multiple steps to the application process, and each required us to do more research and tasks, including vetting our overseas manufacturers to make sure that they met all of UM's standard regulations, and developing high-quality samples of our product designs. At the end of the day, we were able to submit our completed application, and eventually obtain the license.
An ongoing struggle that our team faces is finding the right manufacturers to work with. When we first started looking for manufacturers, we realized that in order to test their quality we had to purchase samples from each of them. However, in order to produce a sample, we needed to provide each manufacturer with a document called a technical pack (tech pack), the universal schematics for clothing production. It was tedious looking for a freelancer who could make our tech packs within our budget, but we eventually did. With the help of Arzu Gurbuz, a French fashion designer that had experience with clothing production, we were able to determine all the measurements for the apparel structures we wanted to produce and develop our tech packs. Next, we started requesting samples from manufacturers that we found through Alibaba, textile sourcing shows, or friends and family. We went through multiple disappointing product samples before finding quality manufacturers that met our standards. This process was lengthy as well because a sample production process typically ranges from three to six weeks. Not to mention that with each sample we received, we had to make revisions and subsequently, update the tech pack. Today, we continue to build our team of quality manufacturers who help produce the products our customers know and love.
In retrospect, our team appreciates every struggle we have faced because each of them brought necessary lessons, and in result, wisdom that has been essential to our both our personal and professional growth.
So, as you know, we're impressed with INSZN – tell our readers more, for example what you're most proud of as a company and what sets you apart from others.
Two of our products that we are best known for are our "Dab Out T-Shirts" and "Miami Mami Reversible Bodysuit." But what allowed us to create these products in the first place is who we are.
By immersing ourselves in the unique identity and story of each college we design products for, we strive to give everyone the opportunity to express themselves. This helps us create college apparel that is both in touch with the current generation of students while embodying the long-standing values and traditions of the institution. Ultimately, we design quality products that students, alumni, and fans love; with a dash of INSZN's creative style. Staying in touch with students, alumni, by delving into the culture of UM is something that sets us apart, but our creative process is not the only thing that makes us unique.
INSZN is focused on the college experience making us a college-specific brand, and that's different. With that said, INSZN is a strong advocate of creative expression, and one of our current aspirations is to be in a position where we can empower the next generation to express their creativity. Whether it be through the performing arts, writing, or science, creativity is a fundamental ingredient of life, and we want to help cultivate it through the support of education. But until then, what we are most proud of so far is that we have been able bring our designs to life without sacrificing quality—or affordability— and granting people the opportunity to express themselves.
What has been the proudest moment of your career so far?
When we started the company, we knew that everything hinged on whether or not we would get approved for UM's license. We had created many product designs that we knew we wouldn't be able to produce without the license. It was a high risk we took, but we were quite confident in our product and in our capabilities, and we believed UM would be too. Receiving word that we had been approved for a license was truly an exciting and exceptional moment. We were official and it finally felt real! This marked the beginning of a new chapter for us. It boosted our confidence and taught us that with enough hard work, positivity, and persistence, we have the capabilities to accomplish whatever we set our minds to. What made it more special was the fact that all of us are alumni of the University of Miami, so there was a deeper connection with this achievement. Although we were overly joyous and celebrated in that moment, we knew that the real work was just beginning as we continue our journey to becoming the face of collegiate apparel.
Contact Info:
Getting in touch: VoyageMIA is built on recommendations from the community; it's how we uncover hidden gems, so if you know someone who deserves recognition please let us know here.