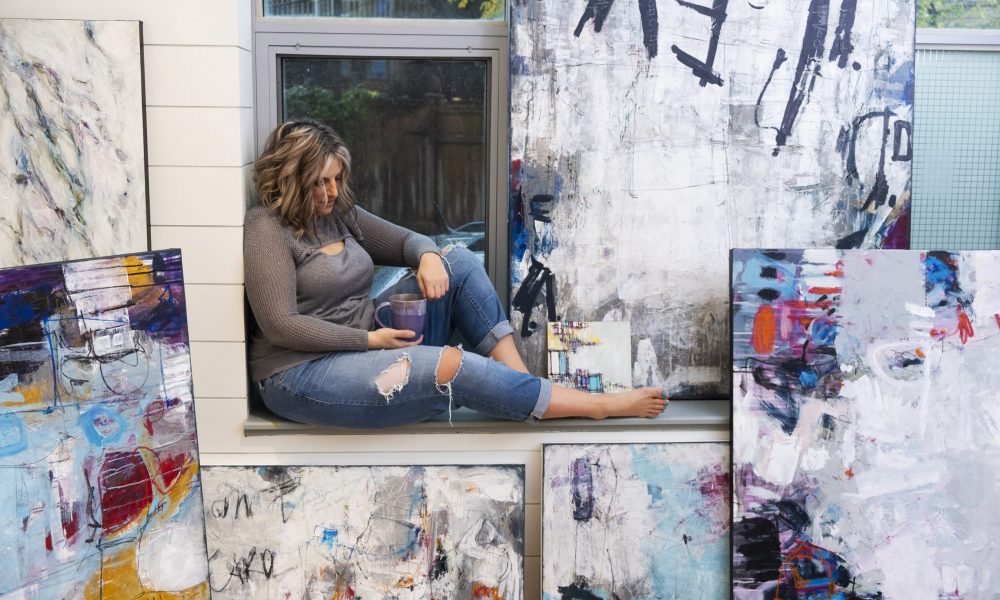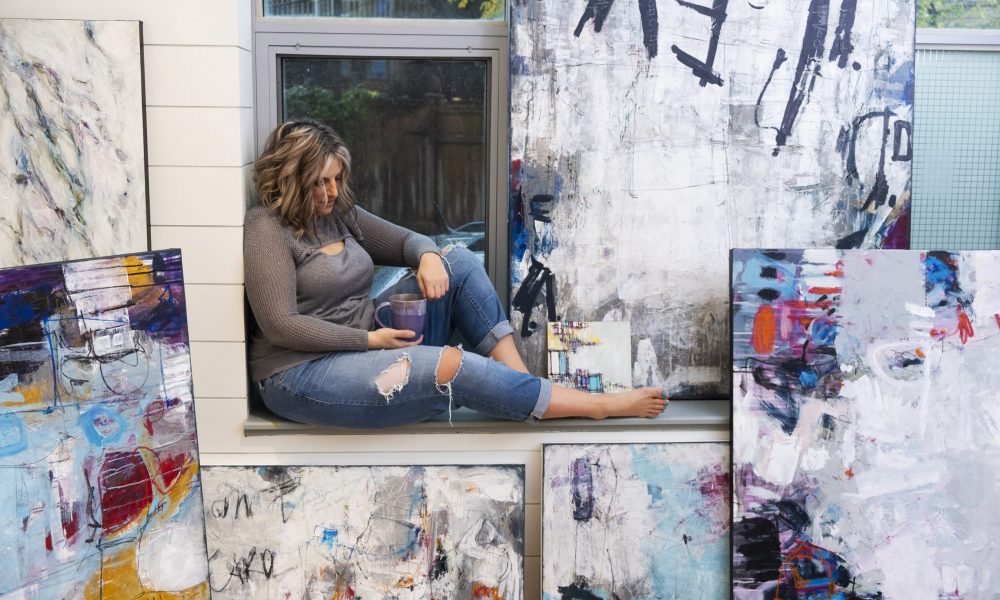 Today we'd like to introduce you to Lori Mirabelli.
Lori, please share your story with us. How did you get to where you are today?
Growing up, I never quite understood Abstract art. It didn't make sense to me. I truthfully was all about realism and making sure I captured everything I saw perfectly. It was in my mid-thirties when I realized why realism captivated me so. It all boiled down to control. I was a realism sketcher mostly; the precision forced me to stay within the lines. It had clear boundaries set out for my viewers and for me. I found it to be a safe exploration of the art world. Safety was something I relished and detested at the same time, a constant battle within me, which I still struggle with today.
It was during one of my university classes that I discovered what modern art was all about. I'm sure it's different for everyone. I realized very quickly that becoming an acrylic artist and creating abstract acrylic paintings allowed me to not focus on what I saw, but how I felt and the energy that came with that. For a short period of time, I got to let go of my need for control, took risks, and lost myself in the process. I was forever changed in that moment. Immediately after I graduated from University, I began pursuing a career to become a Canadian abstract artist.
The first thing I did was continue to paint, improve my process and develop a style unique to me, but what I realized was art supplies are quite expensive. To solve that problem, I tried to find a place where I could list some of my modern art for sale. I thought selling affordable art would increase my chances of finding people to buy original art. My only objective at this time was to be able to sell a few paintings so I could purchase more art supplies so I could keep creating acrylic paintings. Through my research, I found a website called Etsy, which I'm sure most of you know by now, but back in 2008, Etsy was in its infancy stage. There was only a handful of emerging artist that were selling their artwork back then. I remember the day that I made the decision to list my first abstract art for sale; I felt so exposed and that the world was going to judge me harshly. It was a challenging process to press the button on my mouse and list that piece for sale. I was filled with self-doubt. I technically wasn't even an emerging local artist at the time. I had only begun to create modern art. To my surprise, two weeks later, an art buyer found me on Etsy and bought my first original abstract painting. It sold to a woman in Western Canada. It was at this moment where I thought "OK" this could be possible; a career as a modern artist. From that day on, I put all my focus into pursuing a fine art career.
I'm very grateful for the painting course, the Art Professor, and the woman who purchased my first painting on Etsy; they gave me the confidence and push I needed to believe I could move to Toronto and become a gallery represented artist.
Has it been a smooth road?
It certainly wasn't an easy road to get where I am today. I had to overcome some challenges when I was a young girl. Those challenges lead me down a dark path into my high school years and eventually I dropped out of school when I was in grade 11. At 18 years old, my parents were at a loss as to how to deal with me as a last resort, they sent to me live with my sister in Ottawa, Ontario. I guess you could say "tuff love" smartened me up. There was a brief period in my life where I thought, "this is my life?? this isn't how I am supposed to be living". It wasn't long after that I decided to pursue higher education. Since I was a school drop out, I had to prove to college admissions that I was capable of making the grade since. Thankfully I passed the entrance exams and went on to complete four years of college. I also continued on to complete three years of University. Not being in a financial position to be a full-time student, I had to work 35 hours a week to sustain myself. I managed completed my degree part-time in the evenings.
After having a secure permanent position with my employer, purchased a home and paid off my student loans, it was smoothing sailing for the rest of my life except for the fact that I wasn't an artist. I was working in the social services field. Don't get me wrong, the position was rewarding in itself; however, I also felt that there was more for me to explore and being an artist was a calling, my true desire. In the end, I gave everything up and moved seven hours away from home, left everything behind to start a career as an abstract artist. I had to continue to work my day job and art on the weekends and during my holidays for the next decade to a land where I am today. It took a lot of sacrifices, hard work, and dedication and I don't regret one single moment of it.
We'd love to hear more about your art.
I'm really proud to say I'm an abstract painter and that I have representation with nine amazing galleries (eight in Canada and one in Denmark). I specialize in large scale acrylic abstract art on canvas. I was recently commissioned to complete an 18×14 foot painting for a Downtown Toronto Condo Lobby entrance. I'm very excited to start working on this project. Since the pandemic happened, I needed to revamp my business plan and spice up my life a little; self-isolation when you are a single person can get a little monotonous. The end result was, I started offering online art painting workshops through Zoom. To my surprise, it was a huge success.
I think as a business owner, you have to shift with the trends and plan for the future. The pandemic has had a big impact on my values and really put things into perspective for me. It also lead me to my next big adventure. I'm moving to the beautiful town of Almonte, Ontario in the summer of 2022.
My sister and brother-in-law own a gorgeous 200-acre farm, and I am building my Art studio in a soon to be remodel two-story loft garage that was built in the early 1900s. The Farm was founded in 1821 and named Mont Blow Farm, which was own by the Paul family. The original log house still remains on the property and has had some additions over the years. It is now a four-bedroom two-story home. The Garage, which is going to be converted into my studio, is at the end of this beautiful historic home. My sister's family lives in the adjacent two story Victorian farmhouse. She will be opening the home as bed and breakfast in the near future, as well as, we are going to be combining our efforts at pivotal periods throughout the year to host 3 and 5-day workshop retreats with accommodations in the main house! We are both so excited about this partnership. We want you to come and witness Lanark County, take in some history, visit the hip and trendy Main street of Almonte, explore the world of abstract art and did my I mention that my sister is a fabulous host? She makes the most amazing meals, bakes the best desserts, and they even make their very own maple syrup. So yummy. Sign up for my newsletter on my website to stay in the loop for our launch date.
Is our city a good place to do what you do?
I think Miami is a wonderful place for art lovers and artists. I love spending time in the Bahamas and so landing gallery representation in Miami is on my list of goals to accomplish in the future.
Contact Info:
Image Credit:
Head shots – Jeff Turner Art
Suggest a story: VoyageMIA is built on recommendations from the community; it's how we uncover hidden gems, so if you or someone you know deserves recognition please let us know here.