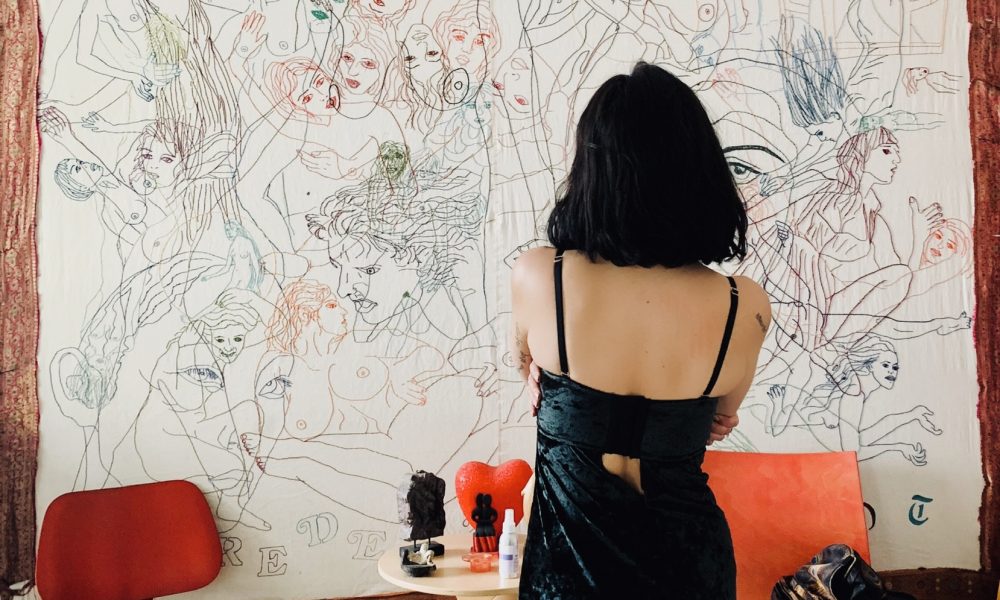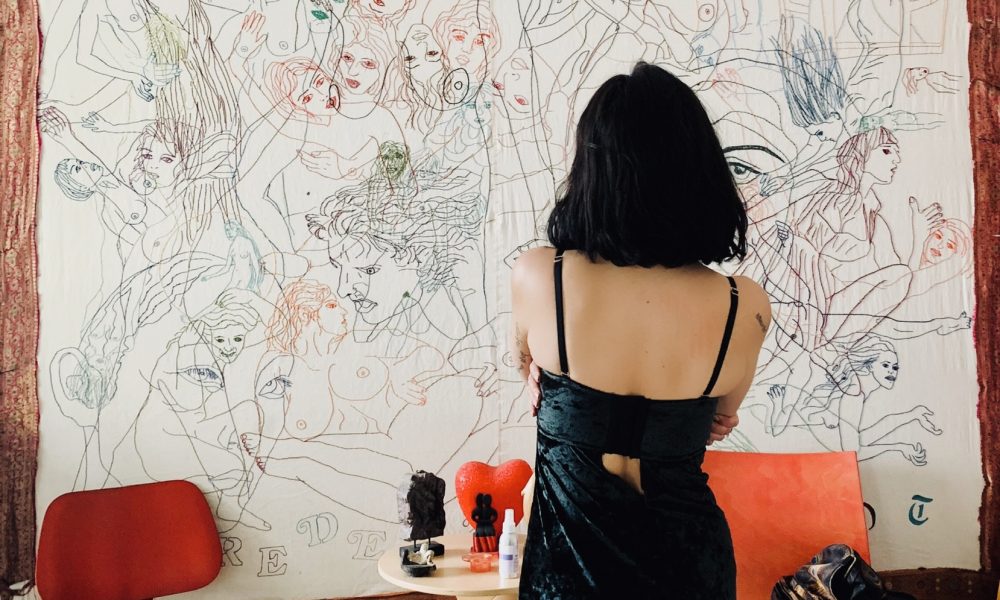 Today we'd like to introduce you to feminist author, artist and podcaster Eurydice Eve.
Eurydice, can you briefly walk us through your story – how you started and how you got to where you are today.
I was born on the island of Lesbos in Greece. I taught myself to read at age two. When I went to school in Athens at five, I realized that being termed a Lesbian was derogatory and I would be shunned if I didn't hide my birthplace. So I was stricken by the power of the patriarchy to establish and embed meaning and moral value and code that turns female initiative and female voice into shame and sin. I understood, earlier than most, that the logos that turned my ancestor the poet Sappho, a wife and mother born on Lesbos in 700BC, into the first lesbian had punished her because she dared create verse that all Greeks memorized and open schools for girls at a time when women didn't read or write or have a public life.
I saw that the system that defamed Sappho and all her female compatriots for over two millennia was the system that turned the female fertile naked body into voyeuristic pornography instead of the site of the miracle of procreation and the system that gave my father the power to name and claim me and pass me on to a husband of his choice who would also name and possess me. Finding and then hiding my difference from everyone at such a young age was inevitably formative. I was the first of the women in my family to leave the island & to be educated. In elementary school, classicists who taught me Homer's epics whispered to me the fragments from Sappho and her story.
My Dad worked at the Ministry of Culture during the junta and would take me to social events where I would recite the Odyssey for his superiors. That was how my focus on meaning and identity—specifically with the identity of female as Other, as the veiled and the silenced I—was forged. I was both exhibited and hidden. The freedoms that my Dad permitted me due to my intelligence & our emotional incest were lost when I entered adolescence and tried to individuate from him politically & ideologically. Corporeal punishment was a common disciplinary method in school and at home, but I had been spared it till then because my faux-male intelligence appealed to the patriarchy so long as I was sexless.
As soon as I developed curves and desires, it began. It was too late to correct me, however and I ran away from Heraklion, the capital of the island of Crete where we had moved after the fall of the junta, at the age of 15 and flew to Los Angeles. There a Grecophile librarian took me in and a few nights later, I watched Rocky Horror Picture Show while the audience acted out the scenes & I thought I had landed on another planet. A year later I was at NYU studying poetry and art and three years later I was studying with Allen Ginsberg & William Burroughs at Naropa in Boulder Co. I eventually graduated with an MFA, two MAs & ABD from Brown University, but haven't stopped studying daily as part of my practice. I use language as well as visual and audio media of every sort in my consistent feminist quest for human liberation. My art practice connects me to my female ancestors and the generations of silenced women for whom I hope to speak.
Great, so let's dig a little deeper into the story – has it been an easy path overall and if not, what were the challenges you've had to overcome?
The path of the creative isn't smooth and straight by definition. I try to master as many 'languages' as I can & be as accessible as I can in a patriarchy that binds women to its biased words, laws, paradigms, aesthetics, and has no space for anything else. I must use the male logos and the male gaze to recover and reclaim the suppressed truths that they were precisely constructed to disguise. I believe that one's life must be lived in harmony with one's art practice & that one's practice must include a spiritual aspect.
I also believe that art should be free and should belong to the people and I find it unethical to monetize it. I have worked solely as a writer & artist & raised my daughter, who is now 20 & studying human rights at Bard College, in this way, so yes it's been a struggle to be in the world we live in and also free and honest and giving. Struggles lead to choices so they help us attain wisdom. My overall struggle has been to survive without real compromise, to fit in without fitting in.
Please tell us more about your work. What do you do? What do you specialize in? What sets you apart from competition?
1 I'm the host of Speak Sex podcast, freely available on Spotify, Apple, & every streaming platform. You can also find it at www.speaksexpodcast.com & @speaksexpodcast
2 I've published books of nonfiction with Scribner ("Satyricon USA: A Journey Across the New Sexual Frontier." New York, London, Sydney, Singapore, 2000), a book based on my years of investigative work for Spin magazine, & fiction with Virago Press ("f/32: The Second Coming." London, New York: 1993), a novel whose protagonist is a vagina, as well as Richard Kasak Books ("f/32" Revisited) & the Fiction Collective ("f/32").
My writing has been widely translated, taught, reviewed. I continue to publish (my latest prose is out in Fiction International 2019 & New Urge Reader Omnibus 2020). I'm currently at work on a memoir titled "The Lesbian" that tells a story that spans from Sappho to my great grandmother mother & me; on a nonfiction book titled Speak Sex; & on a fictional retelling the myth of Eurydice in Eurydice's own words.
3 I've worked for twenty years as a visual artist & specialize in embroidery, an ancient feminine craft that brings together my Eastern & Western heritages. My work is committed to the age-old tension between the historical flesh we inhabit & our social constructs about it, between the idealized bodies we see & the marks we make to capture them. My practice mediates issues of female displacement. The history of the representation of the female nude from scratches on cave walls till now, of woman as the ideal object rather than subject, & the intellectual & domestic disassociation that results between a woman and her body, constitute my recurrent themes in media that include painting, drawing, collage, graffiti, video, performance, & installation.
Stitching reconnects me to generations of caretakers who passed to me their elaborate handiwork as my dowry–the talismanic blessing a bride takes from her maternal home. I've won recognition for my 30ft long hand-stitched tapestries. I've participated in numerous group & solo art shows in galleries & museums in Europe & the US. I was an artist in residence at The South Florida Art Center in MB & then at Fountainhead Arts Residency in Miami. My work can be currently seen at Swampspace in the Design District in a show called three Graces that features it along with the iconic photos of Miami Beach's own Bunny Yeager. My art can be viewed & purchased online at www.artagainastall.com or @artagainstall & in my studio in Miami Beach.
What sets me apart is the consistency of my artistic quest in a wide variety of media. Speak Sex Podcast is part of Speak Sex to Power, an archival project comprised of real conversations about sexual languages, choices, agencies, presentations; a platform for access to personal narratives that enhance our visibility in dominant culture; a safe sober environment to re-examine codes, semantics, patterns, symbols, signifiers, common sense; a distillation of personal narratives of our bodies as capitalist transactional goods & of our journeys toward a holistic reunion with ourselves, reclaiming the complexity of the human; an educational platform dedicated to launching a collective languistic & cultural acceptance & opening up space in patriarchy to resist institutionalized puritanism & change the prevalent perceptions of norm, inspired by the advent of the metoo movement & women's right to consent, the lack of feminist sexual language or study of the language rather the acts of sex that language informs, describes, deforms, defines, & the fact that it is easier to have sex than to speak sex.
What were you like growing up?
I read obsessively and questioned everything obsessively. Otherwise, I loved the beach, nature, & practicing all the arts. I loved learning and loved most what I didn't yet know.
Contact Info:
Suggest a story: VoyageMIA is built on recommendations from the community; it's how we uncover hidden gems, so if you or someone you know deserves recognition please let us know here.