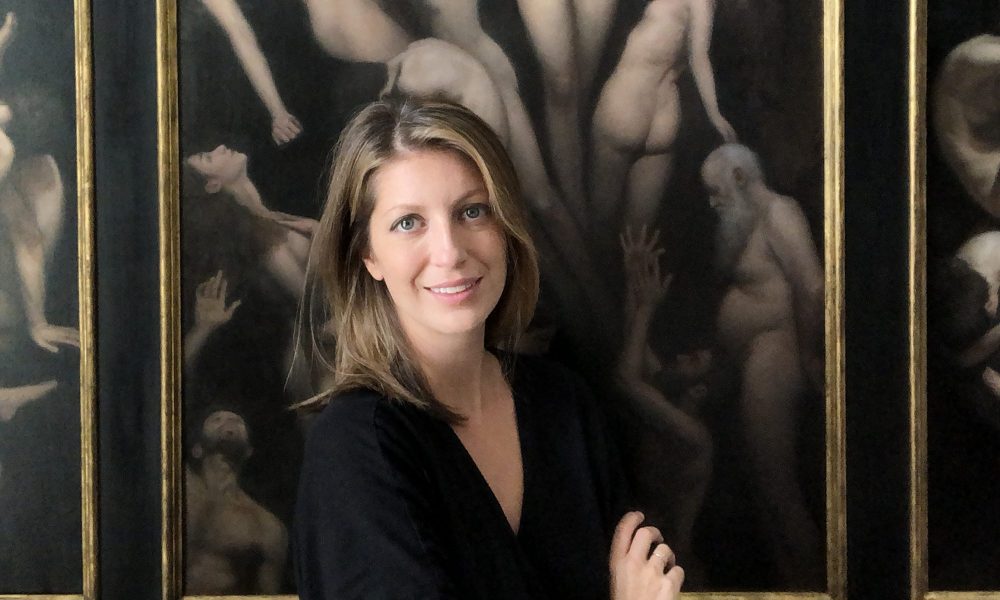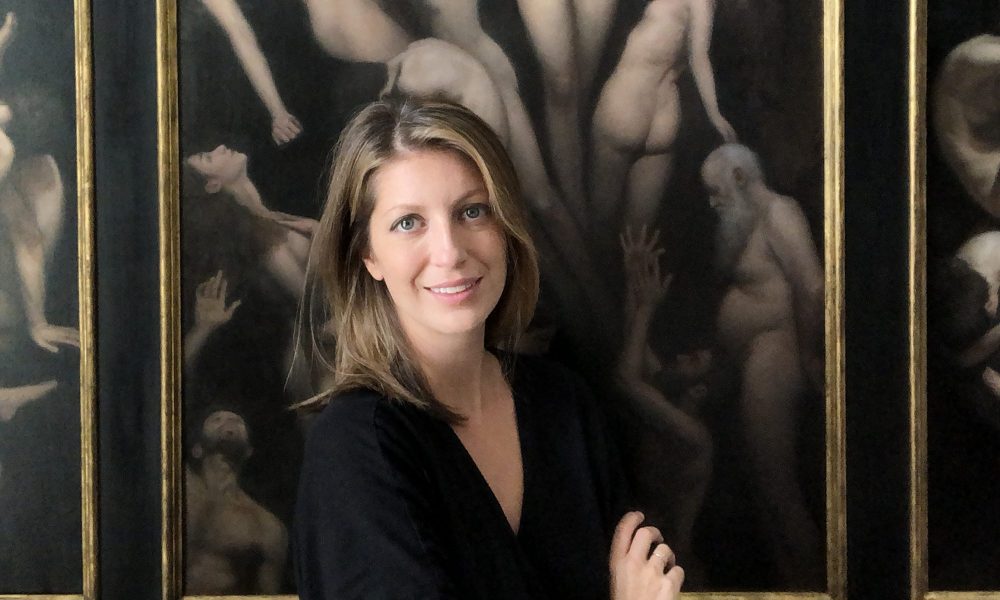 Today we'd like to introduce you to Christina Grace Mastrangelo.
Christina, please share your story with us. How did you get to where you are today?
Although I knew early on that it was my calling to be an artist, it felt extremely unattainable and unrealistic. This was reinforced through a disappointing studio art degree from a US University in which I learned no technique and was almost completely turned off to art altogether. A serendipitous encounter while studying abroad in Italy my junior year changed everything. Almost hidden from sight was a poster for an art school displaying a beautifully painted figure- it was as if an old master had stepped out of history to create a masterwork in our time. This was exactly the school I had been yearning for, and all this time had thought didn't exist. Thrilled, I quickly graduated, uprooted myself, and moved to Florence to attend the Angel Academy of Art. This master-pupil style atelier barely survived the wash of anti-academic impressionist teachings throughout the 20th century. Here, obtaining the skills to portray realism from life was the only goal. We worked from plaster casts and live models every day, and for three years I studied nothing but the techniques and skill sets of creating realistic works. It was the most challenging education of my life, and the most life changing. After graduating in 2009, I returned stateside to begin my career.
I am happy to say this year marks my 10th year as a professional artist. Today my business is a balance between selling my art, working on commissions, and teaching workshops. It is this combination that has helped me to sustain and thrive as a professional painter.
We're always bombarded by how great it is to pursue your passion, etc – but we've spoken with enough people to know that it's not always easy. Overall, would you say things have been easy for you?
I can laugh a little bit now that things are more manageable, but it most certainly wasn't (and isn't) easy. To give you an idea, early on I lived in my work-only studio space in the creepy basement of a huge old factory. I couldn't afford much outside of studio rent, some food, and some supplies. It was so stressful that I worked like a madwoman to scrape by. Slowly, I was able to save money and move to a slightly better place, but even then the ceiling was falling in and the neighborhood wasn't safe. What got me to where I am today was hard work, determination, study, practice, and grit.
Most people don't fully understand how much unpaid time goes into making an artist's career work. Most people wake up, go do their job, and get paid for their day's work. As an artist, you wake up, get right to it, and can work for months creating and promoting without getting paid a dime. Many times we also get asked to work for free. Other times you have to pay to submit for opportunities that may not come to fruition. A lot of what helps you survive in this business isn't even making the painting- it's getting the painting seen. We find and research opportunities to exhibit, promote our work on social media, book keep, write about our work, talk about it at exhibit openings, plan workshops, teach workshops, advertise for workshops… all of these are usually different jobs held by different individuals in other business structures. And then there are the things that cost us, which we also do while not being paid: we have to photograph our work, frame our work, apply for grants and exhibitions, ship our work, and ensure our work. After all that, there's no security that you'll make a single dollar, never mind a livable wage. It's an extreme lifestyle- frugal, work-ridden, and yet (!) it has remained a rewarding profession for me.
We'd love to hear more about your work.
I am a Classical Realist painter- Classical realism focuses on realistically observing nature, sometimes idealizing, with a preference for order, harmony, completeness, and beauty. I create one-of-a-kind oil paintings that explore the human experience through this visual lens. Sometimes they are landscapes done from life, or a still life or simple floral arrangement, other times they are single portraits or multiple figure paintings with a narrative.
There are many things I choose not to paint, and am very slow and selective in designing my work. Each piece is carefully drawn and painted with the intention of rendering just enough information to appear true to life, while sometimes stylizing or eliminating background elements to engage the imagination. I would like the viewer to become absorbed in the colors, calmness, message, and place, and to find sublimity worthy of pause and reflection.
I often choose to not have the material dominate the vision, using the utmost care to create soft, barely visible brushstrokes on the smoothest of linen, and taking time to slowly render my subjects, whether in oil paint or charcoal. I also don't concentrate on the details of my subjects, consciously simplifying while staying true to what I see. In this way I hope for the viewer to connect with the subject first and the materials second, and for the viewer to notice that it's not the details that make the subject beautiful, but to notice rather the subject's beauty as a whole.
I search for truth in studying the human figure, and over the past few years I have begun to connect the visual truths of anatomy, likeness, color, and form to the underlying themes we all deal with; our daily surroundings, spirituality, nature, connection, our reason for being, and the narrative between life and death. Aside from my environment and experiences, my inspiration comes from Renaissance portraiture, the Baroque period, Illustrators from the Golden Age, and the 19th-century European naturalists.
My latest figure paintings, including "Know Not Thy Pending Fate" and "The Edge of the World", are visual contemplations on isolation, judgment, hope, sympathy, and connection. I make these paintings to clarify my experiences and illuminate universal themes that affect us all.
In summary, I specialize in creating a relatable visual world that evokes comfort and appreciation for our environment. I am proud of both the quality of the work and its timelessness. I am also a very accessible artist. If you'd like to see the work or know more about the prices I can be emailed directly and will respond promptly.
What were you like growing up?
When I was young, I felt like the only one on the planet who was aesthetically impacted by the sight of figurative art. I grew up a quiet, reflective kid in a small Massachusetts town, the oldest of 4 kids, each a year apart. We were surrounded by a large, supportive family- all at once very Italian and very New England, with both a protestant and military structure. As the oldest sibling in our family, I was told to set the example, so in that way, I had to fill a leadership role. This was mostly focused on schoolwork, extracurricular performance, and manners, but later that morphed into career discipline, persistence, and hard work.
To substitute my lack of art exposure, I found joy in libraries and nature, curiously devouring books and spending much of my childhood outside in the presence of forests and neighborhood friends. Most of my early art experience came from public school art classes. Our museum trips were rare but glorious, including a memorable visit to the Norman Rockwell museum where I felt my first shock of amazement at the awesomeness of figurative art. My father, being an airline pilot, was able to fly us to Europe on occasion. We were told seeing the world was important for our education, a belief that I still agree with- I think it instilled in us a curiosity that we all still have today. It was through those few trips to London, Rome, and Paris, where art was everywhere, that I became solidly drawn to the idea of becoming an artist. It seemed to me that artists played an important role in society- one that could quietly impact like a good novel, soothe like nature, and facilitate a spiritual connection beyond our selves.
Pricing:
Pricing is very carefully done to maintain market value. Smaller works and studies start at $400+. Larger, more complicated, and highly finished works range from $3600+. The bulk of my current oeuvre ranges between $6000-$9800.
Email me directly for a price list of available work.
Contact Info:

Image Credit:
Christina Grace Mastrangelo
Suggest a story: VoyageMIA is built on recommendations from the community; it's how we uncover hidden gems, so if you or someone you know deserves recognition please let us know here.