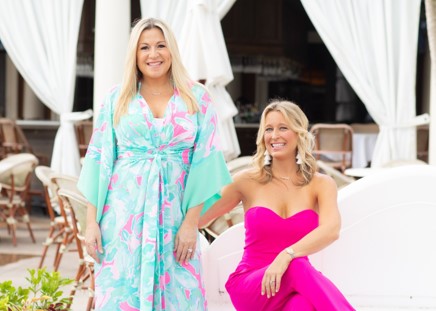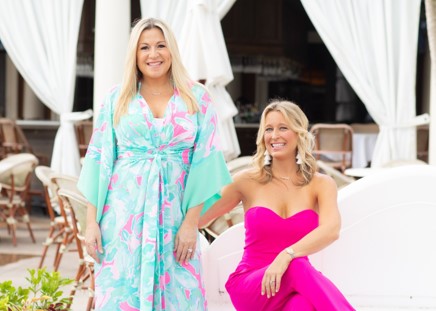 Today we'd like to introduce you to Brenda Popritkin and Kristi Vannatta.
Brenda and Kristi, can you briefly walk us through your story – how you started and how you got to where you are today.
Brenda: Kristi is mama to J. R. (Autism Spectrum Disorder) and Jackson (stud and heartbreaker). Born in the 305, raised in the 954, and training boys to be men in the 561, Kristi has proven not even Dave Barry can chase her from a Florida state-of-mind. I am Cuban born, Miami and Hialeah raised, and a current Broward County resident. More importantly, I am Dylan (Autism Spectrum Disorder) and Oliver's (CHRNA7 duplication + Hypotonia) mami.
Kristi: We woke up one day last fall and said: "Let's start our own autism podcast- but first, a drink!" However, spitfire Brenda and this South Florida gringa have been scheming from the second we met, and to anyone who knows us individually or as best friends this is hardly a shock. What few can believe, Brenda, is that over a decade ago you parked behind me in our kids' special needs' school car line, ignorantly admiring my "perfection" for months before our formal introduction.
Brenda: Ha! True story. During a tough period in my life when my son first got diagnosed with autism, Kristi happened to always be the car ahead of me at school pickup. I assumed her life was probably pretty perfect (super fit, two gorgeous kiddos, and always smiling… seriously?) without knowing we were actually going through similar situations. Gentle reminder to self: don't assume things!
Kristi: Our eventual meeting was genuinely serendipitous, and I think we still marvel in what parallel lives we had been leading. We learned we attended the same college (who knew?) and shared many mutual friends. We quickly discovered a shared love for taking on too many projects and together craved to share our experiences in autism, our way, with an ultimate goal of supporting other moms in our same heels. No matter what we came up with, we knew we'd have to have full creative control. Enter the Disorderly Blondes.
Brenda: A well-timed interview with a local TV station about my son's autism made me realize there was/is a need for increased coverage of events, sources, and a dose of reality about and for parents at all stages of this journey. Initially, we considered kicking the project off via YouTube but focused on the podcast route to begin instead. Naturally, we went from A to Z in concept creation to execution in a matter of weeks.
Kristi: Autism parenting is backbreaking, but we all have one life to live and if we parents can laugh as much as we cry and want to run away sometimes, we may just survive this. To see a mom "lose herself" in the diagnosis kills us. We are fiercely committed to producing quality, original, and personal content that leaves the term "autism awareness" in the dust. Over it! This has often come at the price of sleep, but our commitment to exposing every facet of the spectrum is stronger than our desire for coffee and cocktails. I am most proud of my partner Brenda for leading this crusade, especially when it comes to exposing the trials of the most severely affected families.
We're always bombarded by how great it is to pursue your passion, etc. – but we've spoken with enough people to know that it's not always easy. Overall, would you say things have been easy for you?
Brenda: We are self-taught, quick learners. We've continued conquering everything about podcasting that has frustrated or held us up so far. We keep holding on to "…yet," as is in… we haven't been able to figure out this or that… yet. Sometimes, it means we walk away from a situation only to successfully revisit it days later. If someone would have told me a year ago that I would be writing, recording, editing, producing, publishing, branding, and marketing a podcast, I would have rolled my eyes in disbelief.
Kristi: Same, although I love a good eye-roll! This project feels right, a great side destination within the journey that is autism. Our closeness has allowed us to work together with few rules, employing this unspoken language to determine which of us tackles a particular task. We have ESP! An idea may start with me, but Brenda adds a clever twist that I, of course, totally would have wanted! We're easy like Sunday morning and thick as thieves.
As the blonde hamsters on the wheel of our brains are responsible for setting the pace, we may have conveniently overlooked one inescapable reality of any project: costs. When looking to upgrade equipment or pay to travel for interviews, we joke that our purchases are all discounted at fifty percent. We've simply split everything down the middle so far, but have wised up and started seeking sponsorships.
Brenda: I love the process and can't believe how organic the flow feels with us at the helm. It's not easy to be creative on demand (or even at all). Having someone you connect with who gets it and easily fills in the blanks? Not the norm! Oh and the unexpected costs? Before I answer, are our husbands going to be reading this?
What else should our readers know?
Kristi: Podcasting is our current, fabulous bag although we both have our own separate, established ventures (aside from the joys of autism parenting!). I run Puzzle Peace Now, an autism non-profit. This passion project requires a lot of my time and energy, so I had to learn to manage that time (okay still learning) in order to reward myself with the podcasting. Brenda's hard-earned success with her food, wine, and lifestyle blog The Whet Palette brought a feast of skills to our table, pun intended. Forget what she already knew about social media and branding. It's her infectious work ethic and "If you are ready, you don't have to get ready" mindset that has allowed us to stand out.
Brenda: Wow! This Brenda gal sounds fabulous! Ha! Thank you. The truth is we are both always on. Even when not recording or writing a script, the ideas never stop flowing. Because the concept revolves around our kids' special needs, we have a constant back and forth on topics we can cover, guests we can interview, angles to tackle, to-do lists, etc. This leads to endless shared documents, notes, photos, and texts. Attention to detail is important to us. We truly both thrive and exhaust ourselves with the delicious feeling of accomplishment of a project where love and the desire to give back take center stage.
Kristi: Our chemistry sets us apart and is, without a doubt, our most valuable ingredient. As co-creators, we are equally dedicated to educating as we are entertaining. We crack each other up, share the same blonde brain, and are able to finish one another's sentences (when we aren't talking over one another, that is). We've been told listening to the Disorderly Blondes Autism Podcast is like chatting it up with girlfriends at happy hour- sadly not every autism mom gets much of that, if any. We're more than happy to virtually toast with them!
Brenda:  What she said! Really. At the end of each show, a listener most likely laughed but also took away helpful heartfelt, valuable information. Being South Florida based, we love bringing a Que Pasa U.S.A. vibe to the show. Not only is she the Sharon to my Carmen, but the podcast is truly an extension of our everyday relationship. It's been equally entertaining explaining the Cubanisms or Miamisms to fans not familiar with South Florida's melting pot. Having to reveal to my son Dylan's former teacher why we purposely misspelled "supossibly" in our show notes gave me the biggest laugh. The former English teacher in Kristi pleaded I add a small disclaimer on the website. We do know how to spell. Promise!
Kristi: Bren, we may have failed to mention that we both specialize in being super picky. Ain't no shame in our OCD game. We refuse to put anything out there that doesn't reflect exactly who we are. To conceive of and produce a podcast season covering everything from diagnosis to advocacy to educational virtual reality to the media portrayal of autism (whew!) while demanding our own stamp? We're nothing short of crazy, but honestly, have never had more fun. I don't want off this ride.
Brenda: All aboard! Coming off several weeks of rest, the intensity has picked up once again as we prepare for our upcoming Seasons 2 and 3. We hope to continue championing hometown heroes, from Miami-Dade to Palm Beach County, who are making a difference in our children's lives. Some of our upcoming topics on deck include siblings, guardianship and estate planning, diet and fitness, and medical cannabis. Additionally, we are kicking off our Autism Bites Supper Club soon. Dining out as a family when your child is on the autism spectrum can be challenging. Participating restaurants will offer a sensory-friendly experience and a no-judgment zone where families can relax and enjoy a day out where the toughest decision is what to order off the menu. We've already secured a solid group of restaurants to begin. The excitement is palpable.
Is there anyone, in particular, you would like to recognize? Mentors, etc?
Kristi: Disorderly Blondes has been so well received; we truly pinch ourselves, daily. Our goal has been to reach moms who are raising a newly diagnosed child, but I don't think we were prepared for them to reach back and high five us! Our Disorderly Tribe is strong, and as much our fans appreciate us answering their questions or lending a well-accessorized ear, it is Brenda and me who feel lifted. Their validation is everything. Our interviews have also proved very eye-opening. We are learning tons from leaders in our autism community, but to have them applaud what we are accomplishing, on our terms, blows us away.
Brenda: The Disorderly Blondes has allowed Kristi and I to see ourselves as autism advocates for the very first time. We encourage other moms to not allow a diagnosis to define them, and to go after what they want in spite of it all. Becoming one's own cheerleader in this process is nothing short of a survival skill! Take it from this former Miami Dolphins Cheerleader and interior designer- there is a life after diagnosis, so root for team YOU and start sketching it out.
Contact Info:

Image Credit:
Photos by Lisset
Suggest a story: VoyageMIA is built on recommendations from the community; it's how we uncover hidden gems, so if you or someone you know deserves recognition please let us know here.