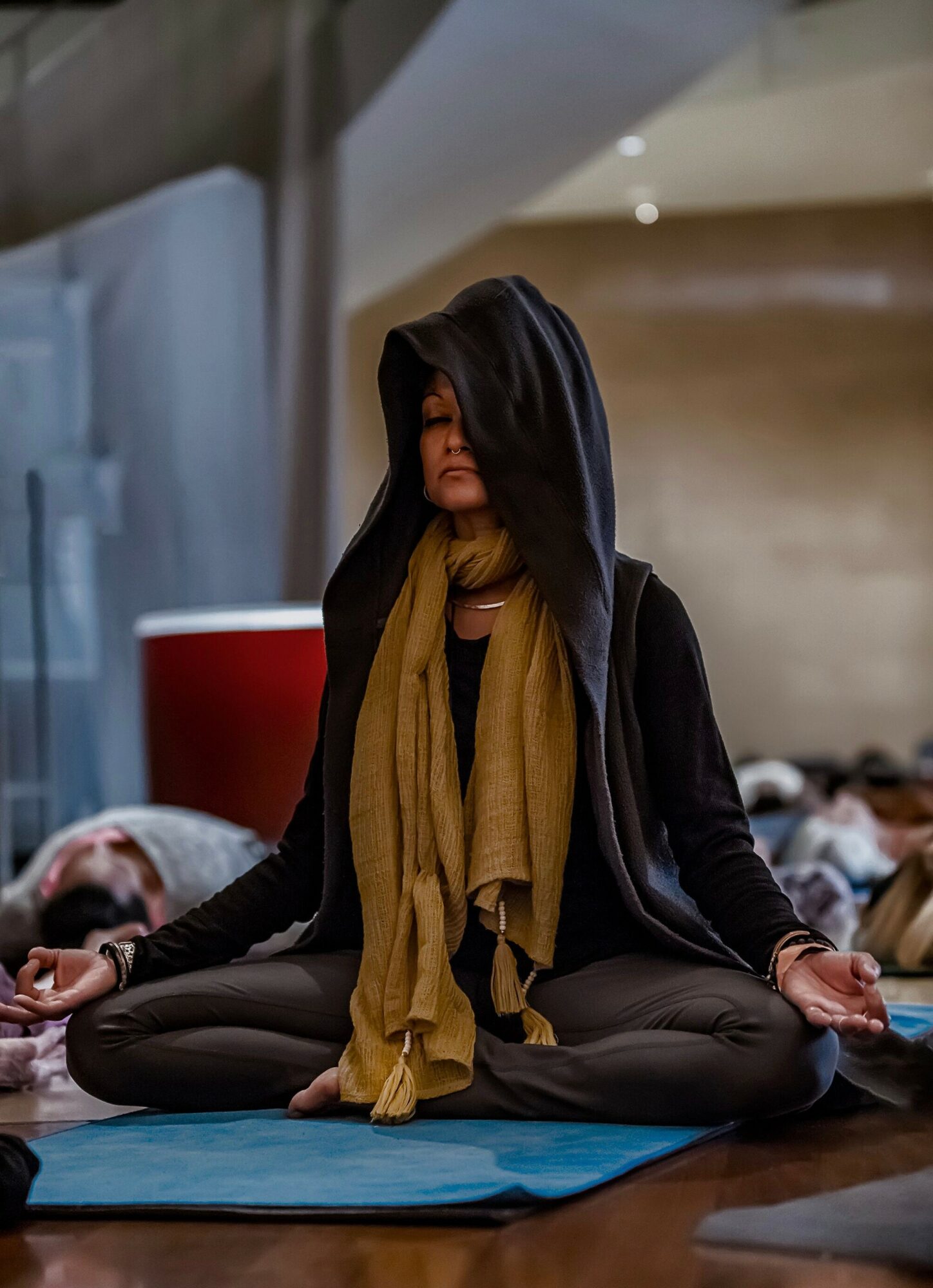 Today we'd like to introduce you to Nikki Baksh.
Hi Nikki, it's an honor to have you on the platform. Thanks for taking the time to share your story with us – to start maybe you can share some of your backstory with our readers?
I was born on the island of Trinidad, a republic of two sister islands in the Caribbean; Tobago being the other. Life in Trinidad cemented a native lifestyle I would later return to in adulthood. The simple life of island people, my family lineage and heritage, held the seeds of wisdom I would later come to understand as YOGA.
My life was greatly impacted by the recession in the 80's, which would prove challenging for most families. After exhausting all means possible, my parents reluctantly and bravely decided to leave their family, culture, and traditions in pursuit of a better life for their children This is the story of many immigrant families.
Emigrating to New York City at the height of the world recession in 1988 was challenging for a young 8-year-old child. Whether or not they knew it, my parents were visionaries, and despite the hustle, my mother managed to work as many jobs as possible, so I could have an artistic education, ballet training, and opportunities at a greater level. In Trinidad, my mother was no stranger to hustling. She worked at the Arts Center, and bartered her services, so I could train in ballet, karate, piano, gymnastics, swimming, and steel band.
In New York, we hustled. Four of us lived in a one-bedroom apartment. My parents worked multiple jobs; myself starting to work part-time at 14. This ability to balance attending an academically demanding prep-school, dancing at Joffrey Ballet, acting in plays, breaking and holding national titles in Dramatic Performance and Speech, keeping up with after-school activities and still exploring my own inner world through the lens of New York's vibrant energetic field, would be the foundation for living and working in some of the busiest cities, like Paris, in later years. I hustled as an artist, dancer & auditioning actor, and moonlighted working as a personal trainer, group fitness instructor, and children's dance teacher. Like many, my path would evolve, but I did not expect mine to lead back where I started. Back to my familial and ancestral inner roots.
New York requires a certain grit to endure as a child. While I received scholarships to attend prestigious academic schools and arts institutions, being bullied in childhood was no ease pill to swallow… especially, when unfamiliar ethnic "differences" were difficult for others to accept. I channeled my inner energy, and used the arts, karate, and everything inside of me, as a means of finding balance. What was not verbally accepted when I expressed and shared was redirected into early successes and achievements.  I became the youngest black belt in Shotokan Karate at 7 years old, and then defended a national title in Dramatic Performance in high school, which is still undefeated to this day. Two-time National Winner in Dramatic Performance.
I learned to cultivate tapas*- inner fire – and direct, that inner heat from trauma into transformation and transmutation.
As a child, I was always intrigued by metaphysical energy; perhaps, because I was highly conscious of it at a young age. This ability to know things and feel energy before others were aware, labeled me as "over-sensitive" and "highly emotional." While these terms were not as widely celebrated back then, as they are today, it was the significant marker that my siddhis – extra-sensory powers- were uniquely attuned. I became aware of them at the young age of 4. Inhabiting these siddhis at such an early age, helped me develop an overwhelming understanding of the unseen realm.
My parents, especially my mother, did their very best to give me a top tier education. I attended Loyola Private School, Drew University, and the infamous Joffrey Ballet on scholarships. Later, in life, I indulged my thirst for both Arts and Science and studied abroad. I later returned to teach at prestigious institutions in New York, which included Steps on Broadway, Broadway Dance Center, Peridance, and New Dance Group Studios.
My passion for life, coupled with an adventurous spirit, fueled my desire for growth. We alone, must heal from our experiences; however, compassion is needed during the healing process. We cannot heal in the same environment, where distress was initially created.
I, like many of us, responded well to the language of love. Receiving from a place of unconditional love versus the "tough love" whiplashes I had been conditioned to receive from teachers, coaches, even family members, transformed my life. From overcoming childhood bullying, sexual assault, and later domestic violence, I found my path of healing through the love of music + movement.
As a musician, I can relate to where sound lands in my body.
As a dancer, I am able to express my awareness of emotion through movement.
As a yogini, I move my mind and body to a place of stillness, when things can settle and clarity can arise.
When we find stillness, clarity arises. We begin to understand, that we are not our experiences. Our lives are designed to transcend* limiting experiences, and create new lovingly aligned and expansive ones. Immense amounts of laughter, movement, and letting myself move through and experience all* of my emotional intelligence is what continues to preserve and transform me. A lotus, not only, blooms in the muck and darkness, but it also rises, blossoms & thrives in its own beauty and vibration.
During dangerously depressing times,
I learned to develop the compassion and kindness I needed.
I learned to dismantle the toxic "tough love" mentalities instilled in my formative years.
I learned to create a safe environment within myself.
I learned to create a safe space, not for protection, but for reflection.
When we can retreat to and share from an inner sanctuary of peace, aligned integrity, and grace, we can experience all that we truly are: unlimited beings of pure potential energy. This is the birthplace of true healing and embodied transformation.
Being an intuitively heightened and aware empath came at a costly price. Surviving 2 near death experiences – one at 30 another at 40 – unlocked, what many would call "the whispers of the universe." For me, my whispers had already pre-existed; they just became amplified.
There is a saying that every time we experience a near death experience, new siddhis arise and existing siddhis are revealed. This has been my personal experience on both occasions. This intuitive alignment with the unbound universal alignment of all creative energy, has allowed me to successfully download what is specifically needed to guide and nourish myself and others.
Breath and movement are unified in marriage; one cannot happen without the other. The wisdom of the soul and the expression of the heart is the language of the universe. When we move our bodies to the rhythm of nature's music, we "give goodness" to our entire being. We align on the same vibrational frequency and sound waves, moving from fragmentation and duality to singularity and unity. This is how my artistry – music, dance, sound – and science, become intrinsic tools on the path to Self-Mastery.
Using the tools of Kriya techniques, meditation, my artistic proficiency, and musical abilities, the Movement was created.
Trinidadian culture has a driving musical force, which heavily permeates our culture. We boast our native soca & calypso musical sounds, inspired from our African & Indian roots…my ancestors. As a musician, I played the steel-band drums and was always drawn to the percussive beats. My attunement to sounds, especially percussive rhythms, steered me towards sound healing. Sounds Baths would prove to have the healing musical tones I resonated with, and are as familiar as playing the steel drums. Sound Baths are one of my most sought-after offerings, together with my Signature class, the Movement.
You can see the influence of percussive beats within my choreography and teaching style. There is an elusive grounded nature to the movement, which is essential for providing a safe containment for energy. This containment allows our subtle energetic movements to travel and transform through sound, molecules of emotion, thoughts of intention, and soulful action.
Breaking the boundaries of traditional Yoga and traditional Dance classes, the Movement, is the place where the realms between feeling & knowing become one. Sharing this space, where the vessel of the physical body communicates beyond the instruments of sense perception, has led me to travel and teach workshops, retreats and international classes in Paris, Tulum, Croatia, Greece, Bali, Miami, Los Angeles, Paris, Switzerland, Bosnia and Denmark. I look forward to sharing my offerings and gifts with you.
We all face challenges, but looking back would you describe it as a relatively smooth road?
Definitely not. Being a woman of color has always been a challenging road to endure since childhood, especially when you embody different cultures. Experiencing racism on the levels of internalization, interpersonal connections, institutional and structural constructs, has become a lifelong journey.
With the latest revolution on women's rights, life, and freedom, the fire of my inner activism has been stoked. While I would like to share some of the specific instances, which have been unjustified in my life, I would rather focus on how revolutions for basic human rights have the power to unite people everywhere. Not feeling seen, heard, and listened to under the guise of fear is something I help others transcend.
Constantly striving to make steps forward as a woman, to be seen as an equal, to be given the respect and understanding with autonomy over over bodies, is universally being shared at large.
Thanks – so what else should our readers know about your work and what you're currently focused on?
I'm working on a few new books, upcoming courses, and a series of energetic healing paintings. As a Movement Alchemist, I feel blessed to use the wisdom of my Artistry, heritage, ancestral guidance, and tools from yoga to bridge the gaps between healing from a 3D to a 5D field of vibration.
Movement is sacred medicine. My lineage is deeply rooted in an embodied transcendental field of Arts and Spirituality.
As a musician, I can relate to where sound lands in my body.
As a dancer, I am able to express my awareness of emotion through movement.
As a yogini, I move my mind and body to a place of stillness, when things can settle and clarity can arise.
When clients book a Movement Alchemy session with me, I assess where there is stagnancy and blockage within the subtle energy of the chakras. Using tools from my professional dance background with Yoga, I am able to intuitively guide my students and clientele to rebalance and recalibrate their mind|body energy.
My in-depth knowledge of Movement Arts with the tools of Yoga Science and Divination from my ancestral heritage make me adept in the field of alchemizing energy through Movement.
What am I known for?
I'm known as a Transformer. Literally and figuratively.
I'm known for having "cracked the code on modern wellness." (Betsy Osterholm)
I'm known as a Spirit medium in several cultures.
I'm thrilled to announce the waitlist for my Divine Feminine Movement Alchemy Cohort in 2023. I'm excited to premier this Signature practice over 8 weeks with SOUL-full guidance. Becoming a living embodiment of healing will unearth the raw shadow of Self. This integrative journey invites a lifestyle of Artistry and healing with daily rituals.
What's next?
I'm excited for the launch of my 2023 Cohort: The Divine Feminine. This program is the very first of its kind.
Bringing the gift of MOVEMENT ALCHEMY to all beings through our shared communion of music, dancing, and revelry is significant enough to ignite change and foster transformation through the vibration of sound and movement. Over 8 weeks, we will enter a shared scared journey to deconstruct old paradigms and construct new creatively embodied lifestyles.
At the core of every human being is the desire to be loved and accepted for who they are. To bridge the gap, means to understand and embody the true essence of humanity.
Contact Info:

Image Credits
Chas Kimbrall
Suggest a Story:
 VoyageMIA is built on recommendations from the community; it's how we uncover hidden gems, so if you or someone you know deserves recognition please let us know 
here.