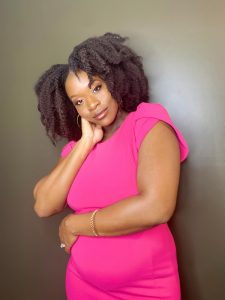 Hi Kimaya, so excited to have you with us today. What can you tell us about your story?
I grew up on the island of Trinidad and Tobago, where I lived with my grandmother. As a child, I would often get in trouble for revamping my clothes to my liking and using our family room drapes as fabrics for my new dress. I have always loved creating and working with my hands and fashion design has always been a natural calling to my life. At the age of thirteen, I moved to Brooklyn, New York and I learned that there was so much opportunity for creatives, and I knew I had options for my career. To be honest, although I knew I loved fashion, at the time I didn't have the confidence to fully pursue my actual dreams. Instead I got involved in the modeling industry only to find out that was not the place where I truly desired to be. I wanted to be a part of something special. I wanted to make women feel empowered. I wanted them to feel worthy. I wanted to be a part of the building of self-esteem and confidence in women and be a part of showing the world that women, especially women who looked like me, are more than just our exterior bodies but that we are powerful, beautiful, talented, kind, graceful beings, destined to do incredible things. I wanted women to be able to embrace the glory of their true essence that was from within. After a time of discovering what I wanted to do, I made a choice to pursue fashion through my academics so that I could transition my passion into my career. 
I moved to Central Florida, where I studied Fashion design and merchandising. There I learned the art of fashion and took an interest to sewing and draping. I was also captivated by fabrics that were more delicate yet of quality. I loved the idea that I could manipulate fabrics to create anything I wanted. After some time of studying the different areas of fashion, I grew fond of bridal and eveningwear. I worked at the local bridal and dress shop while attending school so that I could understand what it meant to put an entire wedding dress together. I would study, the interior of the dresses the silhouettes, the different necklines, the seams, the layers, the details and accessories that made each dress special. I also learned a lot form my peers of how to interact with brides and that this was one of the biggest moments of her life and I am a part of celebration to her by helping her find the perfect dress.
While I attended school the height of my career was when I showcased my final graduating collection at Fashion week in the Fall of 2013. I was most proud of that moment. It showed all my hard work had payed off and that I wanted to be in fashion for the rest of my life.
Can you talk to us a bit about the challenges and lessons you've learned along the way? Looking back would you say it's been easy or smooth in retrospect?
The journey here wasn't always a smooth road. After school, my life took a turn to many hardships I could have never imagined. I went through homelessness and many rejections in my personal life. These experiences filled me with doubt, confusion, anxiety and depression. I desired the dream, but I struggled to pull myself up from the darkness. While I went through this phase of my life, I often lacked faith and the belief in myself that I could make the impact I wanted to make in my life and my career. However, with time came healing. I met some inspiring people that helped me to change my perspective and helped me to see that everything I went through happened for a reason. I gained an understanding of what many people struggle with every single day and a simple gesture of love and kindness can make a huge impact on someone else's life journey. Not only has my life experiences made me stronger, but they also gave me the capacities to understand what I was asking God to do in my life, to uplift and embrace others.
With all the struggles I've encountered, I never gave up on perfecting my craft! I still found that childhood freedom in sewing and creating fantasies through my work. I now realize that it was meant to be all along, today I can merge creating fantasies through my designs and empowering women to bring out the true essence of themselves with the Kimaya McPherson experience.
As you know, we're big fans of you and your work. For our readers who might not be as familiar what can you tell them about what you do?
I dress women in gowns to bring their fantasies to life. Each bridal and evening wear dress is custom-made and combines a woman's personal style and her wildest imaginings. I use my expertise to select the right fabrics and details to ensure my woman's confidence and pride. Each dress is created to compliment the radiance of every bride and customized to reveal her true self. I am known for creating regal gowns and featuring nontraditional colors in wedding garments. I also use different textures and volume to impact the extra drama, always making my woman the center of attention. The thing that sets me apart from others is that I absolutely love every moment of what I do. I enjoy celebrating women! When my clients come to me to create her dress, it is not something I take lightly; I take much pride in her and I'm am beyond honored that she has selected me to be such a special part of her moment.
What do you like best about our city? What do you like least?
I'm an island girl so you already know what the best part of our city is for me; the beach! I love being able to just drive fifteen to twenty minutes away from my home and enjoy the openness of the ocean. There is so much peace and beauty there. It's a place where I am mostly inspired by and a place where I can escape and clear my thoughts.  I also just enjoy spending quality time with my husband baby boy and expectant child at the beach. In these difficult times that we are living in, it's very hard to enjoy other parts of our city like Las Olas dining, Miami Wynwood walls and other events that happen here that inspires creatives, but I do have hope that South Florida would see better days. I have hope that the entire world would see better days. In the meantime, we can only do our best to enjoy the city in whatever safe ways we can.
 Contact Info:
Suggest a Story:
 VoyageMIA is built on recommendations from the community; it's how we uncover hidden gems, so if you or someone you know deserves recognition please let us know 
here.