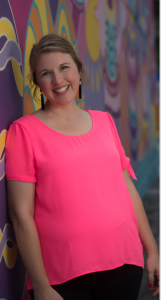 Today we'd like to introduce you to Cierra Bragan.
Cierra, please share your story with us. How did you get to where you are today?
I am the Owner & Founder of the new-on-the-scene, Miami Moms Blog. I'm a Southern girl with Alabama roots and have also lived in Israel, China, California, and Texas.
I am a graduate of Auburn University where I graduated with a Bachelor of Science degree in Human Development & Family Studies and a minor in International Studies. I have completed Masters work in Counseling and a summer intensive program with the Graduate School of Education at Harvard University. With more than a decade of experience in the field of Leadership Development, I have worked and traveled throughout Asia, Africa, Europe, The Middle East, and Latin America.
After marrying my high school sweetheart in 2014, I moved to the Island Paradise of Key Biscayne where I soon fell in love with the beauty and diversity of South Florida. Before having children of my own, I oversaw more than 120 as the Director of Key Biscayne Presbyterian School. I am passionate about leading and developing women to use their unique gifts to serve and encourage others. In 2017, I officially launched into my latest and greatest adventure: motherhood! My husband and I have a 17-month-old little girl and are excited to welcome baby #2 in November.
As a serial entrepreneur, I find joy and excitement in navigating the challenges and triumphs of business. In my latest venture, I feel that I have married my passion and purpose to create Miami Moms Blog. I founded Miami Moms Blog in hopes of connecting local moms online and offline through relevant content, high-quality events, and a meaningful community.
Miami Moms Blog was born out of necessity and passion. The journey of motherhood can sometimes be challenging and lonely. Moms often need encouragement, support, and resources. Being a Mom in Miami, a transient and diverse city can present a whole new set of challenges. I knew there had to be other moms in Miami that craved the same things I did: authentic community and relevant, trusted resources.
Thus Miami Moms Blog was born — providing a place where local moms can connect and find the encouragement and resources that they need to succeed.
If we serve even one mom by creating a place for her to find the community and support she needs, that has made all the hard work invested absolutely "worth it." Motherhood, at its very core, is about building a community. We do this every day within our own families. However, I feel strongly that a supportive community in addition to our family is also necessary in order to thrive in motherhood. As mothers, we often say, "It takes a village" so I say, "Let's build a strong one!"
Miami Moms Blog is a part of the national brand, City Moms Blog, which boasts more than 85 geo-targeted, city-specific sites around the country with more than 1 million readers per month. Miami Moms Blog is written by Miami Moms, for Miami Moms.
Our amazing team of 25 local influencers is producing new content that is shared on our blog daily. We work with local businesses and national brands to feature the best products and services offered to help make Mom life easier and more fun. In addition to the content on our blog, we also produce high end, quality events for Moms and families including Mom's Night Out Events and our much anticipated, "Donuts with Santa" event featuring the culinary creations of Miami's Donut King, Max Santiago.
For more information, follow me on Instagram, Facebook, and Twitter.
Overall, has it been relatively smooth? If not, what were some of the struggles along the way?
The road has not always been smooth but isn't that exactly what to expect as a trailblazer? You're literally: blazing. a. trail. I've heard it said, "Circumstances don't make or break you: they reveal you." As a trailblazer, you will have the opportunity to be defeated and defined by your circumstances or you can choose to be developed by them and in turn, use your trials as character refining opportunities.
Miami Moms Blog began as a team of 1 and the long hours of investment late into the night and early in the morning (writing, editing, coding, marketing, managing, developing, creating, selling, invoicing…) were costly to me and my family as an already exhausted Mom of a toddler. However, when you choose to pioneer you choose risk and challenge, knowing that the end reward is far greater than the struggles you encounter along the way. Great things come at a great cost but are always worth it.
For young women who are just beginning their journey — really for any woman navigating the road to uniting her passions and calling — I would say, "Calculate the risk. Then go for it!" You calculate because you are intentional at counting the cost which keeps you committed. Then you go for it because of your commitment to your passion and calling will carry you forward each day when you're tempted to turn back from blazing the trail.
As women, we have the unique ability and albeit design, to manage many things at once. This is a strength that allows us to serve as trailblazers in many sectors of life and business.
Also, never compare your beginning to someone else's middle or pinnacle. We are all on a journey and it's important to keep our eyes open to the training that we are in the midst of. We are always being equipped for something that is coming later so I encourage younger women not to despise the current situation you find yourself in: embrace it as a training ground for even greater things ahead.
Run hard in your lane! The world needs what you have to offer. You were created on purpose with a unique design and specific gifts that allow you a certain sphere of influence. Seize the opportunities and you do you!
What should we know about Miami Moms Blog? What do you guys do best? What sets you apart from the competition?
Miami Moms Blog exists to encourage, equip, and empower Moms in Miami through relevant content and a meaningful community. We are part of the City Moms Blog Network which has more than 85 sister sites around the country with more than 1 million readers per month across the network. We have a team of 25 local influencers who write for our blog. New content is published daily on our website and we produce local resource guides to help Moms navigate raising a family in South Florida. We have developed a dedicated following of local Moms that we are proud to serve.
In addition to our online community, Miami Moms Blog produces high end, quality events for Moms and families in Miami. We have already partnered with great national brands like Marriott, Topgolf, Cirque Du Soleil, Pure Barre & Kendra Scott as well as outstanding local brands including Bunnie Cakes, Artsy Hive, Spun Candy, The Palms Hotel & Spa and more.
We love featuring local Mom-preneurs who are excelling at a business in The Magic City and as a brand, we are extremely proud of the strong partnerships we have built with local businesses in the short time since our launch in July 2018.
Miami Moms Blog is already hosting our 7th event in 2 months, a Mom's Night Out at Plume Boutique in Coral Gables on October 25th. We look forward to our much-anticipated Donuts with Santa Events on Key Biscayne and in Surfside which will feature Miami's Donut King, Max Santiago!
We believe that Miami Moms Blog is different from other similar entities in the market today. We are a team of women who collaboratively desire to serve and empower other moms in Miami by sharing our lives with them. There is something very powerful about real, authentic connection and Miami Moms Blog aims to provide not just a service or product to our audience but a meaningful and lasting relationship.
For good reason, society often focuses more on the problems rather than the opportunities that exist, because the problems need to be solved. However, we'd probably also benefit from looking for and recognizing the opportunities that women are better positioned to capitalize on. Have you discovered such opportunities?
I believe that women are created with a unique ability to discern and manage a number of unseen and/or unpredicted needs. Call it "multi-tasking," "women's intuition" or our "gut feeling" but there is something remarkable about how a woman can decipher and navigate certain situations in order to bring about the best interest of all parties involved. We are, by nature, nurturers and I believe this is a unique quality and opportunity in business which allows women a competitive edge when it comes to relationship building with clients and with their target market.
Additionally, while the media can dismiss the feminine qualities of women in business as "superfluous" or "weak," I believe there is great value in the confident strength of a composed and feminine businesswoman. Women are well positioned for meaningful leadership roles in the business sector while also managing their homes and families, what is more fierce than that?
Pricing:\
Miami Moms Blog event ticket prices range from $5+.
Contact Info:

Image Credit:
Alejandra Escalante Photography, Webber Lyerly Photography
Getting in touch: VoyageMIA is built on recommendations from the community; it's how we uncover hidden gems, so if you know someone who deserves recognition please let us know here.