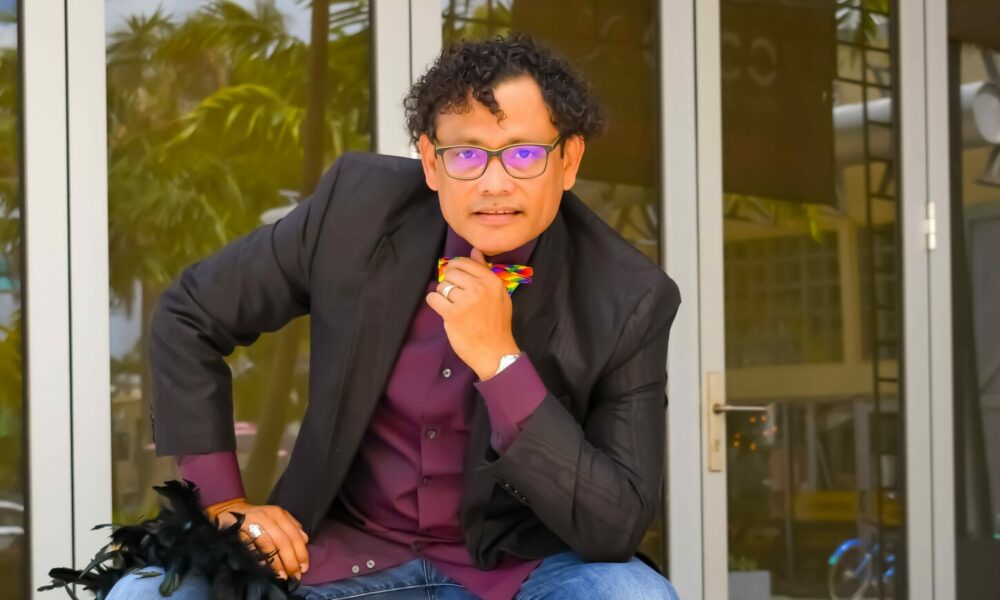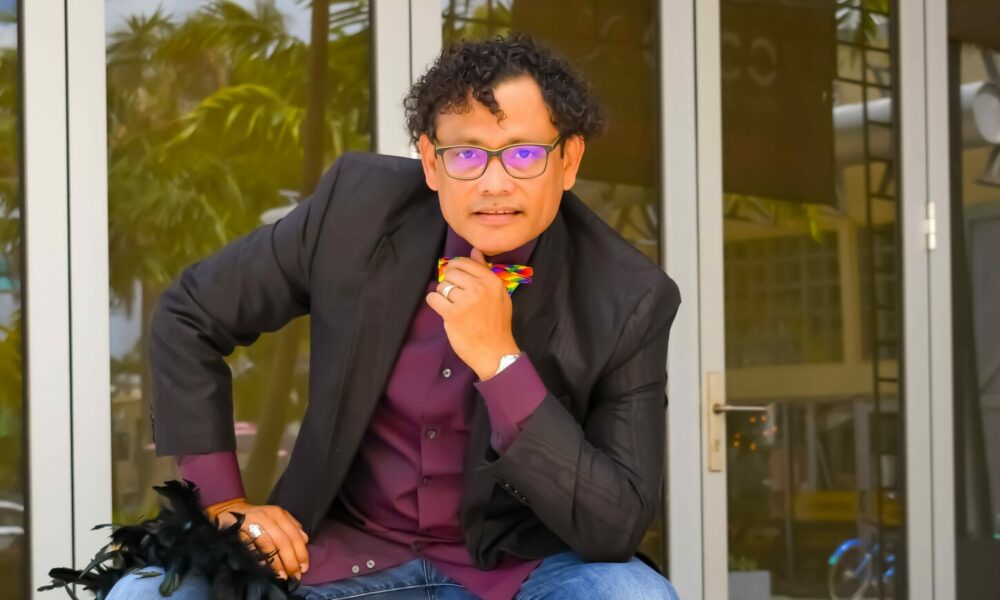 Today we'd like to introduce you to Emilio Aponte Sierra Paretti.
Hi Emilio, can you start by introducing yourself? We'd love to learn more about how you got to where you are today?
My story began in 1968 in the city of Valledupar Colombia. The way I present my name is part of my story, with this I honor people that are deeply in my heart. I have a first and a middle name and my last name is made by the last name of my father Emilio Aponte, my mother Amanda Sierra and my spouse Dr. Robert Paretti. My story is influenced by my fascination with the world of fashion I discovered while growing up, by the different artistic expressions that I had experimented with during my high school and university times, and the different careers in which I had being educated in, such as engineering and environmental planning, master of education in guidance and counseling, and the work in public health as a certified community health worker. All these influences always move my story forward and have created the hallmark that identifies my visual art and my body of work. Because of all the above, in my story, people call me Apontesierra, an experimenter of the arts with a mixture of influences.
I got to where I am today as a visual artist thanks to the support of my family, friends, and amazing coworkers from the different organizations where I had worked, not just in Colombia, but now in the United States of America where I moved in 2002 seeking political asylum. There is no doubt that I also got to where I am today because of the unconditional help and love from my spouse Robert. He is the center of the development of my artistic career. Robert is the light that allows me to see in the dark and he is the support during the long walk of my creations. I am also where I am today because of what I have learned. I started learning the fascinating world of fashion watching my mother make haute couture dresses while growing up. I built up my innate artistic skills at the Loperena National School in Valledupar where after graduating, I managed to get a scholarship in acting and theater production for the University of Magdalena in Santa Marta City. After studying engineering with the acting scholarship and working actively in the performing arts. Instead of graduating in Arts, I graduated in Fisheries Engineering, which is a career that mixes fishing and planning for the sustainable development of the environment. During my time in Santa Marta and after moving back to Valledupar, I was able to polish my skills as an actor, dancer, theater producer, and costume designer using recycling and non-conventional materials.
During my time in Magdalena University, I was exposed to national and international Theater festivals and I met people from different backgrounds and styles. I was able to immerse myself into scene production, design and production of costumes and it was when I got deeply into the fascinating world of high couture fashion that I had discovered within my mother's work. The inspiration behind my art comes from the vibrancy of my country's music, the colors in the fashion world and by the lack of awareness for environmental protection. I bring to mind movement and rhythm, color and the diversity within the ecosystem in my art. The use of recyclables in my body of work has its roots back in my days as a part of the team of environmental planners at Fundación Pro-Sierra Nevada de Santa Marta. We worked for the Conservation and Sustainable Development of this mountain, which is the world's highest coastal mountain. In Sierra Nevada de Santa Marta, I was able to learn spiritual lessons that have matured my soul. I agree with the belief system of the native people from the Sierra Nevada when they see the earth as the mother and as God. In their "Stories" every action surges from a natural force that comes from those ancient beings that are present in each element. As an element myself, my art is an action from my soul and the fundamental key of my story.
Can you talk to us a bit about the challenges and lessons you've learned along the way. Looking back would you say it's been easy or smooth in retrospect?
My story as a visual artist has taken me on the road less traveled. Reason being, at the beginning of my story I was afraid to take risks doing things differently than society demands it be done by the male stereotype. Living my life in my native Colombia as a closeted gay man, I was risking the loss of my soul. I was living in the closet because of the risk of stigma, discrimination and ongoing violence that LGBT+ face daily just because we love another human being because we express ourselves in a different way, and we risk our lives just for showing our true colors.
When I moved to the U.S. in 2002 seeking political asylum, I decided to take the risk to be not just a non-English Speaking Colombian immigrant seeking political asylum in Florida but to live my life as an openly gay man who will make his way as a multidisciplinary artist. After surviving a big health issue that pushed me to receive medical care at a living facility because I was not able to pay for treatment, food and housing, and after overcoming the language challenge, I decided to start my Art business in 2011. I was struggling with what people would think about me walking between different career paths from Actor and writer, Engineer and Environmental planner in Colombia to a Guidance Counselor and Public Health Practitioner. I was scared to find myself walking into a world where thousands of starving artists are fighting to establish their niche.
Thanks – so what else should our readers know about your work and what you're currently focused on?
What I do is Visual Art. My body of work is created using three mediums: Ink on Canvas, Manipulated Photography and Mixed media. My Mixed Media pieces are created using my own developed technique called Apontesierra's Paper Manipulation Fine Art. This technique is a mix of different paper manipulation techniques such as Origami, Paper mâché and Paper Sculpture plus fiber manipulation and fashion design techniques.
What I specialize in is creating sculptures and wearable art pieces weaving together pages from colorful magazines, news publications, and aluminum foil and embellished with non-conventional material to simulated clothing, accessories and jewelry. The colors and images create a texture that I love and the energy cannot be created in the same way using other mediums. We need to use existing materials to transform and change our contaminated world into something beautiful. This is why I use recyclables in my work.
What I am known for is how I use my art as a tool of community mobilization. Also, I am known for the way I use my Paper Manipulation Fine Art Technique to create art pieces using non-conventional materials. I continue use the paper manipulation technique but all the paper materials typically used in my technique are replaced for weather resistant material that somehow can be manipulated like as if they are paper, for example Black plastic poultry net, Metal poultry net, fiberglass, Plastic black privacy screen, aluminum foil, PVC pipes, and many other weather resistant materials.
What I am most proud of is that my art has encouraged thousands of people to become more conscious about recycling and environmental, health, and social issues. I did not set out to be a visual artist nor did I intend to create artwork relating to health issues or social commentary, but as my portfolio evolved and people started to take notice of my work, the outcome and my purpose were clearly laid out before me. In 2011, I created a photo manipulated collection about HIV prevention which can be seen in this link https://issuu.com/emilioaponte/docs/hiv_aids_counseling_prevention_cards.
This collection allows me to use it to help people living with HIV to overcome internal stigma while they create art in Latinx Arte (https://www.facebook.com/LatinxARTEhighImpacto), a private and confidential support group for people living with HIV. Another thing which I am proud of is that I was selected in 2020 by the city of West Palm Beach to create a public art piece for COVID-19 awareness. The art Piece is called COVIDA and it has been on display in different places such as Downtown West Palm Beach in December 2020. Also, it was in display this year until August 2021 at Mandel Public library and will be at the Cultural Council for Palm Beach County from January to April 2022. You can visit COVIDA virtually at https://www.facebook.com/COVIDAbyAponteSierra
What sets me apart from others is the way I manipulated paper and non-conventional materials. Many artists are experts in origami, others are experts in paper mâché and many others in paper sculpture. What I do different from them is that I mix all of those traditional paper manipulation techniques and added fiber manipulation and fashion design techniques. The color of my art pieces comes from the original color of the materials I select for their creation. I make the selection of materials thinking about the colors, textures and shape that I plan to achieve in the piece of art I am working on.
What are your plans for the future?
My plans for the future is to continue developing my art technique creating new art and to continue being part of the artist-activist group that are working to make social changes. I am looking forward to two upcoming exhibits in 2022. One exhibit will be during the month of January 2022 and I will be showcasing 13 art pieces from Photo Manipulation Collection Ribbon HIV. The second exhibition will be from January to April where I will be exhibiting three big Mixed media sculptures and introducing "Transformation", the sculpture that I am currently working on. It is a bicycle and its driver, moving forward while wearing a scarf. From a different vantage point, the scarf appears to be a butterfly. Yes, it's all of that and more!
Contact Info:

Image Credits
Emilio Apontesierraparetti Deon Jefferson
Suggest a Story:
 VoyageMIA is built on recommendations from the community; it's how we uncover hidden gems, so if you or someone you know deserves recognition please let us know 
here.