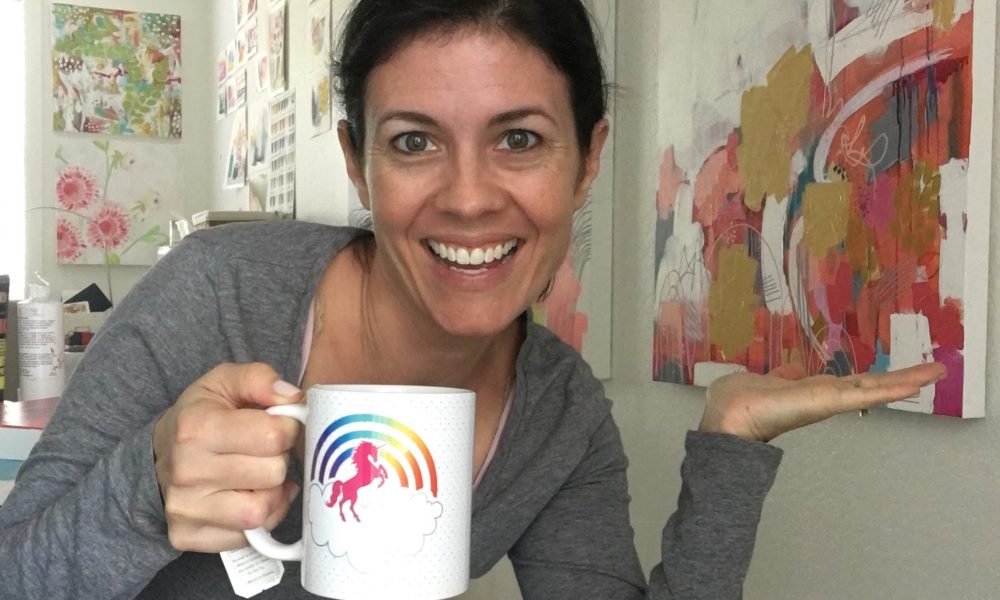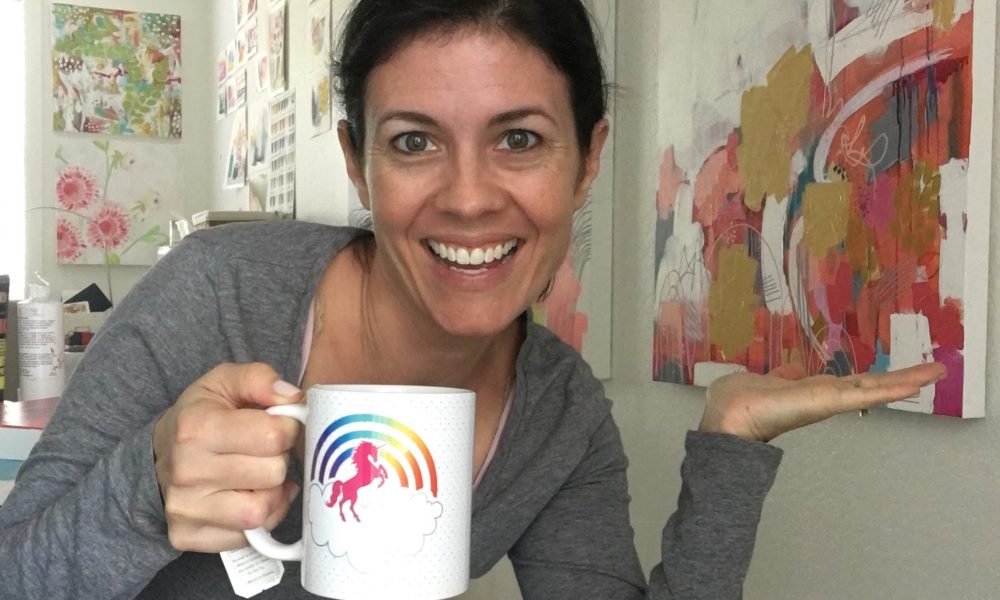 Today we'd like to introduce you to Sara Schroeder.
Sara, please kick things off for us by telling us about yourself and your journey so far.
I have been making art my whole life. Growing up, I remember spending hours on end drawing and sketching. I took every art class offered by my middle school and high school – so much so that by my senior year there were no more classes left for me to take, and I registered to be a teacher's aid in the art room, hoping I could make things while I was there.
In college, I started out majoring in a field completely unrelated to art and, after one semester, found that I had no passion for it at all. What came to my attention during that time though, was that almost every day I was coming back to my dorm room and working on a long-term oil pastel project. Needless to say, this clued me into the fact that I should change my course of study.
When I became a parent, art fell by the wayside. As a stay-at-home mom, it felt like there was just no opportunity for me to devote substantial time to pursuing what I had deemed a "hobby".
It wasn't until late 2014 when I volunteered at a local shelter and began meeting with a group of residents for coffee and an activity (which morphed into a weekly, low-key art session) that I realized how much I'd missed art. A fresh passion was lit up inside me. I began making art again on a daily basis, learning more and more about new techniques and materials. It brought me so much satisfaction and peace that it became a solid piece of my regular routine. At that stage, I had to keep my work small and manageable – because space was an issue in our home. Tripping over tv tables full of paint and brushes, and pushing aside markers, pens, journals, and cups of water in order to be able to eat dinner wasn't fun for any of us.
In 2016, we moved to a larger home, which – (insert angels singing) – had an extra room, and I immediately claimed the space as my studio. I think at the time it seemed a little over-zealous to confiscate an entire room, but it gave me space to do what I've always wanted to do – become a working artist.
In January of 2018, I heard a podcast that, for whatever reason, psyched me up to buckle down and get serious about my art and see where I could take it. At that point, I decided to treat making art like my part-time job and made it a priority. I began scheduling blocks of studio time, honoring it as something important, and I started taking classes here and there to help me develop my skills and find my own voice as an artist.
I've heard more than one artist say it, so I'm not sure who first spoke the advice or what the exact wording was, but "they" say that if you are not sure who you are as an artist, make a hundred paintings, then you'll know. And then make a hundred more, because you'll continue to grow. It was with that thought in mind that I decided to jump on board with the 100 Day Project of 2018, established by Elle Luna on Instagram. This is where a huge portion of my watery, peaceful, dreamlike style was born and when I first started gaining some traction as an artist.
Currently, I spend more time in the studio than ever before, my work is privately collected all over the US and in several other countries, and I'm receiving invitations to participate in the art world in exciting ways that I honestly had not dared dream about when I made my "let's be serious about this" leap in 2018.
Can you give our readers some background on your art?
I paint watercolor and acrylic works, employing ink, chalk pastel, oil pastel, pencil, and charcoal for detailing and texture. My style continues to evolve, but what remains consistent is an intuitive flow, lots of movement, bold, bright colors, and a general sense of positivity, whether it be peace, joy, or celebration.
As I worked through different techniques and materials to discover my voice, I learned that I love the freedom of watercolor in particular – how, in a way, it has a mind of its own if you give it enough space and room to roam. I love that it grows and feels alive, and I enjoy playing with the paint, other materials, and marks to bring about a composition that evokes a pleasant experience for the viewer.
My art is often lively, bold, and bright, with accents that catch your eye in unexpected ways. I love playing with white space and texture to draw the viewer in deeper and deeper. My acrylic works vary from the watercolors in that the paint, I feel, is much more tight and in need of manipulation, Much of the time I spend with an acrylic piece, therefore, I am trying to find ways to make it feel more loose, free-flowing, and organic.
Painting mainly from intuition, I find it stifling to work from a plan. Each move originates from an emotional sense; I'm trying to feel whatever is living deep inside myself and pull it out in color, form, movement, and mark. For me, at this point in my life, those deep inner goings-on are grounded, peaceful, and loving. These are all emotions I hope to bring to life on canvas or paper and share with the world.
I hope, when people see my work, that something genuine and positive stirs inside them. I want them to feel happy when they see it or be moved to sink into the present moment, breathing in and out, knowing that just being there in that moment is enough. I hope it takes them somewhere ethereal.
In addition to my main art practice, I also have an art journaling side-project. In November of 2018, I began painting in an old history book I'd picked up at a thrift store. So much interest had generated around the book, that in January 2019 I asked my Instagram followers if anyone would be interested in working through an old book together. The response was plentiful and enthusiastic, and shortly after that inquiry, our new Instagram community, Old Book Revivalists, was born. We now are a thriving group of creatives growing together through our low-stress journaling practice in old, recycled books.
Any advice for aspiring or new artists?
I wish I wouldn't have restricted myself all those years because I thought there wasn't enough time in my day. I'd love to encourage artists who are still in what they deem, "their hobby stage".
If you want more, keep at it. It's fine if all you can do is twenty minutes a day in markers or pencil (because they are quick and easy to set up and clean up).
Do it, keep doing it, and do it more. There are ways to work an art practice into your life without having it take over your days or an entire room in your house. This lesson is partly what The Old Book Revival is about, but I learned it through engaging in a few other daily art challenges on Instagram.
It's possible to learn, develop, and make art consistently without having to quit your day job. Just fit it in where you can. If art is truly your jam, doing even just a little bit every day will make you feel better to your core.
What's the best way for someone to check out your work and provide support?
My main hangout is Instagram, @saraschroederart. I post completed work and/or works-in-progress almost daily, and I frequently sell on a one on one basis through that platform. You can also find me at the art journaling community on Instagram, @oldbookrevivalists.
I currently have work available at:
The Heart of Delray Gallery
1440 N Federal Hwy, Unit 100
Delray Beach, Fl 33483,
www.theheartofdelraygallery.com
@theheartofdelraygallery
and also with:
CCUCU GALL-ART
1152 SW 8th Street
Miami, Fl
www.ccucu.com
@CCUCUGALLART
In addition, I will be guest teaching an online class as part of Kellee Wynne Conrad's (@kelleewynnestudios) Experience True Colors (@experiencetruecolors ; www.experiencetruecolors.com) online subscription-based painting course during the month of December this year.
My work is also available on Etsy, at Etsy.com/shop/saraschroeder.
Contact Info:

Image Credit:
Photos 1-4 by Viviana Valverde
Getting in touch: VoyageMIA is built on recommendations from the community; it's how we uncover hidden gems, so if you know someone who deserves recognition please let us know here.