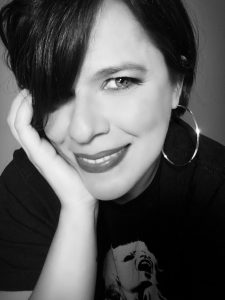 Today we'd like to introduce you to Zaida Alfaro.
Zaida, can you briefly walk us through your story – how you started and how you got to where you are today.
I am named after my beautiful mother. I am the youngest of six. I was born into art. My mother is an amazing artist, composer, and musician. I remember sitting on the couch watching my mom's fingers move graciously throughout the piano keys. It was mesmerizing for me.
I learned how to play the piano from my mother when I was 12 years old. From then on, my love for music began, but my love was not for the piano, my love was simply listening to the music. I would keep a journal and constantly write poems, stories, any thought that came to mind. I remember playing the piano and trying to add my words to this unknown, unfinished melody.
My professional musical career began when I was 18 years of age. I was naive then. I was signed to an independent music label. I spent months at a recording studio trying to shape my own style. I spent most of my summers with my vocal teacher, who I grew very close to. I was going to school at night, and I had a full-time job. I spent the weekends and my free time singing and composing. I was trying to live my dream.
The Warehouse Cafe was like a church to me. This place was filled with artists, writers, musicians, anything that had to do with the arts. One night, I sat on a couch that faced the stage. A girl sat on a bar stool with her guitar and played her song. I remember sitting there thinking to myself that I could do that very thing she was doing. I wanted to express my life, my experiences, my thoughts to strangers.
I met an amazing guitarist at the Warehouse Cafe. I simply asked him to teach me a few chords. My friend gave me an old beat up classical guitar (which is the only guitar I compose on until this day). A few lessons and I started combining my own original poetry with some basic guitar melodies. That was the result of my debut album, "Train Ride" which was released in 2000.
Now as an independent artist, I released an EP called Little Box of Secrets. Although the journey has been challenging, I am not ready to stop showing the people the world through my eyes. My lyrics portray the different journeys my life has taken me through; heartache, hardships, falling in love, and happiness. I want the people to feel what I felt, to see what I have seen, and to know what I have learned. I want my music to be the window to my soul for the world to peek in. It is more than just listening to the songs; it is breathing in words.
MEET THE AUTHOR: I recently published through the publisher Cozy Cat Press, a cozy mystery novel titled: "The Last Note: A Miami Music Mystery."
The Last Note is a novel which not only engulfs the reader in the life of the witty and lovable main character, Vy but is also meant to provide its fans with the first of a series of novels based entirely on the murder and music genre.
This 65,000+ word novel will appeal not only to those readers who love a good murder mystery coupled with humor but ones who wish to become familiar with the world of a musical talent trying her best to come up through the ranks of bars to superstardom. The Last Note is a mixture of mystery, mayhem, and comedy, and you will find yourself immersed in Vy's musical and murderous world. The novel's main backdrop, the amazing city of Miami, Florida, is beloved and well-known to me.
I was born and raised in Miami, and like the novel's main character Vy, I am a singer/songwriter, as well as the lead singer to a self-proclaimed cover band. All things relating to music or literature are my passion. I keep a journal, and I am constantly writing poems, stories, and any thought that comes to mind. I have a fascination for black and white films, that have the element of mystery. As I have been told by many, I have a very creative imagination.
Many years ago, I became an avid reader of cozy mysteries. The story lines were intriguing, engaging, and funny at the same time. I was so inspired by the authors, that I then decided to take my musical experiences, and put it on paper. I began writing this first novel in 2009. In between my full-time job, my weekend gigs, and my personal life, I finally completed the novel. The phobia's, the dream sequences, and the quirkiness of the main characters are all based on facts.
There are many amazing cozy mysteries pertaining to food (Lucy Burdette), tea (Laura Childs), psychics (Victoria Laurie), and flowers (Kate Collins), but there has yet been a mystery pertaining to music. I hope to be able to bring that love I have for Miami, the Cuban culture, music, and writing, to the readers of my novel, and to the series to come.
Great, so let's dig a little deeper into the story – has it been an easy path overall and if not, what were the challenges you've had to overcome?
Musically, it has not been easy. Unfortunately, I learned the hard way. I was signed to an independent record label. I was naive back then, and I trusted too much. When I released my first CD, Train Ride, it was through the record label. I couldn't really call it my baby, although the lyrics and the music were my stories, my journeys. I had no say when it came to producing it.
Throughout the five years that I was signed to that label, it became a battle that facilitated my loss in my positive energy. And after the contract expired (which was via a lawyer, and my decision), I had lost faith in myself. Luckily, I have my family, especially my mother and father (an angel now). They encouraged me to not give up on my dreams.
To keep writing, to keep singing, to keep believing in myself. And although it was a struggle, because, in the end, I was the one who had to choose to get back up, I did. I joined a band. I was gigging every weekend. I was trying to make a name for myself.
Then, I was able to record my EP record, Little Box of Secrets, and that was my baby. But my artistic journey does not stop there. I decided to push myself, and choose to write a novel, a murder mystery novel, to be exact. Once completed and edited, I proposed my first novel to the writing world. One that I was very new to.
I know the music world like the back of my hand, but when it came to publishers, writer, and all the elements in between, that is a completely different league. I received so many rejection letters that I was on the verge of not sending out any more query letters.
Then I attended a book signing for one of my favorite authors. Fortunately for me, and unfortunately for her, I was the only person that attended the signing. I was able to sit with her for an hour and talk about my novel and the hardships. She said to me, "give yourself a deadline of a year before you resort to self-publishing. Do not give up just yet."
So, when I left that signing, I calendared a year from that date. In six months, my novel was picked up by Cozy Cat Press. Since then, it has been an amazing ride, of learning, self-discovery, and excitement. I am now currently working my second novel to that series A Miami Music Mystery.
We'd love to hear more about what you do.
I am a singer/songwriter, and most recently a mystery author. I am mainly known for my music and performances throughout Miami. I have an amazing following. But recently, I have been dedicating my time to promoting my first mystery novel, The Last Note: A Miami Music Mystery. The outcome has been amazing.
Many of the followers that I have via my performances have transitioned over to my writing world. My brand is simply my name Zaida (thanks to my beautiful mother). I love knowing that I am known for my singing, songs, and performances. But because of my amazing fans, that has elevated to being known as Zaida, an author.
Let's touch on your thoughts about our city – what do you like the most and the least?
I love how diverse Miami is. It has been a platform for a new beginning for many people, including my parents. I was born and raised in Miami, so I love the fact that I know that a gas station has a gem hidden inside, a wine bar and restaurant. I love knowing that the entrance of Key Biscayne had sharks, not dolphins, welcoming you into the park. I love the camaraderie of Latin people when you go to a Latin restaurant or a hair salon.
Unfortunately, for an artist like myself, pop/rock genre, Miami did not offer many opportunities for me to be successful enough to buy my parents a house. The music industry is very cutthroat, and my personality is not that way. I am one to encourage someone that is on the same path as I am. I am not there to tear them down.
Contact Info:
Getting in touch: VoyageMIA is built on recommendations from the community; it's how we uncover hidden gems, so if you know someone who deserves recognition please let us know here.