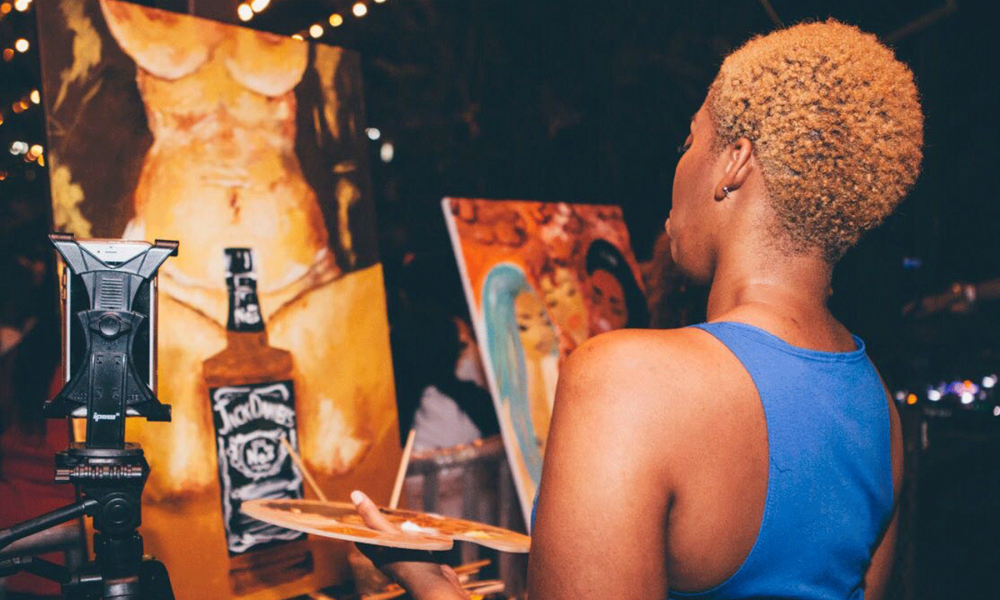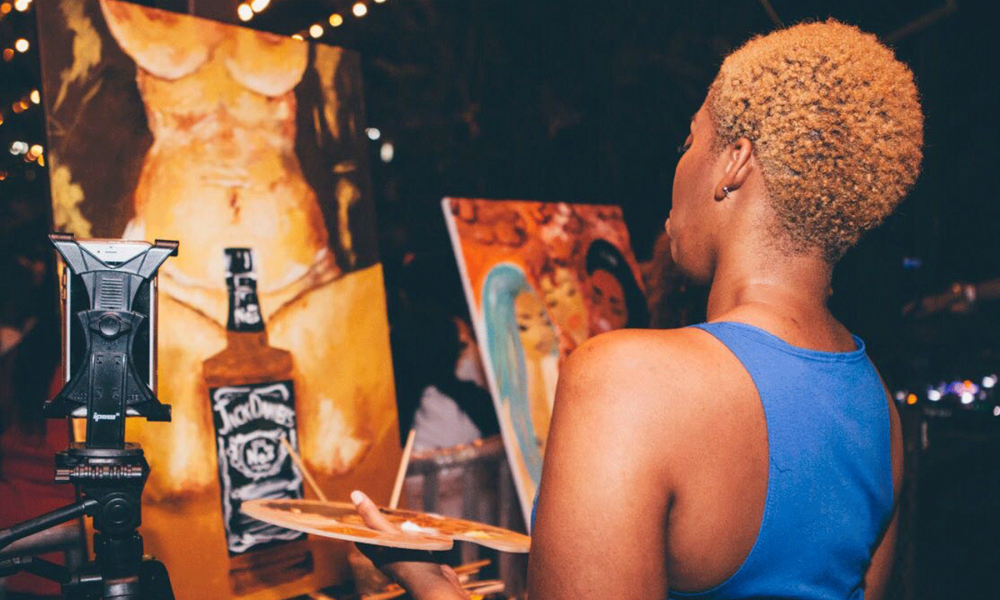 Today we'd like to introduce you to Yanique DaCosta.
Every artist has a unique story. Can you briefly walk us through yours?
I was born in Jamaica and migrated to the United States in pursuit of educational advancement in 2006. I received my Associate Degree in Graphic Design, my Bachelor Degree in Studio Arts and my Masters of Fine Arts in Media Design. Today, I am a professional Creative via Graphic Design and Painting mediums.
As a child, my grandmother would complain about her sheets having ink marks, her walls having crayon drawings and her sheets having scissor cuts. I've always been artistic. Thankfully, with all that, she never stopped me from expressing myself creatively. My family would shower me with arts and craft-like gifts. I went to college, got a few degrees and put my talents toward the medium that could offer me a "9-5" lifestyle.
Graphic/Commercial arts worked really well for a while. It helped me make more money than the average 20-something year-old, but I felt like I was missing something. Graphic design is a solution driven medium. My art was all about someone else's perspective and solving someone else's problem. I needed something else to express my thoughts and feelings without outside influences. Just like that, in 2014, I started painting again for the first time since undergrad. I have not gone back since.
I still have a long way to go, but my little brother continues to inspire me to be the best me I can possibly be. His Stage name is Lil Huncho. He is my best friend. At age 16 he is writing and recording songs that resonate with me as a 20-something year old professional. Every morning I pull up SoundCloud and listen to his song "Go get it". His lyrics fill me with energy and then I leave the house ready to "Go Get It".
Please tell us about your art.
I am an independent fine artist known as YaniPaints as well as the Creative Director and Owner of YKMD, a small Visual Communication agency. As a fine artist, in addition to releasing my feelings via original collections of art;
I create commissioned art work.
I teach painting to kids.
I host paint and sip parties (Private or public)
I partner with brands to bring my art to life with their products in mind.
As a Creative Director, I get to create visual communication solutions to help them increase their revenue. This is done by leading 360 brand development projects that resulted in Print, Web/interactive, Responsive, Out of Home, Motion Graphic and Social Media deliverables. In both cases, I get to make an impact on the world.
What do you think is the biggest challenge facing artists today?
A smooth road? What is that? *laughs profusely* As creatives there are so many common challenges we face as a community. Some of the challenges I have encountered the most over the years are job consistency, business scalability and client education. As creative, we all have struggled with the idea of job consistency at one point or another. Unlike a fulltime job, no jobs or projects means no income. Here are some ways I have overcome this common problem:
Referral programs – Current clients can refer new clients from a 10% commission
Products – Instead relying on the service-based nature of the creative industry, I create products, such as shirts, hats, bags, swimsuits and fine art prints to create multiple streams of income.
Retainers – This helps me know the minimum amount of income I will get each month for a certain period of time (like a 9-5) or a freelance contract.
None of the solutions I mentioned is easy to execute. It still takes work and time to ramp up, to be financially beneficial. I had to have confidence in myself and what I was trying to do. There are lots of days I broke down, cried and then got right back to it.
That is where facing the terrors of scalability became a bigger factor. I had to figure out a way to service clients that did not include being a sleep-deprived-crying creative. It was not good for my health. Instead of hiring full time staff, I work with a number of TALENTED and RELIABLE freelance designers in varying times zones to help with design projects and freelance artists to help with art classes as the need arises. This helps me to increase the number of project and services I am able to complete monthly and share wealth within the creative community.
Even though I do it for the outcome and not the income, this artist refuses to starve. Retainers combined with a good work ethic and the help of my freelance team was a great way to help me thrive. No one would agree to pay a fixed monthly fee as a new client. I had to pitch this idea to older clients and convert the newer ones after 3-4months of providing good work. Even with all these, the roads are still rocky and I still have a lot to learn.
How or where can people see your work? How can people support your work?
To see more of my work, visit YaniPaints.com for fine art and theYKMD.com for design.
Getting in touch: VoyageMIA is built on recommendations from the community; it's how we uncover hidden gems, so if you know someone who deserves recognition please let us know here.