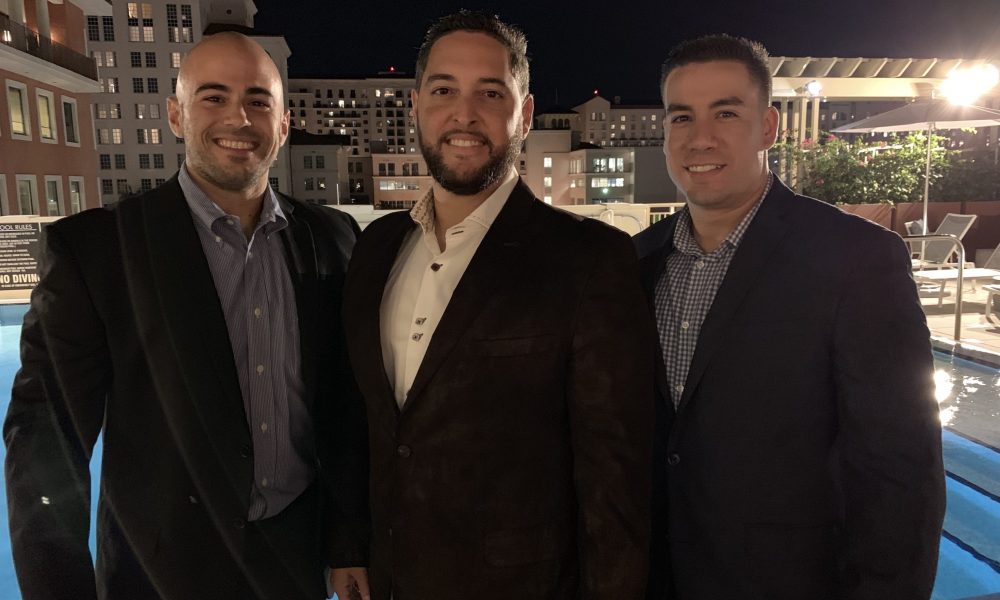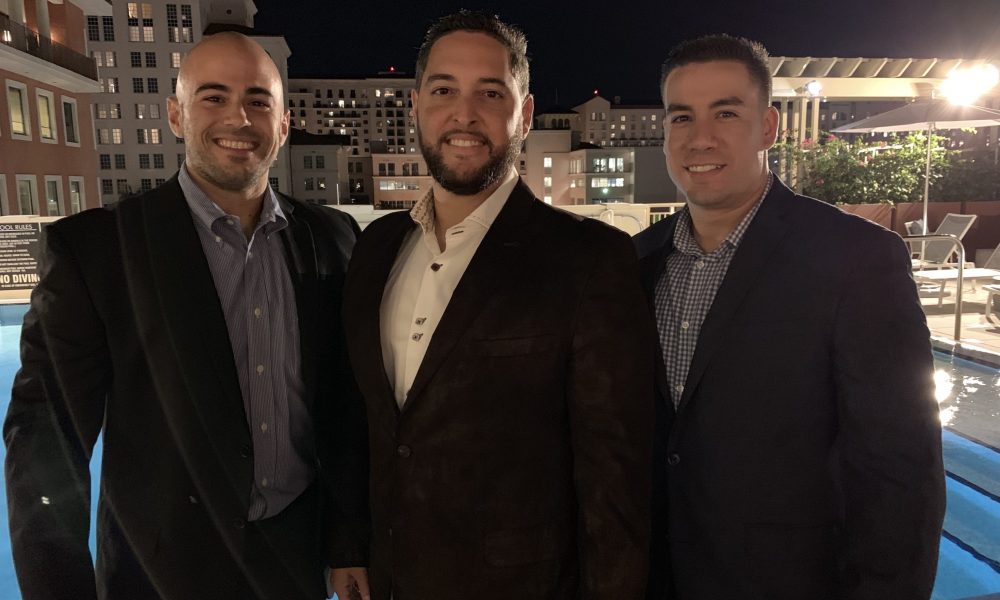 Today we'd like to introduce you to Willy Espinosa, Christian Diez, and Arthur Mor.
Willy Espinosa is a 36-year-old business expert with over 15 years of professional experience working in the finance, human resource, payroll and insurance industries. He attended Nova Southeastern University and graduated with a Bachelor's Degree in International Business and Business Administration. Willy played baseball throughout the USA for many different teams and organizations under the minor league system up until 2008. His experience in baseball has shown him the humbleness of what real life and business is about and has generated the work ethic that he endures today. From there, Willy went on to work with some large companies ranging from Progressive Employer Services to Brown & Brown to AXA Advisors. He even started his own financial consulting firm called Espinosa Financial and grew his book of business to $75+ million within the first three years.
In 2018, Willy branched off and started his own staffing and HR consulting firm called MAD HR Staffing. His concept was to be the first in South Florida to consolidate staffing, HR and payroll services together in order to provide a complete, all in one service for local businesses. MAD stands for "Making a Difference", something that we strive for on a daily basis. His view is to change the way businesses find the right employees to grow their business, and also assist candidates that are unhappy in their current positions find the right position in order to succeed to the highest of their potential and live an enjoyable and fulfilling life. He strives to "Make A Difference" everyday.
Christian Diez is a 28-year-old Cuban-American entrepreneur, born and raised in Miami, FL. A highly-motivated, result-driven professional with over eight years of experience in business to business sales, establishing long-term customer relationships, improving operational efficiency, strategic planning, team building, and digital marketing. Christian attended Florida International University and graduated in 2012 with a Bachelor's in Business Management. Since then, Christian has attained various certifications in Social Media, Online Marketing and even Salesforce Accreditation.
After working for various companies, he left the corporate world in 2016 in order to pursue his dream of becoming an entrepreneur. The Collective Social Media & Marketing was created to provide local businesses with effective social media and online marketing strategies. Through The Collective, Christian was able to grow his network and build some solid relationships. He has worked with a couple big local names such as Misha's Cupcakes & Half Moon Empanadas and big international names such as Miguel Caballero.
Arthur Mor is a 31-year-old Cuban-Puerto Rican with 12 years of experience in business development. He started working right out of high school in his father's import and export business. There he learned what it took to start a business from the ground up. He learned employee management, directed trade show marketing, managed international trade sales, and handled the company's payroll. After years of applying himself in the import/export world, he decided to venture out into the hospitality industry.
He entered the hospitality business and worked for high-end hotels and restaurants in South Florida. Through this stage of his career, he learned how to work marketing events such as the Fort Lauderdale Boat Show, Art Basel in Wynwood and other various events in Miami, FL. He networked and grew relationships with some very successful business entrepreneurs who influenced him to realize the potential he had.
In 2018 he left the hospitality business in hopes of starting his own business. Even though he had no college degree, he felt that with the knowledge he had acquired over the years, he was ready to build something special. He asked Willy Espinosa, a teammate of his, for financial advice. Little did he know, that conversation would lead to the partnership of MAD HR Staffing.
How Did They All Come Together?
Willy Espinosa was the mastermind behind MAD HR Staffing, but Arthur and Christian have played important roles in the development of company since the early stages. Willy and Arthur play at local softball tournaments and met through the league at Tropical Park. Willy and Christian met through a gym in Doral, FL where they used to train together. Willy Espinosa serves as the Managing Director for MAD, focusing on the company's structure, finding networking opportunities and local business partnerships. Christian Diez serves as MAD's Director of Marketing and Development and focuses on the company's brand, online marketing, IT and our customer relationship management tool (CRM). Arthur Mor is MAD's Director of Business Development and is responsible for networking, establishing relationships with prospects and clients, as well as account management and recruiting.
Overall, has it been relatively smooth? If not, what were some of the struggles along the way?
Creating as well as building a brand name and recognition.
Setting up software and databases.
Constant changes in labor laws and regulations.
Hiring fast and finding the correct candidates.
Finding innovative ways to network and find new candidates.
Differentiating the unique way that we do business with the core morals and values that our competitors refuse to implement.
Alright – so let's talk business. Tell us about MAD HR Staffing – what should we know?
MAD HR Staffing exists to solve the critical issues facing our clients, both large and small. MAD stands for Making a Difference. Our unique approach is not only what differentiates us, but also what makes us successful. We provide a broad range of services and solutions to help organizations facilitate change, achieve their vision and optimize performance and productivity. We are the first to combine staffing and HR for an all in one complete business solution.
Staffing Services: You need the right employees in order for your business to succeed. MAD HR Staffing can support your staffing requirements at competitive pricing. We ensure quality employees, quality relationships and a strategic partnership with your company. AND, we do this by personally meeting every candidate in person to be able to guarantee the quality of our work.
Payroll Solutions: Simplify your payroll process, reduce your administrative burden, and outsource the task of tax filing with our Integrated Employee Management System. Ensure your employees' paychecks are accurate and on time while alleviating the hassles of deductions, garnishments, tax filing, and reporting.
Human Resource Management: MAD HR Staffing provides our clients with the support to help create or augment an organization's HR Infrastructure. Our full Human Resource Information System and HR Consulting Services ensures compliance, reduces administrative burdens and streamlines your workflow process.
What sets MAD HR apart from the competition is that we strive to build successful relationships with our clients and candidates on a daily basis. We meet with every single one of our candidates in order to get to know them face to face and so that they don't become just a number in our database. We also offer a unique, one of a kind payroll and HR software that allows employers to log into a system and handle all of their payroll and HR needs under one login. This system combines: payroll & tax management, employee benefits & administration, risk management, unemployment claims, time & labor, and even HR consulting/reporting all under ONE software login. This cloud-based system is where we see the future of staffing, payroll & HR headed.
What's your outlook for the industry over the next 5-10 years?
Staffing, Payroll and HR Management is on an uprise. We are one of the newer companies incorporating staffing, payroll, and HR. With unemployment being low, one of the trends is having a tough time finding quality talent. Our Goal is to find people unique individuals that are unhappy at their current jobs and find them more suitable opportunities.
A very crucial outlook is that we see businesses becoming more comfortable using staffing, payroll, and HR services for quality over quantity, as well as affordable when understanding the differences of having the right systems in place. And what helps our company is the fact that we are an all in one shop for all three components of our industry.
Contact Info:
Getting in touch: VoyageMIA is built on recommendations from the community; it's how we uncover hidden gems, so if you know someone who deserves recognition please let us know here.