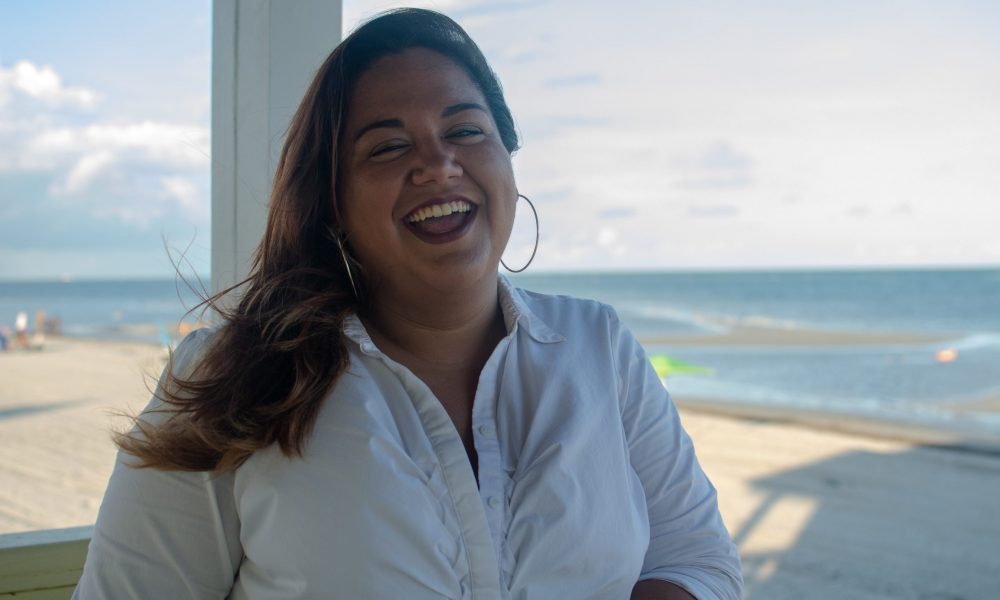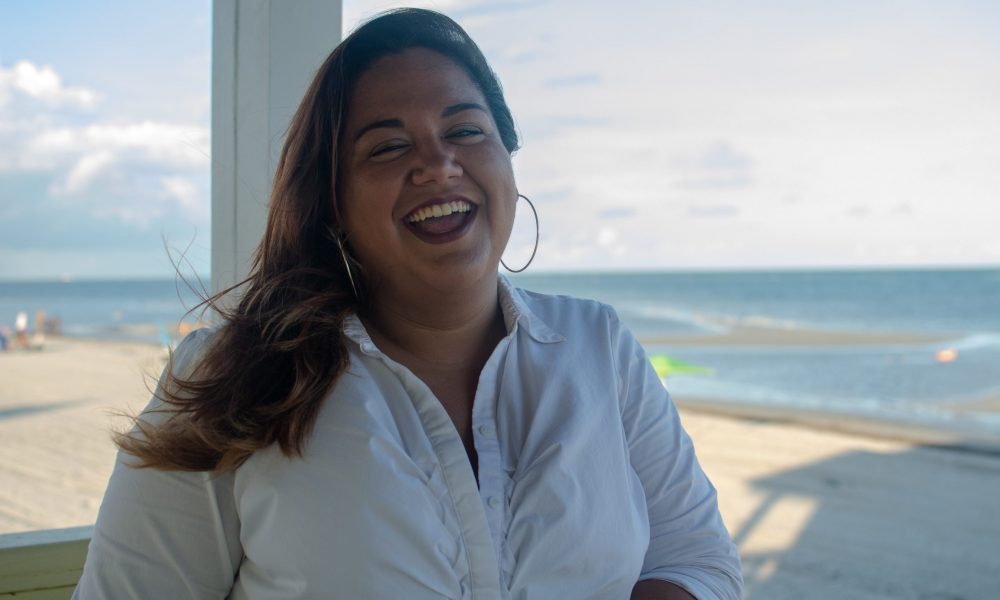 Today we'd like to introduce you to Michelle A. Castro.
Michelle, can you briefly walk us through your story – how you started and how you got to where you are today.
I started doing improvisational theater, often called improv, a little over a year and a half ago at Just The Funny Improv Theater. Improv is a form of live theater in which the characters and dialogue of a game, scene or story are made up at the moment and often improvisers will take a suggestion from the audience or draw on some other source of inspiration to get started.
I've always been one to entertain my family and friends by just being my most, extra self. I would do shows of all sorts for my family when I was younger – I'd dance, I'd sing, I created characters and would do imitations of people I personally knew and celebrities. You would think I took theater in school but no, I would get nausea just at the thought of being in front of people. Anything I've ever done is because my mother would encourage me to – school talent shows, family performances, dance classes, improv and now at last: stand-up comedy. My mom has always been my biggest supporter, she's actually the one that found the improv classes for me and pushed me to take them. Mothers really do know best.
I recently started doing stand-up at local open mics, it's always been an interest of mine but was holding back for a while still due to my fear of public speaking. Improv has been such a blessing for me in that area because it's allowed me to break out of that fear. It's funny because I have this thing where I get nervous and I psych myself out before a performance – whether it's improv or stand-up – but once I step out on that stage, I immediately lose all nerves and feel so in my element. One of my teachers at Just The Funny, Luis Madera, told me one day during a class, "Michelle, you were born to be on stage." I'll never forget him telling me that and I remind myself of it when my nerves want to get the best of me.
Dance will always be my first love. I've been dancing since I was little. My dad would always play music in the house – merengue, hip hop, oldies, anything – and it was one of the ways we connected. We both love music and breaking it down on the dance floor, be it the middle of the kitchen or in the car. Dance and music have always been there for me, not just as a passion but also as an escape. I hear music and my body can't help but move and improv has only helped me explore that even more. I've taken many dance classes and workshops from exceptional studios such as Nago Academy-Miami, Millennium Dance Complex, Focal Point and MOTIV.
Great, so let's dig a little deeper into the story – has it been an easy path overall and if not, what were the challenges you've had to overcome?
I think the road down whatever you are passionate for will never really be "smooth", right? You're bound to face obstacles and overcome your own doubts and fears but that in itself will test you to see how much you truly want it. Performing, in general, has taught me to listen, to be present, to trust the process and believe in myself. It's so easy to get wrapped up in your own head, nitpicking everything you do, and begin comparing yourself to others. Own who you are as a person, do what makes you happy and right there you're already living your best life.
For women that are just starting their journey – whether you're starting young or older (like I did) – enjoy it, all of it. The good, the weird, the mini breakdowns and the victories. Remember, there's no finish line that you need to hurry up and get to, there's always room to grow and get better at your craft. If you put in the time, the effort, trust the process and have faith the entire way, doors will open, and opportunities will come. Go out and do as much as you can – take classes, go to open mics, travel, try spicy foods. Challenge yourself, period. Be able to take constructive criticism, apply it while also staying true to yourself, pay no mind to the haters and keep grinding.
There's this quote by Will Smith, "No matter how talented you are, your talent will fail you if you're not skilled. Skill is achieved through practice. So, work hard and dedicate yourself to being better every single day". Boom. What he said.
Please tell us more about your work, what you are currently focused on and most proud of.
I'm a performer – comedian, dancer, improviser – and writer. It's in my bones to be creative and perform, to put on tremendo show whether it's on or off the stage. And to be honest, that's just the tip of the iceberg for me. I want to tap into more acting, choreographing, DJing, film making, editing – there's no limit. Growing up my dad would always ask me, "What do you want to be? What is it you want to do with your life?" and I could never give a one-word answer because all I could envision was lights, camera, and action. I knew performance and entertainment was my calling.
I'm the co-founder of Miami-based improv troupe, Scene Pena. We're a proud, Hispanic bunch that were brought together by our shameless approach to life and improv. We produce our own shows once a month brought to you by our benefactor, Gabriel 'Stunna' Varona. at Stunna's Fit, located in South Miami. Our group was formed in August 2018 and we've received nothing but an outpour of love and support from the community. We debuted our first improv festival performance in January and are beyond thrilled to now be performing at our second festival, the 2019 Atlanta Improv Festival, in April. I'm also a member of South Florida improv troupe, The Humdingers. We're a group of friends that produce pop-up shows and perform at festivals, the most recent one being the 2019 Miami Improv Festival in January. Be sure to check us out on social media for the latest and greatest: @scenepenaimprov @thehumdingersimprov
I'm currently a cast member at Just The Funny Improv Theater, located in Coral Gables, where you can check out shows from Thursday through Sunday and also part of the ensemble at SpeakEasy Theater Co – which will be launching this summer (very exciting) in North Miami Beach. It will be a new theater space that aims to be a creative hub to serve as a space for self-discovery and a platform for emerging artists.
I also have a YouTube channel where I post some funny, some family and a lot of dance. Feel free to check it out and show some love!
So much of the media coverage is focused on the challenges facing women today, but what about the opportunities? Do you feel there are any opportunities that women are particularly well positioned for?
I definitely feel there are opportunities for us women but I could also understand if it seems like there aren't any. I've been in quite a few shows where I'm either the only woman or with one to two more and we're performing with several men – something I'd never notice until someone would point it out. When recently doing an open mic at Sweet Caroline, in Brickell, I was the only woman that performed that night. When socializing with a few folks in the crowd afterwards, they mentioned to me how they were regulars at this bar and rarely ever see women perform there. Again, not something I had really noticed until they pointed it out. I'm not sure if it's an I-don't-feel-it-so-I-don't-see-it type of thing or because I'm naive of what is lacking. I've always been the type of person to take charge and make things happen even when it seems like nothing can be done in the situation. I'd like to think it's because of that – the way I not only see myself but also present myself as this intelligent, strong, very capable woman that doesn't feel intimidated by men, in general. I used to work for a cigar company, years ago, and that world itself is male-dominated. I worked closely with two other women and twenty men (yes, twenty) – not including any remote employees. Thinking about it, I may have even gotten my "training" there on learning that I will have to defend myself and make sure I always look out for me because there were incidents where my input wouldn't be taken seriously or I would get brushed off or spoken to in a manner I didn't appreciate nor think was necessary. At some point, without having to think twice, I began to speak up more, push on what I felt was important, prove through my work that I brought value to the company and deserved to be treated as such. I'd like to think that's something I've kept with me as I've gone on, especially now in performance and entertainment.
I come from a family of women that were single mothers, raising and providing the household. My mom is the strongest person I know, I admire her and would want to be like her in every way. She's loving, she's caring, she's understanding but she's also fearless, independent, resilient, an entrepreneur that has never needed anyone to tell her what she can or cannot accomplish in life. We don't need to see the opportunity there in order to take it – we make it.
One of my favorite proverbs is "She is clothed with strength and dignity, and laughs without fear of the future."
#getitmama
Contact Info:
Image Credit:
Stacey Smith, Ferdi Rodriguez, Jose Miguel Sanchez, Carolyn Birmingham Boyer
Getting in touch: VoyageMIA is built on recommendations from the community; it's how we uncover hidden gems, so if you know someone who deserves recognition please let us know here.