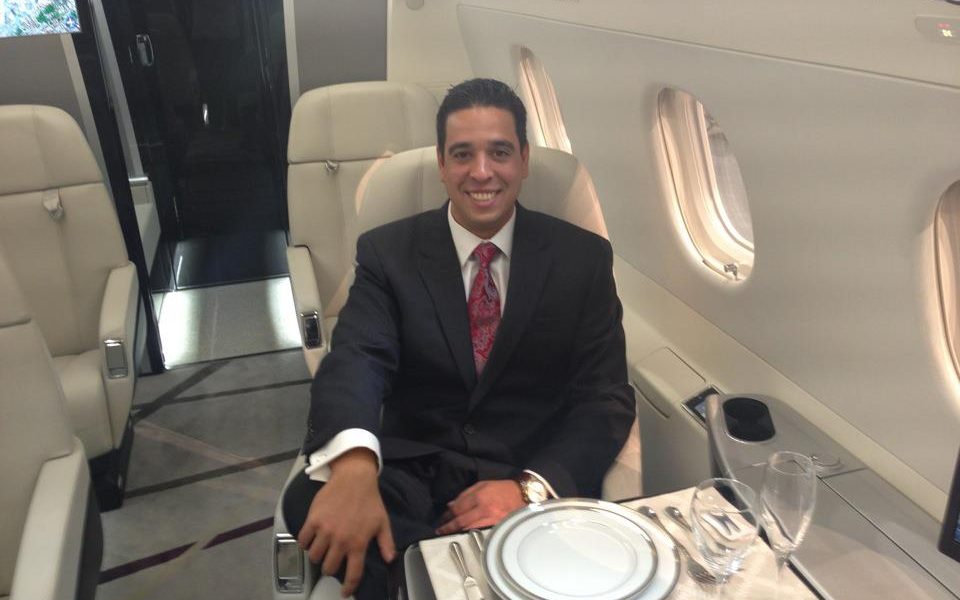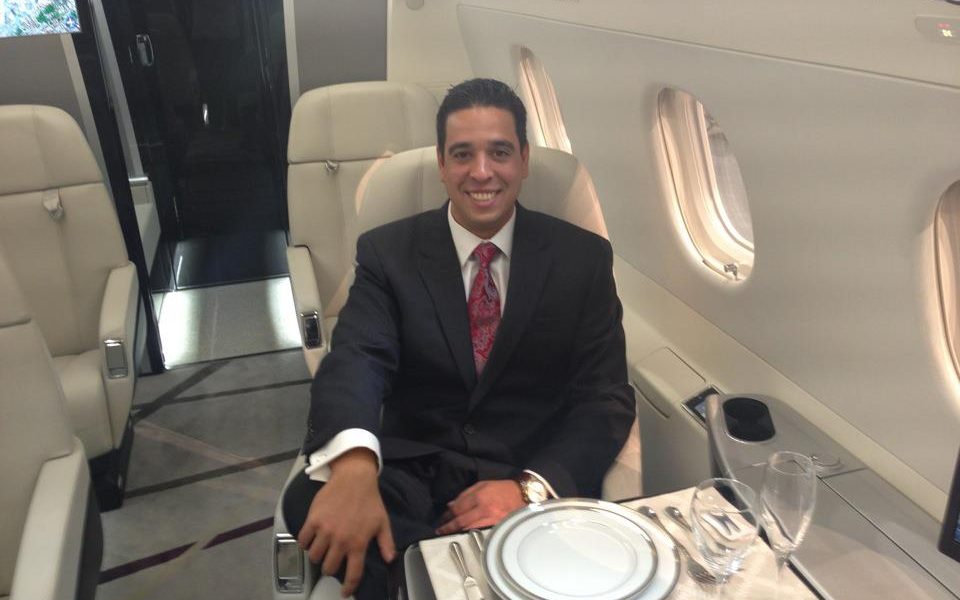 Today we'd like to introduce you to Thiago Sensini.
Thiago , let's start with your story. We'd love to hear how you got started and how the journey has been so far.
Well, this is a long answer. I will try to keep it short.
I was born in Sao Paulo Brasil. I am fluent in 3 languages; English, Portuguese and Spanish. Second Generation in Aviation. Love racing (dad and I are crazy about formula 1 and Indy). Played soccer, was a competitive swimmer and advocate fisherman. I absolutely love the ocean. My grandfather would take me fishing almost every weekend.
At the age of 13, my father who worked for Embraer (large private jet manufacturing company in Brazil) was hired by Bombardier (a Canadian private jet manufacturing company) to be part of the development team of the "Global Express Program", a 60M jet. To date, the Global 6000 and 7000 are the biggest and has the longest range of any private jet on earth. Well, this is where life changed. We were young (my sister, my best friend was 9yrs old at the time). The only thing we knew is that North America would give us a much better opportunity in life….. and here we were, landing in Canada, freezing cold, not even owning a pair of gloves yet. We spent 5 years in Canada in total, which coincidentally was my entire high school time. After that, Embraer (the original company who my father worked for) opened a division in Palm Beach Gardens, Florida, with the purpose to develop their newest private jet (called "Legacy" – 20M jet). They brought my father back, and I was a very happy young adult. After all, America is the land of opportunities. Florida being warm and the golf capital of the world. I was IN! – picked up golf in Canada and absolutely fell in love with the sport.
Well at this point I am attending FAU – The Harriet L. Wilkes Honors College, studying Economics. This is really where it all started for me, business wise. Throughout college, I worked at a fine dining restaurant called Portobellos Italian Cucina, which is my favorite place to eat still. It's a 4Star restaurant in Jupiter,FL. I learned a lot of skills here, people skills to be specific. Worked my way to in being the go to guy at the place. I knew everything about that restaurant, actually enjoyed the madness of it too. I learned to handle myself properly around the elders and business moguls. This is where my contact list started getting large. But the big questions was, how do I translate those contacts into business opportunities.
While in my last year of college, my father had completed the Legacy program development and had started his own engineering firm focused on Interior Design of Private Jets, my uncle was also a partner (He started the first internet provider business in brasil back in the early 90's). Headquarters was here in Palm Beach and the other half of the engineering team was in our facility in Brazil. They ran strong for couple of years and then the economy took a turn for the worse. At this point, life is going really well, until my mom called… I could just tell there was something wrong with her voice, so I came home. I found my father depressed, down on his desk with tears running down his eyes into some engineering project. I don't have enough words to even explain that moment. I will never forget it. So my mom says "tell the kids what's going on, they need to know". He proceeded to explain that the business took a turn for the worse due to economy and delays in project and that they ran out of money, and that the house was also included and there was a high chance we would lose everything. This is the TURNING point of my life. I promised my family, and most importantly myself that I would do everything I could to help our family. I promised that we would never be in this situation again, after all, they brought us to North America and gave us a huge life opportunity. Now it's time for me to step up and try to give back everything they gave us, plus my sister was just about getting into college, so the pressure was on.
So it began. I was going into my last semester at college, and I decided to take a break from school and go work for my father. So we hatched up a plan. We setup "Offshore International Business Development". My job was to represent his engineering company and go sell to the entire North and South America. I traveled all over the place. Mind you by this point I had seen 20+ countries throughout family trips. So this was in my wheelhouse. I can do this! There was only 1 problem. I knew absolutely nothing about engineering and business in general. But hey, here is a 23 year old kid ready to stand up with the big boys.
I spend about 2 years traveling around North America and South America trying to get engineering projects for the company. We were able to save the company, but not bring back to its glory days, this was going to take some time. About at this time, our clients were looking to have the personnel (employees) in-house since sending engineering packages was no longer feasible due to several factors. My father and partners wanted nothing to do with that. They are an engineering firm and that's that! So I went on my own, turned Offshore into a Recruitment & Staffing agency. This is the best move I made in my career, I was finally able to put all those contacts I had been savoring over the years into something good. After all, all the moguls I knew owned their businesses.
I started closings account with engineering companies at first. We build engineering teams and worked on some great projects. That led to staffing pilots, executives, mechanics and just about everything in aviation.
Today, we operate heavily into high end recruitment, over 12 industries in total. We have pilots and engineers all over the world. USA, Canada, Brazil, China, Africa, Germany, India, Philippines, etc. Those hard to fill positions that no staffing companies wants to touch. Well, I do, and I became a master in developing relationships and being able to use a wide variety of techniques to find the candidates needed.
We work with the elite private jet companies, medical companies, racing teams, aviation service providers and most importantly engineering companies (my father's being one of them. We are engaged in a number of projects together. Turns out what gave him strength was that he always dreamed of working together, me too!) etc. We focus on building teams for our clients. We look outside the box. I mean, its way above and beyond of what a normal recruitment agency's capabilities are.
Overall, has it been relatively smooth? If not, what were some of the struggles along the way?
No it has not! First major struggle was with our family's business as I explained in the page before. Second was after I started the business, I refused to borrow money, so my cash flow was slim to say the least. I mean, every penny that came in, went back into the business. That lasted about 3 years until I was finally able to start payment myself. Then I made the mistake of getting in business with another guy, which was just a terrible idea. I trust people very easily because I was brought up to give people the benefit of the doubt. However, this time it backfired on me big time. This was a major setback by the time it was all set and done.
Since then, we have been thriving, working hard and most importantly dealing with major fortune 500 companies.
Please tell us about Offshore Staffing Inc.
Offshore Staffing Inc. specializes in the high end recruiting. We operate in 12 industries, Aviation being the biggest ones. We Recruit and Staff every position in Aviation. We have pilots, engineers and mechanics in several countries for those hard to fill positions. We are also specialized in building teams of engineers, dispatchers, full operations, etc.
I am known for my international reach. People call me when they are "in a bind" sort of speak, for example their number 1 person leaves, or their private jet is stranded in another country and they need a pilot to go get it or they are building a new Dispatcher Team for their jet operation. The amount of contacts we have in other countries gives us quite a nice edge in the competition. I mean, most competitors are so scared of dealing with other countries, they don't even want to hear about it. With my experience in living in 3 different countries, learning about vast cultures and speaking multiple languages, there isn't much I am scared of when it comes to international transactions. I understand how to communicate properly by learning their cultural values and respecting it.
We also staff a quite a large number of accounts in South Florida. From airports personnel, paint shops, engineering facilities, private jet operators, aviation events, accounting firms, law firms, marketing companies, etc.
I am very proud of being able to conquer all these hard times with my family. We really buckled down when needed and surpassed all those obstacles. The engineering company is very healthy today and making some of the greatest interiors for both Private Aviation and Airlines. Most importantly, lets not forget my team! I can't even express in words the way I feel to be able to work with a team that makes the impossible possible. Lets face it, without my team I wouldn't be anywhere near where I am today.
I am specifically proud of the person I became. At first I thought, "hey, this is normal, everyone goes through this and that". Than I realized that it's not normal and not everyone goes through these things. I mean, my family is nuts! Moved to 2 different countries with 2 kids and ford truck full of luggage. My extended family are all entrepreneurs as well. My grandfather pretty much started his own town in Brazil back in the day. There is a statue of him in there. First school, first gas station, first grocery store, first mechanic shop, first bar, I mean, it's in my blood. I understood after a few years that I was different and had a chance in doing some pretty incredible things if I played my card right… Again, not normal!
If you had to go back in time and start over, would you have done anything differently?
I can honestly say I have thought about this question several times.
One thing is for sure, I would have finished my school along side of working. Online school wasn't an option yet since our program was so specific. I mean we had 2 professors per classroom and 10 students max. These weren't just any professors, they were ex Harvard and other Ivy league professors. So, doing 1 class per semester online wasn't an option.
I would also have invested in myself earlier. School only teaches you so much, a true entrepreneur, specially young entrepreneur, needs guidance. I had worked with Business & Life coach for a few years now. That changed my way of thinking and catapulted me 20 years ahead, I just wish i did it when I was 23. In addition, I was also very fortunate to have a Rolodex of people who i could just call and they were more than happy to share a story with me and help me out. You cannot put a price on that! They thrive in seeing you succeed.
I also made some "not so smart" investments along the way. This, I would definitely have handled different. All of it lol!
Pricing:
Contact Info: