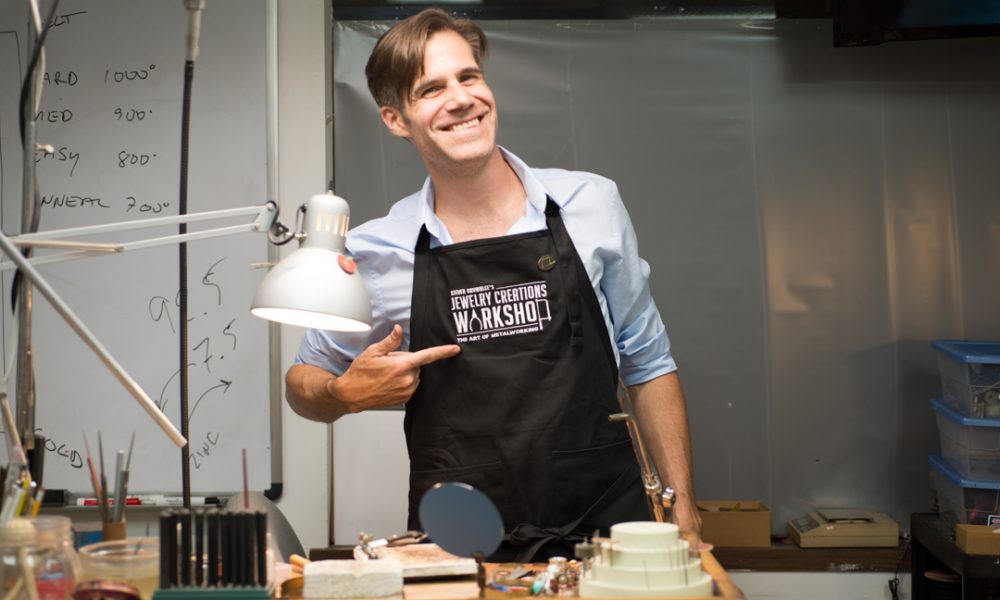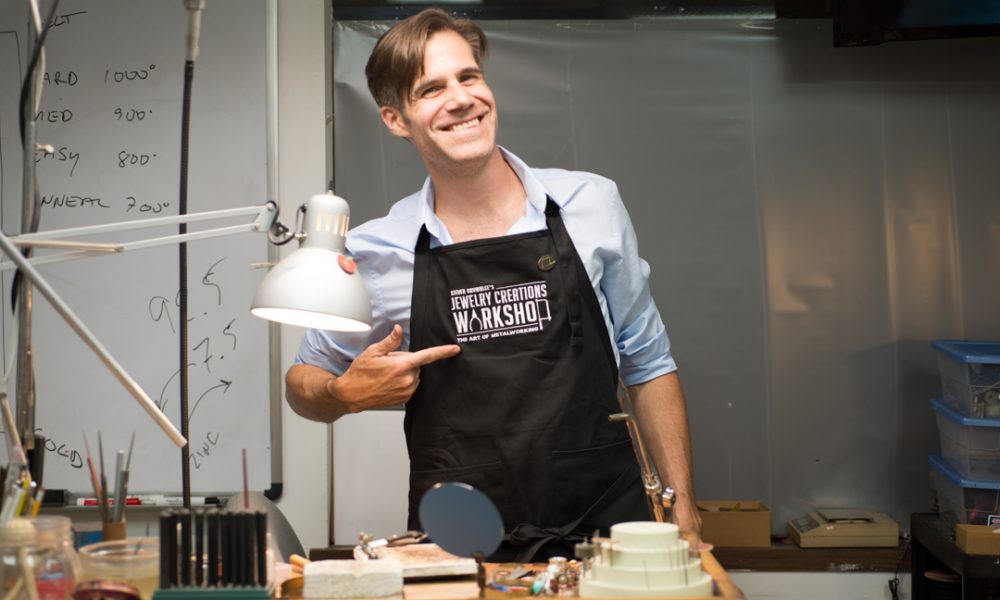 Today we'd like to introduce you to Steven Brownlee.
So, before we jump into specific questions about the business, why don't you give us some details about you and your story.
Growing up, I was always drawn to making things with my hands. Legos were a huge part of my life and helped me understand how things are built. I worked with a lot of different materials, including wood, clay, and metal. I did wood carving, threw pottery on the wheel, and would build contraptions in my free time, which gave me the name "MacGyver" in high school. My first encounter with jewelry making was during my punk rock years, when I made leather cuffs and collars with spikes on them for me and my friends. When I was 19, I met some travelers selling jewelry on Lincoln Road in Miami Beach. One guy was making jewelry on the spot while displaying and selling it on a blanket next to him, for where I was at that time in my life it seemed like the perfect setup.
I discovered a fascination with metal and how I was able to manipulate wire to build really cool pieces with just a few tools. Someone showed me where to buy the tools and materials needed to begin making things on my own, and another person taught me how to make chainmaille. After about six months, I was selling jewelry to friends and family, but I wanted more. I found the Art Center of South Florida on Lincoln Road and began attending classes in soldering, metalworking and stone setting.
Hammering on metal and playing with fire was fascinating and I couldn't get enough! I spent every free moment I could in the jewelry studio playing and experimenting. I like to think of jewelry making as Legos for big kids; instead of being limited to the pieces that you buy, you get to create your own pieces. Jewelry making combines so many different things, like architecture, mechanics, metallurgy, design, art, and the creative process. There are no limits to what you can make.
Years went by while I practiced everything that I had learned and experimented with the materials at hand. I was selling work at local street fairs and markets while traveling around the country in a '73 Winnebago. I learned how to sell my jewelry on the beaches of Brazil, and the first words I learned in Portuguese were what I needed to sell my work.
After spending about a year in South America, I returned to South Florida and began selling my jewelry at professional arts and crafts fairs. In 2004, I was approached by a college professor while selling my work at an art show and he asked if I would teach him how to make chainmaille jewelry. I had never thought of myself as a teacher and didn't feel like that was something I wanted to do; I was happy working alone in my studio creating. This professor was very persistent, so when things slowed down during the summer, I gave him a call.
After teaching him a few classes, I found that I really loved sharing what I had learned throughout the years. I decided that I wanted to make teaching jewelry making be a part of what I do; I never thought it would turn into my full time job! If I was going to teach jewelry making, I needed to learn as much as I could. I enrolled into an intensive Jewelry Program at the Revere Academy of Jewelry Arts in San Francisco and learned what it takes to be a professional goldsmith. One year later I moved out to San Francisco to work for the jewelry store, Alix and Co. I was one of two jewelers who created all the work there and had the opportunity to put everything that I had learned into practice. I was able to train myself to be efficient while refining my skills.
After a few years, my time at the jewelry store came to an end. I moved back to Miami to begin teaching jewelry making on my own. I built two jewelry benches, set up a small studio at home and began offering classes. Over the course of four years, I went from a tiny one-room studio in the garage with space for two students to a two-room studio offering classes for up to six students at a time. When the home studio had reached capacity, I found a commercial location not too far away that was perfect for a school. Over four months and with the help of friends, we built out the jewelry benches and everything else needed to have a working studio. This gave me the opportunity not only to have larger class sizes, but also to open up the space to the community where jewelry makers and metalsmiths could work together. The JCW Makers community was born! The community now consists of over 20 members sharing space in the workshop.
It has taken so much hard work to get where I am today, and up until a year ago, I was the only person that did everything for the school (besides a little help from my friends). Today, Jewelry Creations Workshop has an amazing team of people who help to keep this place running. We have a studio manager and four instructors who offer classes regularly. We also offer master classes from national and international visiting instructors teaching specialized techniques.
Getting to where we are today has been an amazing process filled with many challenges and every emotion under the sun. I'm happy to announce that we are celebrating our ten year anniversary and are looking forward to the next ten years! If it hadn't been for all of the people who contributed to me and to Jewelry Creations Workshop, we wouldn't have made it to ten years. I'd like to send a special thanks to everyone out there who has contributed to keeping this space going. Thank you all!
Has it been a smooth road?
It has been far from a smooth road and the beginning years were the hardest. In my eyes, it was a race against the clock to get myself to where the classes were supporting me financially. When I decided to open the school, I was in debt and didn't have much more than my own tools to begin teaching. I had to learn how to build and manage my own website, go to markets and promote the school, all while learning how to run a business and teaching all of the classes. Some weeks I was teaching 40 hours plus the time it took to run the business and manage classes. There were no class times, I'd sometimes teach as many as 9 hours a day. In those days, if a student called today, I'd try to start them in class tomorrow because the quicker I got someone in for class, the quicker I got paid. They might be the only student in the class, and one student was better than no students.
I have worn every hat possible for a business owner and learned it all on the fly. Any time I had a few extra dollars sitting around, I'd invest them in the tools and equipment needed to run the space. I scoured Craigslist for used jewelry equipment, sometimes driving five hours one way to go pack up a jewelry studio that was closing. Buying jewelers workshops that were going out of business was how I was able to build this space up.
When my home studio reached capacity and I found the commercial location where we are today, I took on a huge project for one person. I spent late nights- sometimes until 3 or 4 in the morning- to try and finish building out the studio, all while working a job in retail. When I finally opened the new space in March of 2013, enrollment into the classes was considerably lower than our previous location which was a concern now that I took on an overhead in a much larger space. Fortunately we had a few key people who became members almost before the space was open.
The week between Christmas and New Years of 2013, I had two students signed up out of the four classes I had coming up, and only enough money in the bank to cover rent. I didn't know what to do, and didn't know if I wanted to continue all the hard work that it was to maintain a large space. I decided to close the school and sent out an email stating it was the last chance for classes; the school was closing! All four of my classes filled up with a waiting list and I was able to keep the school open.
One of the biggest challenges has been that I had to be everything for the business. Being a teacher who gives so much in teaching, at the end of class there wasn't much left over for me. As a teacher, I build a connection with my students. If there was any issue that came up on the administrative side of the business, the only person to speak to was myself. It was hard to be in the teacher role and the administrative role. I had to play good guy and bad guy when trying to manage the business side of classes.
Being the only person, when something broke, I had to fix it. I've been plumber, electrician, cleaning service, and bookkeeper. When class was over, there was still so much more to do. I never realized the amount of work it would take to run a school. The biggest challenge has been that I miss making jewelry myself; hanging up my business hat and allowing my artist hat to come out. Now that I have a team to manage the business, my main focus is tapping into my creative side once again.
So let's switch gears a bit and go into the Jewelry Creations Workshop story. Tell us more about the business.
Jewelry Creations Workshop is a jewelry making school and maker's space where we offer classes for beginners all the way through advanced level techniques. We are home to over 20 makers who have memberships with access to the large equipment and space needed to make jewelry whenever they choose. We have shared space and private space available to anyone who has experience in jewelry making and metal working. We specialize in teaching hand fabrication and soldering of jewelry in metals like silver, gold, copper and brass. We offer master classes by professional jewelry artists from around the world. Besides teaching classes, we also sell new and used jewelry making tools for people who are just getting started or want to pick up that special tool to complete a project.
We are proud to provide an opportunity for underserved youth in the South Florida area through our Young Metal Artist program. This started a few years ago after I was asked to be part of an arts and culture day at an elementary school. I saw how excited and inspired the kids were when they were able to play with metal and create a piece of jewelry using hammers, pliers and brass wire. They all went home with a piece of jewelry that they had made. I thought that this could be an opportunity for children that aren't able to experience an arts and culture day at their school, and Young Metal Artist was born! Since then, we've enrolled several other teachers to participate with us. Through this program, we visit organizations, libraries, and shelters where funds are limited and we offer these classes for free.
We're also extremely proud of the community that we've built here and the people that we bring together. We're proud of the people who've taken classes here and created their own businesses through what they've learned at the workshop. What sets us apart from others is our community of makers and staff here at the space. We really care about our students and our community and want to see them succeed in whatever direction they choose.
How do you think the industry will change over the next decade?
People are learning online and searching for free videos on jewelry making. The downside to this is that there is no quality control for videos that are uploaded to places like YouTube. Students attend classes with habits that they've learned through watching videos and have to be retrained. In my mind there is nothing better than hands on instruction in person. I personally continue to take advanced level classes from master craftspeople in all areas, and the value that I receive from those classes could never be learned in a video. The tips and tricks and little tidbits that instructors share are what really makes the classes special in person.
I've noticed recently that some well-respected jewelry making schools have closed and masters are retiring, making these skills and techniques less available to anyone interested in learning this ancient art. Eventually, it's possible that these skills will no longer be available to learn. You can't put a price on what's offered by these masters because skills like these take extensive practice and dedication to become proficient. With all of these changes, I see jewelry making becoming more art-related than technical.
There is a need for community workspaces, and I see more maker's spaces with people that work together and share. People are creating jewelry using CAD programs and then printing or growing the designs without specific training. In the future, I see fewer people continuing this craft of hand fabricating jewelry and more work being done on a computer.
I do hope to see a younger crowd find an interest and a love for working with their hands and making things like jewelry, and carrying on this amazing craft.
Contact Info:
Address: 1400 NE 131st Street
North Miami, FL 33161
Website: www.jcwmiami.com
Phone: 305-610-6560
Email: hello@jcwmiami.com

Image Credit:
Patricia Gil
Steven Brownlee
Natasha Miller
Getting in touch: VoyageMIA is built on recommendations from the community; it's how we uncover hidden gems, so if you know someone who deserves recognition please let us know here.