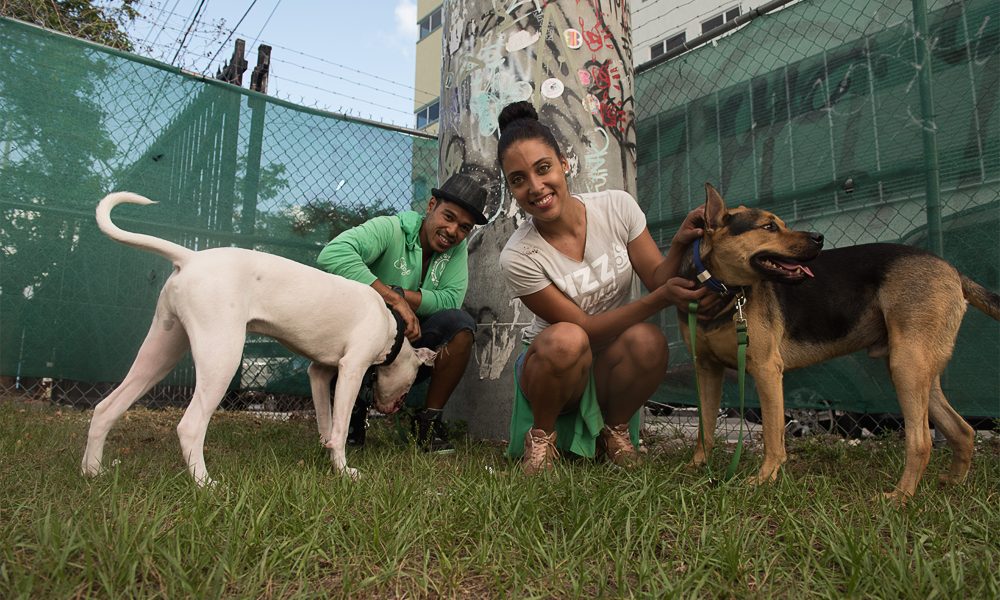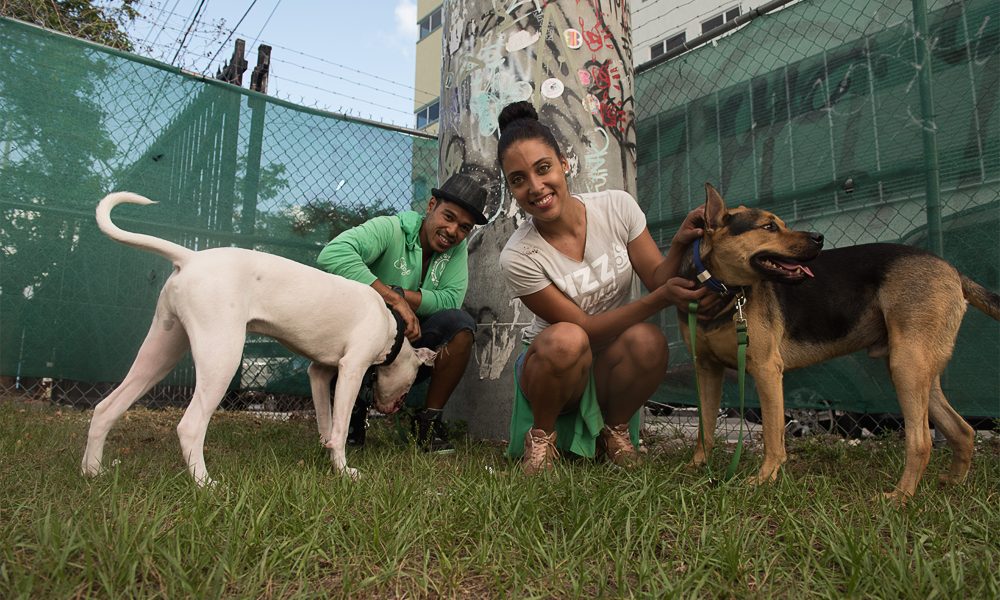 Today we'd like to introduce you to Siege Fajardo, Gissel Cuevas.
The story really begins with Charlie, a shepherd mix rescue dog. Gissel came across Charlie in December of 2014 through an Instagram post. His face spoke volumes and she instantly knew he was the dog she was meant to have and dreamed of since she was a little girl. She reached out to the rescue that was taking care of him (www.maytesrescue.com) and within three days he was at her door. When Charlie was first rescued by Mayte's Rescue, he suffered a fractured rear leg from a car impact which required a metal rod implant. He also had his jaws wired shut due to the accident and was tube fed throughout his recovery. He was an anxious dog that began displaying his fears and insecurities as he became more exposed to the elements of the world post-rescue. He was cautious of men, frightened of chainlink fences, easily startled by loud noises, feared walking near, up or down stairs, and displayed destructive behavior when left home alone.
In October of 2015, Gissel and Siege met in South Beach, Miami and began dating shortly thereafter. But before engaging in a relationship, Gissel knew that Charlie needed to show his comfortability and approval of this new human in her life. Gissel jokingly mentions to Siege, "You know, if Charlie doesn't like you, this might not work out." Siege smirked knowing exactly how to approach large, insecure dogs and was looking forward to the challenge.
Siege grew up around a family who owned nine dogs, a breed of Japanese Spitz where he first experienced the interactions of a pack. It wasn't until graduating from college and working from home as a freelance illustrator/graphic designer when he was accompanied by the presence of dogs often. They were always around him, whether it was a roommate's pup, an ex-girlfriend's or a friend's dog. He was intrigued to help correct their insecurity and misbehaviors by watching Cesar Milan's "The Dog Whisperer." All the methods he learned and practiced himself worked almost instantaneously just like the show. This  experience developed a broad understanding and appreciation for canines but it still wasn't enough to consider it as a profession at the time.
Fast-forward to 2015 when Siege was preparing to meet Charlie for the first time, the knowledge he retained about canine psychology and his experiences from past dogs prepared him with enough education to properly approach Charlie in order to access his respect and trust. The approach was simple (as learned from Cesar Milan): No touch, no talk, no eye contact with Charlie. Siege knew people probably approached him wrong. Most likely towered over him, sticking their hand in his face to be smelled or reaching in to pet him without paying attention to his body language or signs of being uncomfortable. Siege understood that those tactics generally are useless, especially with insecure dogs and mentions, "Patience and calm, assertive presence have been key with accessing a dog's respect. It has to be on their terms, not on the humans' terms."
Siege oddly walked backward towards Charlie (still ignoring him completely), he then crouched down to his level so that he didn't seem superior to Charlie allowing him to become curious by smelling and gathering all the information he needed about Siege through his scent. Once Siege knew Charlie showed no signs of being uncomfortable with his presence, Siege calmly stood up and asked Gissel to hand over his leash and he just started walking. No petting, no praise or talking to him, no anything. He simply started walking and Charlie willingly followed his lead and the relationship between the three formed its unity. Not long after, they moved to a dog-friendly apartment community in Coral Gables that accepted large breeds, a rare acceptance in Miami housing.
Together, Siege and Gissel began practicing and working on reconditioning Charlie's balance. They both were on the same page about their behaviors around him. Minimal baby-ing dialogue, no coddling, and no overly emotional behaviors that would nurture his lack of confidence. Having practiced calm, assertive leadership, consistency, and patience, in no time Charlie was reconditioned to overcome almost all of his unwanted behaviors and insecurities.
Charlie's first trip to the dog park surprisingly showcased his superpower. It was just Gissel and Charlie enjoying the day when all of a sudden the sound of two dogs aggressively barking combined with humans yelling at the top of their lungs, "STOP IT!" alerted Gissel and before she knew it she spotted Charlie beelining it towards the two dogs fighting. In an instant, Charlie had assertively wedged himself between the two dogs forcing their separation, essentially shepherding the situation. That day wouldn't be the last time Charlie mediated a fight between dogs. They noticed how he preferred to police packs from afar assuring a calm environment and keeping a watchful eye.
It was this characteristic of his, along with Siege and Gissel's passion for understanding canine behavior and their psychology, that led them to begin providing care for dogs in the summer of 2016. It started with walking and sitting a few of their neighbors' dogs through a popular app-based platform. Because of their combined knowledge and prior experiences, they ranked higher than other care providers on the app increasing the request for their service, their experience, and their understanding about each new paw pal. Later that year they inherited clients from a young neighbor named Shalara. She was the community's dog sitter who also watched over Charlie when Siege and Gissel needed to travel. Shalara's mother was being relocated to another state for work and knew that Siege and Gissel would be the perfect pair to take over her regulars when she moved. This is what led to the formation of a dog care profession and in the winter of 2016 Charlie's Paw Pals officially launched.
Overall, has it been relatively smooth? If not, what were some of the struggles along the way?
Being first-time professionals in this business, there was so much to learn. The do's and don'ts with dogs. Adjusting our behaviors and habits around them. Learning to practice preventative measures was a key factor we quickly learned about dogs. In our line of work, the second biggest challenge has been managing our work-life balance. When your profession is caring for another species, it can be easy to disregard yourself and your significant other. The routine we manage daily is taking care of ourselves, our health, our fitness goals, then the Paw Pals, then balancing between creating time for the business such as documenting our journey/creating content for our social media/creative duties/operational duties and our own relationship. Even if it takes scheduling it. It takes a lot of understanding and patience between each other to create a healthy, work-life balance while caring for so many different unique and demanding personalities. Over communication has always been an important factor for us to build both a romantic and a business relationship.
Charlie's Paw Pals – what should we know? What do you do best? What sets you apart from the competition?
We're aspiring to be dog behaviorist that would love to help coach humans to be the best pack leaders for their canine companions by sharing our experiences about dog behavior and psychology. We understand the importance of a balanced dog and establishing the role(s) of a "pack leader" in their lives
Dogs are selfless creatures, so it's important to take note of that. As we've been able to learn from The Dog Whisperer himself, we believe in filling up their cup of love first before taking from it by: 1. walking them daily to fulfill the traveling animal in them which helps provide physical exercise 2. During and outside of their walks, we teach both obedience and discipline, and THEN 3. reward them with affection, food, and water. Some humans will only do number 3 then 1. Most will only do number 3 which then only nurtures an imbalance in these animals who are creatures of habits. So choosing good habits are important and those three rules are the key factors for establishing harmony with Charlie and all of his Paw Pals which in turn teaches us to apply those similar rules to our own daily habits.
We're proud of the knowledge and information we've been able to share with so many people already. To show instantaneous changes in dogs where the owners are thrilled and amazed to witness even after some have gone through expensive training programs that yielded little to no results. As a brand, we love our pace, our growth and the content we continue to build and share with as much information every dog owner can gain value from providing better insight about balancing their dog(s) while increasing their knowledge about canine psychology and the importance of pack leadership. We love practicing that same mindset into our company's culture with our growing team. We're genuine and are always willing to help. So many dogs are just misunderstood and we want to help bridge that communication between their owner(s) to achieve a balanced relationship between a canine and their human.
We believe in dogs mirroring the behavior of their environment and we feel what sets us apart WILL always be answered through Charlie and his Paw Pals by their behaviors, their respect, and trust in our leadership while being in our care.
Is there something we can do as a city to improve the outlook for businesses like yours?
Starting out in Miami has great advantages being that it's such a dog-friendly city. But truthfully any city is a good place to start a business similar to ours because there's never a lack of dogs who could use some TLC. Anyone that wanted to build a business could easily start where they live, whether an apartment complex, a neighborhood or a surrounding neighborhood, it's simply being available and educating yourself about the practice.
The best way any city can improve when it comes to this species is better educating and informing the public about dogs, their behaviors, how it's affected by our own habits, canine psychology and more importantly, understanding that there are no bad breeds only bad pack leaders.
Pricing:
Dog Boarding (in-home boarding) $35/night
House Sitting (in your home) $45/night
Drop-In Visits (30-minute walk & feed) $22/per visit
Dog Walking (30-minute walk) $19/per walk
Prices are for one (1) dog. Fees apply for additional dogs, inquire within.
Contact Info:

Image Credit:
Wesner Fluerima (@mooving_pictures) & Andrea Lorena (@FujiFilmGirl)
Getting in touch: VoyageMIA is built on recommendations from the community; it's how we uncover hidden gems, so if you know someone who deserves recognition please let us know here.