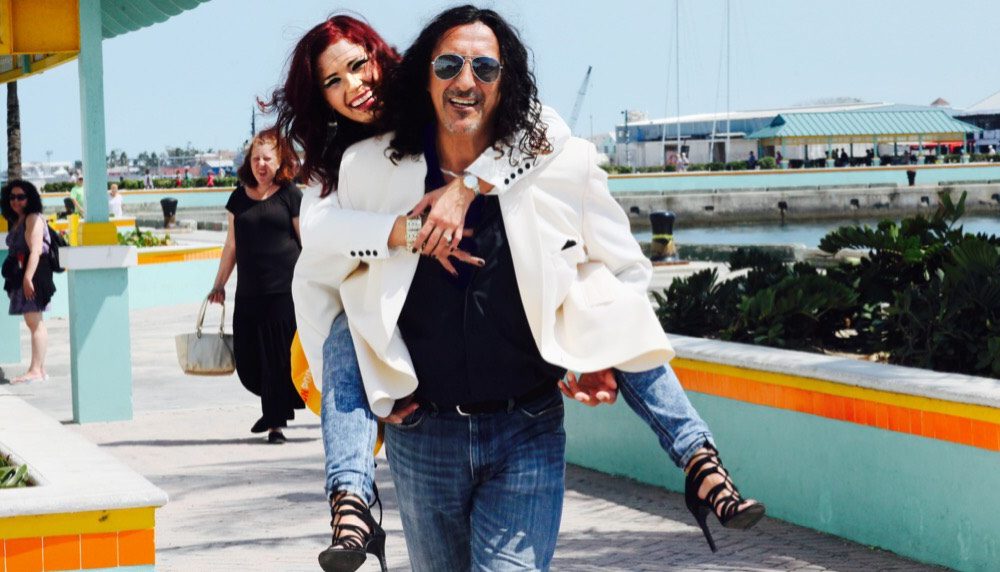 Today we'd like to introduce you to Serene Salinas and Coco Salinas.
Every artist has a unique story. Can you briefly walk us through yours?
Serene&Salinas was born on June'2015, this is our story; Coco Salinas was in the search of a Female Lead singer for his Band who was fierce, kind & full of talent. Serene Salinas was in the search of a Band to be the Lead Singer of and was searching for a Band director who was a well-seasoned professional, musician & artist. Right before Coco decided to leave Argentina and go to Europe he looked up to the sky and said "God the only thing I ask is that someone discovers me" immediately a Voice spoke in his Right Ear and said "No one is going to discover you" at this moment Coco felt an edge in front of him but the voice continued and said "But you will Discover someone, it is a lady; she is a Dragon in the Chinese horoscope and Sagittarius in the Occidental horoscope.
He immediately ran to search in the Echin Chinese zodiac book and found that this person would not be born until much later than his age; he closed the book and decided to forget about it. Since the age of 15 Serene began to feel this intuition that she was going to meet someone who was older than her and was a musical director but she could quite never make out why she felt this way for many years. Until the moment she auditioned for a band in Palm Beach and the next day the base player called her and said "Hey, I know this guy who is looking for a Female Lead Singer and I think you'd be perfect". Serene decided to go audition for Coco's Band and as she got closer to the location, in her heart she said "if this is the right place, person & time God let me feel peace" they immediately connected musically, Serene sat Coco down and said I sing, dance, play the piano we can create something spectacular!
That same week we began to record videos, rehearse, write music together, we have been together ever since performing at Hotel Venues such as St. Regis, Ritz Carlton, The Hyatt, Cruising, television and while cruising we were on the cover of NUSA Sun Magazine April'2017 Edition with two pages of our story, as well as recorded our Music Video for our single "Como Decirte No" it can be found on our YouTube channel "Serene Salinas". Along the way we fell in Love and have been ever since on a mission to deliver a message of Love, Harmony & Peace and that it is possible for a Man and a Woman to be Leaders and work together to make the world a better place.
Serene Salinas was born in Havana, Cuba raised in Miami, FL since the age of 7. She began to sing, act, dance & play the piano at the age of ten; Serene attended Miami Senior High and she is also a college graduate from Florida National University as a Healthcare Professional and began to pursue her career as a professional Artist at the age of 21. Serene has served her community of Miami all her life from singing in the streets of downtown Miami, to dancing & acting in public outreaches and more, growing up as a newly acquired citizen in the US from Cuba was challenging but she gracefully and diligently overcame every obstacle to reach her goals. Serene has been featured in a local TV channel in Miami, Channel 41 America Teve as well as Telemundo Channel 51. Serene has traveled internationally and performed in countries such as Brazil, Guatemala, Dominican Republic, Cozumel Mexico and More.
Coco Salinas was born in Rosario, Argentina; he is a citizen of the world! Since the age of 9 he began to perform and direct in schools, pubs, and clubs skillfully becoming a Master of his Guitar and Voice. He is also a college graduate in Music Theory in Argentina. Coco's Artist traveling journey began at the age of 20, traveling to Europe, Spain, Italy, Greece, Holland, Germany and so much more, he has been featured in Television shows in Germany, Newspapers in Germany & Spain, he has also been featured in Soap Operas in Telemundo Channel 51 as well as with Serene on Channel 41 with an interview and performance of their song "Tu Abrigo". On his arrival to Miami, FL he was contracted by "Arturo Sandoval" the world's greatest Cuban trumpet player to perform every week at his Club "Rumba Palace" in Miami Beach, he also has had the opportunity to share the stage on a TV show for the Lead Singer of the "Poison Band" Brett Michaels.
Please tell us about your art.
Serene Salinas is a professional Singer & Piano player, Coco Salinas is a professional Singer & Guitar Player. Both are Songwriters & Composers, we perform originals and covers in Spanish, English & Portuguese with our own twist derived from the world of Jazz, Afro Cuban Grooves in the World Music Genre. We produce our own videos and edits, we currently make all of our social media advertisement and are constantly working in the studio to bring about our first album "Naked Souls" Our message is always Love, Harmony and Peace, our slogan is "Music, Dance & Rhythm is Our Freedom" Every time we perform our audiences love to hear our story and message, our audience has told us such beautiful things from "I cried because your song touched me" to "I could feel the Love and your voices made my day so much better" to "I saw your videos and thought they are good but seeing you guys live is such a much more amazing experience!" It is truly an honor for us to touch people with music, music is what has kept us alive and the people are what make us keep going in this very challenging industry to keep writing, composing and creating real life content. We hope that from this Article the readers can feel the same as our audience feels when we perform live, Love.
As an artist, how do you define success and what quality or characteristic do you feel is essential to success as an artist?
Success is to realize your goals, those goals that make you happy, the goals that you had been expecting to reach once you have reached them this is success as artists. The most essential characteristics to obtain success are; consistency, hard work & a lot of passion. An artist has to work with his/her heart. A doctor, an engineer or a carpenter can work without feeling but an artist performing without heart/feeling is not an artist it's just another worker.
How or where can people see your work? How can people support your work?
Our work can be seen on our Website https://sereneandsalinas20.wixsite.com/serenesalinas as well as on social media outlets such as; Instagram: SereneandSalinas, Facebook: Serene&Salinas, Twitter: Serene_Salinas & YouTube: Serene Salinas.
Our song "Tu Abrigo" Can be downloaded on Itunes & Spotify. You can show your support by visiting our social media and subscribing to our YouTube channel.
Contact Info:
Image Credit:
Mikolaus & Jonathan Grills
Getting in touch: VoyageMIA is built on recommendations from the community; it's how we uncover hidden gems, so if you know someone who deserves recognition please let us know here.