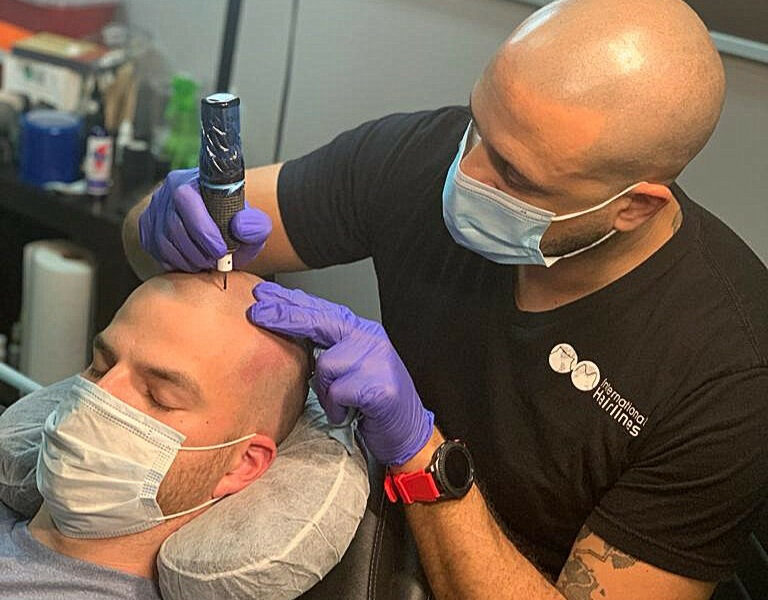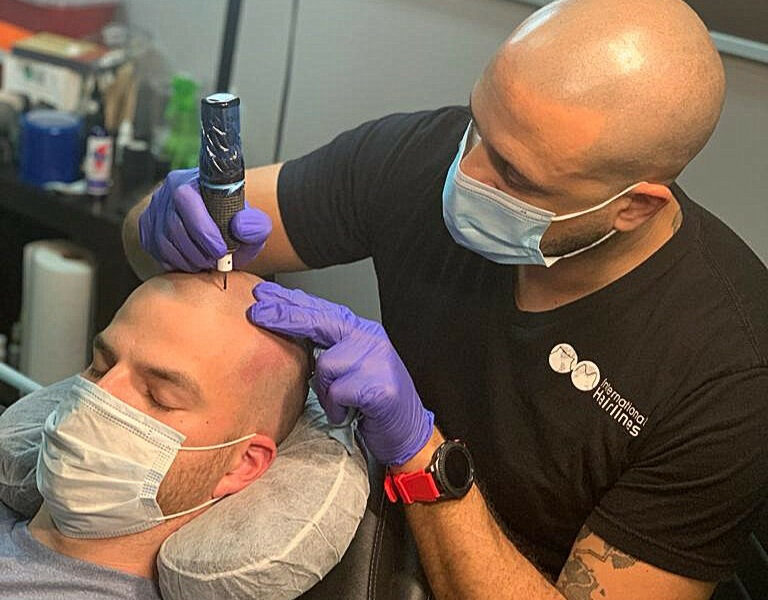 We are thrilled to be connecting with Seif Sidky again. Seif is a Scalp Micropigmentation Artist and is also a content partner. Content partners help Voyage in so many ways from spreading the word about the work that we do, sponsoring our mission and collaborating with us on content like this. Check out our conversation with Seif below.
Hi Seif, so great to have you join us again. For folks who might have missed our earlier conversations, can you please take a minute to briefly introduce yourself?
I am Seif Sidky, founder and owner of International Hairlines SMP. We provide scalp micropigmentation services to men and women who are suffering from hair loss, whether it is due to genetics, alopecia or hormone imbalances or any other reason. Scalp micropigmentation is a specialized form of cosmetic tattooing that mimics the look of hair follicles which provides the appearance of fuller hair or a buzzed look.
How has the scalp micropigmentation industry advanced in the last few years?
The scalp micropigmentation industry is only about 11 years old, an infant in the grand scheme of things. Over the last 3-4 years the industry has come leaps and bounds in terms of advances in techniques and better tools, equipment and pigments that are specifically produced for this "sub industry" of tattooing. In earlier years, good information about SMP was hard to find and practitioners were very secretive about their techniques and products used. In the last 3 or 4 years or so there has been an abundance of information sharing and training which has cause the industry to quadruple in size in a relatively short amount of time. With such fast growth comes exposure which is good for every one (practitioners and potential clients since they are now aware of a simple but effective solution to a problem they have been facing for ages), but with rapid growth also comes poorer quality provided by poorly trained or untrained practitioners who are looking to make quick money in this business. There are many great artists and practitioners out there but there are also a few unscrupulous ones, so buyer beware! Do your research, meet with your practitioner and ask to see their portfolio.
Why would you recommend SMP over other hair loss solutions such as hair transplants?
While hair transplants have advanced greatly in recent years as well, not many bald people or those experiencing hair loss are suitable candidates for hair transplants. There are a select few who are perfect candidates for it (mostly those who have a receding hairline up to a certain point), but beyond that it mathematically does not make sense to take hair from a donor area the covers a quarter of your scalp to cover a recipient area that is 75% of your scalp. Additionally, transplants are surgery and there are no guarantees that the hair will stay after 6 months to a year of waiting for the results. Plus the drugs required for maintenance have some very undesirable side effects. SMP, on the other hand, is non-surgical, non-invasive (no scarring), with immediate results, at a fraction of the cost of a transplant and is guaranteed. Just like transplants however, not everyone qualifies for SMP, but a much larger percentage would be a good candidate versus transplantation.
What type of maintenance is required after the SMP procedure?
Long term maintenance of SMP is actually very simple: avoid prolonged sun exposure (use spf if necessary), stay hydrated for better skin care, exfoliate the scalp every so often (also recommended for better skin) and avoid alcohol-based hair products or those that contain sulfates.
With the procedure being permanent, what happens if it goes badly?
As previously eluded to, not all practitioners are good at producing natural looking SMP. If you are unfortunate enough to have received bad SMP, there are a couple of remedial options: 1- It may be repaired with better SMP done by a VERY experienced practitioner 2- If the problem areas are localized, it will need some removal first I recommend a non-laser removal option such as UNDO(r) non laser removal and then repair by an experienced practitioner. 3- If the entire scalp is botched, unfortunately then laser removal will be the only option prior to repairing the bad SMP Save yourself the headaches and the money and get it done well the first time with the right practitioner!
What makes International Hairlines different than other SMP companies?
At International Hairlines we pride ourselves with the patience it takes to provide the most natural looking SMP, not just immediately after the initial sessions but long term. Our approach is based on how it will look 6 months, 1 year, 5 years down the road, taking into account the client's hair loss patterns and ensuring the application is done in a way that allows for future touch ups to look good and not over-saturated as we have been seeing very frequently in work done by other companies. We do not rush the process, we are obsessed with quality, and we do not make false promises like this can be done in one or two sessions. We also use the highest quality pigments on the market and our facilities are welcoming but clinical when it comes to sterilization and hygiene, which is vital during these Covid times. We specialize in SMP only and are not a barber shop or other business that happens to also offer SMP. We have a dedicated training facility where we train some of the best new artists from all corners of the world.
Thank you so much again for sharing all of this with us. Before we go, can you share with our readers how they can connect with you, learn more or show support?
www.InternationalHairlines.com
IG: @internationalhairlines and @i_h_academy
FB: www.fb.com/INTLHairlines
email: info@internationalhairlines.com
Contact Info:
Image Credits
International Hairlines Seif Sidky