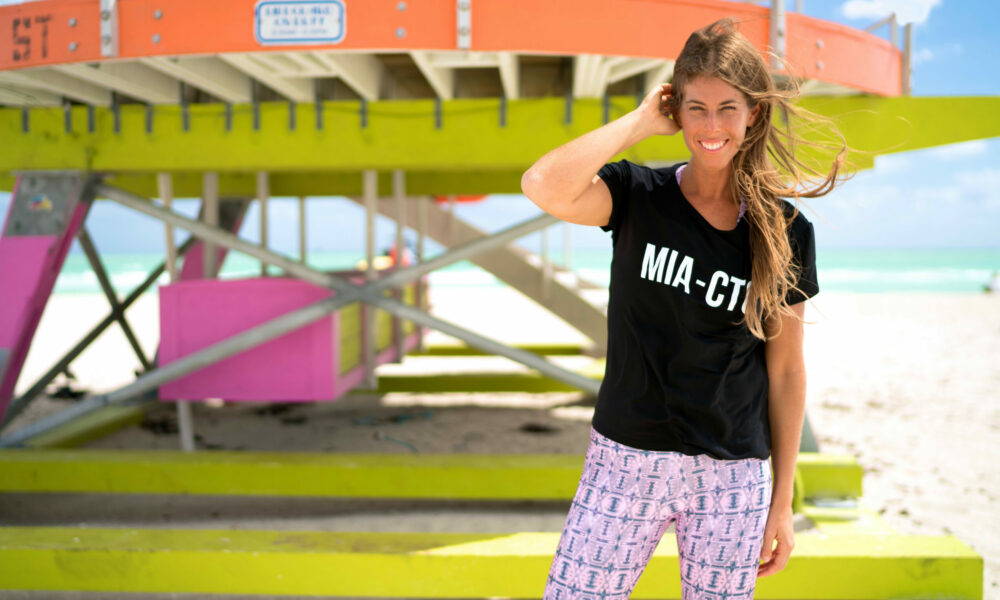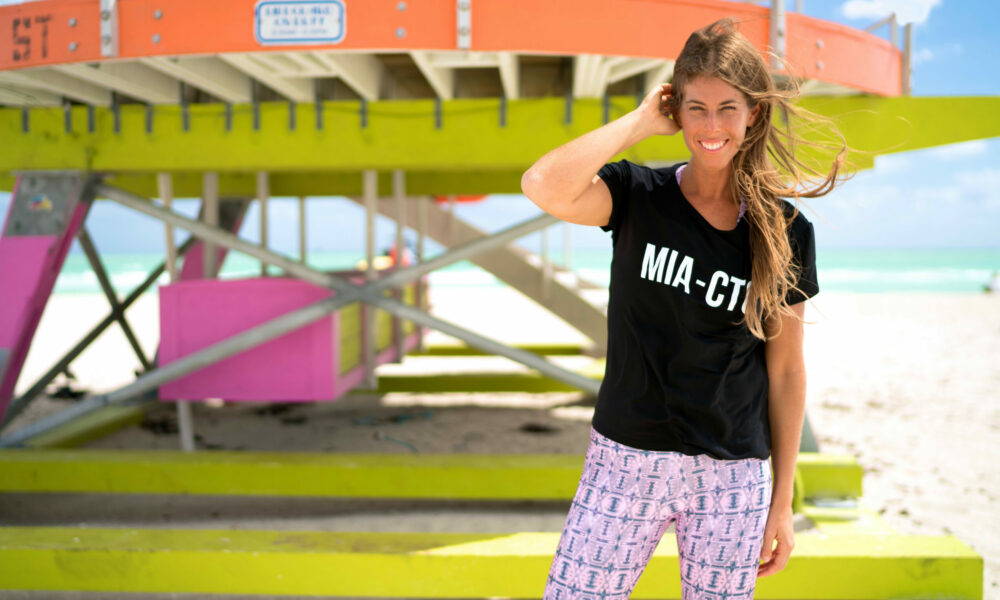 We're so pumped about our conversation with Sara Gusky. Sara is the Founder and Creative Director of Phd Athletica™ and is also a content partner. Content partners help Voyage in so many ways from spreading the word about the work that we do, sponsoring our mission and collaborating with us on content like this. Check out our conversation with Sara below.
Hi Sara, thank you so much for sitting down with us again. For folks who might have missed our initial interview, can you start by briefly introducing yourself?
As a Miami native, I am a solar-powered globetrotter that thrives on adventure and physical activity. I started traveling extensively as a child, thanks to my parents who believe in educating yourself through experience. After graduating high school, I took a gap year and lived in Granada, Spain, where I studied the confluence of Andalusian and North African cultures. Then, I attended Bates College, where I majored in African American Studies and lived/studied abroad in Cuba, Brazil, and Ghana. These experiences proved to be multidisciplinary in nature, teaching me how to survive in distinct environments and encouraging me to immerse myself into the fabric of each society. Immediately following my graduation from Bates College, I spent the summer traveling through Asia and the Middle East, completely mesmerized by the diverse landscapes, languages, and cultures. That adventure brought me back to Miami, where I started my Ph.D. at the University of Miami. As a graduate fellow in the Department of Modern Languages and Literatures, I completed my master's degree in Latin American Literature and earned my doctorate in Romance Studies with a concentration in Afro-Latin and Caribbean Literature. Miami was the perfect place to study the literary, musical, and aesthetic rhythms of the countries and island nations that dot the Caribbean seaboard. While I completed my degrees and taught courses in Spanish Language and Latin American Literature, Miami offered me easy access to Latin America and encouraged me to appreciate the wonderfully diverse city that I took for granted as a kid. After completing my Ph.D., I decided that I wanted to move away from academia and into an entrepreneurial space that combined all of my passions, holistically and whole-heartedly. It was through the cultural mediums of literature, music, dance, and fashion that I discovered my creative identity, so naturally, all of these art forms inspired my business, Phd Athletica™. As an emerging lifestyle brand, Phd Athletica™ feels like a collection of postcards that reminds me of everything I have ever loved, at home and away from it.
Is there a backstory or a special meaning behind the name of your brand, Phd Athletica™ ?
Phd Athletica™ is a tribute to the powerful connection between the mind and body. Educating and exercising one always leads to the fitness and strength of the other. For that reason, our mantra is: "Get smart. Get strong. Get sweaty." As a graduate fellow at the University of Miami, all of my doctoral work revolved around the body's representation in Afro-Latin and Caribbean literature. I was studying different bodyscapes and looking deeply into bodily behaviors, performances and movements, physical appearances, and how the body is outfitted, dressed, and adorned. Upon completing my doctorate and taking a step back from academia, I started to re-educate my own body through the practice of Pilates, which led me to question how to outfit my body and those of the Pilates students that I was teaching. Through travel, academia, and an active lifestyle, I started to realize that wandering is just wondering in motion. That mindset led to the development of Phd Athletica™.
Why is it so important for Phd Athletica™ to develop, design, and manufacture its products in Miami?
Miami is one of the most unique cities in the United States, but when it comes down to design and fashion, it's hard to locate our diverse talents on the map. Miami is always made to feel like it is standing in the shadows of New York City and Los Angeles. When I started to develop Phd Athletica™, I wanted people to know that Miami's diversity isn't limited to its communities and cultures; it extends into a multitude of arts, crafts, trades, and industries, many of which are dominated by extremely talented women. I was insistent on executing our entire production process—from the first sketch to the last stitch—in Miami so that we could showcase the talent of Miami's often overlooked garment industry. We are proud to be made in Miami and we are proud to be made almost exclusively by the women of Miami.
Are there any specific experiences from your past that inspired your interest in textiles?
Some of my most defining and memorable moments are attached to the textiles that I encountered in my travels as a student and a globetrotter. I have been so fortunate to live, study, and travel in unbelievably different countries around the world and so many of the experiences have been sewn together and connected by the textiles of each place. I will never forget the time that I was fitted for my first traditional cloth gown in Ghana. That was an exceptionally defining moment because it marked my status as a member of the warm and generous community that adopted me during my time there. From that experience and others like it, I learned that every textile carries a deeply rooted history and adopts a new narrative every time it is worn.
How did your interest in textiles evolve into an active lifestyle brand?
Because my interest in textiles is so deeply rooted in movement and travel, my thread of memories just organically started to unravel, leading me to a destination where activewear didn't have to be about activity as we know it, like "working out". I wanted it to be about movement in broader terms. Movement can be as routine as a workout, as extraordinary as an expedition, or as groundbreaking as a revolution. Phd Athletica™ designs every product with every kind of movement in mind, celebrating the bright colors, diverse prints, distinct patterns, and versatile fabrics of the textiles that I encountered around the world.
At this point in time, what kind of products does Phd Athletica™ have to offer and what makes those products unique?
We currently offer a growing selection of leggings, shorts, sports bras/bralettes, tees, tanks, and accessories (yoga mats, pins, etc.). Phd Athletica™ is proud to be made in Miami and honored to support the local garment industry, which lends an extraordinary quality and special story to all of the products that we produce. I think our local production process is an extremely important part of our story, our DNA, and our ethics in general. With fast fashion and sweatshops dominating the fashion industry, it is important to celebrate each and every product that is made in a safe and sweat-free environment. That being said, I would like to emphasize that all of our clothes are designed, cut, printed, and manufactured locally, in Miami, under sweat-free conditions. We source all of our luxury performance fabrics from Europe and our eco-friendly fabrics from Canada so that conscious consumers can enjoy our comfortable, versatile, and vibrant designs without having to question the quality or integrity of their clothes. Every pattern we create showcases the diverse textile cultures and fashion traditions that outfit the memories of my adventures abroad.
Alright, so before we go, how can our readers connect with you to learn more and show support?
The best way to connect with us is on our website (www.phdathletica.com) and our Instagram page (@phdathletica). You can also find us on Facebook as Phd Athletica.
Contact Info:
Website: www.phdathletica.com
Instagram: @phdathletica
Facebook: Phd Athletica
Linkedin: Sara J. Gusky, Ph.D.