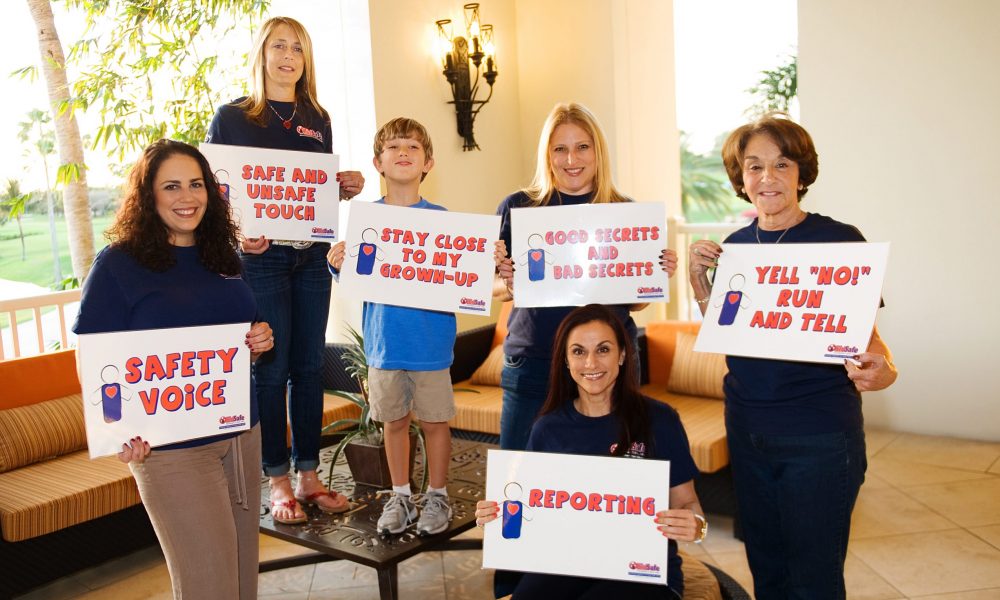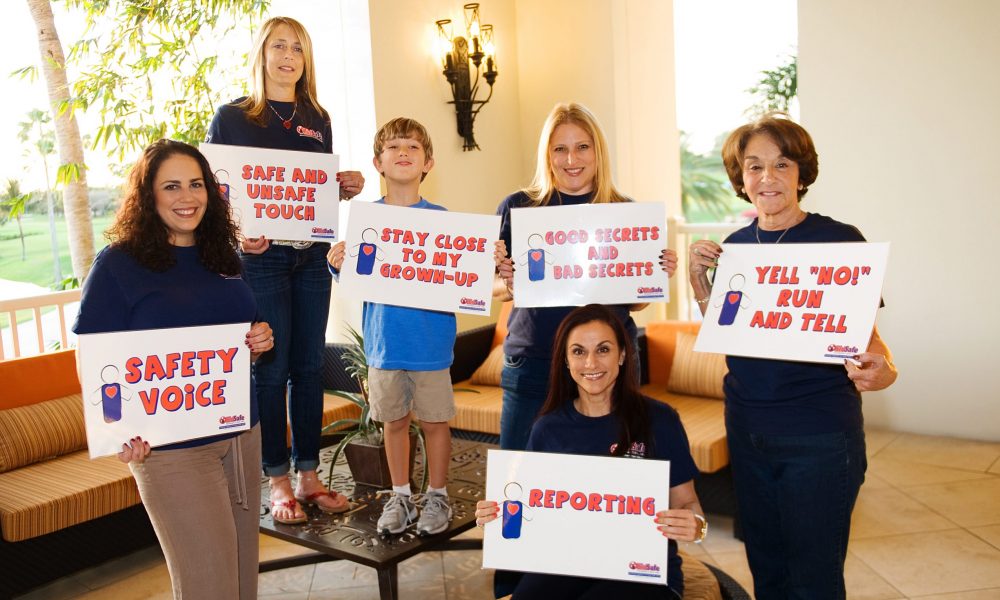 Today we'd like to introduce you to Sally Berenzweig.
Twelve years ago, Sallys 3-year-old son walked out of the house and wandered through the neighborhood – barefoot and crying – before a stranger stopped, put the toddler in his car, and drove around looking for the boy's home. The babysitter never noticed he was gone.
"We trusted her," said Sally. "She was 24 years old, a certified swim instructor, preschool teacher, and part-time nursing student. You don't get better credentials than that."
For Sally's family, the ending was happy, thanks to a Good Samaritan. But the life-changing incident inspired her to bring a safety program to her son's preschool that other families, along with hers, could benefit from. That's how she met Cherie Benjoseph, a licensed clinical social worker, and former middle school guidance counselor, who started giving safety seminars to mom's groups after one of her students disclosed she'd been abused by her stepdad, also the PTA vice president. Cherie was shocked – not by the claim itself – but that this student didn't show the textbook signs of abuse. It made her realize there was a need in the community for better awareness.
Protecting Children Against Predators
"After I heard Cherie speak, I approached her and asked, 'Why isn't every parent and child getting this program? Let's do something here,'" said Sally. Her career prior to becoming a stay-at-home mom was a psychotherapist to physically and sexually abused children and women, so she had motivation on both personal and professional levels to educate and make a difference. The two women started meeting at local Starbucks shops, researching ways to keep kids safe, which led to a joint passion in 2009: co-founding KidSafe Foundation, a 501(c)(3) nonprofit organization that provides education to children and adults to prevent child sexual abuse, bullying and Internet exploitation.
Sobering Statistics
Sally said that even with her professional training, she didn't realize the severe epidemic of sexual abuse until she dug into the numbers: One in four girls and one in six boys will be sexually exploited before the age of 18. Nine out of 10 times a child will be harmed by someone they know. 68 percent of the time the offender is a family member. "Not everyone reports abuse," she said, "so sadly the numbers are actually higher."
If there's a bright side, here's one: With education, 95 percent of abuse and exploitation can be prevented. And that's where KidSafe Foundation is making a difference, one classroom at a time.
KidSafe's eight-week program for children is centered on role play, art, discussion, and lessons from the co-founders' award-winning children books. The concept is to keep it fun and teach children tactics for making smart choices.
"We share empowerment skills and use a multilayer approach that incorporates education programs for parents, teachers and all professionals working with children. It's important that everyone's speaking the same language of safety," said Sally. Additionally, KidSafe has just launched an eLearning version of their sexual abuse prevention training for Educators and is about to come out with KidSafe for Parents – a book which will be in English, Spanish & Creole sharing best practices for keeping children safe.
Since KidSafe's inception, they have taught over 55,000 children and educated over 33,000 adults. While quite an impact there is much more work to be done. Every child deserves the right to be safe, every adult must be educated to be the first line of defense in a child's safety. With this passion to keep children safe, KidSafe is training the health care workforce in sexual abuse prevention, this includes Doctors, Nurses, Social Workers and the future health care workforce bringing their training to Broward College and Florida Atlantic University.
We're always bombarded by how great it is to pursue your passion, etc – but we've spoken with enough people to know that it's not always easy. Overall, would you say things have been easy for you?
KidSafe has been lucky to grow organically = virtually through word of mouth at the beginning. For the past 8 years, we have been an approved program in Broward & Palm Beach County School Districts which has been a great partnership for the safety of children.
Additionally, KidSafe Foundation co-founders are training cadres at both Childrens Services Council of Broward County and Children's Service Council of Palm Beach County. KidSafe has now grown to a full-time staff of 4, part-time staff of 18 and 9 Board of Directors and 4 Advisory Board members.
So, as you know, we're impressed with KidSafe Foundation – tell our readers more, for example, what you're most proud of as a company and what sets you apart from others.
KidSafe Foundation protects the children of South Florida from child sexual abuse, bullying and online exploitation through comprehensive prevention education for children, parents, professionals and other caring adults. Our program empowers children by giving them a strong voice with which to defend themselves and teaches the parents, teachers, and the professionals in their lives how to keep them safe. KidSafe's educational programs create the first line of defense to prevent child sexual abuse and exploitation. Cofounders, Sally Berenzweig, MEd, MA and Cherie Benjoseph, LCSW, developed the KidSafe curriculum. Both are recognized child safety experts, mental health professionals, educators, authors, public speakers, and moms with over 50 years of combined experience. KidSafe's educational philosophy is backed by years of safety instruction, best practices and up to date research.
The Program/Need: Child sexual abuse and exploitation are among the most prevalent health concerns facing our children today. While most cases of child sexual abuse are never reported, statistics show that one in four girls and one in six boys will be sexually exploited before age eighteen. The life-long effects of child sexual abuse are devastatingly self-destructive and include depression, suicide, alcohol and drug abuse, increased school dropout rate, teen pregnancy, and domestic violence.
The impact of child maltreatment is profound and enormous. A single incident affects the victim not only today but quite often tomorrow and beyond as well. That incident also reverberates through families and across institutions—including medical and mental health resources, law enforcement and judicial systems, public social services, and nonprofit helping agencies— as they respond to the incident and support the victim in the aftermath.
The total lifetime estimated financial costs associated with just one year of confirmed cases of child maltreatment (physical abuse, sexual abuse, psychological abuse, and neglect) is approximately $124 billion, according to a report released by the Centers for Disease Control and Prevention, published in Child Abuse and Neglect, The International Journal. KidSafe's education programs train children, parents, educators, and professionals to prevent recognize, respond and report abuse. KidSafe Foundation has served more than 55,000 children and 33,000 adults in Florida. This evidenced-based model has proven effectiveness in developing skills needed for prevention. Our results include teachers (95%) developing the ability to recognize and identify emotional, behavioral and physical signs of abuse as well as, recognizing "red flag" and grooming behaviors.
Parents (90%) increasing their skills and ability to protect their children through gaining knowledge and confidence, learning personal safety" skills to integrate into everyday parenting, and improving their skills for having an open dialogue with their children. Most importantly, children (92%) learning about safe and unsafe touch, learning the language to promote personal safety and (97%) demonstrating an ability to use their voice to protect themselves.
PROGRAMS:
1." KidSafe for Kids" 8-week curriculum designed for children in grades PreK4 – 5th grade. Children learn important safety skills through fun, not fear, using developmentally appropriate techniques such as role play, song, art, discussion and the foundation's two award-winning children's books; "My Body is Special and Belongs to Me!" and "Jack Teaches his Friends to be KidSafe!" (books available in English, Spanish & Creole)
2. KidSafe Parent Seminars – increase awareness, deliver knowledge and provide skills to parents to keep kids safe, educate about; red flag behaviors of adults, recognize red flag behaviors of children in need, reporting procedures, strategies for communication with children and teach the KidSafe Language of Safety.
3. KidSafe Teacher Workshop- Online Training -how to recognize children at risk for abuse, professional protocol, exact mandated reporting procedures and how to respond to disclosure. KidSafe educates on how to reinforce the use of KidSafe Prevention skills at school, and much more. This professional development seminar empowers teachers with awareness and skills which can be integrated into their everyday classroom management to best keep children safe.
Research strongly demonstrates that school-based education is key to successfully training children, parents, educators, school staff and professionals about sexual abuse prevention and protection. With funding, we will be able to increase this number substantially by educating students, teachers, and parents. KidSafe's active and interactive education techniques are highly effective in empowering children that they have the right to be safe, how to use their voice to keep themselves safe and how to access help when needed from a trusted adult. Most teachers and administrators lack formal training in recognizing, responding and reporting child sexual abuse. This education will have a life-long impact, stretching over entire careers, and protecting thousands of children from abuse. The education we provide empowers educators and other professionals to assume their roles as advocates, prevention specialists, and mandatory reporters.
No one else is providing the same service delivery model as the KidSafe Program. KidSafe is a one-of-a-kind, research-based prevention program that has established "best practices" in the field of child sexual abuse and exploitation prevention. Our program is uniquely designed to provide a multi-tiered service delivery approach reaching children, parents, teachers, and child-serving agencies. As leaders in this industry, we have been fortunate to be able to partner with many child-serving organizations in our community and across the country who join us in the mission to help stop child sexual abuse. Most of these agencies provide services to address the consequences to children and families who have experienced sexual abuse and to prevent additional incidents of abuse. Others educate on the theory and practice of prevention but do not deliver the services themselves. Supporting the KidSafe Program model ensures two things (1) that these much-needed prevention services are able to directly reach children and those who protect them before trauma happens, (2) the life-changing skills are taught by trained, certified KidSafe instructors to ensure quality reliable application of the program.
So, what's next? Any big plans?
Part of KidSafe's Strategic plans for growth is to take all of their educational training for adults and create an eLearn version – this would be for parents, health care workforce, mentors, volunteers and camp counselors.
Pricing:
$25 per student for 8 weeks of prevention education
$28.00 for a set of award-winning children's safety books
$750 for sexual abuse prevention training to adults
Contact Info:
Getting in touch: VoyageMIA is built on recommendations from the community; it's how we uncover hidden gems, so if you know someone who deserves recognition please let us know here.