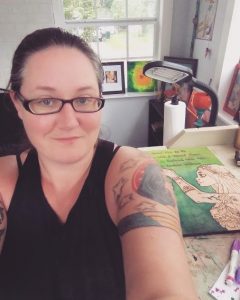 Hi Roni, so excited to have you with us today. What can you tell us about your story?
I know you asked for "brief" but I am absolutely horrible at telling short stories so I hope you can bear with me for this one. I was born in Jacksonville, FL in 1984; both of my parents had substance abuse problems so my sister and I spent most of our childhood being bounced from one house/family member to another. As you can imagine, the instability left us open to all types of trauma and abuse which would go untreated and unresolved for years. By my early teens I had already formed a pretty significant relationship with drugs and alcohol which would stick with me will into early adulthood. As a kid I never really had much interest in art… my older sister was the artist of the family, constantly winning awards and being asked to participate in exhibits throughout school. Since she was the golden child of the arts I turned to writing as my outlet for many years. I would also have a notebook nearby or be scribbling some angsty teen poetry but it never seemed like it was enough, I always had this feeling like fire in my gut that I was supposed to do something more. Drugs and alcohol led to me dropping out of school at 16, moving into an apartment on my own, and eventually giving up on ever having any sort of normal existence. At 17 I moved to Seattle, WA and became immediately taken by all of the art that was literally EVERYWHERE. I was given the chance to go back to school but decided that partying was more important and eventually ended up back in Florida. After several more years of using/drinking and bouncing around between jobs and states (Texas, Virginia, California, Nevada, Arizona, and the Carolinas) I met my first husband and shortly after we had a baby together. During my pregnancy they discovered a tumor in my left lung that led to me having major surgery to remove it right after my son was born. At this point in life my drinking and poor choices led to divorce, several bad relationships, more trauma, and eventually hitting my absolute bottom. At the age of 29 I found myself as single mom, alcoholic, stuck in a job I hated… basically just going through the motions. I made the choice to get sober on December 22, 2013. July of 2014, I met my husband at an AA meeting, a few months later he brought me a wooden box that he had made and told me to "make it pretty" and then handed me my very first wood burner. Up until this point I had NEVER done anything with visual arts, I could hardly draw stick figures, but I gave it a try anyway. The obsession was pretty instant and all encompassing. If I wasn't burning pictures on wood I was thinking/dreaming about burning pictures on wood. Early 2015 we found out that we were going to be parents and that is when my art really took off. I quit my job due to medical issues and to focus on raising the kids. By 2017 I was actually selling my artwork and participating in art markets. Fast-forward to 2020, I have made over 3,000 pieces of art, everything from wall art to home décor pieces to jewelry to bookmarks. I specialize in wood burnt portrait work and have gained a pretty substantial following. While this year has been absolute garbage for many reasons (I think we can all agree on that) I am still able to make my art which makes it all ok.
Would you say it's been a smooth road, and if not what are some of the biggest challenges you've faced along the way?
The road to this place was bumpy AF! My battle with drugs and alcohol was by far the biggest personal struggle, but I definitely wouldn't be here at all if I hadn't conquered that one. There have also been a lot of struggles with my health (mental and physical) over the course of this journey; the tumor I mentioned earlier actually turned out to be a rare form of cancer call Carcinoid cancer, I also have a condition known as a Chiari malformation that causes severe headaches and can affect my fine motor skills from time to time. As for struggles with my artwork, I would have to say that finding myself and my own voice is an ongoing one. Being that I have no formal art training like most of the people that run in local art circles I often feel like I don't belong, like I'm good enough, like my art just doesn't fit in. My chosen medium of course isn't exactly something that people consider to be 'fine art" so that seems to be my biggest obstacle with visibility. I don't know how many times I have been told to seek out craft markets or farmers markets… it can be pretty demotivating at times.
Can you tell our readers more about what you do and what you think sets you apart from others?
I am a Pyrography artist, most people simplify that by saying 'Wood Burner". I specialize in portrait work. Like I stated before, I make a large variety of things from functional pieces like bookmarks, cutting boards or boxes to decorative things like wall art and signs. If the surface is made of wood I can and will set it on fire in one way or another. My favorite thing to work on and probably what I am best known for is my portrait work. My portraits are certainly what I am most proud of. As someone who didn't attempt art until almost 30 and then jumped in head first with no formal training or direction I feel like I've managed to trap lightening in a bottle on several occasions (I hope that doesn't sound as pretentious as I think it does). I feel like my process is what sets me apart from other artists, especially other pyrography artists. Most pyrography artist tend to avoid adding color to their pieces because they don't want to lose or hide the beauty of the wood grain and textures; I spent many years playing around with unconventional coloring techniques to find options other than paint that would let the wood show through.
What quality or characteristic do you feel is most important to your success?
That's a tough one because I'm not one to chase that dream of success, fame, and fortune. I make art because it makes me happy. I make art because it makes other people happy. I make art because I discovered that the burning feeling that was always in my stomach growing up was a very literal need to burn things. I am not so naïve as to believe I will become rich and famous with my work, but I do believe that as long as I continue to move forward that one day, I'll have the privilege of being someone else's inspiration.
Contact Info:
Suggest a Story:
 VoyageMIA is built on recommendations from the community; it's how we uncover hidden gems, so if you or someone you know deserves recognition please let us know 
here.