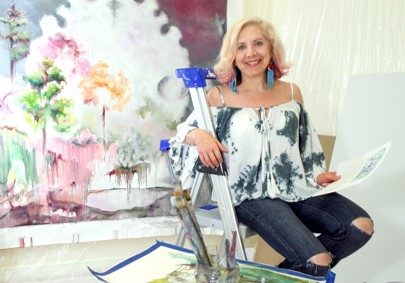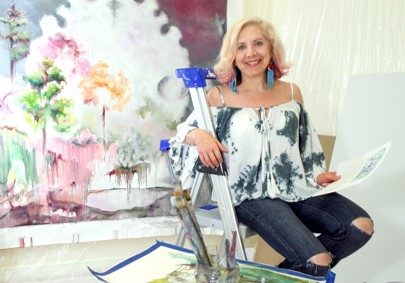 Today we'd like to introduce you to Renée Rey.
Thanks for sharing your story with us Renée. So, let's start at the beginning and we can move on from there.
I was born in Japan. Upstate New York and western New Hampshire were my summer and winter playgrounds in my youth. The majesty of dense forests, cool running streams, clear blue lakes and towering mountains proved to have a lasting impact on me. The influence of this colorful world planted the seeds for my incredible appetite for drawing and painting at a young age and the imagery that was yet to come in my adult artwork.
My French fashion designer mother and American scientist father encouraged my early creative cravings. Family outings to the Clark Museum in Williamstown, MA were an enthralling extracurricular activity. Particularly spellbinding for me was the series of women portrayed in naturalistic settings by the 19th-century Belgian artist, Alfred Stevens that was part of the permanent collection. Sunlight and cast shadows on their porcelain faces, layers of taffeta and lace of their full-length gowns and books and birds in tow, transported me to another era.
Captivated by art-making, it wasn't until my thirties that I could imagine a professional life as a visual artist. It was 1993. The Metropolitan Museum of Art, New York, NY had a blockbuster exhibition by Lucien Freud, a world-renowned British painter. I waited for hours in line to see his work in person for the first time. The wait was worth every minute. Mesmerized by his monumental and tactile works in a grand exhibition hall, I knew I was destined to be a professional artist.
During the 10 years prior, commercial and residential architectural interior design and a degree from Parsons School of Design, New York, NY satiated my creative energy. After seeing the Freud exhibition, the seduction of the fine arts in contrast to the applied arts consumed me. I was determined to increase my toolbox of artistic skills exponentially adding to my design knowledge of color, perspective, and spatial relationships.  I immersed myself in portrait, figure drawing, landscape painting and performance art classes at Westchester Community College for the Arts, White Plains, NY, and an artist residency at Vermont Studio Center, Johnson, VT. In the early 2000s, I took classes in film, video, computer art, and experimental sound design at Rensselaer Polytechnic Institute, Troy, NY.
In my art practice,  I have investigated social and political issues including feminism, the Israeli-Palestinian conflict, breast cancer, the homeless and the environment through a multitude of media.  In 2005, after moving from New York to South Florida, my art installation entitled, Healing to the 5th Power, addressing breast cancer awareness and including a healing garden was exhibited at the Roxcy O'Neal Bolton Women's Park History Gallery in Miami, FL. The ubiquitous cloud formations that I have created today in my paintings were inspired by digital photography work I began while living in Miami Beach. An exhibition of this body of work took place at the Century Hotel Lobby, Miami, FL during Art Basel Miami week, 2006.
In 2016, I was invited to an artist residency at Sun Peaks Center for Art and Sustainability, Colorado Springs, CO. This experience was transformative. My artwork grew larger in scale and the concepts and symbolism expanded in scope. Sourcing my Jewish/Christian/French/Armenian/USA multi-cultural background and transdisciplinary professional and academic experiences, I connected seemingly disparate ideas including biodiversity, environmental sustainability, planetary stewardship, and cultural diversity. Developing iconography from science, architecture, industry, language and religious text with environmental relevance, I layered symbolic narrative threads in the body of work I entitled, Democratized Ecosystems. Borrowed imagery from the urban landscape of New York City and the tropical paradise of south, southwest, and Everglades, Florida in which I have lived, has entered my work.
Over the past several years, living in Naples, FL, I have won awards and been selected for national exhibitions by museum curators in numerous galleries and art spaces.
My artwork can be viewed at www.ReneeRey.com.
Great, so let's dig a little deeper into the story – has it been an easy path overall and if not, what were the challenges you've had to overcome?
Since my leap into art as a vocation, there have been interruptions that come with the vicissitudes of life including a divorce, responsibilities to aging parents and the passing of my father. Balancing a job and art studio time during difficult periods was the biggest challenge. In 2018, I decided to pursue art full time again. Dividing time between art-making and the business of art has been demanding yet rewarding at the same time.
Please tell us more about your artwork, what you are currently focused on and most proud of.
In my unique telescopic paintings and mixed media artwork, I investigate societal constructs and existential narratives of equality, hierarchy in nature, and human interaction within the physical world. I examine the juncture between industry that sustains humans and the condition of the Earth that nurtures all forms. Through the looking glass of my fascination with alternative universes and mystical states of mind, I create ethereal worlds fertilized with dichotomies. Whether tension or coexistence reigns in each of my pieces, all are ripened for renewal. Cultivating conversation about biodiversity, environmental sustainability, planetary stewardship, and purposeful progress are territory that I navigate. It is a precipice where I imagine sitting down with Albert Einstein, Martin Buber, and Plato. Legs dangle on the edge ready to leap into a science and philosophy mind-meld.
From this viewpoint, I experiment with varied viscosities of acrylic and oil paint, the grittiness of sandpaper and luminosity of stand oil representing water, air, and land. By design or accident, systems of saturated greens, reds, oranges, and violets change with intensity and texture. Layers of dripping and oozing abstraction become melting moss and floating fauna.
With the collision of content and materials, I aim to stimulate the experience of movement in my hybridized ecospheres. Constellations of natural imagery and human-made technologies that I pattern weave in and out of existence like a game of celestial hide and seek. Clouds are the dominant playgrounds in which my deer, bulls, cement plants and water towers orbit. Newly completed artwork developed during an enriching 2019 Summer Painting Residency program at the School of Visual Arts, New York, NY, explores the sublime, spirituality, mythology and memory in flux with hovering human figures, tenuous time and alternative spaces.  Anomalies in scale of my imagery symbolize every Alice who shrinks and expands in an unpredictable wonderland, as she/we navigate environmental dualities of harmony and tension, and political and social control and chaos.
What is your favorite childhood memory?
At 11 years old, I ritually climbed a 60-70-foot scrub pine in the woods behind our upstate New York home. Covered in the tree's sticky honey-colored sap, inhaling the tantalizing scent of evergreen, swaying in the wind in the top bough, I created an imaginary world in which I could dance with the white billowing clouds in the baby blue sky. In one meditative moment, I realized that everything in nature was interconnected and all that existed was of equal importance. There was, and is no hierarchy in our universe.
Contact Info:
Suggest a story: VoyageMIA is built on recommendations from the community; it's how we uncover hidden gems, so if you or someone you know deserves recognition please let us know here.