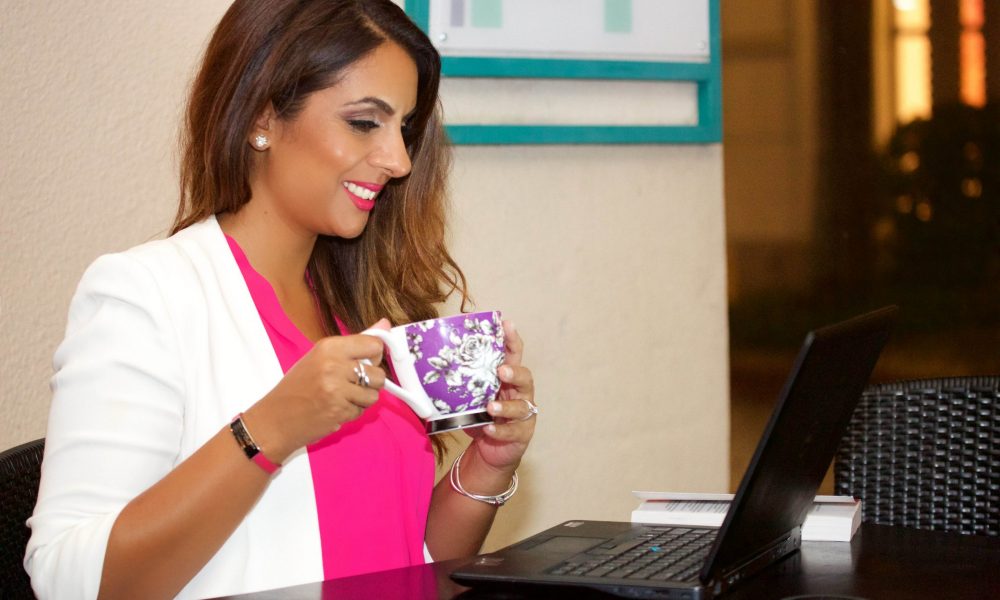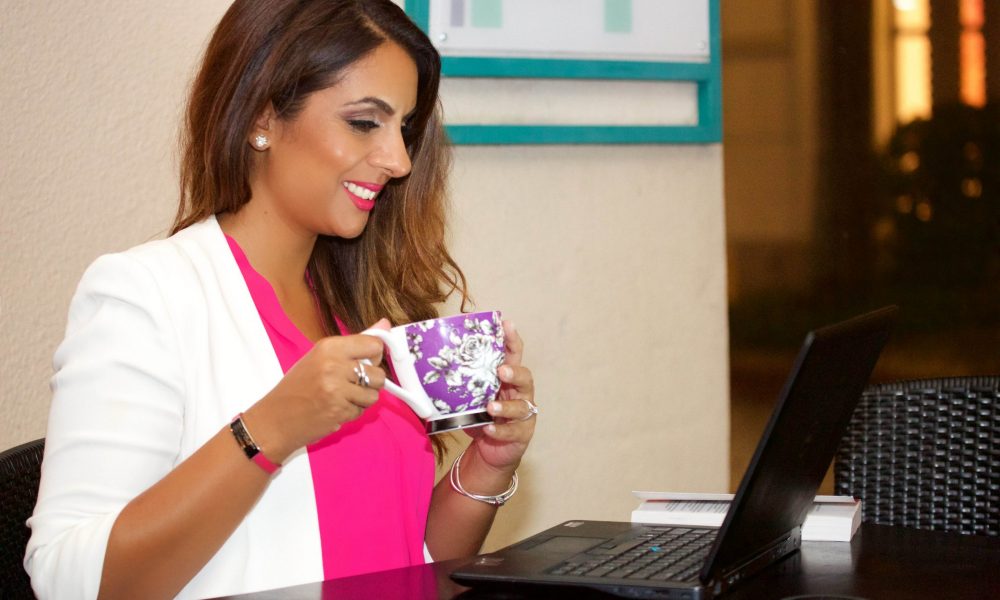 Today we'd like to introduce you to Raj Anderson.
Raj, let's start with your story. We'd love to hear how you got started and how the journey has been so far.
I am a British born Indian girl, bought up very traditionally in a small town in the UK.
I spent my entire life in the UK until moving to the US over 3 years ago with my husband as part of a decision for us to change our lifestyle. We were traveling to the US 4 or 5 times a year for vacation and every time we went back to the UK we realized it just didn't feel like home anymore, so we devised a plan and decided that we didn't want to put it off any more, When my husband asked me 'Do you really want to do this?' I said what's the worst that can happen? All I know is I don't want to look back and say what if?
We sold our beautiful 3 story home, I left my 10 year corporate career, left our family and friends and arrived in the US with 3 suitcases between us.
I grew up in an extremely strict, emotionally and verbally abusive home where my mother was very vocal in her disappointment in me and my siblings. Unfortunately she had a very dark and bleak outlook on life, she was deeply unhappy and it spread as anger and bitterness towards her family. I later found out that her belief was that if she told you often enough that you were not good enough then you would believe it, that it would keep you humble and keep you afraid to pursue things that she didn't agree with.
Her attempt at reverse psychology failed when I was finally able to move out of home and go to university, a strategist from a very early age I managed to persuade my father that the lack of jobs and good university in our home town meant that I required a higher level of education, having orchestrated a facility of education that I could not travel back home to I left home at 18 to never return. While at University I met my husband, who isn't Indian and wouldn't have been approved of by my mother or extended family, fear of disownment meant I kept my relationship and life a secret for 12 years, my family knew nothing of my home and the life that I had created for myself.
After graduating I felt led to careers that involved helping disadvantaged groups I worked with young people from broken homes, as an interpreter in the court system, with women who were victims of domestic violence, refugees and asylum seekers, mental health, learning disabilities, older people and as an advocate working on cases of sexual abuse.
When it came to a point where I felt that I needed to get involved in making a bigger impact I joined the National Health Service and actively led equality, diversity and inclusion programs with a focus on women's leadership and patient care. There were many times in my career where I attempted to steer away from work that involved helping people to make a change in some way, as often it became too painful to work in a system where you often desired to do more yet were bound by rules and red tape.
There was also the fact that I was living under immense pressure of my own and still had much work to do on healing myself.
Yet it seemed though that no matter how far I wanted to run from this type of work it always came and found me. It wasn't until I truly accepted that nothing fuels me more than knowing that I have been able to make some difference even if in a very small way that I began to feel at peace with it. It took me a long time to truly understand that it is often the smallest things that make the biggest impact.
I once listened to Oprah talking about a conversation with her mentor 'Maya Angelou' she had asked her but how will I leave my legacy? She was told by Maya. "You have no idea what your legacy will be. Your legacy is what you do every day. Your legacy is every life you've touched, every person whose life was either moved or not. It's every person you've harmed or helped. That's your legacy.
I met my best friend, mentor and coach by chance in a training interview at work and from that day the whole course of my life changed. It is incredible to think how one person can have such a significant impact on you and I truly believe I wouldn't be the person I am today without her. She enabled me to deeply address my limiting beliefs, change my whole outlook on life, provide me with skills to evolve to a better version of myself and discover more joy in my life. It was through that work that I decided that I too wanted to train to be a coach and help people to be the best versions of themselves in life and business.
It was also through that work on myself that I found the courage to tell my mother about my other life and was as a result immediately disowned, It was then I decided there was nothing stopping me from getting married, from leaving the country and to take the leap of faith to go into business for myself.
Has it been a smooth road?
As per the challenges in my story. It has been continuous work in progress to change my story from one of surviving to one of thriving. Of course there are still times where I feel sad at being estranged from my family and like anyone else there are times when I am tough on myself, question myself and have fears. It has been the desire to learn from others and implement my own ways of overcoming adversity that spur me on in those times to get back up and know that by shifting your mindset and outlook on something you can change how you feel about it.
Moving to a new country after being in a corporate career and starting a business resulted in a whole new journey and work on my identity. It's almost like being reborn and starting from scratch. You have to be brave and push yourself out of your comfort zone daily.
Also finding yourself going from a very structured environment to suddenly creating your own structure was at times very lonely and isolating, my husband experienced a much smoother transition as he transferred to the US branch of his company yet for me it was starting afresh and I only had me to rely on. Motivating yourself daily, looking for new opportunities, reaching out to people that you have never met, working virtually with people from all over the world that you have never met and knocking on door after door and often never hearing back from people. You have to adopt a real mental strength and resilience in business and seeking opportunities especially if things don't go well, or you have a bad month, you may not be everyone's cup of tea or you are simply trying to stand out from the crowd and really need to know and own who you are.
Branding you, owning your message and style and being strong in it can be quite scary especially when you have spent so much of your life hiding, all of a sudden you are in full exposure of the world and hiding is no longer an option!
Growth is a daily activity, as I tell my clients you wouldn't expect to go to the gym once and be in great shape, the same applies with your mental and emotional well-being, it is constant work in progress and you have to be committed to want to make positive choices for your life. There will be times when you will get knocked down and you may stay there a little while, just remember to not get stuck there, pick yourself up and remember a time when you overcame a challenge before.
Tell us about your business/company. What do you do, what do you specialize in, what are you known for, etc. What are you most proud of as a company? What sets you apart from others?
I am known as The Savvy Strategist, I am a strategy coach working with both individuals and businesses in the form of coaching, consulting and training. I'm all about taking a 360 degree review of a situation, assessing it from every angle, looking at where an individual or company are at, determining where they want to be and bridging the gap with a plan.
I am passionate about helping my clients with sustainable solutions that make a lasting impact and change rather than simply putting a band aid on something. One of the greatest tools we have to hand is the power of questions and if we ask the right ones and listen carefully to the answers we will be able to create a pathway to get there.
I am most proud that my clients will always experience and receive a customized approach, I don't believe in cutting corners or providing a cookie cutter approach because one size does not fit all, I would be doing my clients a disservice if I didn't make the investment in really being able to get to the root of some of their challenges. Often my clients will tell me that what they enjoy most about my approach is that I take the time to understand them and step into their journey so that I can see it from their eyes so that we can create a strategy that is very specific and unique only to them.
I pride myself in being much more than a coach or consultant, I am genuinely passionate about helping my clients be happy or create a culture of value, happiness and valuing people is much more important than success, once you prioritize that then success will surely follow. I also believe that my expertise of working with people from such a diverse range of backgrounds has equipped me with a deeper understanding of psychology and lessons in what motivates people to change. The adversities I have experienced myself enable me to stay grounded, to be able to empathize with my clients and understand them at a multifaceted level.
I also collaborate on various projects with other women and in the community and I really enjoying being part of team and pulling our strengths together to create new and innovate experiences. When I was able to shift my own mindset from competition to collaboration it opened a whole new set of opportunities for me, it makes me think of the Mother Theresa quote below:
"I can do things you cannot, you can do things I cannot; together we can do great things." ― Mother Teresa
I have collaborated on an awesome local project called 'Recipes for Success' with I can cook Miami and we host monthly 'cooking, coaching and networking classes bringing local women in business together. I host monthly 'Emotional Fitness' classes in my local community.
I am also the president of the 'Haven Healing Foundation' pathways for healing mind, body and spirit. We are offering specific programs for addiction and trauma recovery based on our own system of delivery. This includes an online resource center, group coaching, mentoring program and training to addiction recovery facilities. We are excited that our first pilot program will be taking place at a recovery center in Utah next month and are actively looking for centers in Miami to begin piloting the approach and offering services, our longer term vision is to be offering services in schools and a specific hotline service for the public.
How do you think the industry will change over the next decade?
People are actively becoming more conscious of their needs to take a more holistic approach to their health and the increase in social media apps such as Instagram are making it increasingly trendier to be healthier in mind, body and spirit. Technology is making it ever easier for people to not only know yet learn how to take care of themselves, information is available at your fingertips and I expect to see this keep growing. Companies are also beginning to see the value in bringing in coaches and also adding resources for staff well-being, they are beginning to invest in people differently and I have seen a great increase in this in the corporate world of the last few years, they are finally beginning to understand that if you look after your staff they will look after your clients.
Contact Info:
Phone: 786 – 408 – 4255
Email: raj@rajanderson.com
Instagram: rajanderson_
Twitter: @savvystrategist
Image Credit:
Carlos Aristizabal
Getting in touch: VoyageMIA is built on recommendations from the community; it's how we uncover hidden gems, so if you know someone who deserves recognition please let us know here.