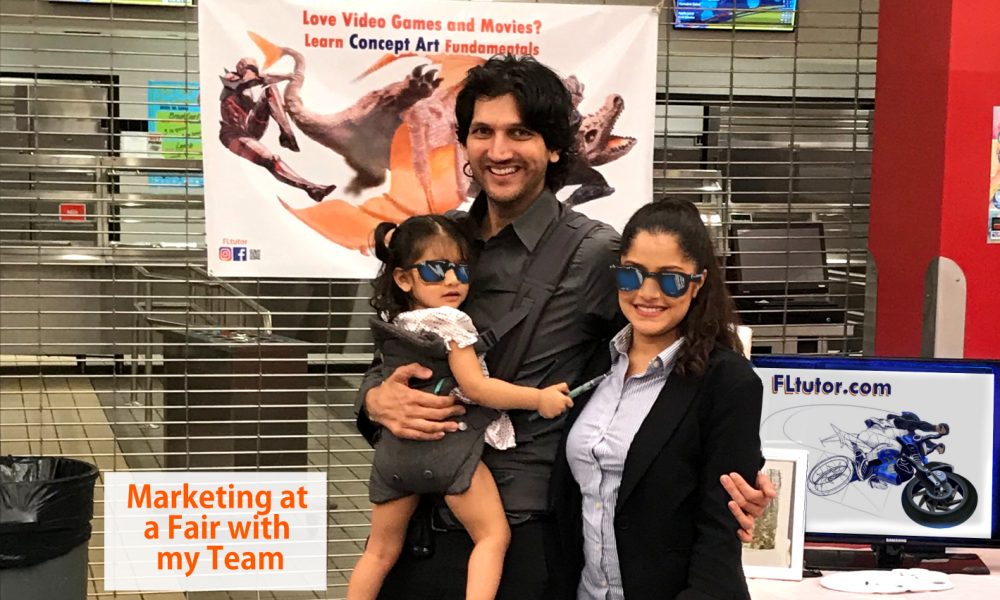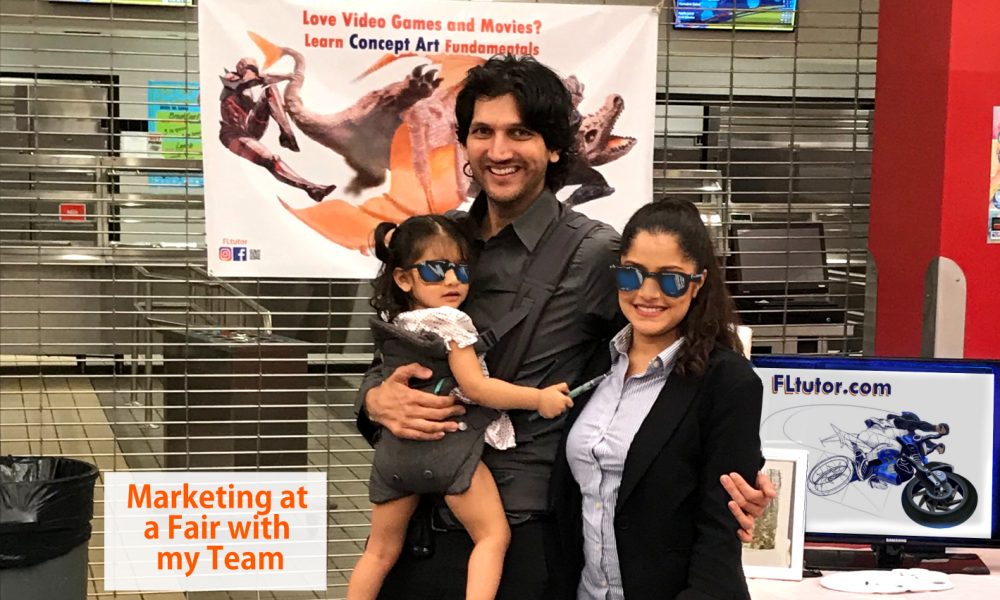 Today we'd like to introduce you to Omair Khan.
Omair, can you briefly walk us through your story – how you started and how you got to where you are today.
It all started with four baby turtles, and some green ooze… if you guessed Ninja Turtles, then you're right! I've been drawing since kindergarten, inspired mostly by Ninja Turtles and pop culture. I made my first art sale for a whopping 50 cents back in 5th grade.
Drawing consistently stopped after high school because college took away my focus. It wasn't until 2013, while scrolling through YouTube, that I saw Feng Zhu painting dreamscapes straight out of his imagination and was mesmerized. Watching him paint was like watching magic. My hair stood up on end, and chills undulated all over my body! I felt like a dolphin lol The light inside shone ablaze, and I just couldn't stop learning about art. I studied and practiced concepts from books by Andrew Loomis, Scott Robertson, Design Studio Press, Proko, Schoolism, and recently been absorbing Will Weston's Instagram posts @WillWestonStudio like a thirsty cactus!
Because of my unrelated art jobs, I really have to squeeze every minute of each day to draw as much as possible, so you can find me drawing anytime, anywhere: standing in line, while on the job (I don't get caught… that often!), waiting in the car at red lights, at the zoo between jobs, and even drawing my baby while watching her. 🙂 You can check out my Instagram to see some of these situations unfolding.
Having a job where you don't do art but that's all your thinking about is not ideal. This leads right into the next question…and answer!
Has it been a smooth road?
Struggles are a thing that happens when you want to live off of your art, especially when you want to make it a full-time, 100% job. Everyone goes through struggles, so I'll just share a few recent obstacles. I've tried opening an art center a few years back. My wife and I spent a lot of time finding a place to rent within our budget, but it didn't work out, so we found shared office space instead. It never picked up, and we stopped after three months. This seemed like an obstacle, but I learned some valuable lessons: without a solid marketing plan, nothing will pan out.
I've never been good at marketing. I don't like talking about myself and that's something I've been trying to get better at—this interview is an example of that effort. This year, my wife has been helping me tremendously, and we made a goal to start our art center on June 3rd, 2019, in time for the summer art season. I invested in marketing at a local high school and attended their career fair. We tried again to find a space for the art center. We were constantly digging up leads for places to rent, contacting everyone. We were always so close but never able to sign a lease. In April, for example, we saw a 282 sq ft place (all the space we need to teach) that was everything I dreamed of as a startup spot, but when the landlord sent a 56-page predatory lease agreement, we were shaken… but not stirred 🙂
March passed, the search was ongoing, and then the clouds opened up and a ray of sunlight plopped onto our laps: we found an amazing office and signed a lease on April 20th! Every cell in our being was jumping with joy, dreaming of how to use the space, budgeting for improvements to make it a better art center, planning how to use every inch of space, and then 2 weeks later, after submitting forms to the city to get the tax receipt license, they raised concerns that we didn't have enough parking spaces for an art studio. That was a huge blow especially since it was now May and the art center was set to open June 3rd.
Everything happens for a reason, though, and by the time June 3rd came, we actually earned a few students leads through our very own, hard-fought marketing campaign. I was also able to rent spaces temporarily at a church and teach in the library, and I will soon be teaching art at Tate's Comics which is an absolute blessing and would not have been possible if I had been stuck in a long-term lease! There's always a rainbow after (or during) the storm. 🙂
We'd love to hear more about your artwork.
What sets my art center apart from paint and sip art studios & others is that I teach concept art fundamentals, the kind used for video games and movies. I teach you (students ages 12 & up) the fundamentals of how to draw vehicles, characters, environments, and so much more from imagination. This also sets my students apart, which benefits their career goals.
Our art lessons are interactive, fun, and informative. You start to understand how you see the world, literally, which is an invaluable skill. I'm proud of the environment we've created that inspires and encourages students to work hard, try to understand how everything works, and to never give up.
I am personally known for never giving up, failing but stubbornly pressing forward no matter what. I embrace failure, and everyone should too. Learning from your failures is the only way to reach your potential. Never let your fear of what people think lock you inside a prison. Keep your mind on your goals and work towards them. It will take time, most likely, but you will succeed.
What are your plans for the future?
I'm looking forward to the LightBox Expo happening in Pasadena, California this year. Imagine the world's best concept artists all under one roof. I plan on submitting several original art pieces to win one of their concept art awards!
I will also be creating a one-page comic that will be printed by Tate's Comics for their 10th annual Not-at-Comic Con event! I am grateful for all these opportunities and can't wait to share the journey via social media.
Plans for the overarching future are to take this art skill and knowledge and apply it.
I want to tell a story through different mediums (comics, movies) about the innate light of the human heart, and its power. We are all created with an uncontainable, tremendous potential inside. How we unlock it is by simply believing what we've known all along, and then putting in the work.
Pricing:
Year-Round Afternoon & Evening Lessons $250 per subject, 14 hours per month
Summer Concept Art Trek, 30 hours per week, Monday-Friday, $200 per week
1 or 2-day Workshops, $60, $100 respectively
Contact Info:
Getting in touch: VoyageMIA is built on recommendations from the community; it's how we uncover hidden gems, so if you know someone who deserves recognition please let us know here.