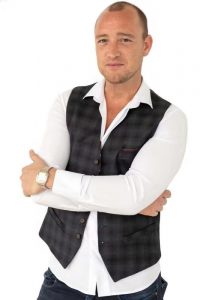 Today we'd like to introduce you to Oliver Evans.
Oliver, before we jump into specific questions about the business, why don't you give us some details about you and your story.
I am from London, UK and the founder, Creative Director and CEO of Shark Design, an international award-winning product development firm established in 2008 headquartered in Miami, USA. 
I have a clear innate gift and passion for product design, engineering and advanced technologies concentrating on delivering clients their desired requirements while developing my own branded products under the Shark Design Group. After leaving school at 18, I spent a year doing several jobs in England, lastly a job selling communication services in London.
In my first month, I overachieved on my target, making me top of the sales team; my reward was a bottle of champagne! I always longed to run my own business; this award gave me the confidence to do so. I was 19 years old when I started my first company and turned over my first million within a year. I worked extremely hard and it felt great, making me realize I was able to create and achieve.
For as long as I can remember, I have indulged in a fascination to find out how things work. As a small child, I was always dismantling my toys, much to my parent's dismay, spending days figuring out how to reassemble them correctly. When I was nine I began assembling complicated remote-controlled vehicles designed for adults to assemble; I loved it. Art and design technology were my favorite subjects at school. So I guess my career and future were inevitable even from such a young age and so it began when I was 19 and began to pursue my dreams.
I was the only company to import the first generation electric scooters from Taiwan. I flew to the factory in Taiwan via Hong Kong, to see what it was all about and get a sample to the UK. With my sample in the back of my car, I drove to every independent bike store in the UK. Within a month, I had enough orders to fill a container and start distributing them at wholesale, before I knew it, I had a distribution company up and running. I was at last in business, it was great!
I loved presenting my electric scooter and ultimately taking orders. I had discovered a hole in the market place, an opportunity where I knew the design and quality of my scooter made it safe and, therefore, easy to sell. This worked well for two years until competitors undercut me, tried to copy what I was doing using low-quality cheap products making scooters generally unsafe. As a result, the government changed the law and banned their public use, before I knew it the business was suffering and simply couldn't sustain itself. I was devastated. However, the company's initial success gave me the confidence to continue.
In hindsight, this was the best thing that happened to me. I immediately moved to Hong Kong to explore the design and manufacturing industry, and focus on making my own products. It was 2004; I knew I wanted to go to Hong Kong after falling in love with this multicultural city and its heritage. A city with a special energy, a sophisticated fusion of East and West, a city of diversity where new and old meet, truly magical. I had little money to get me through the first year but somehow managed to survive.
My true passion since I was a small child was making something from nothing has never left me. I am a creator and product designer, constantly thinking of ideas, critically visualizing how the end product is going to work and look, some would say, a visionary. I am obsessed with my work and find it hard to switch off, thinking for months before finalizing commencement of development. I will not settle for anything but perfection. With an eye for the minutest detail I often insist we return to the drawing board to achieve the perfection I strive for. Set your goals and make it happen!
When I opened our first office in Hong Kong in 2004, I was designing accessories for Apple. I was proudly awarded an Apple Manufacturing License; this taught me about processes of product development. Working alongside Apple was a thrill and a massive encouragement for me. I was fortunate enough to be in direct communication with Steve Jobs. He loved my designs and helped me go to market in the Apple stores. In 2007 I designed a range of accessories for the next-generation iPhone, including a wireless toy helicopter controlled by an iPhone to battery-powered devices. After several years the business became really tough with a lot of competition; it became a commodity business and no longer excited me. I needed more of a challenge.
In 2014, ironically, I returned to designing electric mobility products and now hold several patents, including the one wheel self-balancing electric scooter, which was designed and invented by me. Our Proprietary electronic software, Shark Electronics, has advanced substantially. Shark Design is considered the pioneers within the electric mobility industry and the future of electric vehicles and last-mile transportation has become a huge focus for us with a big market share.
Shark Design is currently under development for our new Shark 3 Electric Scooter under our new electric mobility brand Shark Moov. We will be launching Shark Moov in late 2020 this year from our Miami Wynwood design store; customers can customize their Shark 3 Electric Scooter. The ride-sharing rental scooters are unsafe; we believe people would prefer to own a premium quality safe mobility scooter. The Shark 3 Scooter will be constructed from aluminum and carbon fiber with the ability to charge wirelessly on the go. We will offer customers affordable payment options which will be of great benefit to them while increasing our market share both domestically here in the US as well as internationally through our website and wholesale dealers.
We are building a production facility here in Miami and our US flagship store in Wynwood which is currently under construction. Manufacturing in the USA for the Shark 3 Electric Scooter is a huge step forward for us as we transition production from overseas to Miami. Our new facility here in Miami is a great advantage for us, we will be able to control production, cut lead times and ensure the build quality exceeds our expectations giving us a competitive edge. Shark Moov aims to ultimately reduce carbon emissions with safe last-mile transportation vehicles.
I am proud to announce that Shark Design supports the design and development of sustainable products for 4Ocean. If you don't know about 4Ocean, the company is a world leader in the removal of plastic waste from our oceans and coastlines. A global brand based out of Florida meaning that we are able to further support their development team. As well as producing products for their B2B wholesale business we recently were awarded a project for their B2C business which is currently in product development phases.
"I'm naturally a positive person with an ability to be tenacious, resilient, persistent, having initiative to power through the mud, never giving up."
Overall, has it been relatively smooth? If not, what were some of the struggles along the way?
Design manufacturing is a totally different industry to distributing imports. My belief and determination to create and manufacture my own products drove me forward; eventually, it all came together. In the beginning, we had a lot of complications with factories stealing my ideas, manufacturers with little understanding of the quality I was striving for and repeated shipping delays. All these factors led to two failed projects we had successfully launched amounting to more than $2 million in pre-sales which we refunded.
In China, companies stole and copied my designs, despite my Patents and NDA's for one of our previous projects back in 2014, the self-balancing two-wheeled electric scooter. This is normal behavior for a lot of Chinese businesses and they even have a name for it, 'Shanzhai' I call it theft! The industry has sold more than 50 million units to-date generating billions in sales revenue; I'm not surprised at how popular they became. I know my talent as an industrial designer and the value of my ideas and so I was not phased by it, although at the time I was distressed but flattered too. Currently, in China we have several ongoing lawsuits, sadly it is part and parcel of the business I am in.
Problems pop up but nothing we can't resolve, a problem is always a good thing, meaning we can do better, now we run like a well-oiled engine. What makes true entrepreneurs and businesses successful is embracing all the troubles and taking it on the chin, turning negatives into positives. I am currently exploring the avenues I have to go down to move our China manufacturing to Hanoi, Vietnam for our Asian operations as well as moving our high-end products to our Miami USA production facility. The Shark3 Electric Scooter will be the first of our premium products to be made here in Miami, USA.
Additionally, we have a solid sales and marketing team working out of our design studio in Wynwood, Miami which is where I have been based since 2014.
Please tell us about Shark Design.
I am the Founder, CEO and Creative Director of Shark Design, an award-winning product development company primarily focusing on consumer products. I have my own team of engineers Mechanical, Electrical and Software allowing us to build our own technologies and develop products from start to finish. A one-stop-shop.
Shark Design has launched several new products under our house brands and is currently working on the Shark-3 Electric Mobility Scooter which is a game-changer for electric mobility transportation, my new design invention has been patented in the USA and other countries. Looking at the current situation in Miami, ride-sharing scooters have not been executed properly, using unsafe electric scooters resulting in accidents and even fatalities; we want to change that. Segway approached me to help with their new design ideas but we declined seeing this as an opportunity to create our own path in this category and so our electric mobility brand is born, Shark Moov.
Shark Design works with several businesses from start-up brands like 4Ocean to corporate retailers Walmart, Target as well as international companies. We are currently in over 80 countries with offices in Miami, USA, Hong Kong, China, and shortly Vietnam and London UK.
I don't settle for anything but perfection before we release our products to market, quality is absolutely our priority. This is possible because we have a strong quality control team within our operations; this is something we struggled with before when we outsourced these resources. Now we check every single detail before we start assembling during our pre-production stages which is why it is critical for us to operate the way we do with multiple teams across our different office locations.
I believe there is no better place to run a business than the inspirational buzzing atmosphere of the Art District in Wynwood, Miami, surrounded by original creativity from entrepreneurial millennials and other aspiring artists. People frequently pop into our offices, asking for guidance and help with their new product ideas. We have taken on some projects locally and even invested in some of them, one of which is a smart fitness device. We developed the concept and launched a marketing campaign, ultimately making their dream a reality and becoming a great success. It is an ideal symbiotic relationship for budding design entrepreneurs and Shark Design.
Here in our Miami headquarters, we have an excellent design and marketing team. We are building a talented team of marketers as well as bringing on board some designers to expand our range of product lines as we are now entering several categories for our own brands.
Our goal is to bring sustainable product development to our Miami Industrial Product Design studio making it a real creative hub whether it is our own products or in collaboration with local artists or inventors. We want to bring great ideas to the table made from sustainable materials such plant-based materials like we are doing for Florida based startup 4Ocean. We are excited to continue down this route, invest in local talent and support entrepreneurs and startup businesses.
If you had to go back in time and start over, would you have done anything differently?
I wouldn't change anything because my experiences have made me grow into who I am now.
Contact Info:
Suggest a story: VoyageMIA is built on recommendations from the community; it's how we uncover hidden gems, so if you or someone you know deserves recognition please let us know here.