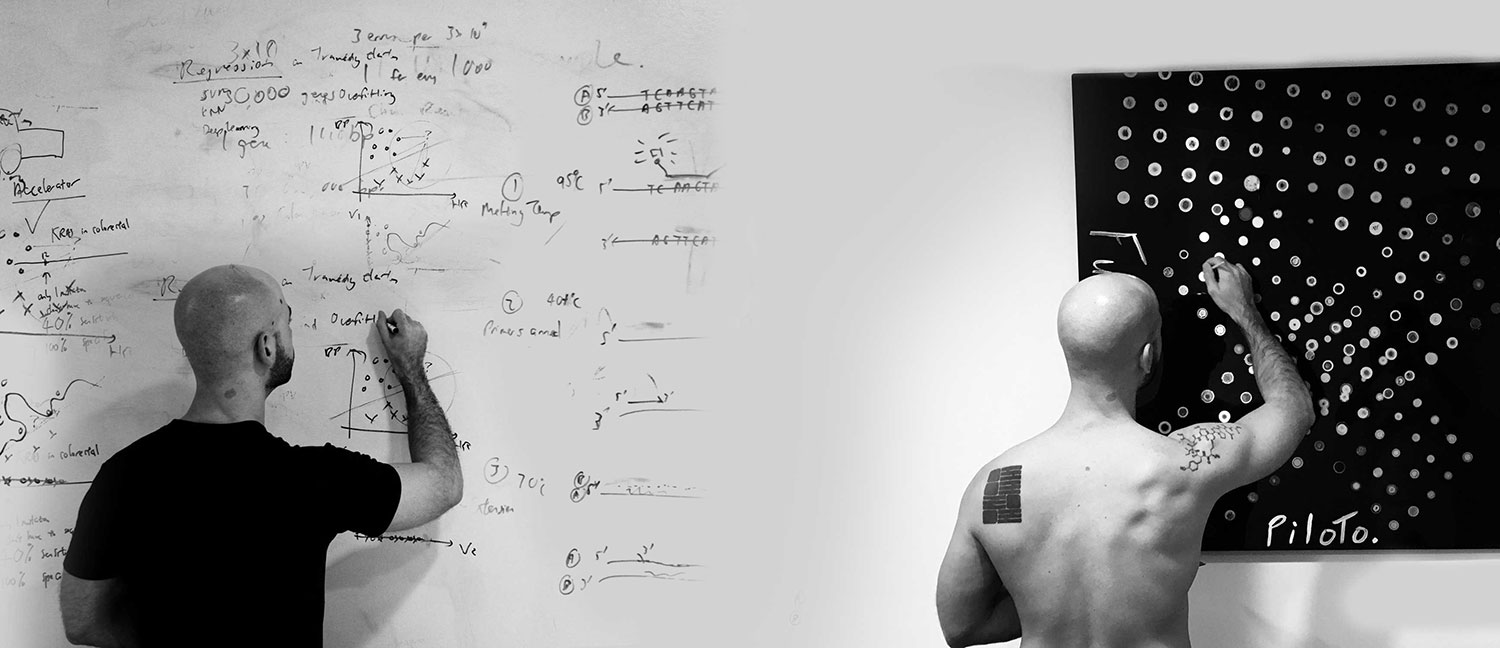 Today we'd like to introduce you to Obdulio Piloto.
Obdulio, can you briefly walk us through your story – how you started and how you got to where you are today.
Most people know me as the Hialeah Ph.D. guy that went to Cornell, Johns Hopkins, and Stanford to study science before returning to his hometown. Few know me as an artist.
For as long as I can remember, I have been fascinated by the power of abstract art to bypass programmed scenic imageries and evoke strong emotions through amorphous markings. I am intrigued by how some artists can so skillfully explore similar topics from vastly different perspectives and create an understanding beyond what is physical and real. It is communication at the highest form. This early passion, however, was tempered by the limited resources of my childhood. As such, I did not pursue formal training in art but instead honed my other passion, science.
After completing my training as a research scientist, this intense but neglected desire to communicate through abstract art bubbled to the surface, and my scientific work began to speak to me on a whole new level. My path has shaped me into an unconventional artist. I approach my artworks with a solid foundation of decades of scientific training, unbound by artistic conventions. This has granted me a unique perspective of our surroundings and the people within it.
While I believe in the intrinsic value of 'art for the sake of art', I choose to use my craft to catalyze positive change – to promote a dignified future for humanity through technology and critical thinking. Mainstream culture, especially in the U.S., is hedonistic, empty and devoid of critical thinking, driven by a singular capitalistic engine. Attention-grabbing sensationalism confirms underlying biases that narrow one's horizon. Everyone, no matter how poorly informed, feels entitled to have a seat at the table. Opinions are held as truths, pleasure is confused with reason. An "internet influencer's" dress is front-page news, whereas scientific discoveries and academic breakthroughs draw little or no attention. People consume the empty calories of these curated false gods while becoming increasingly dissatisfied with their lives. Being famous for the sake of being famous is the new nirvana.
Overall, has it been relatively smooth? If not, what were some of the struggles along the way?
As most artists can attest, art leads one on a long and uncertain road; especially when the artist is defining their own path. My biggest challenge is to convince people that I do not belong to an exclusively "scientist" or "artist" box. I am both! I believe this reasonable, but ill-founded concern is rooted in a desire to ensure long-term monetary gain from my artworks. The two disciplines are inseparable, offering art collectors a unique experience – the science is intrinsically artistic, and the art is rooted in scientific logic. As a result, my exclusive conceptualizations offer inherently distinct, recognizable and collectible pieces of fine art. I purposely choose to create art that hopefully speaks to critical minds, and I don't bother with the fickle whims of the masses.
As with all new ideas, there is some resistance to new art concepts which some consider being at the fringes of the traditional art establishment. This resistance may be more apparent in South Florida, which has a relatively young art scene compared to other cultural centers, such as New York City. I have received great advice from generous local artists and art collectors to navigate around this obstacle in hopes of helping Miami build a larger and more engaged art community. Their message is simple –focus on how art connects with the individual, before describing the innovations behind the artworks.
Please tell us more about your artwork, what you are currently focused on and most proud of.
The core of my artwork involves the capture of a person's essence at a moment in time. Capturing one's likeness is not a new concept (think of the countless royal portraits in Western civilization). However, a painting or a photograph poorly approximates the highly complex molecular mixture that is a living, biological being. Instead, my art utilizes 'molecular portraits'; molecular constructs of individuals using a technology I co-invented with Ian Cheong, called NuTec, which utilizes nanotechnology, material science, molecular medicine, and artificial intelligence. A key scientific application of this technology is detecting diseases, particularly cancers, early when they are most curable, and thus saving millions of lives.
These Molecular Portraits are a series of 70 data-rich spots that are used to communicate biological information to artificial intelligence systems. As such, they remove the cultural, socio-economic, racial, sexual and religious baggage we automatically associate with traditional images of people and form the basis for my artworks.
How are my artworks created?
Step 1. A bio-fluid (e.g., blood) is collected from myself or a donor for processing
Step 2. A NuTec slide is incubated with the biofluid sample to allow molecules to bind onto the NuTec slide
Step 3. The NuTec slide is then heat treated. This transforms the transparent NuTec spots into colored spots that reflect the millions – billions of bound molecules
Step 4. The resulting, color-rich NuTec slide is scanned, resulting in an image of the molecular portrait
Step 5. The scanned molecular portrait is used as the basis for the artwork. Artworks can represent literal molecular portraits (e.g., digital prints) or figurative representations of ones (e.g., 70 painted spots on canvas).
My work is part of a new art movement, Molecularism, where things, particularly living beings, are represented at a basic molecular level, with disregard to medium. This expressionistic style offers a fresh means of interrogating diverse and complex topics; such as: euphoria, mental illness or even the many forms of loves. The use of molecular portraits in artworks is simply one manifestation of this mode of art. I further exemplify this theme in the use of paint I developed containing encrypted DNA from my genome to sign each piece. Literally, viewers are provided with the most basic molecular essence of my physical self, my molecular DNA. In addition to my molecular portrait, which I often use in artworks, my DNA offers the viewer another unique level of connection with the artist.
I've been fortunate to have a discerning collector base that appreciates the distinctiveness and long-term significance of these artworks. I'm particularly humbled when people share their personal journey with cancer and how my artworks resonate. People understand that art is personal and the art one displays tell a story about the owner. I hope my artworks convey a sense of hope through technological advances and a movement away from superficiality that's pervasive in modern society.
Is there something we can do as a city to better promote art?
Miami is moving in the right direction and is well positioned to showcase avant-garde artworks. The region is fostering 'start-up culture' and highlighting the importance of art, as exemplified by eMerge Americas and Art Basel taking place in our city. However, Miami is lacking a pervasive culture that embraces and values art. The city can help educate potential art collectors and offer public exposure to impactful artists.
Now is the perfect time to re-shape Miami into an enviable technology and art hub, with greater emphasis on meaningful pursuits. I'm happy to play my part in the transformation of my hometown. Can the 70-spot, molecular portraits serve as a symbol for our new Miami? If so, I'll partner with local artists, particularly street artists, to make it a reality.
Contact Info:
Getting in touch: VoyageMIA is built on recommendations from the community; it's how we uncover hidden gems, so if you know someone who deserves recognition please let us know here.