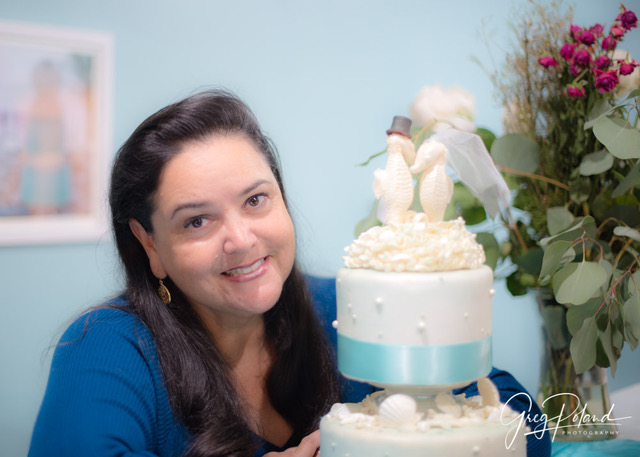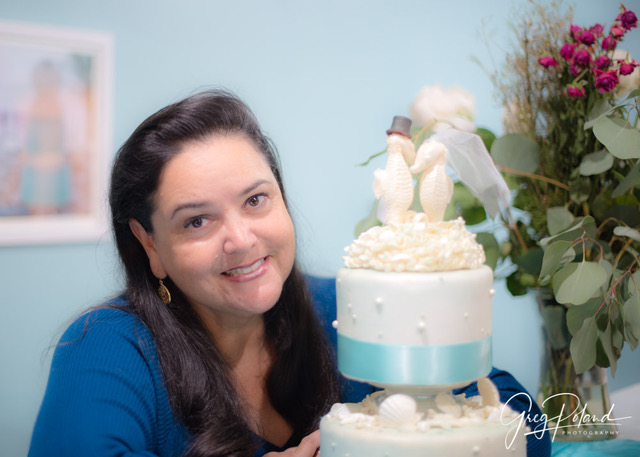 Today we'd like to introduce you to Nancy Davila.
Nancy, can you briefly walk us through your story – how you started and how you got to where you are today.
Well since my childhood, I've always had a creative mind and always okay with just being by myself as a kid. I remember making castles out of tree branches and old wood my father had to lie around from his lobster traps. To most kids, growing up in the Keys was boring, but me…the backyard was my kingdom and my bedroom was my tower. You can say I was just one of those kids that was always somewhere else mentally. And Yes, to my older siblings, I was very "weird".
Upon graduating high school, I decided to pursue a creative field and went off to obtain a degree in Fashion Illustration and Design. I loved every minute of it. 20 years designing in many various fields from wedding/evening dresses, children, sportswear, to artwork for fabrics, screen prints and fashion boards. I can easily say that those were some of the happiest years (and highly stressful at times) of my life. Not every day you here a person say that they wake up every morning looking forward to work. That was me.
So how did I get into cakes? The fashion industry shifted in South Florida in the early 2000's as imports were becoming more and more the trend. Manufacturers closed, and work as a designer became harder to keep. Everything, including the design aspect was now overseas. All though I was offered a job in New York, the big city life was not for me (being an "Island Girl", I couldn't leave my Turquoise ocean behind). So as a single mother, I made the hard and crazy decision to make the change to a new career and a new life. Easier said than done. After a couple years of boring and regular jobs, I was lost and miserable. I tried everything from Real Estate to Retail…I just couldn't find my spark. It was like Tinker Bell losing her light, and everyone started to notice. So one day I took my brother in-law's advice (who's been a bakery manager for the Publix chain for almost 30 years). "Why don't you use your creative talents and artistry to get into Cake Decorating. And so…I did.
First I enrolled into a class at the Miami Dade campus for Making Sugar Flowers, 1 night a week. Wouldn't you know it, the creative side of me sparked! I knew then, I was onto something. Soon after I consumed myself with as much information as I could in the Cake baking/decorating Industry. Little by little, I just watched (dare I say….You Tube) and learned. I started making free cakes for family, then free cakes for friends of family, and then orders started coming in. The sculpted cakes for birthday parties were memorable and in demand. I've been asked at times to arrive after the guests to deliver the cake to make "An Entrance". A crowd of people would gather at the door anxiously waiting my arrival, as I could barely walk in. What a great feeling to be greeted like this. I remember thinking, I should have discovered industry this years ago.
So my new career as a Cake Designer officially began. Unique D'Lites Custom Cakes was born in 2008 as a part-time hobby out of my home. In 2012 I started working with event planners and formalizing my signature look for sculpted cakes. Then finally in September of 2015 I left my full time (secure job) and finally took a chance. I opened my first Cake shop in non-other than my hometown city of Islamorada. Today I am the preferred cake vendor for various Hotels and Venues in the Upper Keys, working with several event/wedding planners and Restaurants. This business was the perfect excuse to move back to paradise. Working in something I love and located in the Florida Keys….I gotta say, I'm a very lucky girl…Again.
Great, so let's dig a little deeper into the story – has it been an easy path overall and if not, what were the challenges you've had to overcome?
Definitely not smooth at all. Probably as all small businesses start, I had little money and not enough credit or established a business history to ask for a loan. Just an idea and a dream. As a start, I had to keep my full-time job and start the business at the same time to survive.
In the wedding industry down in the Keys, the first year was a hard lesson in "Season" and "Off Season". The Off Season was that time of year that you can hear crickets chirp, and balls of hay rolling across the scenery. That was the scene for almost 4 months in the summertime. I call this, the "Suicidal" stage of the business. Paying rent and utilities with absolutely nothing coming in. It was difficult, but I survived.
As the second year came along, I thought it couldn't be as bad as it was the previous year or summer, right? Well, in comes the beginning of the season, November 1st. I could never expect the season's rapid growth to come in with such intensity and speed. it was 0 to 60 in what it felt like half a second. I went from 1 cake a month to 5 cakes on a Saturday with smaller wedding cake orders on every other day of the week. I had no help, just me. Baker, designer, delivery, purchasing, invoicing, payables, on and on. Let's just say, I didn't sleep much. I couldn't wait for the holidays (Which slows down again before it takes off in January).
After the first week of December, everything came to a halt. What was that like? Imagine your flying in the Meliniam Falcon (Star Wars) at warp speed. You know that scene when all the starts are like lines as your speeding through the galaxy and then all of the sudden it comes to a severe halt? Well, that's it in a nutshell. In comes the chirps and hey balls. But this time I welcomed it with open arms. Now I had to try and plan a strategy before the eye of the storm moves away. I had to find part-time help, with some kind of experience. And trying to keep them motivated throughout the season knowing that would he/she would be unemployed by the end of the season. Not an easy task at all.
After a few failed attempts of training a few people because I could not afford experienced ones, I lost a lot of time and money. Remember how little sleep I had in the first season? That was a lot compared to this time around. I believe by year 2 I aged about 10 years.
But, I survived. My goal for the summer of the second season is to become the preferred vendor to a couple of the local resorts that have very active in destination wedding business. Now, how do I achieve this? Google knows everything right? So that's what I did. I researched online Marketing strategies with little cost. After all, I'm still starving at this point and not making a lot of money. I just spent a season paying employees that I couldn't train well enough to keep and spending twice as much on ingredients to correct errors.
Well, the good news at this at this point, I moved out of the "Suicidal" phase and now into the "Starving Business Owner" phase. Trust me, it's a step up. I decided to quit my full-time job and tackle this head on and make it work. My strategy…."Jump in with the sharks, you'll figure out how to swim fast enough to survive" or something like that. Maybe it's that saying that if you don't take a chance, you'll never know if you'll succeed. Well, here goes everything.
By the beginning of the third year's season, I was successful in obtaining the "Preferred Cake Vendor" position in two major hotels. The Hilton Key Largo and the Post Card Inn in Islamorada. And in addition to that, I also became the preferred vendor for two wedding planners and Pierre's Restaurant which caters to high-end weddings as well. As for hired help? I decided to keep it in the family. After all, there's a lot of talent within my family tree and it's fruits. I decided to train my nephew to become my helping hand. He is very talented, artistic and detailed. But best of all, he was out of work and available.
The only obstacle I had with this was, he lives in Tennessee and knows nothing about baking or decorating cakes. "Minor Details," I thought. He is so talented, I was willing to risk the expense of bringing him down for the season and train him. It was the best decision I ever came up with. He's started very slow, but SO TALENTED!! And the detailed part I mentioned…. well, not one error in baking or decorating. Either I'm a fantastic teacher, or he's a very gifted individual. I think, a little of both. At this point, my sculpted cakes are beginning to look juvenile next to his creations. Things are finally starting to look up. By the end of the Spring season, I acquired several new wedding venues, a couple of high-end hotels. Referrals were coming in from everywhere. Everything was starting to come together and I was very excited.
In comes the Third year….season usually takes off at the end of October and then comes in hard for November. I was more than excited, this year for me it started earlier than expected. September was the beginning of a great season. November was going to be phenomenal and marking the start of actually making profit. Finally! And so I thought :'-(
In comes Hurrican Irma.
All of September CANCELLED. About 80% of October, CANCELLED. My two biggest accounts, Hilton and Post Card Inn, devastated and announced they will be closed until next summer. I had already paid for my nephew to come down for the season, and every week I had a new cancellation. Talk about unexpected disappointments. I mean the "Suicidal" phase may be knocking on my door again and joining the "Starvation Business Owner" phase Uugh! This is the "You've gotta be kidding me!" phase.
Don't worry, I'm not giving up. I can feel it in my bones, it's going to be okay, so bring it on! I've got a lot of fighting left in me, and there's always a silver lining to look for, right? Due to the devastation of a few hotels, I now have the attention of other hotels that I had not had the opportunity to work with. I have been recommended by my current clients to several new businesses that are now available to accommodate lots of weddings for the venues that are down for repair. I can happily say that I have acquired several new vendors who have honored me with the acceptance of becoming their new preferred vendor. So I have to remind myself, never give up. This is the opportunity to show them what I'm made of. Just think, when the Keys are back to full running after all the rebuilding and repairs, the next season will be amazing! And that's when I call this the "Just sit back and Watch me GO" stage.
I can't wait 🙂
Alright – so let's talk business. Tell us about Unique D'Lites Custom Cakes – what should we know?
My business specializes in sculpted cakes and designer cakes. My sculpted cakes are very artistic, creative, and as the name says "Unique". The cakes are so incredible, my clients hate to cut into it and eat it. I have made cakes that look like real fish, coolers, fireman's hat, cigar box, makeup box, handing upside down, chandelier, characters, and more. It's a very fun job, and I feel very lucky to have discovered such a career.
What I am most proud of as a company that this is quickly turning into a family business. My family has a lot of talented people. Artists usually struggle in finding great careers using their talents, and it's such a pleasure to watch my daughter, nephew, and even my sister set their creative talents go. This is an easy task for us and you can just see how much we love to do it the design of the cake your eating.
The thing that sets my company apart from the others is the talent we all have to come up with different ideas in a spare of the moment. It's like my brain cannot shut off and when it can't come up with something, then my nephew or my daughter comes up with something. When I sit with a client, I can come up with so many different options. Even when a couple can't afford to do something extravagant, I love to sit with them and help them come up with something creatively in-expensive. And it just doesn't stop at basic or sculpted cakes, we're creative craftsmen. We can design anything to coordinate with the cake, in a stand or hanging stand, rotating topper on the cake, lights, and more. You name it. There hasn't been a task we can't handle, we love challenges.
Is there a characteristic or quality that you feel is essential to success?
Trust and Quality of my product is the most important characteristic to my success. In my industry, a client has to pay for their order before they can see and taste what they are getting. Basically, my client buys the idea or a sketch. It is important to earn their trust that what I design and what we've discussed becomes exactly what they imagined.
Exceeding their expectations is what I want to achieve every time.
Contact Info:
Address:  80925 Overseas Highway
Islamorada, FL 33036
Phone: 305-303-0829
Email: unique.d.lites@gmail.com

Image Credit:
Greg Polan Photography, Margeaux Boles Photography
Getting in touch: VoyageMIA is built on recommendations from the community; it's how we uncover hidden gems, so if you know someone who deserves recognition please let us know here.