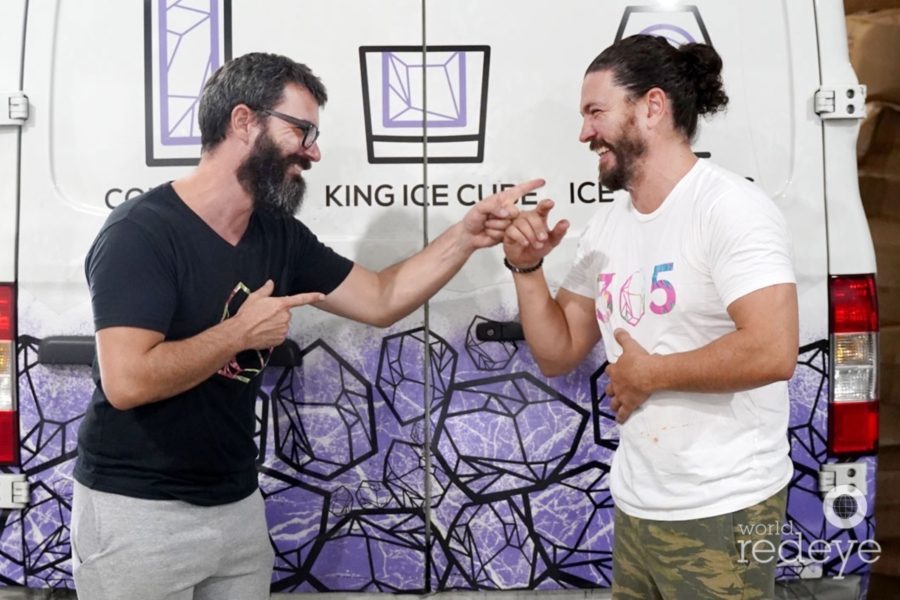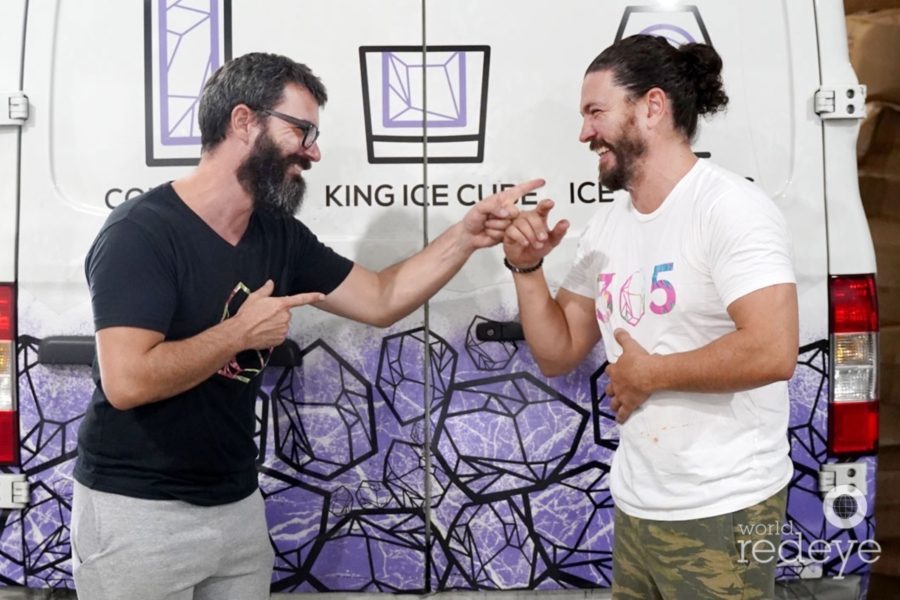 Today we'd like to introduce you to Carlos Leal and Fabián Alvarez.
Carlos and Fabián, can you briefly walk us through your story – how you started and how you got to where you are today.
The story of Mixology Ice begins within 2014 when the Miami cocktails scenery was gaining a lot of traction. We were running at that time our Event Production company, Rum & Coffee Productions, rolling mobile bars from one event to the next serving cocktails as a service when we encountered not one but many clients complaining about their cocktails been watered down, thus asking for more alcohol in return. The amount of alcohol was right, so the ingredient that was falling was the ice.
We called every single company in Florida (yes … all Florida!) asking for bigger better ice, no one had it. An ice sculpture carver in West Palm Beach was doing clear ice on the side since the same 300-pound blocks of clear ice are used for ice sculptures or to chunk it down into pieces for cocktails. We bought the first 10 000 units, we sold them in a week. The need of clear ice was clear. In the next six months, we switched from buying and re-selling ice to making it. We started with a second-hand cooler room for flowers, and circular carpenter saw and a lot of personal push, and within a year we were modestly making a profit.
Five years into the business, we grew from 1200 sqft place to 2400 sqft to 43000 sqf, always looking for space to absorb larger and more complex orders. We have transformed the small shop into the largest US clear ice manufacturing facility with 1Million pieces sold per year, and Distribution in Florida, NYC and Chicago. We have the first and only patented retail solution and we have designed and developed our own machinery in house to scale our growth and the increasing demand for clear ice.
Clear ice is not a snobbish thing, on the contrary, for those of us with the ability to appreciate quality regardless its a comparison between cars, ice cream or rice, the understanding the need of a better product is paramount.
Far beyond the initial trend, clear ice is now a standard, and whoever is offering a cocktail expecting the client to appreciate their craft in the trade, will include it as mandatory item that the customer easily recognizes as a respect for quality statement.
At-home consumption is skyrocketing, that means the bar culture is translating into common sense and that the people once used to only have the grocery store 10-pound bags of regular ice as an option, are beginning to add this item to the weekly shopping list.
Clear Ice is definitely in the way to golden times.
Has it been a smooth road?
Been an entrepreneur is never easy. You are accountable for your mistakes and you learn as you go. Clear ice knowledge and culture is fairly new and it started in Japan and then spread out to key cities in the US (California, NYC, Boston, Seattle, etc), all metropolis of commerce as we all may know. Miami in South Florida is likely among the 2-3 fastest growing areas in the US, and within 150 years it has build a gigantic infrastructure for itself, thus propelling food and hospitality business, yet clear ice in Miami began with us five years ago.
The road has been harsh to say the least, specially with the lack of understanding of traditional banks and financial institutions. We have been using shark loans paying excessive interest since day one. No bank will extend us a credit card, loan or line of credit. This has put us in extreme cash flow stress since the very beginning.
Maybe that struggle has served to build our character and commitment to our business and clientele. On the other hand, we have found support from local and national brands and their ambassadors, we have had support from friends and family and thanks to all of them we have had the chance to scale the company.
So let's switch gears a bit and go into the Mixology Ice story. Tell us more about the business.
There are more than 20 companies making clear ice in the US, I would say at least 80% of them also make sculptures as a complementary business or the other way around. 99% of our production is just clear ice cuts for cocktails. That has set our goals in becoming the largest in volume manufacturing facility. We want to source the entire US with our ice.
Along the road, we have come to terms with the fact that all innovation does not lead to success, yet we keep innovating fiercely. When other companies might hold and wait because low season demands caution, we double our efforts to continuously buy machinery, invent machinery, improve the logistics and create opportunity in times where common sense will otherwise be stay put. I think that is what we are mostly known for.
We are particularly proud of attending small, creative requests and pay special attention to details even though we are a volume-oriented company. We strive for quality and aesthetics and clear ice is the perfect canvas to showcase that by infusing flowers, edible sheets of gold, garnishes of all kind, stamping company logos, and finding innovative ways to expose the brands to the clients using the closest element to a client in the drink: the ice.
How do you think the industry will change over the next decade?
In the next 5-10 years, we will see clear ice building a room for its self in retail markets. We will see more and more requests coming our way from private clients and ordinary day to day customers that want to enjoy the perks of a better at-home cocktail using our ice.
As an industry, it will be an industrial revolution, a fight between the craftiness of our work vs the titans of refrigeration brands like LG or Hoshizaki or Samsung. The later will bring to market in-house solutions so the customers can have clear ice as an option to regular ice. Bottom line this speaks clearly as to the health of the industry itself: If the big boys notice the demand and are manufacturing accordingly, then clear ice is obviously going stronger into home consumption habits.
Internally we have a few surprises to offer for 2020-2021 that we are working on, a couple of patents and a logistic solution to improve the availability of our product to the masses. We expect our market share to growth nothing short of 200% in five years 500% in ten.
Pricing:
2×2″ cube – $.80 per piece
2.5″ sphere – $1.5 per piece
Infused ice – $3 per piece
1.75″ champagne pearl sphere – $0.90 per piece
Contact Info:
Address: 5065 NW 74th ave
suite 1 Miami, FL 33166
Website: www.mixologyice.com
Phone: 786451-8420
Email: carlos@mixologyice.com
Image Credit:
Seth Browranik/WorldRedEye.com
@52Chefs
@myreguera
@worldredeye
Suggest a story: VoyageMIA is built on recommendations from the community; it's how we uncover hidden gems, so if you or someone you know deserves recognition please let us know here.