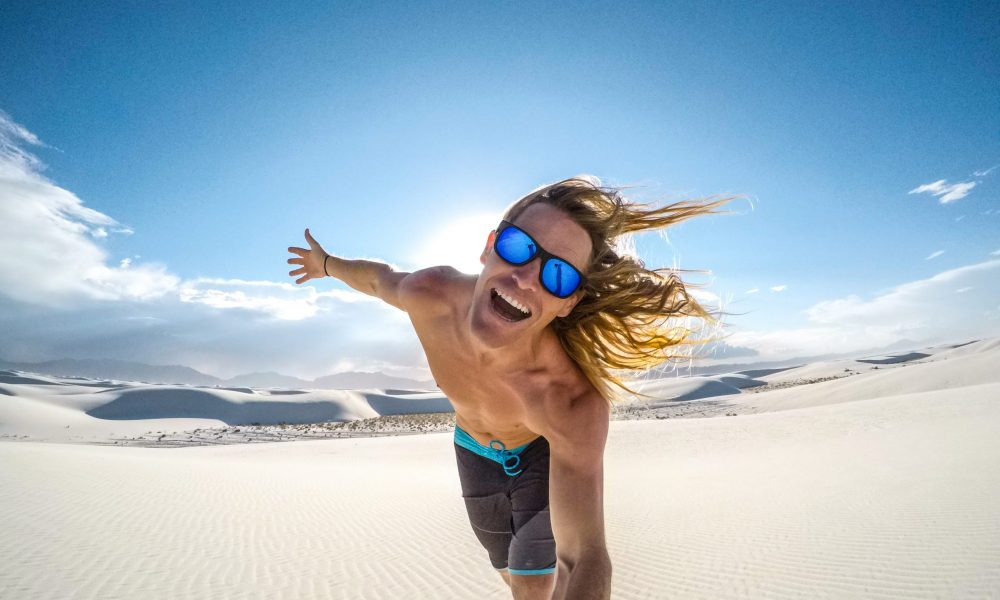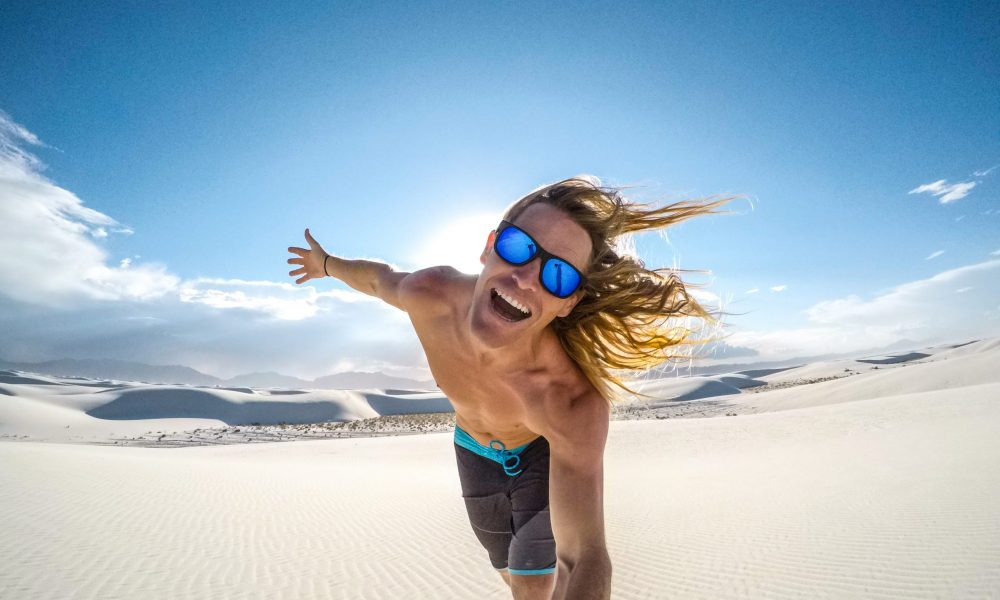 Today we'd like to introduce you to Mitch Bergsma.
Mitch, please share your story with us. How did you get to where you are today?
Well, the first thing people should know about me is I am deaf. Been that way since birth. But that has not let that define me or what I can do. I grew up in a hearing world… meaning I was always around hearing people. Everyone, including my family, that was around me for most of my life has been hearing. So, communication with people who cannot sign is pretty easy for me. I also had speech therapy and wore a hearing aid while in school so this taught me how to speak. I can hear a bit in my left ear so with a hearing aid and speech lessons I learned how to talk. It's not perfect, but if you are around me a lot, you get to know how I talk very well and don't really need a sign to understand me or interact with me.
I grew up in Lynden Washington, and I was ready to get out of the PNW as soon as I could. I learned how to wakeboard here, and loved it, and I wanted to live somewhere where the weather was better for the sport. I hated the cold and rainy weather in Washington. My best friends family moved back to Colorado after high school graduation and told me that I'm welcome to come and live with them. Originally, I really wanted to move to California, but was hesitant to move there and start a new life without knowing anyone there… so I took up their offer and moved to CO. It was one of best things I did!
Lived in Colorado for almost all of 2003, was so awesome, made a lot of new friends and got into wakeboarding more seriously and started competing. I won my first two advanced and expert level competitions while here. Fall came, and I wanted to run away from the cold again. Friends kept telling me to move to Florida to chase my wakeboarding dream and get to the next level so I moved to Orlando in October of 2003.
I signed up for a six-month membership at Orlando water sports center cable park and ended up riding there about five times a week and improved my riding skills big time! At the end of April 2004, my membership expired and I decided to come back to Colorado to visit over the summer and wakeboard behind boats again since I had no friends with boats in Florida yet.
In June, there was a group of people from a church in Austin, Texas that contacted some friends I knew in Colorado looking for a Christian wakeboarder to share about life with God and teach kids how to wakeboard. So, I took them up on the offer and stayed in Austin in June 2004 for a week teaching wakeboarding and fell in love with Austin and made a bunch of great friends.
Over the rest of the summer, I traveled around the US wakeboarding and visiting friends and family. Then, in August 2004, I decided to visit Austin for two weeks and while I was there, several hurricanes hit Florida. My trip was extended because I couldn't get back to Florida. I had sold my car in CO and was on a 250cc scooter at this time. So, it was harder to get back to FL with all the hurricanes and damage. But I loved it in TX, so I didn't mind staying with friends. And eventually, just decided to stay and start a new life in Austin. The wakeboarding community was so big here and was a big reason that influenced my decision to stay.
While in Austin, I was competing professionally in wakeboarding now. In 2006, I won my first pro contest and competed in pro contests in regional areas. Also, in 2006, is when I signed up for a YouTube account. I had always had an interest in filming and videography. I had a video camera in hand since I was young, filming everything in my life. I started out taking my mom's old camera and taking pictures when I was really young. My parents gave me a video recorder for my graduation present from high school. I never stopped filming from then on. But filming was just a hobby me for a long time.
I wasn't really consistently active on YouTube until 2009 when a friend asked me about some tips about working on a scooter. Scooters are another passion of mine. I have been riding and restoring scooters since I was 17 years old.
So, anyways, I got an idea to make a 'how to' instructional video for my friend and I posted it on YouTube to be able to share. I found it fun and enjoyable for me to do these kinds of videos and posted more. These videos were how-to videos on various kinds of maintenance or fixing problems on different scooters I owned. People started to take notice on YouTube, and I started getting subscribers and fans asking for more videos.
One year later, I heard you could make money from YouTube videos, so got it set up and this motivated me to post more! I remember getting my first paycheck from YouTube, a whopping $15! But I was so stoked at the time!
In 2010, I got my first GoPro ever and was addicted to it! Loved that it was waterproof and the quality was awesome. This was my go-to camera now and all the videos I posted were from my GoPro camera. But I wasn't only posting scooters videos. I was posting videos of everything I wanted to film in my life. Wake boarding friends, animals, and just life.
With the variety of videos I was posting, came different subscribers/fans. And one of them suggested that I should make GoPro tutorial videos like I was doing with my scooter 'how to' videos. So, I thought why not try it out… and this is where my 'GoPro Tips' started. In 2011, my first ever video like this was 'How to change backdoors – GoPro tip #1' This is also when I stopped competing professionally in wakeboarding and turned a focus to video, and making money on YouTube.
From there, my channel was growing fast, and I also got GoPro's attention a year later in 2012. They shared one of my Tip videos: 'GoPro Hero3/Hero 2 comparison' on their Facebook page! And my channel exploded from then with a lot of new subscribers. This also started my relationship with GoPro in what would eventually lead to me becoming a GoPro Family Member (ambassador) and working closely with the company in various ways.
In 2013, I started a website that sold GoPro accessories and mounts, that coincided with my videos from YouTube. Was successful for a couple of years, but decided to focus solely on video as this was too time consuming. This is also when I separated my scooter tutorial videos and started another YouTube channel: Mitch's Scooter Stuff.
By this time, my main channel 'MicBergsma' had evolved with not only GoPro tips but other videos. Companies were also taking notice and contacting me about their products to review on YouTube. I was also posting more and more videos of my travels and adventures. Around this time in 2013, I also started working alongside two other photographers for luxury hotel marketing content. We traveled extensively doing video and photos all over the world. With this job I got to travel to Peru, many places in Mexico, Columbia, Costa Rica, and more! It was such an amazing experience visiting these places and at the same time advancing my skills with videography/photography.
And of course, in my spare time, I was filming, so it provided a lot of travel content for my channel.
In the summer of 2013 is when I met my now wife Lori in Austin. I proposed ( underwater while scuba diving! yes there's a video on YouTube!) on a trip to Jamaica in 2015, and we married on Maui 2016. Lori influenced a huge turning point with my career. She started out helping me with various things such as filming, music selection, helping with communications with businesses, and more. Eventually, this led her and working with me full time with me in 2015. She has really helped to change the direction I was going and elevated me into the next level of success and to make more money from different avenues than just YouTube. Lori is currently the Director of Operations for our business – MicBergsma LLC. She handles all the behind the scenes aspects of the business, brand direction, and is also involved in the video production process as well. Together we are a full-time production company – 'Team MicBergsma.' Not only are we doing YouTube videos, but available for hire as well. Together we have traveled extensively for client productions, such as a trip to Seoul South Korea to work with the city's government on making a tourism video filmed solely on GoPro cameras! We have also secured a big brand name paid sponsorship with BodyGlove for their inflatable paddle boards and footwear division. We are proud to be going on our third year now working with them. Most recently I was involved in filming and appeared in GoPro's Hero7 launch video, also a winner in their 'GoPro Million Dollar Challenge' contest that just happened a couple of months ago! Lori and I also were actors in a Google Pixel commercial film commercial airing worldwide that released this past summer! It's been a crazy and exciting past year!
As of right now, my YouTube is at a little over 449k and growing every day. I'm currently at 638 GoPro tips posted and don't see an end in sight! We have also started including more vlogs and series about our life and also of our VW Bus restoration project. Yep, we bought a 1967 split window Volkswagen Bus back in 2016! We are always continuing to add more variety of content on the channel.
We recently decided to leave Texas and move to Maui, Hawaii in October 2018 in pursuit of island life. We fell in love with Maui and all the water adventures we could get into after visiting a couple of times. The success of my YouTube channel and career provided the flexibility in us being able to work wherever, so we made the leap! Who knows where this next adventure in life will lead, but we are looking forward to it!
Great, so let's dig a little deeper into the story – has it been an easy path overall and if not, what were the challenges you've had to overcome?
It's never a smooth road when dealing in the social media world. You are up against so many factors including frustrating algorithms that destroy originality. Yes, we have definitely learned our lessons along the way. We don't really have a guide book for this sort of career path! So honestly, we fee, we are kind of winging it sometimes and a lot of trial and error. But always giving 100 % in our work, and that's what has led us to great things.
MicBergsma – what should we know? What do you do best? What sets you apart from the competition?
First and foremost, I am a YouTuber. I love to make videos! I specialize in video tutorials and am mostly known for my 'GoPro Tip' videos that have helped many know how to and elevate the use of their GoPro camera. But I also make videos and create content for various projects for many different clients around the world.
I guess I am most proud that I have been able to make my passion of filming into a full-time career for myself and for my wife. And to create an exciting life that we both love. And that my brand and business is a genuine reflection of who I am and my many different passions.
I feel what sets me apart is that even though I cannot hear, I am able to the same things, even better, than those that can! I have been able to achieve anything I have ever wanted to do from being a professional athlete to owning my own successful business, even though I am deaf. This, and that my passion shows that I love what I do, is inspiring to a lot of people. Never believe you can't get the dream that you want!
Tell us about your childhood, what were you like growing up?
I grew up on a dairy farm in Washington. So my childhood was a lot of activities focusing on taking care of the farm and animals. It was a great time, and have many good memories from life on the farm. School wasn't my favorite thing, but I did get involved in the yearbook photography class for three years in high school. My interests growing up were playing hockey, of course photography/filming, and driving and restoring scooters.
Contact Info:
Image Credit:
Rob McGee, JB O'Neil, Tim Caires, Lori Bergsma
Getting in touch: VoyageMIA is built on recommendations from the community; it's how we uncover hidden gems, so if you know someone who deserves recognition please let us know here.