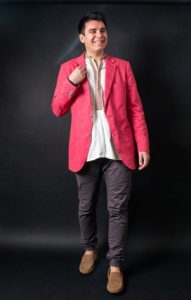 Today we'd like to introduce you to Mikhail Guseynov.
Mikhail, please share your story with us. How did you get to where you are today?
Back in Russia, Larisa Z. (my mom) has earned degrees in nursing & natural cosmetology and continued to receive experiences within the beauty care field for the past two decades. When I reunited with mom in the Fall of 2017, the concept for MILÁMU was originated. In the beginning, Larisa, holding experiences in natural remedies, aromatherapy and the use of essential oils, created one natural oil blend to help moisturize her skin and prevent wrinkles from appearing on her face.
When pitching the idea and the oil blend to me, both of us agreed having one product would not be enough to build a "complete" e-commerce store. Shortly after, Larisa created prototypes of 3 unique oil blends, which were met with positive remarks from friends and family.
Upon further development of the business model, we chose to also offer lines of accessories, which would complement the oil blends. Our team has designed handcrafted unisex bracelets and necklaces, which mostly appeal to the female audience. In addition to the business model, both of us always wanted to find a way to give back to the community. The truth is – we would not be able to get to where we are today without the help and support of our friends, family, and volunteers, who offered their time and resources in support of our vision. We could not agree on one philanthropic cause and decided to approach the situation in a novel way through partnering with various organizations for a limited time to meet a specific goal through the partnership and bring awareness to that cause.
In early 2018, I completed MILÁMU's business plan and applied for a local startup competition, called FAU BUSINESS PLAN COMPETITION, where our team came out as the "PEOPLE'S CHOICE" winners. We were grateful to walk away with a financial reward and meet multiple business mentors at that event who helped us to guide the company to where it is today.
Since late Spring to December 2018, our team has put most of our time toward finalizing all the details, one does not pay too much attention to when thinking of an idea for a business. We have moved through multiple packaging manufacturers, legal counselors, marketers, philanthropic organizations and e-commerce platforms to be prepared to give back the value that we have promised to our consumers.
MILÁMU has officially launched in mid-January 2019 and began its partnership with ONETREEPLANTED, a non-profit organization focused on global reforestation, to plant a minimum of 25,000 trees before July 31, 2019.
Overall, has it been relatively smooth? If not, what were some of the struggles along the way?
For the most part, it has been a smooth road, except for a few things, like the budget we thought we needed, the time it would take us to launch and the REALISTIC return on investment we would receive.
Originally, we believed it would take us less than $5,000 to start the business. At this time, looking at our bills, the original investment amount has almost tripled before we even launched. This being our first venture, there were times when we overpaid for services and times when we underpaid and received low-quality inventory, which we had to replace by overpaying for the high-quality materials.
As you can tell, the idea appeared in Fall 2017 and we were ready to implement it only a year and a half later. So many little things have appeared that were essential for us running a good and successful business that most of the time we spend developing the business involved anything but the simple idea of crafting the products and selling them. Some of these little things include the incorporation of the business, preparing financial projections, building/managing the website & social media platforms, and getting used to the idea that it would take months of constant work to have complete products on our hands that are packaged, ready to be shipped and will meet our customers' expectations.
In the beginning, for some reason, we were convinced that we would be able to earn money we have invested in the business in a matter of weeks. We did not take in consideration that we would need to spend money on marketing for people to actually learn about our brand, which could potentially turn into sales. While spending more and more time and money on developing the business, I spoke with quite a few of local entrepreneurs in the area, most of whom told me that their businesses did not even break even during the first year of operations. Getting adjusted to the new reality was a big breakthrough for our team and helped us to be more realistic about our expectations.
Despite the fact that we have spent more money and time that we anticipated and realized that running a business is more challenging than what it seems to be at a first glance, we chosen to stick with it. Quite honestly, we enjoy what we do and have found a way to bring value to people by offering high-quality products and directly making the difference toward the well-being of the community.
Please tell us about yourself.
I have always been passionate about communication and public speaking. In many situations, while talking to someone, I would catch myself feeling a variety of emotions (sometimes more than one at a time), whether it was sadness, anger, curiosity or nervousness. Early in my college career, I began to wonder why when I am talking to someone in a particular situation, I would feel a certain way. That was about the time when I took my first public speaking class, which gave me answers. I have learned that many of us fear public speaking more than death. On the other hand, leaders who utilize their public speaking skills have the power to inspire and motivate.
I have extensively studied and practiced public speaking in the past four years by taking multiple courses and joining TOASTMASTERS INTERNATIONAL, a non-profit organization which promotes communication/public speaking. Taking the first step in learning what it takes to become a better communicator has inspired me to become a public speaker. I launched a YouTube channel, where I talk to the Russian audience about what they should expect when moving to the United States. As of today, the channel has over 2,500 subscribers.
Later, I have chosen to take it a step further and began practicing live public speaking. As a result, I was named by Toastmasters International as the 2016 SOUTH FLORIDA TOP 5 PUBLIC SPEAKER.
Through my MBA studies, I participated in multiple local events which require public speaking. Some of these events are FAU BUSINESS PLAN COMPETITION, FAU THREE MINUTE THESIS and iLEAD LEADERSHIP CONFERENCE.
Having gathered experience in communications and public speaking has dramatically helped me to run the business and be fearless toward speaking to people who in one way or another may be related to MILÁMU's success.
In the past year, I was deciding where I would like to see myself in life and applied for a Master's Degree concentrating in Communications. I believe continuing to learn about this science will not only make me a better communicator but help me to make a difference in the lives of many. Throughout the Master's program, I will not only be learning about communications but get a chance to teach public speaking and inspire students to accept and enjoy speaking in front of the audience on their daily basis.
Below you may find the links to my speeches and materials showing the passion I hold for public speaking.
1) "LET GEORGE DO IT"
2) "PLEASE HIRE ME"
3) "FAU 2016 3MT CHAMPIONSHIP"
4) "MOM AND I RANDOMLY MET THE MOTIVATIONAL SPEAKER, SIMON SINEK, AND THIS IS THE LESSON WE LEARNED"
https://medium.com/@mikhailguseynov/mom-and-i-randomly-met-motivational-speaker-simon-sinek-and-this-is-the-lesson-i-learned-8178bf99fc44
How would you describe the type of kid you were growing up?
I have always been somewhat of a quiet kid. Literally, I said my first word when I was four years old. Before that, my parents thought there is something wrong with me. But I quickly compensated for it.
Starting in middle school, I fell in love with telling jokes and socializing, basically, I had to be the center of attention. I was the first one who would say "Hello" to a new classmate or try something reckless, like climbing a tree that my friends and I just discovered.
At the age of 15, my parents sent me to Germany for one year to explore the country through a cultural program. Oh, boy! I was one big troublemaker. Throughout that one year, I had to go through 4 different host families! FOUR HOST FAMILIES. This almost never happens through any foreign exchange program. I was so "bad," that cultural program stopped accepting applications from any student from Russia in the years to come. This decision wasn't based solely on my case (Apparently, there were other troublemakers from Russia), but I was told that I played a huge role in it. And by "bad" I mean being absolutely blunt and speaking up when I am not O.K. with something. For example, one host family would only allow me 1 hour of internet per week and the other one told me on the first day of moving in that I am responsible for my own meals. Being the only and spoiled child in my family, I was not ready for this plot twist. Absolutely Barbarian!
I don't want you to think that I was an angel and only spoke up when these "abnormal" situations occurred. I also made huge scenes, which have left one of my host moms crying, when she told me I needed to do my own laundry and I refused. To this day, I am regretting I gave so much hard time to my host families over the little things, but not for allowing me only 1 hour of internet per week! I still think this was brutal!
The following year, I moved to the United States, where, over a span of a few years, I completed my high school, Associate's, Bachelor's and Master's degrees. From the first day, when I stepped on the United States soil, I continue to believe that AMERICA IS THE LAND OF OPPORTUNITIES and with hard work, passion & integrity anyone can nourish and earn success. Over these years, I remained blunt and charismatic and speak up when something feels "fishy" or I am uncertain about something (Don't worry, I learned how to do my laundry). Maintaining this type of behavior quite frankly created a list of people who are displeased with and critique my lifestyle, but also helped me to meet people who value honesty and encourage me to keep it going. I enjoy where I am at in life.
Based on my childhood and teen years, you may be able to tell that I strongly believe the #1 rule of any business is to be as honest and straightforward with your customers as possible and, in return, you will receive all the love and loyalty you could ever dream of. I have made sure that my company, MILÁMU, cherishes these values and am excited how much love we keep receiving from the community.
Despite the fact that I have made mistakes and acted irrationally during my teen years, I stayed true to and polished some of the most important values, which I hold close to my heart to this day. Those years were the ones to remember and I am confident those who were a part of my life back then will never forget me! 🙂
Pricing:
Each Natural Oil Blend – $60.95
Bracelets – from $30.95 to $50.95
Necklaces – from $70.95 to $85.95
Each Set (One oil blend + one bracelet) – $75.95
Special 25% off discount code. Use Promo code: VOYAGE25
Contact Info:
Getting in touch: VoyageMIA is built on recommendations from the community; it's how we uncover hidden gems, so if you know someone who deserves recognition please let us know here.