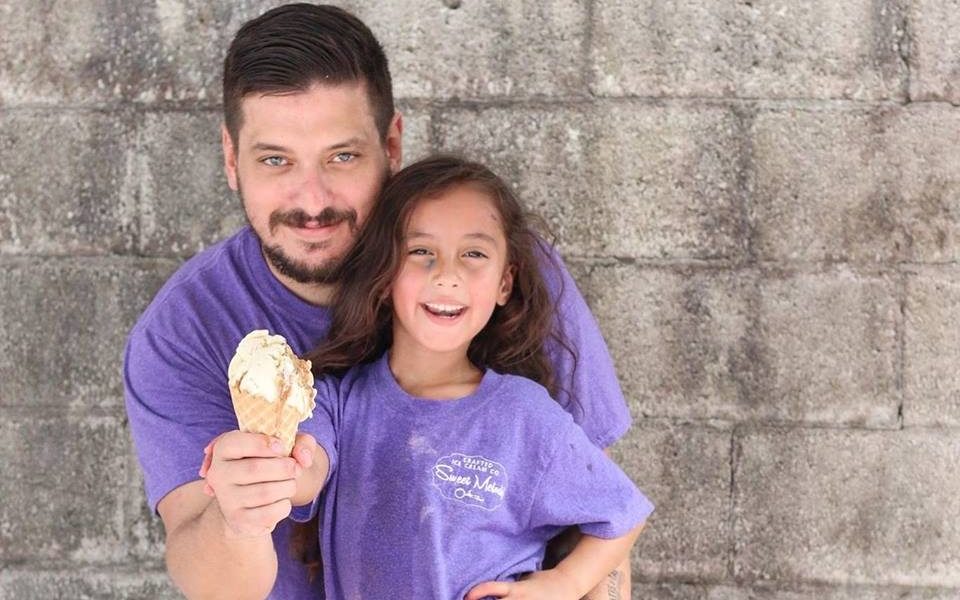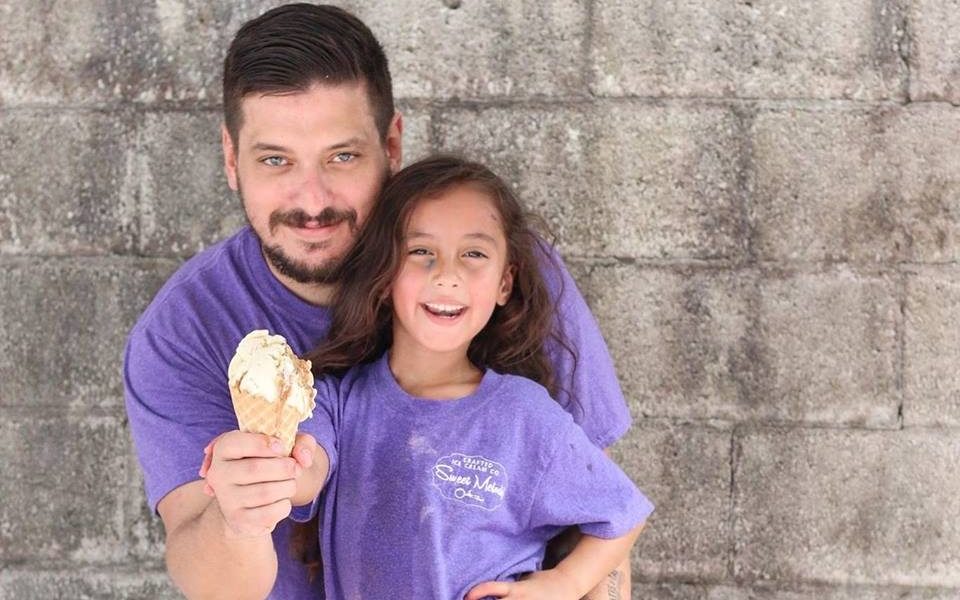 Today we'd like to introduce you to Mike Romeu.
Mike, let's start with your story. We'd love to hear how you got started and how the journey has been so far.
I started making ice cream with my girlfriend, Elena in 2008. We wanted to have a company that made Cuban ice cream (what Azúcar does now). The first flavor we came up with was the guava cream cheese, which reminded both of us of crackers with guava and cream cheese, a snack our grandmothers would make for us. It's literally the first ever ice cream I ever experimented with. She became ill and passed away in July 2009 and with her went the ice cream dream.
We used to play Scrabble all the time so we were going to name our company "Bo & Jo's", which are two letter Scrabble words that mean sweetheart. When I started my company two years ago, one of the first flavors I made as a tribute to her was "Bo & Jo's Guava Cream Cheese". It's very special to me and it happens to be my number one seller! I think she would be so proud.
The time is late January 2016. I'm a single dad to a 3-year old daughter, Melody Jade and working in the catering business. I started dabbling in making ice cream again and within a couple of weeks, almost as if by some magical force, I was obsessed with making ice cream. With determination, I dug my heels into becoming the best I could possibly be at my craft. I decided to only use the best ingredients at my disposal and put all my love into it. I would name the company after the great love of my life, my beautiful little girl. And, that was the birth of Sweet Melody Crafted Ice Cream Co.!
Within 2 months of the company's founding, our product caught the attention of Misha Kuryla, the founder and president of the incredibly successful Misha's Cupcakes, who decided to sell our product at her flagship store. Also within those first 2 months of forming our company, we already had our product in 2 high profile restaurants in Coral Gables.
Direct sales and catering soon followed. Word spread and since our inception, we have maintained a 5 star rating on Yelp. We pop up throughout the city and cater events of all sizes. Currently, you can find our ice cream at both Ghee locations (Dadeland & Midtown) and we have a permanent weekend popup at The Wharf on the Miami River, which is an amazing spot! We hope to open a storefront in the near future.
Melody will be 6 next month and she loves helping daddy with the business and spending time together! That is truly the greatest reward!
We're always bombarded by how great it is to pursue your passion, etc. – but we've spoken with enough people to know that it's not always easy. Overall, would you say things have been easy for you?
It has been anything but a smooth road. Being a single dad and owning a business hasn't been easy, to put it mildly. Not a week has gone by where I haven't wanted to give up at least 5 times, honestly.
I started this business in debt and with no real equipment. I was using a $50 ice cream maker from Brandsmart and cheap pots and pans. I hoped to do it on the side while I continued in catering but I lost that job because I started this business. With no income, a daughter and a mortgage, I had to act fast. Besides working the business full time, I took on any odd job I could to make money. I decided I wanted to be an example for my daughter that you should always follow your dreams and attempt to live life on your terms. She has seen me struggle so much and I hope more than anything she has noticed my resiliency. If I could teach her that dreams are worth fighting for and to get up no matter how many times life knocks you down, then that would be my greatest success!
I first packed an igloo with dry ice and some ice cream samples in the back of my car and drove around to any restaurant or friend who would be willing to try it. It was exhausting and I've never had any help other than my mom who helps me once a week in the kitchen, and my dad would do some deliveries for me until he got sick. Other than when she helps me, I've washed every dish, made every delivery, sent every email, taken every meeting, thrown out all the trash, wrote and attached all labels, done all the marketing and absolutely everything else that it takes to run the business. In just over 2 years since inception, every single bite of Sweet Melody Ice Cream that anyone has ever had, has been made by my 2 hands. I also make all the components that go inside the ice cream from scratch. It's truly a labor of love. Something bigger than me, I think.
I've loaded and unloaded so much equipment and stood in the hot sun for so many hours, sometimes without making a penny at first. I've felt deflated and defeated. Along the way, I've had to deal with being flat broke and robbing Peter to pay Paul half the time just to get bills paid. I've been behind on everything, had my house foreclosed, dealt with medical issues, depression, rejection, practically no sleep, shady business dealings, money stolen from me, my car wrecked, a failed long term relationship… and worst of all, my father being diagnosed with cancer (he's doing well now and starts radiation next week). Honestly, if it wasn't for my daughter, I don't know what I would've done. She's the brightest light in the darkest times. And she looks at me in a way no one else does.
Slowly but surely though, things continue to improve. Perseverance is key, as well as an absolute and unwavering belief in what you're doing. As bad as a lot of this sounds, I'm thankful for most of it. I can't count how many times in my life I've experienced "blessings in disguise". This struggle needed to happen. I needed it for growth and to remember how lucky I truly am. I don' think this business would be where it is without it. Failures build character and experience. I've learned to tune out the noise and trust my heart. I'm lucky in so many ways.
So let's switch gears a bit and go into the Sweet Melody Crafted Ice Cream story. Tell us more about the business.
We make artisan, small batch ice cream from scratch. Where 90% of ice cream shops buy their ice cream from a supplier, we start with fresh milk & cream, organic cane sugar and build from the ground up. We craft every flavor with love and passion. I truly think it shows.
People say our flavors are very inventive and they also comment a lot on the texture of our product. I've made bacon ice cream, brie, gorgonzola, cheddar, ham you name it! We try to really push the envelope!
I would say what I'm most proud of is that we make an honest product that's free of pretension. I'm also proud of the fact that we've always been a company with integrity that truly cares about building relationships with the community and the people who consume our product.
When I say, "we" I mean me since I do everything! "We" sounds better though, and I don't like too much attention!
Has luck played a meaningful role in your life and business?
I'm not sure I believe it's luck… but rather serendipity. I think you make your luck through hard work and perseverance!
I also think I touched on this earlier.
Pricing:
Pints are $10 each, and can be delivered to certain areas for a minimum sale price.
Contact Info:
Address: Thu – Sun find us at The Wharf114 SW North River Drive
Miami, FL 33130
Website: www.sweetmelodyicecream.com
Phone: 786-376-2814
Email: info@sweetmelodyicecream.com
Getting in touch: VoyageMIA is built on recommendations from the community; it's how we uncover hidden gems, so if you know someone who deserves recognition please let us know here.