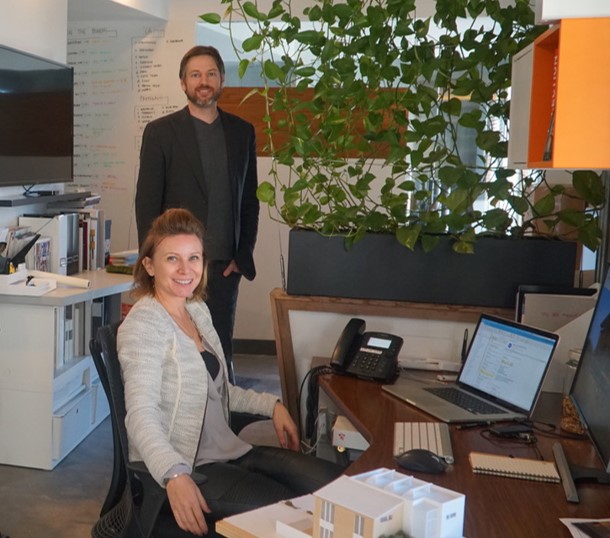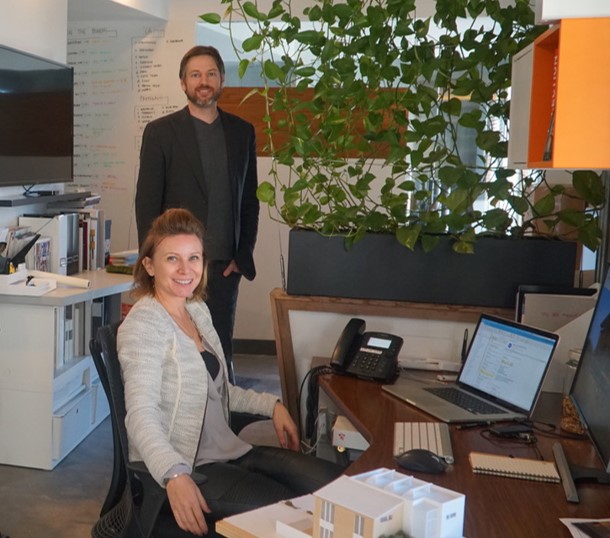 Today we'd like to introduce you to Michaela Reiterer and Brandt Henning.
The story of Hlevel Architecture, in a way, is a love story. It's the story about two individuals that come from completely different backgrounds, but share a love for architecture, design and each other.
Michaela Henning was born in Merano, Italy, where she grew up surrounded by the Italian Alps and influenced by a mixture of Italian, Austrian and Swiss design. She completed her architectural studies in Venice/Italy and Graz/Austria and completed a yearlong exchange program at the University of the Arts in Berlin. After various work experiences in architecture firms in Italy and Austria in 2004 she had set her eyes to the United States with the idea to gather some additional work experience. She came to visit her parents, who had moved to Southwest Florida several years before to operate a small Italian Restaurant.
Michaela originally had planned on moving to a large exciting city like New York, but quickly learned to enjoy the friendlier and warmer Florida lifestyle and the opportunities the region provided. She started working in renowned design firms in the area, helping them win Design Awards. She also did not have plans to overstay her U.S. experience, but that's when Brandt came into her life. As corny as it sounds, they met at a lecture organized by the local AIA chapter, where Brandt volunteered selling tickets and captured her heart almost instantly.
Brandt Henning grew up in a small town in Indiana knowing he wanted to follow in his grandfather's footsteps, who owned an architectural firm for over 30 years. He received his architectural degree in 2003 from Ball State University in Muncie, Indiana. Growing up in a family of architects, artists, and inventors – design is in his blood. The aspiring architect attended Ball State University in Indiana. Hoping to break out of the midwest after graduation, Brandt researched opportunities in fast-growing areas and was drawn to the sunny climate of Naples. He was hired on to a local firm in 2003.
Michaela and Brandt married in 2008, but shortly after, due to the 2008 economic recession, the company where Michaela worked had to drastically downsize. She ended up losing her job while being pregnant with their first child. She used this setback as an opportunity to finally do what she really wanted: start her own business: Hlevel was born. Although launching a business during the downturn seemed like a bad idea, it proved to be ideal timing. Everybody was struggling with money, and there was not much work out there, but she was able to provide low-cost design services for smaller projects. She also worked on small remodels that other companies were not able to take on or offer due to their expenses and overheads.
In 2013, the business was getting to the point that she needed additional manpower. Also, in the meantime baby number two was born. Brandt, the more cautious of the two finally was persuaded and joined Hlevel. He had been able to hold on to his job throughout the recession, but even though he had managed to reach the Vice-President position, there was no real room to grow for him. Once he was part of  the Hlevel company, business thrived even more.
They decided to focus on unique and modern projects with emphasis on sustainability and the projects natural context. The small firm gave the Brandt and Michaela the freedom to bring the new angle that they saw a demand for to the Naples landscape. The firm has picked up a number of accolades for their innovative work. Hlevel's first big project, a renovation to a 1960's era home in downtown Naples, earned a number of awards from the American Institute of Architects. Years later, the same client would request the firm build a new home that would earn another award, LEED Silver Certification. LEED is a national ranking system that calculates how eco-friendly a building is. The Hlevel designed structure is one of only two homes in Southwest Florida to earn the designation. In addition to increasing business in the Naples area, the firm has also started to pursue opportunities beyond Southwest Florida, with designs in Los Angeles, Chicago, North Carolina, and Europe.
Since the start of Hlevel, the firm has won over 14 design awards from the local AIA chapter as well as AIA Florida and also won local recognition and design competitions. Rather than growing in size, the firm prefers to keep the team small but to collaborate within a pool of consultants they have good relationships with. The firm also operates out of a diverse, shared workspace office of their own design which the owners feel allows them to keep a fresh perspective. The collaborative workspace attracts people from around the world with different work backgrounds which is part of their philosophy to remain open and curious.
As far as working as a husband and wife team, people often are curious on how that can work out? Although both spent a significant time together between family and office life, each has their own projects and assigned responsibilities and they don't micromanage each other. Michaela would also argue that the key to a good work relationship is probably the same as to a successful marriage. It's a partnership, where respect for each other is important, as well as understanding and trust; and its best to overlook each other's flaws with humor and try to take life not to serious.
Great, so let's dig a little deeper into the story – has it been an easy path overall and if not, what were the challenges you've had to overcome?
No, the road was of course not always smooth. The biggest struggle was to build up the company while also having a growing family at home during a time when the economy was very unstable. We were new parents with little kids and no support group or family around. We would work non-stop, often deep into the night, while trying to balance family life. The pressure to perform and the stress became too much at times.
Architecture is a high-pressure environment. With many fingers pointing at you when something goes wrong. We decided at one point that our health was more important and we forced ourselves to slow down. We learned to say NO to clients or projects that we felt were not in line with our beliefs and decided to take on work what brought us joy. That was a crucial change. Things went much better after that.
Alright – so let's talk business. Tell us about Hlevel Architecture – what should we know?
Although the H in Hlevel stands for our last name, it also summarizes what we stand for:
H(OLISTIC) LEVEL
Like the word LEVEL that can be read front and back depending on how you look at the word, so is our attitude to architecture. It is not one-directional or linear. Our approach to architecture is holistic. We do not distinguish between architecture, landscape design, interior design and sustainability when we work on a project. The different design levels intersect and become one and will be looked at as a whole.
H(uman) Level
We approach each project with an individualized design methodology that requires the firm to listen – not only to our clients but also to the voices of the elements around a particular site creating in every project both a reflection and an extension of its environment.
H(IGH) LEVEL
HLevel strives to be a leader in high-performance architecture in the Naples, Florida as well as nationally and internationally. The company philosophy is simple as we want to create high level, beautiful, unique architecture that is integrated in its environment in a harmonious way.
I think what sets us apart from others are these attributes. Our clients feel like we truly listen and guide them along the entire process.
Is there a characteristic or quality that you feel is essential to success?
AWARD WINNING DESIGN
Winners of 17 AlA (AMERICAN INSTITUTE OF ARCHITECTS) design and individual awards, as well as numerous other awards and publications including Gulfshore Business Magazine's 40 under 40 and a recent feature in the Summer issue of Florida/Caribbean Architect Magazine.
EXPERIENCE
Our (2) principals have lived in SW Florida for more than 15 years each and have worked on a variety of project types from multi-million dollar mixed-use developments to modest residential renovations.
UNIQUE
We have the desire to do something one-of-a-kind while having value as a key consideration. We don't reuse previously designed projects/details to maximize profit. Each project has a unique set of circumstances that dictates the design, including, but certainly not limited to: the client, site, and budget.
LOW OVERHEAD/COMPETITIVE FEES
Our firm is comprised of a husband/wife team, (2) architectural designers and three project-based design consultants. We are located in a collaborative shared office space, so we can handle larger projects with very minimal overhead.
LOCAL KNOWLEDGE/RELATIONSHIPS
We understand the permitting processes and only use quality consultants & engineers with whom we have developed successful long term relationships.
WORLDLY INSPIRATION
Staff is multilingual (German, Italian, Vietnamese, Spanish) and has traveled the world, which has helped shape design ideals. We have working relationships with international firms and clients. With projects in Italy, Chicago, Los Angeles, Czech Republic, Panama, North Carolina, Indiana and of course Florida – we primarily work local; but think global!
FINGER ON THE PULSE OF DESIGN TRENDS
We are up to date on how the current and future market likes to live, work, and play open/ flexible spaces geared towards entertaining, indoor/ outdoor living, comfort, sustainability, energy efficiency and a unique design that represents the Client's personality.
DEDICATED LISTENERS
We strive to be able to listen and extract what the Client wants and quickly translate that into a cost-effective and aesthetically pleasing design. We are dedicated to bring the best possible design within set parameters, providing unparalleled value.
Contact Info:
Getting in touch: VoyageMIA is built on recommendations from the community; it's how we uncover hidden gems, so if you know someone who deserves recognition please let us know here.