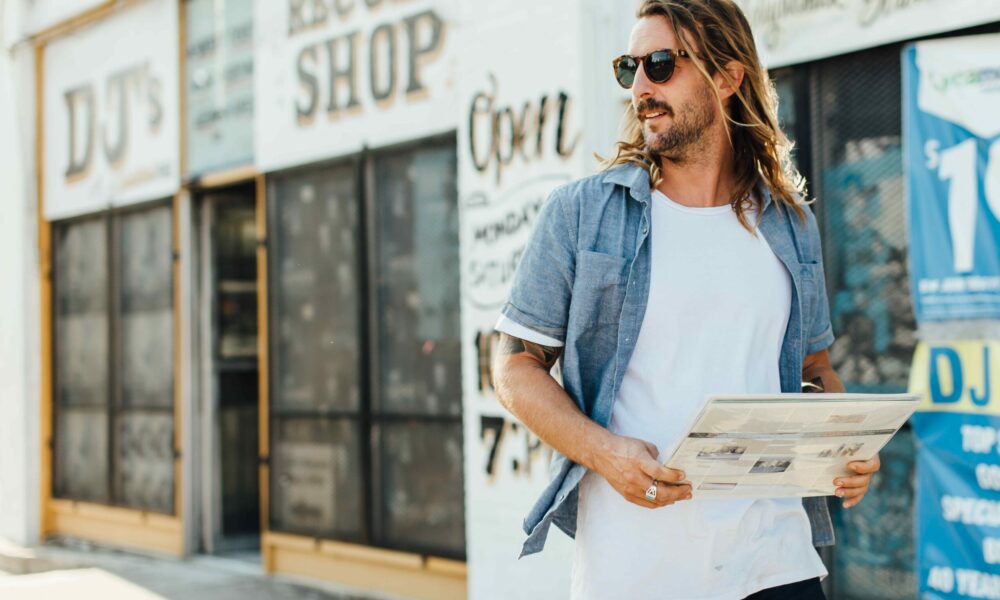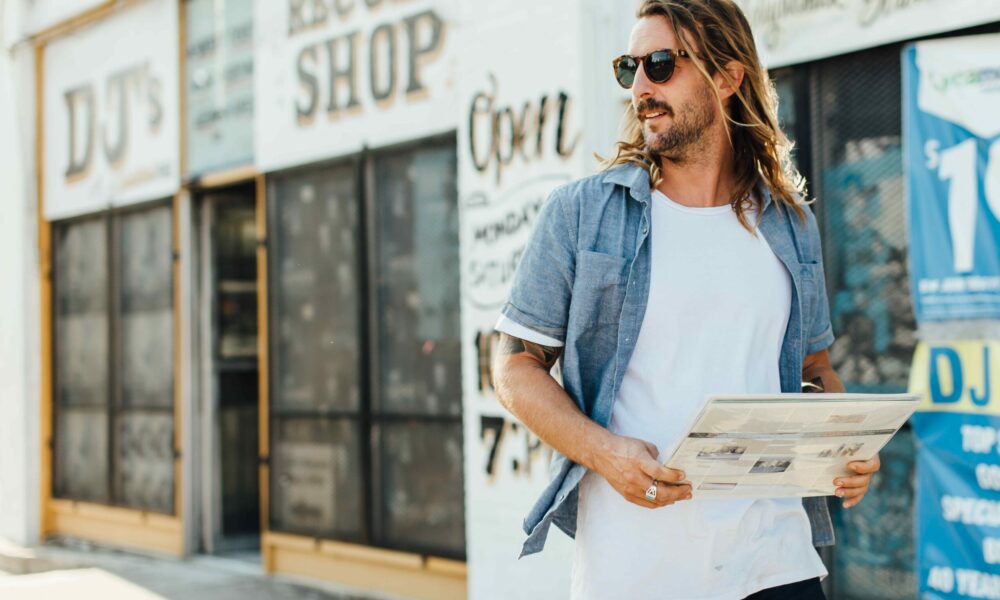 Today, we'd like to introduce you to Matt Shaw. Matt was introduced to us by the one and only L.O.V.E Culture.
Hi Matt, we're so thrilled to have you sharing your story with us today. Maybe we can kick things off by having you introduce yourself to our readers? We'd love to have you go into your story and how you got to where you are today.
I'd describe myself as a late bloomer. Growing up, I never met a writer, journalist or an editor. I didn't know any working artists. I might have met folks who played music, but certainly no musicians. I went to college. Got a degree (in economics). I always had teachers, and later professors, who said I should be a writer. But I had absolutely no clue what that meant. I graduated college in 2008, in the midst of the Great Recession. There were no jobs. Things were bleak. I ducked back into academia. Got a Masters in education and history. Again, I had mentors who encouraged me to pursue writing and/or even higher education. It wasn't until I moved to San Francisco in late 2009, that I actually got a vision for how to live a creative life. I met poets, visual artists, creative directors––one of my new friends was even writing a rock opera; I played in bands and began pitching stories, writing for blogs, etc. In 2015, my partner, Samantha, took a job back in Jacksonville. I was offered a fellowship at the University of Florida to earn a Doctorate. At some point I decided I'd rather just take a swing at writing full time. My hope was that I could make enough to pay my share of rent and have enough time to play music, make art and participate in creative projects that felt were meaningful. Samantha was very supportive as we scraped by for many years but I've never once felt like I made an ill-advised choice. As I've narrowed the focus of my writing largely on Jacksonville's arts and culture scene been, I've been lucky to have the support of VOID Magazine and WJCT Public Media.
Please talk to us about your creative work and career. What should we know?
I'm currently the Arts & Culture Editor at WJCT Public Media, as well as the Editor-in-Chief at VOID Magazine, a monthly magazine based in Jacksonville, Fla. I've been writing and editing for more than a decade now. My writing has been all over the place; muckraking journalism for alternative news-weeklies, stringer assignments for the New York Times to travel pieces for surf publications, including SURFER Magazine (where I was a staff writer) and The Surfer's Journal, and profiles very a random assortment of publications. I also play music, and am a member of a band called Kairos Creature Club. Links jaxmusic.org voidlive.com instagram.com/shantsi twitter.com/Shantsi2 instagram.com/kairoscreatureclub
So, as we mentioned to our audience earlier, you were introduced to us by L.O.V.E Culture and we really admire them and what they've built. For folks who might not be as familiar, can you tell them a bit about your experience with L.O.V.E.
I first heard L.O.V.E Culture via an email they sent to me; I think it was a SoundCloud link to one (or a few) of the tracks from Vol. 1. I thought the production was unique––they were leaning heavily into these warbly electronics at the time. But I remember the vocals sticking out to me. There's this thing with group-singers called 'blood harmonies' that is typically used to describe an otherwise indefinable quality to vocals of groups like The Stanley Brothers or The Beach Boys or The Staple Singers––groups that were made up, in part, siblings and relatives. They weren't singing, and I didn't know if anyone in L.O.V.E Culture was related, but the vocals had that kind of natural feel to them, the way they each artist fell in line behind whichever artist was taking the spotlight. Lyrically, they sounded extremely contemporary; boastful, yet emotionally intelligent. And there was a palpable energy behind the music; an electricity. Even at that early stage in their development, I felt like L.O.V.E Culture was worthy of national acclaim. Sonically, since then they've proven capable of doing everything. Their EP, VOl. 2, was an eclectic mix, on which they proved they could do it all, from backpack rap for the hip-hop heads to 808-backed radio-ready anthems to experimental fare.
As Jacksonville's music scene has grown and blossomed over the last half-decade, I've watched L.O.V.E. Culture engage with the community, becoming an integral part of the scene. L.O.V.E. Culture came along at an interesting time for music in Jacksonville. There's a really supportive and collaborative independent music scene that's buzzing with energy right now. Today, the group's a foundational piece of a music scene on the rise. Especially among young, up-and-coming artists. From indie-rock bands to bedroom pop kids, every artist in Jacksonville is rooting for L.O.V.E Culture. I was a fan from the time hit play on that SoundCloud link. But, as I've gotten to know each member of L.O.V.E. Culture individually over the last couple years, I'm all in on this group. The ceiling is incredibly high.
Website: jaxmusic.org
Instagram: instagram.com/shantsi
Twitter: twitter.com/Shantsi2
Facebook: https://www.facebook.com/profile.php?id=100070513301053
Youtube: https://www.youtube.com/watch?v=bpwvjlbregM
Other: https://www.redbull.com/us-en/videos/red-bull-night-riders Video on Jax's surf and culture scene by Red Bull Media