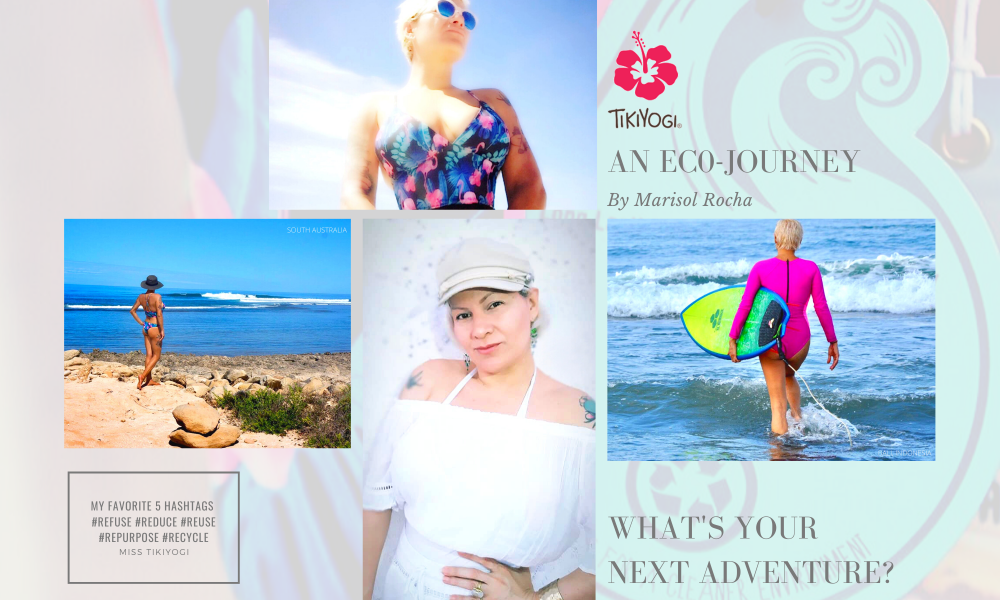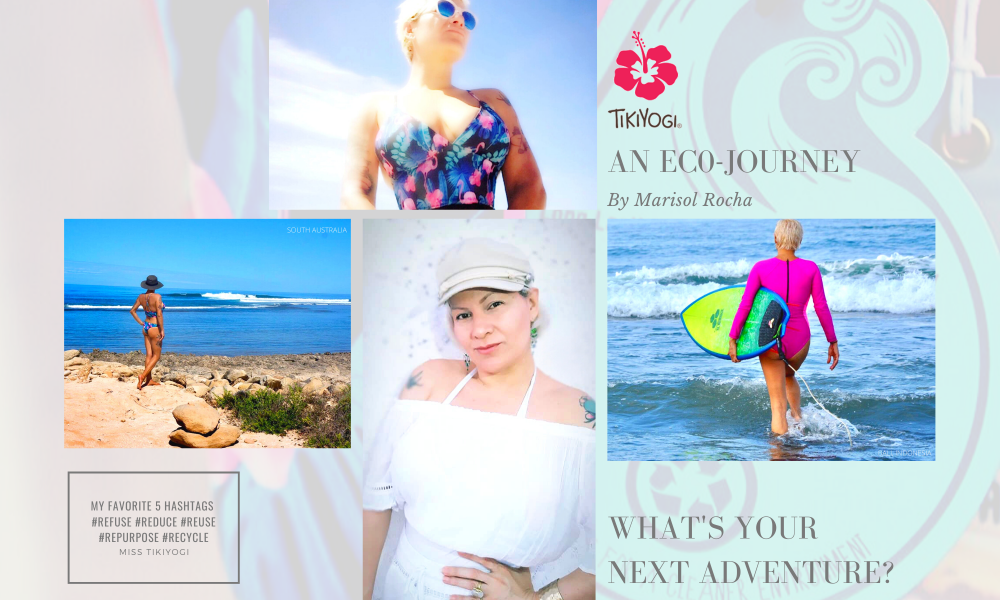 Today we'd like to introduce you to Marisol Rocha.
Marisol, before we jump into specific questions about the business, why don't you give us some details about you and your story.
TIKIYOGI® began with a vision, after taking an West Coast TIKI road trip in the late summer of 2015. During one of my stops, I stopped at this well known rock view near Malibu, it was almost sunset time. While I was standing staring into the ocean at the peak of the rocks into the sun, I felt such peace, as if I had been there before. Early that year, it had been a challenging year in my personal life, and at last, I had felt that something good was about to happen, but it took time after to reveal that something had to end, for something new to begin.
After returning from the trip to NYC, my solid home at that time, I continued to have the vision more clear from the trip during a Hot Yoga session class, while I was practicing doing headstands at my everyday Yoga studio. I had just completed multiples yoga challenges that year, so I knew it was time to get my practice to another level. With much concentration and practice, I was at last standing on my head, and at that moment, I saw for the first time my upside-down TIKI, which is tattooed on my left arm, as my love for TIKI culture and art goes far back. I immediately saw the name clear TIKI and YOGI. This is who I was. I love TIKI culture and have been a TIKI art collector for over a few years, and yoga was more than love. I have practiced all sorts of Yoga for the last 15+ yrs, and without Yoga, I was nothing. Yoga has always helped to find balance during challenging chapters of my life, and the fast-paced city I was living in.
The name of TIKIYOGI came first, so I ran after class into the juice bar to get my shot of wheatgrass, which I always did. I love wellness from an early age. I became an aerobic instructor at the age of 16yrs old here in Miami, which helped me fund my first year of college and trip to NYC. Wellness is my lifestyle. It's something that goes beyond personal. It's part of my everyday life.
As I sat there, I thought about what symbols represent me, so I began sketching on a napkin and what came clear was my childhood stamp from the brightest memories I carried with me, even after all these years living in the United States. I'm an American citizen, but I was born in Granada, Nicaragua and at the age of eight years old, our parents brought us to the states for safety because of the war In the Central American War. My father stays behind to hold on to secure our family estate. Mom and Dad, both medical doctors, but after the war, they both had to start from the ground up.
The TIKIYOGI hibiscus flower is a very special symbol of my childhood. It reminds me of my father and my Nicaraguan heritage. The brand slowly developed with my experience in fashion, which was my first concentration when attending school here in Miami, Florida. I attended IFAC, which is now known as The Art Institute. After a year of attending IFAC, I received a scholarship from Paloma Picasso & Oscar De La Renta to attend FIT in NYC and two-semester after I transferred to Parsons School of Design, which is where I finally graduated. During that time, I interned with Donna Karen, Hang Feng, Marc Jacobs, and various other designers.
Fashion has always been my passion, although it has been a bumpy road and still is, it's not a field for everyone. Sometimes, you need a bit of luck and backing. But, in 1995, I strayed away to concentrate more on digital design, animation, and branding, which because of these different roads I've taken, I could have full creative license positioning of TIKIYOGI. I'm the chief creative officer and fashion designer.
In the fall of 2015, I began to go through a divorce and my full-time job as a Digital creative had ended in NYC. The operations had moved overseas. A lot of things ended that year and I needed a fresh start, so I began to travel with my first stop being Miami to visit my mom, and plan a trip with my closest friends to await for a New Year in Tulum Mexico. At the end of this amazing trip I realized more than ever that there was nothing to go back to in New York City after 23 years of hard work and living. But luckily I had TikiYogi and my lifestyle to fall back on, so immediately I remembered an article, I had cut out a page of a Luxury Travel Magazine about Bali yoga retreats, so I searched Yoga Art Retreats in Bali and found what I was looking for, so I contacted the person in charge and with short hesitation I booked my trip. I had no idea what was waiting for me on the other side of the world, but I had to take the chance, I had nothing to lose, I had lost it all. I needed a fresh start.
During the retreat I felt I was letting go what no longer served me, I was forgiving and accepting that I had to start fresh after the retreat, so with so much joy to start something new, I began to search for factories, textiles, and researched how I can make my vision come to life, as I had done for so many others during my career as a Fashion Designer in New York City, this was my last chance in pushing something I strongly believed in, although I had to start from scratch I knew the vision was there from the day I was standing at the rocks in Malibu, staring at the sun.
We're always bombarded by how great it is to pursue your passion, etc – but we've spoken with enough people to know that it's not always easy. Overall, would you say things have been easy for you?
Some of the obstacles have been finding good manufacturers abroad and locally. Building global solid teams from the ground up. On the first collection, I didn't get it right, so with every collection, I improved the silhouettes and process and ongoing.
My biggest challenge has been to avoid making the big business investments that I have made. But as someone told me once, "you are invested." When I started TIKIYOGI, I did it out of love, not for financial reasons. I'm sure one day, I can look back and say, "Hey I took the risk to take out that business loan and now look where I am. But without those mistakes, I would not have learned about how to improve the brand's needs and mission." Every collection has been challenging, but the results have been gratifying by the response and stories of our loyal customers and followers that share their story with us.
I would say the proudest moment was the grand opening of our first ECO-TIKIYOGI boutique store in Bali, Indonesia, which faced the ocean waves in the village that I lived in. I got to meet so many travelers, yogis, models, an artist who loved the brand, and wanted to learn about how TIKIYOGI was born, and frankly, this is the first time I'm sharing the true story of TIKIYOGI. I'm now living full-time in Aventura, Florida with my family, but Bali will always be my second home. Although, I was asked to write this interview two weeks before the COVID-19 epidemic began, not knowing what the future holds for TIKIYOGI and most of us. I'm visualizing a better future, and a fresh new start.
TIKIYOGI is turning five years this summer that we are in business pushing our small collections and educating at the same time, the necessity to be more sustainable and eco-friendly. With every struggle, there's a blessing. We might not see it at the moment we are facing, but if we hold on to our visions, and we continue to visualize them, they will become a reality, like standing at the Rocks in Malibu facing sunsets and being thankful for what's in front of you, not what's ahead.
We'd love to hear more about your business.
TIKIYOGI promotes the benefits of a sustainable and healthy lifestyle. Marisol knew from the beginning that she wanted to do her part in creating a more environmentally conscious world and her first step in achieving that was to bring awareness to ocean pollution. Starting with an expansive variety of swimwear, surfwear and yoga wear. Each piece was carefully crafted in Bali out of recycled fabrics and ocean waste.
Inspired by her move to Bali in 2016, much of the island's scenery and lifestyle were incorporated into the brand's limited collections. Influenced by the people of Bali's focus on the wellness of body and nature, TikiYogi began a focused initiative to use eco-conscious and sustainable materials and other recycled materials so that they may continue to strive for the sole use of eco-friendly products, without risking quality over mass production. Each collection is designed with a classic and timeless design and modest cut that includes; vibrant prints that mix and match, reversible bikinis, one-pieces and bodysuits, high rise bikini bottoms, eco-tights and day and night summer dresses.
The brand is leading the way by using a sustainable techno-fabric made of an ECONYL® regenerated Nylon that turns waste into fashion. The fabric is versatile, hyper-resistant, thin, and elegant with a stretch that is soft and breathable: a unique mix of muscular compression and comfort. Thanks to its innovative construction, it is twice as resistant to chlorine and suntan creams and oils. The designs are produced in Bali, where fashion house workers are paid fairly and treated equally. TIKIYOGI has reached a new milestone for swimwear and clothing. Each piece is designed and executed with a focus on finer details. With limited print collections, the brand is the top-choice of aspiring island travelers, surfers, and fashion lovers.
About the Designer. The brand's founder is a Parsons Graduate that has worked with notable fashion houses such as Donna Karen and Marc Jacobs and has managed to combine her professional training with her passion for surfing, fitness, wellness and her lifestyle. Marisol does not shy away from getting involved in weekly beach cleanups, educating businesses and spreading her knowledge of sustainable living practices wherever she goes. The collections are influenced by her travels and lifestyle and her primary goal is to use her passion for fashion to communicate the importance of recycling to help make a better world.
What were you like growing up?
I feel like I haven't changed much. My love for fashion began when I was helping select fabrics and design my Sunday special church dresses. I spent a lot of time in the garden at home, and on the weekends, I would go to the farm and help with the harvesting and play with the animals and listen to the tales from the town from the locals. My most vivid memory was when the whole family would gather for Easter for long weekends at the beach.
Contact Info:

Image Credit:
Photography By Marisol Rocha
Suggest a story: VoyageMIA is built on recommendations from the community; it's how we uncover hidden gems, so if you or someone you know deserves recognition please let us know here.