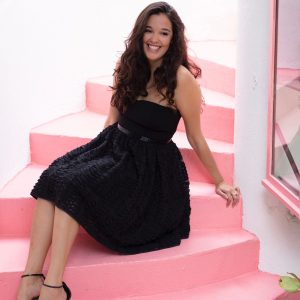 Today we'd like to introduce you to Marina Renée Hogue.
Every artist has a unique story. Can you briefly walk us through yours?
I have always felt an innate need to create and heal. For me, it was never about what I was going to do when I grew up. I always knew that I wanted a life in the performing arts. It was more a matter of finding my niche. As a child, I loved Art, Theater, dance and music. My mother, thought it was important for me to be exposed to the arts and use them as an outlet to express myself. Growing up I loved to play piano and sing in church choir and school. In third grade, my choir teacher asked me to sing the National Anthem before one of the concerts. After I sang, I had such a feeling of peace and joy, that I knew all I wanted was to be onstage. I began to take voice lessons, sang in various choirs, and attended Bak middle school of the Arts and Dreyfoos high school of the Arts. All the while, I continued singing my one hit wonder, the National Anthem. I would sing it for meetings for The School Board of Palm Beach County, Roger Dean Stadium, and the Naturalization ceremonies for the Palm Beach County courthouse. It was after one of the naturalization ceremonies, that someone came up to me and said," Thank you so much. Your singing made me feel proud and a part of something great. I couldn't help but to sing along!" It was at that moment that I decided I had found my niche. Music and singing would be how I could heal and bring some joy to this world.
I attended the University of Michigan for vocal performance. My plan was to get classically trained and then audition for musicals on Broadway when I graduated. However, I quickly fell in love with the operatic art form after seeing La Traviata and La Boheme. I loved how opera could capture human emotion at its rawest form. I loved that it combined my passion for music, theater, languages, and culture. As I matured, my voice also felt at home in operatic music, especially Italian and French. With the help of my teachers and coaches, I was able to sing roles in the operas, concerts, and study language abroad in Florence, Italy and the Czech Republic. I was a Young Artist with the Castleton Festival, Apprentice Artist with Miami Music Festival, and Bel Canto Institute. I furthered my training and attended San Francisco Conservatory of Music for my Masters in Music- Voice performance. This past summer, I was a Young Artist with the Institut Canadien d'Art Vocal.
Throughout my education, I have been fortunate to have amazing teachers and coaches who have helped my progress as an artist, as well as the unending support of my family and God. Currently, I am auditioning for young artist programs and doing operas, recital, and concert work throughout the United States.
Please tell us about your art.
I am an opera singer. It is my job to serve the music, as well as create an experience for the audience. I serve as somewhat of a vessel- I interpret the music of the composers, and use my artistry and voice to deliver that message to the audience, all the while staying true to the composer's intentions. As a singer, you have to show an extreme level of vulnerability to the audience that we, as humans, are not used to showing on a daily basis. You cannot hide any emotions- you have to own them. It is through this vulnerability that I, as an opera singer, am able to deliver the raw emotion through the music. The whole point of opera, like any theater, is to tell a story and send a message. It is through these stories and music that I hope to help give people connection, a new perspective, and hope.
Given everything that is going on in the world today, do you think the role of artists has changed? How do local, national or international events and issues affect your art?
The role of the artist has always been to communicate and connect. However, I do believe that now more than ever, it is our job as artists to help people be vulnerable and see different perspectives. Through our art, we have to show compassion and kindness. It is not only our job to heal, but also to re-establish the connection and understanding that is being lost between human beings. We have to use our art to stand up for what we believe and defend those who cannot defend themselves.
Art is always changing and new things are always being created. With opera, many new operas are being composed and premiered that deal with social issues such as the death penalty, same sex relationships, racism and gender fluidity to name a few. Art is a way to express oneself, to be seen and heard. So, with everything going on the world right now, it is no surprise that we, as artists, are throwing ourselves into creating new and relevant art.
How or where can people see your work? How can people support your work?
There will be some concerts and recitals coming up in late January and March that I will announce on my Facebook page: Marina Renee Hogue, soprano.
Contact Info:
Email: marinareneehogue@gmail.com
Instagram: marinahogue
Image Credit:
Ashley Corrine Photography, Pierre-Étienne Bergeron, Mariah Welch, Kristin Pulido, Angelica Perez
Getting in touch: VoyageMIA is built on recommendations from the community; it's how we uncover hidden gems, so if you know someone who deserves recognition please let us know here.