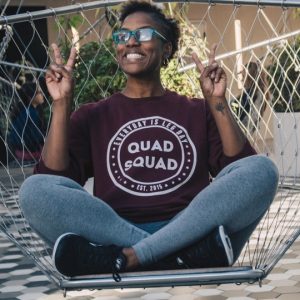 Today we'd like to introduce you to Marcia Darbouze.
Marcia, please share your story with us. How did you get to where you are today?
I am the child of two Haitian immigrants. The mentality that was passed onto me always included helping others and finding a stable career. I chose physical therapy as my career path, but always dabbled here and there with creative pursuits. After a lifetime of creative projects, I established Quad Squad. Quad Squad is an online apparel company open to all genders, bodies, and abilities. It's an inclusive brand that offers representation to many groups that do not get love in the fitness industry. That is one part of my journey. After four years, working for hospitals, private clinics, and nursing homes I found myself ready to depart from the traditional world of "rehab" and opened a small clinic inside a gym. My clinic RZPT, allows me to practice the way I imagined. Without restrictions of insurance that cause many clinics to pump clients in & out like a bad car wash. I am able to take my time to treat clients one on one, find our their struggles and goals, and actually work on that. This journey to find my way is not quite over. I still have many goals for Quad Squad as a brand, and for RZPT as a community resource.
Has it been a smooth road?
If anything in life was easy, we would all be successful. Of course, that begs the question of what success means. To me, success means getting your self together and not letting anything take that apart. The road that helped me find that feeling of being "put together" was and is not a smooth one. In the past five years, I have suffered from an undiagnosed autoimmune illness, lost my grandmother to ovarian cancer, and lost my mother to leukemia. The end of my twenties was a bit rocky but prepared me to start this next decade off strong.
With these struggles and my losses, I realized that life really is short. I don't waste my time with anyone, anything, or any place that doesn't understand my value, contribute to my journey, or bring me joy. I also seize any and all opportunities that come along my way, because WHY NOT? I don't have time for the what-ifs or whynotme's, I chase and work for what I want. Whenever I fail, I take it as a lesson and keep it moving.
I also take more time to take care of myself. Without self-care, I would be lost mentally and physically. Self-care means different things to different people, to me it means resting without guilt, feeding my body clean foods, and destroying weights at the gym.
So let's switch gears a bit and go into the RZPT, Quad Squad Shop story. Tell us more about it.
I am proud, nervous, and excited about my opening a physical therapy clinic. I am proud because RZPT is the first female owned clinic in South Florida. You don't see many practices founded and headed by women, much less by women of color, much less by a woman of color with a disability. I am nervous because many people do not understand the value of going to a cash-based clinic. You can get results with me in fewer visits than a traditional clinic that wastes your time with ultrasounds and ankle circles. That copay adds up! I am excited because I get to be the physical therapist I always wanted to be. Attentive to my client's goals, hands-on with manual therapy techniques, and no frills with exercises that bring clients out of their comfort zones. As a competitive powerlifter and strong woman, I know what it's like to see a health care provider that can't understand why you want to lift heavy things or get back to the gym. As someone with an invisible illness, I also know what it's like when no one can understand your struggles and your need to get back to 100%. I bring all this with me to my practice.
I am also proud of the work I've done with Quad Squad. There are a few brands and companies that represent all bodies and abilities in the fitness industry.
Is there something we can do as a city to improve the outlook for businesses like yours?
Miami and Fort Lauderdale are great places for any fitness or physical therapy business to thrive. But, of course, like any business, you have to be market savvy and stand out. If you search Google Maps by my clinic, you will find at least four other physical therapy clinics within 5 miles. The good news is, we serve a large community; but the bad news is, the community needs to know you exist.
The only drawback to my home town is transportation. Many people in South Florida dread traffic and rush hour times, so any drive that is farther than 5-10 miles has to be really really really really worth it.
Contact Info:
Getting in touch: VoyageMIA is built on recommendations from the community; it's how we uncover hidden gems, so if you know someone who deserves recognition please let us know here.