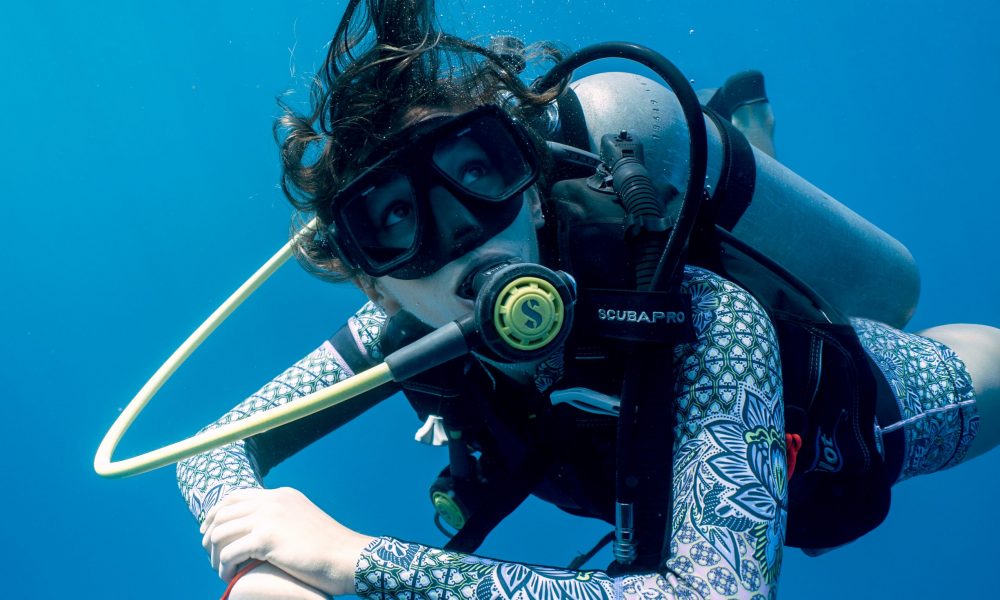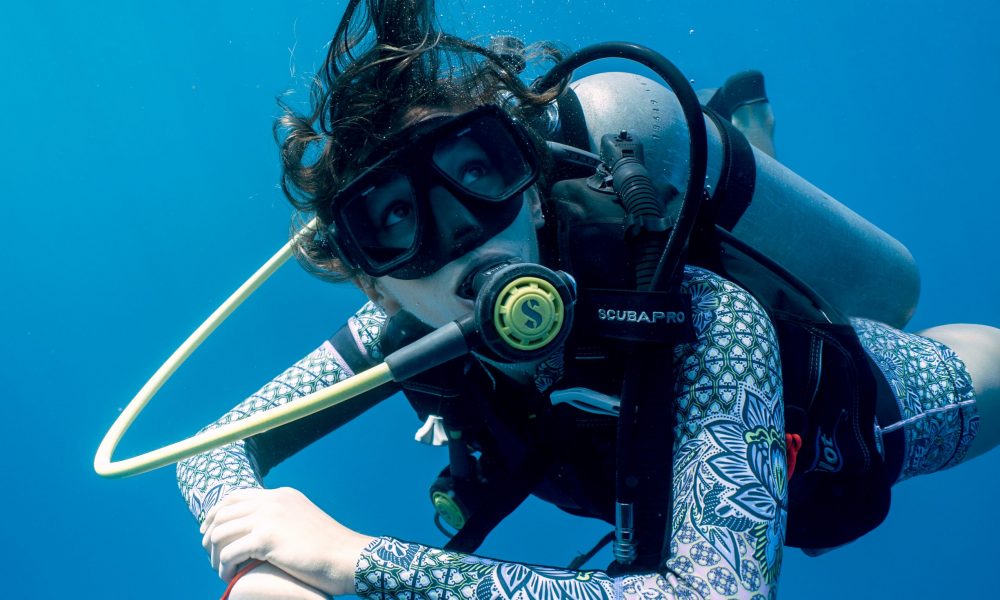 Today we'd like to introduce you to Liv Williamson.
Liv, please share your story with us. How did you get to where you are today?
My love for the ocean began before I really knew what love or the ocean was at all. I grew up on a small island along the northeast coast of Massachusetts, the kind of place where you learn to swim before you learn to walk and tidepools at the beach become playgrounds each time the ocean recedes. Looking back, it was these magical tidepools, brimming with spiny urchins, purple sea stars, and curious crabs, that captured the attention of a rambunctious toddler and sparked my early interest in ocean life. I begged my Dad to teach me how to sail, kayak, and paddleboard so I could be close to the sea, free like the humpback whales I saw breaching far out on the horizon. It seems my soul knew early on that my purpose in life would be tied to the ocean, though it wasn't until three years ago that I decided my passion could become my career. I never really knew what I wanted to be "when I grew up," because I liked a lot of things and how on earth could I choose just one? At various times throughout my childhood, I proudly proclaimed I wanted to become a chef, a lawyer, a musician, and even a secret agent, but never a marine biologist.
It wasn't until much later, when I was a junior in college and thousands of miles from my hometown and the tidepools that raised me, that it all clicked. I found myself studying abroad in Bocas del Toro, Panama, a remote and stunningly beautiful chain of islands along the Caribbean coast surrounded by coral reefs. I immediately signed up for a SCUBA diving certification course with a local dive shop, eager to experience all that the tropical seas around me had to offer. Although I had always longed to learn to SCUBA dive, New England's frigid, murky waters were not particularly welcoming for beginners. There in the clear, warm shallows of Panama, as I took my first breaths out of my regulator, I felt like I had harnessed a superpower; the sensation of breathing underwater as I floated weightlessly in this calm, vast blueness was – and for me, still is – otherworldly and utterly magnificent. I couldn't get enough, soon spending more time in a wetsuit than dry clothes. Underwater and completely free for the first time, I fell in love all over again with the dazzling diversity of the ocean ecosystem.
I was most enamored of the living backbones that supported this teeming underwater community: reef-building stony corals. Their colonies of tiny polyps formed the foundation upon which everything else grew, clung, or crawled. I developed an even stronger appreciation for the ocean as I discovered how important coral reefs were for supporting coastal communities. I befriended more and more Panamanians, and they showed me how the local reefs provide the seafood they eat, sustain their incomes by spurring tourism and prevent erosion of their coastlines. I also learned how fragile these beautiful corals can be, and how their survival is threatened worldwide by climate change and other human activities.
While my interest in marine biology grew, so did my interest in education and public outreach. In Panama, I sought opportunities to engage with community members and practice communicating the science I was learning about. I spoke with school children, teachers, marine park rangers, and government officials who wanted to learn how to tackle local issues and preserve the ocean resources their families relied on. I saw that with access to environmental education, citizens can help improve the health and sustainability of their communities.
After four months of conducting and communicating underwater research in Panama, I was reluctant to leave the reefs I was so smitten with. I knew I had to keep studying corals, but I also needed to finish the final year of my undergraduate degree at Barnard College in New York. Thankfully, I had discovered another passion during my time in Panama: empowering others – especially young people and women – to get involved in science. Though I was thousands of miles from the closest coral reef, I was now only feet from people for whom I could make a tangible difference. I resolved to do just that. During my senior year, I worked as a teaching assistant for young women in several evolutionary and molecular biology lab courses. Guiding the classes through dissections and experiments, I was thrilled to convey my enthusiasm for hands-on science to students encountering biology for the first time. I also designed and hosted "Her Hudson", a symposium of speakers and activities to celebrate the Hudson River and educate girls in New York City about estuary ecology and conservation. I recruited female employees from local conservation-minded organizations such as the NYC Department of Environmental Protection and the New York Hall of Science to run interactive activities exploring topics like water quality and river food webs, making these important concepts fun and accessible for young women. I wanted to empower girls to believe in themselves as environmental stewards and provide them with real-life role models in their own communities to look up to.
By the time I graduated, my passion for marine biology and environmental education was now in full-force, and I was determined to pursue coral reef conservation as a career. In August 2017, I moved to Miami and started my Ph.D. with the University of Miami's Coral Reef Futures Lab. I planned to study the threats facing reef-building corals and investigate methods to enhance their resilience and survival. During the first two years of my Ph.D., I have logged nearly 100 scientific SCUBA dives and traveled to the Florida Keys, the Bahamas, and Hawai'i for my research, learning new things and meeting many inspiring colleagues with each project. This past December, I presented my own research for the first time at a conference in front of marine scientists from around the world. I currently serve as the Outreach Coordinator for the Coral Reef Futures Lab, leading outreach events and tours of our lab facilities for hundreds of local students and community members each year. Whether they realize it or not, Miami residents are impacted every day by our oceans, and the live corals and experiments in my lab are excellent tools for teaching them how coral reefs contribute to the health of Florida's coastlines and communities. While I love corals, I also want to expand my conservation knowledge to all levels of the ocean food chain. Soon after starting my own research, I was invited to join the University of Miami Shark Research and Conservation Program (SRC) and help lead local citizen scientists in hands-on shark tagging expeditions. Aboard the boat, I get to engage participants in our data collection process, educate them about how sharks contribute to healthy ocean ecosystems and show them that these misunderstood animals are worthy of our appreciation and protection. By working with the ocean's foundation species (corals) as well as its top predators (sharks), I have learned how so many animals in the ocean are connected to one another and how we as humans are connected with them.
Though I have only lived here for two years, Miami has already had a huge impact on my life. I have met so many passionate, dedicated people here that care deeply for our community and our environment, and I feel lucky to call such a vibrant place my home. I spend as much time outside as possible, diving and spearfishing along the coast, paddleboarding around the Miami waterways, and hiking through Everglades National Park in search of alligators, turtles, and birds. Coral biology is an exciting field, and I love being able to convey my enthusiasm to others through education and public outreach. Throughout my Ph.D. and future career, I hope to continue advancing coral conservation initiatives, mentoring students, engaging members of the community, and enjoying everything our incredible oceans have to offer.
Great, so let's dig a little deeper into the story – has it been an easy path overall and if not, what were the challenges you've had to overcome?
Despite my passion, I struggled to envision myself as a scientist for quite some time. Although I excelled in science courses, I felt like an imposter, aware of the lack of women's representation in science and technology careers. Even at Barnard, a women's college at Columbia University, male professors taught all of my biology, chemistry, and geology classes for the first two years. Even as I work toward my Ph.D., I often grapple with "imposter syndrome", feeling that luck rather than my accomplishments have led to my success thus far and that I am not smart enough for a professional science career. Although this trend is slowly changing, few women hold senior positions like distinguished professors, department chairs, and program directors, and many scientific panels and committees lack equal female representation. How can I have success in a field with so few role models to look up to?
Luckily, with the help and mentorship of several inspirational women in science, I have overcome most of my doubts to pursue the path I'm on now. I was fortunate to have some fantastic female professors and mentors during my undergraduate studies, who were invaluable for boosting my confidence as a budding scientist and ultimately encouraging me to pursue graduate school. I continue to benefit from the mentorship of incredible women, intentionally seeking out collaborations with female leaders in the field of coral reef conservation so that I can learn from their optimism and determination. Right now, I'm in Hawai'i learning cutting-edge methods to preserve coral biodiversity from Dr. Mary Hagedorn, an inspiring, pioneering researcher at the Smithsonian Institution. In addition, my teaching and mentoring roles over the past several years have allowed me to help others build their confidence, strengthening my own conviction that I deserve to be a scientist. Going forward, I aim to set an example for aspiring scientists, especially young women. I want everyone to grow up believing in their abilities, diving into what they love without doubting their potential for success.
Please tell us more about what you do, what you are currently focused on and most proud of.
As a coral biologist, I explore what the future might look like for the world's changing coral reef ecosystems. Although they may look like rocks to the untrained eye, corals are tiny animals related to anemones and jellyfish that grow together in "colonies" of many individuals that build structurally-complex limestone skeletons. Corals are ecosystem engineers, forming reefs that support one-quarter of all ocean life and contribute billions of dollars to global economies each year. Florida is home to the third largest coral reef tract in the world, which supports the fisheries that provide our seafood, sustains our booming tourism industry, and protects our vulnerable coastlines from storm damage.
Unfortunately, reefs in Florida and around the world are disappearing at an alarming rate. The combined effects of climate change, nutrient pollution, coastal development, overfishing, and disease are killing corals more quickly than they can adapt and evolve. In the Caribbean, we have lost about 80% of our corals since the 1970s. Without swift action, coral reefs as we know them will not survive through the end of this century.
One of our greatest challenges as scientists is bridging the gap between our research and the general public. Coral reef health should matter to all of Florida's citizens as much as it does to marine biologists, but many people still don't know much about corals and us scientists haven't done a good enough job at communicating. As such, much of my work involves brainstorming ways to combine research, education, and advocacy. By actively engaging non-scientists in marine conservation issues, I hope they will feel inspired to take action on behalf of vulnerable animals and ecosystems that don't have their own voices. I believe that involving young people and members of the South Florida community in ocean stewardship is essential for our collective future. I'm known for actively sharing my passion for ocean life with the next generation of scientists, policy-makers, and activists.
I also practice various underwater photography techniques to help reveal corals' natural beauty and vulnerability while igniting the viewer's desire to preserve them. If people can appreciate and learn about the stunning diversity of life that our oceans have to offer through images and videos, perhaps they will feel more inclined to donate to conservation organizations, use reef-safe sunscreen, or consume less disposable plastic in their everyday lives. I believe that small actions, when combined, really do make a difference, and I try to convey that creatively through my science, teaching, and art.
Has luck played a meaningful role in your life and business?
I like to think that most things in life happen due to a combination of luck and your own effort. Hard work matters – a LOT – but so do circumstances outside of our control. I believe that a bit of "good luck" enabled me to be the happy and healthy person I am today, and gave me the right resources to pursue a career I feel truly passionate about rather than one I was forced into by external pressure or necessity. Good luck gave me parents, family, and friends that love and support me no matter what.
Even in science, luck has a role, and we experience quite a bit of failure. It is rare that an experiment goes the way you planned on the first try. Only one month after moving to Miami and starting my Ph.D. program, Hurricane Irma tore through South Florida, forcing me to evacuate the city for over a week. The storm pushed debris and toxic compounds into the University of Miami's seawater supply, killing many of our corals and destroying some of our experiments. Many offshore coral nurseries in South Florida were decimated, losing thousands of colonies that had been carefully cultivated for years. This bit of "bad luck" impacted a great deal of the coral research around me. No matter how hard scientists work, we have little control over Mother Nature, so it's important to embrace failure, stay hopeful and resilient, and pick ourselves up again after disaster strikes.
Contact Info:
Image Credit:
The image of me SCUBA diving and the headshot of me smiling belongs to Josh Liberman (joshliberman.com), The image of me holding a coral was taken by Eliza Thomas
Getting in touch: VoyageMIA is built on recommendations from the community; it's how we uncover hidden gems, so if you know someone who deserves recognition please let us know here.